Page 1: The Movie, Video and Audio, Disc 1 Bonus Features
Page 2: Disc 2 Bonus Features, Menus and Packaging, Closing Thoughts

By Aaron Wallace

The world was ready for an escape in the aftermath of the second Great War. Following six years of tight budgets and governmental interference that meant producing package films, so was Walt Disney. With the release of Cinderella in 1950, he introduced his global audience to an era of fantasy that would span the rest of the decade.

Walt and his team had been at work on Peter Pan long before World War II. J.M. Barrie's popular story was one of Walt's favorites, second only to "Snow White."

Most familiar to audiences from the famous stage play, Peter Pan had actually first appeared in the 1902 book The Little White Bird, mere months after Walt Disney's birth. Two years later, the stage play debuted. The Little White Bird was excerpted and repackaged as Peter Pan in Kensington Gardens in 1906, followed by the novelization of the play, Peter and Wendy, in 1911. The play itself was finally published in script form in 1928, the year of Mickey Mouse's birth.

Barrie passed away the same year that Snow White and the Seven Dwarfs took to theaters, but Walt already had plans in mind for the Scottish author's most famous work. Originally planned as one of his earliest features, Peter Pan was delayed a decade by World War II, finally released to theaters in 1953, where escape-hungry moviegoers ate it up and made it a huge hit.
That comes as no surprise, as Peter Pan is the most fantastical of any of Walt Disney's films. Three children in London –- Wendy, John, and Michael –- are whisked from reality into a world where youth is eternal and adventure is at every turn. People fly, mermaids speak, and pirates see children as their most formidable opponents.
It is also a world in which battles are commonplace and responsibility is elusive. In this way, Peter Pan is very much a male fantasy. Masculinity is reinforced not only by the swashbuckling sword fights, but by the female characters' endless fawning over Peter as well. A feminine audience can enjoy Peter Pan too, though, as Peter's continual rescue of Wendy and Tinker Bell's jealous pursuit of the same offer strong modes of romantic fantasy that traditionally appeal to a feminine sentiment.
The story extends fantasy to every age group too. In Never Land, children are revered and adults are made the enemy. As is so often the case with these enduring magical tales, children are empowered and made the center of attention. Adults are assured that they won't be denied an escape either, though, as the promise of Never Land is that we all can hold on to our childhood forever. Faith, trust, and pixie dust need not succumb to the passage of time.
In fact, the indulgence in escapist fantasy in this film goes a little too far. Of all of Walt Disney's most revered classics, I find Peter Pan the easiest to criticize. That's primarily because it stays so close to the surface. Characters aren't explored here in the way that they are in many of Disney's films. There's a lot of potential for interrogation of these characters, as Barrie's original texts are rich with internal conflict. Peter's loneliness, romantic tension between him and Wendy, and fear of the unknown are occasionally implied but mostly ignored. Instead of delving into these themes, the film is deprived of sentiment until the very last scene.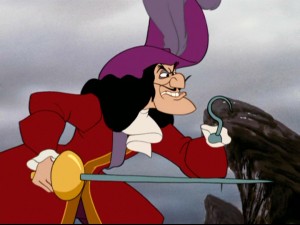 Fortunately, audiences bring with them a lot of knowledge about Peter Pan and Never Land, ideas they've picked up from its countless other incarnations over the years. This allows the film to be enjoyed in a broader context. When visual gags go on in rapid (and perhaps excessive) succession, the audience can fill in motivation that they understand from a cultural discourse about this story that has taken place for more than a century.

That's not necessarily unfair, as it works; but standing on its own merit, Disney's Peter Pan could be a lot more poignant.

There is one central theme of Barrie's text that is magnificently captured in Disney's Peter Pan, though, and it is the key to unlocking Never Land: the spirit of youth and adventure. That takes us right back to the rich fantasy that sets this movie apart and the heart of what makes it so successful as a film, despite its shortcomings. Despite anything else he's not, Disney's interpretation of Peter Pan is the embodiment of boyhood. There is a likable arrogance in his demeanor and it is pervasive throughout all the film's characteristics.

The score is particularly effective in this regard. One of Disney's best, it manages to sum up everything that the movie is about in a few toots of the pan flute. The songs, too, resonate with this theme. "You Can Fly! You Can Fly! You Can Fly" and "The Second Star to the Right" are among the studio's most memorable, while even some of the less popular ones stand out as underrated gems. There's not a bad song or segment of score in the whole film.
The characters, even if sometimes two-dimensional, are immediately endearing, as they show off common attributes of humanity –- anger, jealousy, attraction -– with humor. Smee is a personal favorite, while Captain Hook is indisputably one of Disney's greatest villains, simultaneously amusing and horrifying. Tinker Bell is less annoying here than she is many other adaptations. Perhaps that's because Disney treats her as a real character –- nearly human, rather than merely a sprite. Mr. and Mrs. Darling, who foreshadow Mary Poppins' Mr. and Mrs. Banks, serve just the purpose they need to and are entirely believable in their vital-though-small roles, providing perfect bookends to the tale. Michael adds to the lovability of the movie, while John's sense of English propriety elicits laughter. Wendy's plight is always sympathetic, making her an ideal protagonist, while Peter is the very definition of hero.
The voice acting goes a long way in bringing these characters to life. Bobby Driscoll (Peter), Kathryn Beaumont (Wendy), Bill Thompson (Smee), and Hans Conried (Mr. Darling and Captain Hook) are especially tremendous in their roles. This film is as vocally outstanding as any and the performances are arguably most responsible for the endurance of these characters.
Of course, the animation mustn't be slighted, emerging from the medium's most vibrant era. The character design is perfectly matched with the voice acting and is nothing short of amazing. The background designs are even more impressive, Never Land in particular. The imaginative depiction of Barrie's fantasy land is simply remarkable. It's no wonder that audiences have felt so attached to the place ever since.
Darker adaptations of Peter Pan have come closer to the heart of the original story, but there's something uniquely special about Disney's. Never has a take on Barrie's tale more fully realized a spirited sense of adventure or concerned itself so much with creating a world of fantasy. Though its weaknesses make it ripe for criticism, it's important to note that the movie is still a winner in the end.
Disney's Peter Pan has come to DVD twice before. It was one of the studio's first nine animated films to appear on the format as part of the Limited Issue collection in 1999. A barebones release with shaky quality and no frills, it was upgraded to a Special Edition in 2002. Boasting a new restoration and a number of bonus features, the Special Edition was much more successful than the Limited Issue had been and was, at the time, considered to be one of Disney's best single-disc DVDs.
In 2003, Disney announced that Peter Pan and a few other films would be joining the Platinum Edition collection, originally reserved for the ten most popular Disney animated features. At long last, the 2-Disc Platinum Edition of Peter Pan has finally arrived. It is the first movie in the Platinum collection to have been released to DVD twice previously, but despite that, it is far from the most comprehensive set in the line. Originally thought to be coming further down the line, it was scheduled for Spring 2007 in order to promote Tinker Bell, a spin-off movie that had, until recently, been planned for a debut in the same time span. The marketing-conscious decision led many to worry that the DVD's quality would be sacrificed for expediency's sake. Has that been the case? Let's turn to the rest of the discs' content to find out.
DVD Details

1.33:1 Original Aspect Ratio (Fullscreen)
Dolby Digital 5.1 Enhanced Home Theater Mix (English),
Dolby Digital 1.0 Mono (English),
Dolby Digital 5.1 (French, Spanish)
Subtitles: English; Closed Captioned
Release Date: March 06, 2007
Two single-sided, dual-layered discs (DVD-9)
Suggested Retail Price: $29.99
Black Dual Amaray Keepcase with Side Snaps,
Housed in an Embossed Cardboard Slipcover

VIDEO and AUDIO

The standards for Disney DVD were quite a bit lower when the Peter Pan: Special Edition was released in early 2002 than they are today. That reissue offered a significant improvement over the Limited Issue and was generally received as rather impressive. In the current Platinum era, however,

when Lowry Digital (now known as DTS Images) frequently turn out restorations as stunning as those found on Bambi and Cinderella, it would be a disappointment. Fortunately, DTS have stepped in once again to produce an all-new digital restoration of Peter Pan for its Platinum Edition release and have improved upon the Special Edition by leaps and bounds.

Appropriately presented in its original aspect ratio of 1.33:1 ("fullscreen" -- the last of Walt's animated features to unquestionably be so), the movie is a spectacular sight to behold in its newest transfer. Bright, colorful, and vivid, Peter Pan looks better than it ever has here and as good as Lowry's other efforts in the past. Gone is the grain and inconsistency (mild thought they were) from the Special Edition. Instead, the picture is entirely clean, leaving one to wonder if that sparkle emanates from Tinker Bell or is just a sign of a job well done. While the Special Edition is acceptable, it simply doesn't dazzle in the way that this new release does.

Colors differ drastically from the Special Edition, generally looking far less pale or washed out in the new transfer. Hook's pirate map goes from blue-tinted to brown and his coat lining from a mossy green to a goldenrod. Without the original artwork to reference, it's difficult to say just which is the most accurate. On the whole, the colors make the most sense in the new transfer, so I'm apt to believe that the Platinum Edition is the closer of the two. It's certainly a more colorful movie when viewed on this new set. Those who felt Cinderella's clean was a little too squeaky needn't worry, though -- it's bright and vibrant, but not quite that bright and vibrant, and no sense of antiquity has been betrayed here.
| | |
| --- | --- |
| | |
| Screencap from the 2002 Special Edition DVD | The same frame as it appears on this Platinum Edition DVD |
The movie is treated to four audio tracks, two of them in English. The first is the all-new 5.1 Disney Enhanced Home Theater Mix. Like the transfer, this new audio presentation is a significant improvement on the 5.1 Surround track offered on the Special Edition. Though the Enhanced Home Theater Mix still lacks the resource of ambient sounds that would fill the rear channels in a more recent film, it manages to keep them surprisingly active. Sound effects and score are called upon throughout to make for a much more enveloping experience. The front channels are appropriately mixed as well. In terms of clarity, one couldn't ask for more, as the track is entirely problem-free. Bass, while not entirely absent, is lacking, but that's probably to be expected. For a 1953 film, the Enhanced Home Theater mix is fantastic.
Purists will be delighted to find a 1.0 Mono track, which replicates the original theatrical presentation. The few scenes I viewed with this monaural track sounded similarly pleasing. The sound is entirely clear and volume is more than sufficient. There's also a French and Spanish track, each presented in 5.1 Surround. Viewing select scenes suggests that the French track sounds about as good as the English one but that the Spanish track suffers from slight distortion.
Overall, the audio and video presentation on this DVD are top-notch. My only disappointment is that the score -- one of Disney's best -- couldn't have been presented in an isolated track. In every other regard, the fans have been served well.
It's also worth noting that the original RKO logo that appeared at the front of the film has been kept in tact. (It follows, as it has in past home video incarnations, the light blue on blue Walt Disney Pictures castle logo.) As usual, Disney has added a few DVD credits onto the end of the film. In the past, these credits have seamlessly matched the pace and design of the original credits. This time, these credits depart entirely from the film's closing and instead use concept art as backgrounds. They still look nice, but the change in credits is immediately obvious. I would have preferred the matching efforts made on previous releases.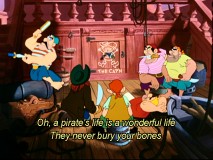 DISC 1 BONUS FEATURES
Disc One's most substantial bonus feature is, of course, the feature-length audio commentary. It will sound familiar to those who already own the Special Edition, as it's the very same one featured on that release. Some might lament such repetition, but the track is more than sufficient as it is and creating a new one would be not only result in some redundancy, but it would frustrate those who don't have the previous release in their collection. The track is hosted by Roy Disney, who introduces excerpts from separately recorded interviews with Kathryn Beaumont, Margaret Kerry, Leonard Maltin, John Canemaker, Frank Thomas, Ollie Johnston, Ward Kimball, Marc Davis, Jeff Kurti, and even Walt Disney himself. Walt's comments are, as expected, most interesting -- particularly in their criticism of the movie. Though it's never screen-specific, it is arranged so that the comments have some relevance with that part of the movie; and though it's never technical, it is bursting with insight and knowledge. With most of the original production team aging or deceased, this kind of commentary compilation is probably the best route and definitely something any fan should check out.
There's also a sneak peek at the upcoming Tinker Bell movie (2:24), which looks more disappointing than I could have feared. Let us all hope that the animation, premise, and betrayal of the title character are less offensive in the final project than they look to be from this preview.
Carried over from the Special Edition is "Peter's Playful Prank: Storybook", which tells a very simple Pan-inspired story in storybook form. There are two ways to view it: Read-Along or Read-to-Yourself. The latter is a self-paced journey through this very short story, allowing readers to look at one picture and a few words at a time before "turning" the page.
The Read-Along option provides a lot more fun, as each page is read aloud and accompanied by all sorts of movement and interactivity. It's too bad that Tinker Bell's name is erroneously unseparated throughout. Though it strays from Barrie's original message a little in order to dispense a quick moral, this feature should be fun enough for kids while offering little of value to anyone in an older crowd.

Finally, there is "Disney Song Selection," which provides a sing-along track for every song in the film, save two: "The Elegant Captain Hook" and "What Makes the Red Man Red." The latter, which considers the pigmentation and linguistic uniquities of a stereotypical Native American, is generally considered rather offensive. Unlike the considerably less offensive Song of the South, though, it has not been kept out of the consumer's grasp. Disney is okay with children hearing the song and singing the lyrics, it seems, so long as they don't see them on the screen. Today's tech-savvy children needn't look far for a loophole, though, as the lyrics are presented on-screen in their entirety on Disc Two (more on this later) or can be seen just by making use of the Scene Selection menu and captions for the hearing impaired. I have to wonder if "The Elegant Captain Hook" was excluded for its reference to tattoos. Somehow, "Following the Leader" made the cut, despite lines like "We're off to fight the Injuns."

Buy Peter Pan: Platinum Edition from Amazon.com

Continue >>
Page 1: The Movie, Video and Audio, Disc 1 Bonus Features
Page 2: Disc 2 Bonus Features, Menus and Packaging, Closing Thoughts