Page 1: The Movie, Video and Audio
Page 2: Bonus Features, Menus and Packaging, Closing Thoughts
BONUS FEATURES

Disc 1 is quite sparse on bonus material. The most substantial inclusion is the subtitle track 101 Pop-Up Trivia Facts, which is offered in "For the Family" and "For the Fan" versions. Employing colorful bubbles and a slightly more primitive vocabulary, the Family track shares much about the differences between Dodie Smith's book and Disney's film. Using black and white, the Fan version focuses a little more on technical matters, giving us the names of musical cues, animators, and the three directors' many sequences.

It also informs about the voice cast and some of the other work they did, particularly for Disney. There is a little overlap on the most remarkable tidbits, but each of the informative fact tracks is worth experiencing by all ("Family" doesn't really talk down as you might fear). Little of the material is required knowledge, but much of it sheds some welcome light on the production while flowing regularly enough to make it easier to overlook the lack of an audio commentary.

The youth-oriented pop music video is such a Platinum line staple that one has trouble mustering the usual negativity towards this set's, a cover of "Cruella De Vil" (3:20) by Disney Channel's teenaged "Wizards of Waverly Place" actress Selena Gomez. The video balances predicable singer-against-spots footage with movie clips and scenes from a less expected fashion runway setting. The song aspires to a Hannah Montana sound, complete with electronic trickery and generic interpretation.

Closing out Disc 1 is a musical, 50-second preview for Disc 2 material. Why do they take the time to make this, yet not include it in the general DVD ads that are attached in mass to the studio's relevant works?

Heading the first disc are the now-ubiquitous Disney company promo (which cannot be skipped), a 101 Dalmatians-flavored Government anti-smoking ad, previews for Sleeping Beauty: Platinum Edition, WALL-E, The Jungle Book 2: Special Edition, and Tinker Bell, a short Disney Movie Rewards spot, and one final commercial for direct-to-video prequel The Little Mermaid: Ariel's Beginning. Following the film via FastPlay and also available from the menu are two additional ads for Mickey Mouse Clubhouse: Mickey's Wonderland and the Playhouse Disney series from which it spawns.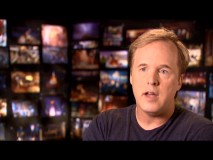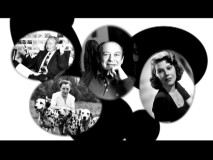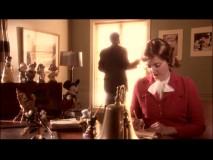 Disc 2 is divided into three sections, the first and most important of which is For "The Humans": Backstage Disney.

"Redefining the Line: The Making of One Hundred and One Dalmatians" can be seen as seven subject-specific shorts or a single 34-minute documentary. It's a good, if ordinary, overview of production which rounds up the usual Disney and Pixar animators to sing praises

and a handful of historians to contextualize. Though it supplies insightful stories and lots of information, the piece seems to struggle to find aspects unique to Dalmatians worth discussing. Still, the contemporary setting, Bill Peet's single-handed story treatment, the shortage of music, contributions of specific animators, and the xerography technique are all remarked upon and to some level of interest. Now in their eighth year of making these types of DVD retrospectives, it seems like Disney could use a little inspiration in this department and stands to improve on this fine but not so fresh fragmented formula.

"Cruella De Vil: Drawn to Be Bad" (7:07) brings back many of the present-day animators to gush over 101 Dalmatians' villain. Their praise is divided between author Dodie Smith, story man Bill Peet, animator Marc Davis, voice actress Betty Lou Gerson, and live-action reference model Mary Wickes. It's a short but appropriate and sustaining bonus.

"Sincerely Yours, Walt Disney" (12:35) is a fun piece which documents a series of correspondences between Walt and author Dodie Smith regarding the production of the adaptation. It's aided by the use of actors who visually complement the selective letter readings. Smith's concerns and reactions are interesting, as are Disney's responses, while a narrator serves to contextualize the exchanges and 101 with other activities occupying Walt's time back then.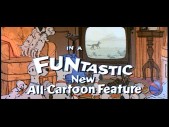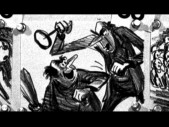 Shockingly, we get a very welcome abundance of previews for 101 Dalmatians divided into seven groups in the "Trailers, Radio & TV Spots" section. From the original 1961 release, there is a teaser (0:40) that adapts the film for the wide CinemaScope aspect ratio, the full trailer (1:51) that's surprisingly sparse on dalmatian footage, and a 30-second black & white spot from the "Disneyland" anthology series.

For the 1969 reissue, we find a 1-minute trailer and three washed-out looking 30-second commercials (the last of which co-advertises Swiss Family Robinson on the same bill). From 1979's reissue, there is a trailer (1:33) and a trio of 30-second TV spots (2 American, 1 French-Canadian), most of which assert the film's status as a contemporary classic. There is just a single trailer (1:22) from the Christmas 1985 reissue, but nothing from the most recent re-release (the summer of 1991). Finally, we get to hear the first three marketing campaigns put to varying lengths (10 to 60 seconds) in 12 radio spots: 3 from 1961, 6 from 1969, and 3 from 1979.

Closing out the section are 7 satisfactory Art Galleries. They supply the usual blend of stylized concept art (53 stills), character design (21, mostly model sheets), layouts and backgrounds (30 images including some illustrating stages of progress), storyboard art (47), live-action reference (27), and production photos (42), with some less common animation sketches (28) thrown in for good measure.

For "The Humans": Music & More holds a robust collection of songs written for the film in an assortment of forms. First we get a deleted number recorded by the cast, "March of the One Hundred and One", played within context to story sketches (1:55), followed by an alternate, longer newly-recorded version called "Cheerio, Good-Bye, Toodle-oo, Hip Hip!" (2:30) that's set up by Disney historian Russel Schroeder. In both, the puppies sing with excitement about going to London for Christmas. Next comes "Don't Buy a Parrot from a Sailor" (2:39), an English pub chantey that was to be performed by henchmen Horace and Jasper.

The remaining listings are for renditions of music that made the film. "Dalmatian Plantation" is heard in a longer, slower cast recording (2:20) and a temp version (1:00) by go-to Disney quartet The Mellomen. A staggering number of options are offered on the most famous song, "Cruella De Vil." There are demos of a "spooky" version called "The Creation of Cruella De Vil" (4:50) which painfully removes any subtlety from the character's name and a blues ballad version (2:20) which resembles the final product. Roger's brainstorming composing sessions are heard from speaking voice Ben Wright (3:06), singer/dubber Bill Lee with direction (4:30), and in a honky-tonk piano version (1:25). The song comes to an end with three different (but universally annoying) vocal versions (1:11, 2:20, 1:15) of the song as a radio hit.

Finally, we get 9 alternate recordings (5:55) of the Kanine Krunchies commercial jingle by Lucille Bliss, performing the tune with such sounds as "Very Young", "Older English", and "Eton Boy." There are even a couple of outtakes here. Without using the "Play All" option, you're treated to more context-providing text screens.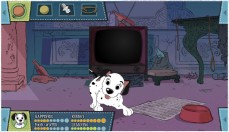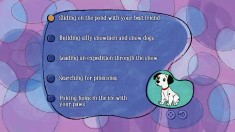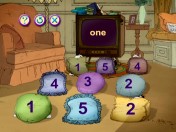 Finally, we come to the dubiously-dubbed For "The Dogs": Games & Activities. First and most noteworthy here is Disney Virtual Dalmatians. You definitely get the most out of this on DVD-ROM via the Interactual Player you already have on your computer or can install here. In the tradition of Tamagotchis, Giga Pets, and Neopets, you "Adopt a Puppy" (choosing from one of four profiled). Just like the real thing, you oversee feeding, playtime, petting, tricks, and the like. There are a wealth of options, plus chances to print out an adoption certificate with the names of you and your pet, etc. In addition, an animated screensaver and wallpapers (4 puppies and 4 backgrounds yield 16 varieties) give a chance to spice up your desktop with the imagery.

Though essentially endless, it's fun and even more expansive than the similar activities on Lady and the Tramp and the recent reissue of The Aristocats.

Virtual Dalmatians is also available in set-top form in what's dubbed a "sampler." After picking your puppy, all it lets you do is request five tricks, serve food or water, or play with a ball. Suffice it to say, after about one minute, it considers you done and advises you check out the expanded DVD-ROM version.

"Puppy Profiler" sounds like an activity you've probably already encountered on a Disney DVD, but you haven't. This little quiz asks you seven nonsensical questions about your preferences, as if you are a dog. Based on your answers, it tells you what canine breed you're most like and then a trio of animated Disney characters who would best get along with you (poodles get the Disney princesses). The questions change on return visits, but the lack of logic does not.

Lastly are two "One Hundred and One Dalmatians Fun with Language Games." Even fans of set-top games will find little fun here, aside from hearing the slow-talking narrator who makes it clear that the target audience is mentally retarded alien babies. In one activity, you learn household terms looking for hiding puppies in 3 settings. The other teaches numbers with a TV and colorful pillows.

It doesn't take a world of experience with DVDs to notice that 101 Dalmatians' supplements load is light compared to other two-disc sets and considerably lesser than the extensive Disney Platinum Editions from earlier in the decade. That shouldn't be particularly surprising to those who have been religiously following the Platinum line since its 2001 inception; bonus platters have grown shallower with the years, particularly on the March title since the jump to semi-annual releases. One upside to the limited bonus pool is that we get a number of trailers and audio supplements, both of which have been sorely lacking from many Disney DVDs. Perhaps more troubling than that is the lack of 16x9 enhancement on the video-based bonuses; letterboxing abounds and there's simply no reason that the studio couldn't be forward-thinking enough in this regard, especially when they took the time to reformat all movie clips to the 1.78:1 aspect ratio in the extras.
MENUS and PACKAGING
On Disc 1, the plaid-bordered, 16x9-enhanced menu screens leave us in animated environments on the Main and Bonus Features screens. Other menus maintain the motif with still composites accompanied by score excerpts. Disc 2's menus are centered on puppies who make your choices for you, though they lack fluidity. In an unusual touch, loading either disc gives the option to view the menus in French or Spanish in addition to the default English.
Inside the case, the customer finds three things. The DVD Guide provides a scene selections list, a map of the two discs' contents, descriptions of most bonus features, and the usual paragraph on Platinum Editions which informs us Pinocchio will be 13th in the series when it gets the two-disc treatment a year from now. A Disney Movie Rewards booklet provides the all-important code and information on a Dalmatians-themed sweepstakes. The final booklet contains semi-random ads and coupons, Blu-ray propaganda, information on dalmatians from the American Kennel Club, and a number of Disney DVD ads including declarations of new editions in store for The Sword in the Stone and 101 Dalmatians II.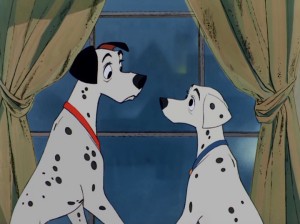 CLOSING THOUGHTS
For the extremely long wait that fans have had to endure, 101 Dalmatians isn't given a definitive DVD, but its two-disc Platinum Edition release still has more than enough to please. The movie is part of Disney's upper echelon and it is treated to outstanding picture and sound. While the bonus features are not the most exhaustive or valuable, they still include some fine treats, some of which (like the trailers and audio sections) are rather pleasant surprises.
In the end, Disney has made sure that when Dalmatians' number is called again, it will be easy to offer new and better supplements. For now, though, this fine presentation deserves a spot in your animation collection.