Based on nearby release dates and similar subject matter, pairs of films are occasionally tied together in the public's mind. In the fall of 1998, we saw both Antz and A Bug's Life. Just months earlier came Deep Impact and Armageddon. Late-2006 brought 19th century magician dramas The Illusionist and The Prestige.

We'll see this phenomenon again when a Seth Rogen mall cop comedy follows soon after Kevin James' chart-topping Paul Blart.

Thanksgiving 1988, two films setting books by Charles Dickens in present-day New York City opened within a week of each other. Despite the proximity and the shared foundation, the two movies haven't ever been mistaken for one another. That's because one was Scrooged, the somewhat dark and biting Bill Murray comedy updating A Christmas Carol. And the other was Oliver & Company, an animated Disney feature starring a cast of talking dogs and cat.

As you could easily guess, Oliver puts a new spin on Dickens' second novel, Oliver Twist, which debuted as a monthly serial from 1837 to 1839. The text had been put to film several times in the Silent Era. Master director David Lean adapted it faithfully in 1948. Born out of the musical stage show, 1968's Oliver! would win six Academy Awards including Best Picture. Placing its own distinctive twist on the story, Disney's Oliver centers on an orange cat abandoned in Manhattan.
The only unadopted kitten of a litter, Oliver (voiced by future teen heartthrob Joey Lawrence) tries to make his own way through the city's bustle. He soon encounters Dodger (musician Billy Joel), a smooth-talking, street-smart dog who uses the cat to score some free hot dogs. Oliver follows Dodger back to his home, where he discovers the artful mutt is part of a band of street dogs living communally. The group includes feisty Chihuahua Tito (Cheech Marin), learned English bulldog Francis (Roscoe Lee Browne), lone female Rita (Sheryl Lee Ralph), and a Great Dane named Einstein (Richard Mulligan).
The gang reluctantly lets Oliver join their ranks. Meanwhile, their human companion Fagin (Dom DeLuise) is down on his luck, having just three days to pay back a sinister loan shark named Sykes (Robert Loggia). This pushes the bum's loyal canines into petty crook overdrive. While serving as lookout on his very first scam, Oliver winds up in the possession of a lonely, wealthy girl named Jenny (Natalie Gregory). She adopts the kitten and instantly takes to him, which is okay with her butler but less satisfactory to the family's pampered prize-winning poodle Georgette (Bette Midler).
Unaware that Oliver is content with his new household on the Upper East Side, his undomesticated dog friends try to rescue him. In the process, Fagin thinks he might have the answer to his burdensome debts.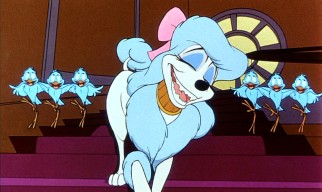 One thing that instantly distinguishes Oliver & Company is its contemporary American setting. Although Disney's feature animation department has told many tales from many sources, they all tend to take place in distant places. Europe, royalty, and magic are all far from mind watching this urban production. Brand names that maintained a commercial presence in New York City in the 1980s (and continue to do so today) are spotted throughout.

It's strange to see such familiar entities in a domain that generally leans toward the fantastic. Going this route does tie Oliver to a time and place much more than most of its kin. But I really like this film and its date factors into its charm.

You needn't see the visuals to recognize the late-'80s setting that permeates this film. The voice cast is filled with entertainers that were either at the peak of their fame or simply more prominent then. The music conveys the origins too. Disney's first character-performing musical in years, this one boasts a number of standout songs performed by pop singers Huey Lewis and Ruth Pointer (of the Pointer Sisters) as well as voice cast members Billy Joel and Bette Midler. Howard Ashman wrote the lyrics for Lewis' film-opening "Once Upon a Time in New York City", making it his first of many successful tunes he would create for Disney in his final years. Joel's "Why Should I Worry?" not only establishes his likable character but a winning energy that buoys everything. J.A.C. Redford's fine instrumental score also deserves praise.

Oliver gives us story and characters that are easy to care about. There's enough originality for the film to not be bogged by staying true to Dickens. The treatment is generally satisfying, even if the climax is a bit more action-packed and frightening than it ought to be. Among the three writers credited with the screenplay were Roy E. Disney's son Timothy and James Mangold, then in his early 20s, who would go on to write and/or direct such films as Girl, Interrupted, Walk the Line, and 2007's 3:10 to Yuma remake.
Advertised as Disney's 27th animated feature, Oliver & Company grossed $53 million in its original release. That rendered it not only profitable but Disney's most-attended animated feature in some time. Its success was nothing compared to Who Framed Roger Rabbit, which had struck mixed-medium gold the previous summer. But it still pointed to bigger returns, which The Little Mermaid and subsequent Broadway-style blockbusters would realize. The film's place in the Disney canon is also acknowledged in the brief cameos made by canines from Lady and the Tramp and 101 Dalmatians.
Oliver received one of Disney's last traditional theatrical reissues in March of 1996. Though this engagement seems to be forgotten today, its $20 million tally outranks many animated features' total cinema earnings, both then and -- even ignoring inflation -- now.
While the film isn't likely to gain admittance to Disney's Platinum line unless they stretch it to be all-inclusive, Oliver has nonetheless been deemed important enough for the studio to revisit on DVD next week. Unfortunately, the single-disc 20th Anniversary Edition reissue treats the film almost exactly as its original release did in May of 2002. That "Special Edition" (called thus simply because Disney was reconsidering its "Gold Classic Collection" branding) will presumably go out of print now.
DVD Details

1.66:1 Anamorphic Widescreen
Dolby Digital 5.1 (English, French, Spanish),
Subtitles: English, French, Spanish
Closed Captioned; Extras Subtitled
Release Date: February 3, 2009
Single-sided, dual-layered disc (DVD-9)
Suggested Retail Price: $29.99
White Keepcase in Embossed, Holographic Cardboard Slipcover
VIDEO and AUDIO
The 1.66:1 anamorphic widescreen transfer is marked by grain and flicker. The two issues maintain a constant presence and keep the video from satisfying. With a little effort, it could definitely look as good as a 20-year-old major studio motion picture should on DVD. Alas, no effort has gone into this area, as we get the same transfer from the 2002 disc here. It was passable in 2002, but is a lot more difficult to accept in 2009, when films much older and less beloved have looked much better.
Also the same as before, the adequate Dolby Digital 5.1 soundtrack stays mostly in the front channels, but does a fine job of presenting dialogue crisply and music robustly.
BONUS FEATURES, MENUS and PACKAGING

The modest extras slate begins with sing-along songs for "Why Should I Worry?" and "Streets of Gold."

Simply the 1-3 minute performances from the film with italicized yellow subtitles, these are barely worth mentioning. They lack the nostalgic value, unique presentation, and -- in the case of "Streets" -- second verse of the old DVD's equivalent two Songbook sing-alongs. One suspects the disc's producers couldn't muster enough effort to do a full, disposable Disney Song Selection feature.

Next, we get the only new supplement on the DVD in set-top game "Oliver's Big City Challenge." More elaborate than most of its kind, this has seven levels and requires you to choose one of the movie's five gang dogs as your assistant for each. There is only one right choice based on their skill, but their "help" gives no sign of their presence at all. The activities are all inspired by the film, which lends its grainy imagery to them. Most, like counting hot dogs and repeating an entry code, are a breeze, but a couple (finding four things different in a scene change and navigating wires) will frustrate some younger players. There's no reward for all your efforts, which are largely the same on every visit.

Backstage Disney holds the most worthwhile material.

"The Making of Oliver & Company" (5:30) is a short featurette from the film's original release. Information on Billy Joel's voice acting debut and breakthrough computer graphics is all delivered with a promotional tone, but that now grants the piece a strong nostalgic value.

"Disney's Animated Animals" (1:30) is another fluffy PR piece which briefly mentions the company's creature canon as a way of advertising Oliver's 1996 return to theaters "for the first time EVER since its initial release" (less than 8 years earlier)!

The Oliver & Company Scrapbook serves up 57 stills across fourteen pages. Not too hard to navigate and covering all the usual subjects (visual development, storyboard drawings, character design, production photos, poster & tie-in art), the section also deserves notice for providing some glimpses at a scene and characters that were deleted.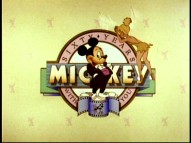 Four brief items comprise a valuable "Publicity Materials" section. From the original Thanksgiving 1988 release, a 90-second trailer and 30-second TV spot emphasize the film belonging to a decades-old Disney tradition. A 100-second trailer for the spring 1996 rerelease sells the movie on its own charms and musical talent. The 1996 EPK featurette "Return of a Classic" (2:00) speaks fondly of Disney's theatrical reissues and of Oliver, which is generously credited with sparking the '90s animation Renaissance.

"Fun Film Facts" are doled out in nine static text screens. It's basically IMDb trivia page fodder and it may slightly exaggerate the film's achievements, but something simple like this should be offered for every movie, ideally in a printed insert.

Finally, we get two bonus animated shorts. In 1941's Lend a Paw (8:07), Pluto rescues a cat from icy death only to have him move in and earn Mickey's favor.

From 1950, Puss Cafe (7:08) tells of two alley cats who raise Pluto's wrath by stealing his milk and disturbing his sleep.

As far as classic Disney cartoons go, Oscar winner Lend is especially good. The problem is it's on so many DVDs; not only appropriate Walt Disney Treasures and Classic Cartoon Favorites titles, but other animated features Oliver owners are likely to have, like The Aristocats and The Fox and the Hound. Last I checked, Disney has thousands of shorts spanning 85 years in their library, a number of which have never before been on DVD. Doesn't it make sense to you either as a business decision or a good faith fanbase gesture to put some different or additional bonus cartoons on there? To add insult to injury, the shorts look as they did on Oliver's previous disc, which is to say they lack the cleanup work that has been done for the Treasures.

The FastPlay-enhanced disc opens with the Disney brand promo; previews for Pinocchio: Platinum Edition, Pixar's Up, Space Buddies, Air Bud: Special Edition, and Beverly Hills Chihuahua; and a Disney Movie Rewards spot. The Oliver-flavored sneak peeks menu holds these and other trailers for Bolt, Tinker Bell and the Lost Treasure, My Friends Tigger & Pooh: Tigger & Pooh and a Musical Too, Monsters, Inc. on Blu-ray, and Playhouse Disney's "Imagination Movers."

I dig the disc's main menu, which feels as it could have come from the 1980s with its looped animation of cab-topping Dodger barking and meowing passenger Oliver. Adding to the retro charm are the Muzak versions and instrumental excerpts that bolster static submenus.

Although the cover art's style doesn't bear much resemblance to the film's, that's consistent with the studio's surely market-tested design customs. This is one of many recent Disney DVDs to skip including a standard chapter/contents insert. Once the faintly holographic slipcover is off and the keepcase is opened, we do find a Disney Movie Rewards code (which can net you some Space Buddies plushes for shipping costs if you buy that concurrent DTV film), a double-sided ad, and a promotional booklet on the Blu-ray "revolution" that's so big most of Disney's new catalog DVD releases can't even find the entrance.
CLOSING THOUGHTS
This 20th Anniversary Edition of Oliver & Company is a big fat waste. Not only does it arrive a couple of months late for the milestone it celebrates, but it does so with absolutely nothing new of worth. In fact, it even loses some value in its detrimental update of the two sing-alongs. More significantly, this release both delays and diminishes the prospects of a genuinely special edition. That's sure to disappoint the film's numerous fans. But they seem less the target than parents who were childless the last time Oliver was new on DVD and might now be inspired by a commercial or prominent store placement to share something from their youth.
Unless you count as incentives things like a snazzy slipcover, Disney Movie Rewards points, and new company trailers, there is really no reason to think of this as an upgrade. The void of new special features underscores just how high the $30 list price is. Other studios charge $10-$15 less for comparable reissues of 1980s catalog titles.
With all that said, I do recommend the wonderful Oliver & Company as a film. Assuming price and effort are even, you'd do well adding either one of the film's DVDs to your collection. Missed opportunities aside, the recycled promotional bonuses from the two theatrical releases are more entertaining than most DVD extras and, while lacking, the feature presentation isn't unwatchable.
More on the DVD / Buy from Amazon.com / The Book: Oliver Twist by Charles Dickens