By Aaron Wallace

If Walt Disney's team of "Nine Old Men" was responsible for the decades of classics

that defined the studio's golden years, then Andrea Deja is an Old Man for a new generation. Born in Poland and trained in Germany, Deja joined Disney in the mid-1980s, making his studio debut on The Black Cauldron. Since that time, he has served as supervising animator for some of Hollywood's most memorable characters, among them: Roger Rabbit, King Triton, Gaston, Jafar, Hercules, and Lilo. He's even drawn Mickey in a handful of the iconic mouse's big screen outings.

Perhaps Disney's best-known animator and an expert in his field, Deja is the go-to guy for an insider's perspective on the rich history of Disney animation. It makes sense, then, that when 101 Dalmatians was released as the newest installment in the prestigious Platinum Edition line of DVDs earlier this month, Disney invited us to talk with Mr. Deja about the 1961 classic. Along the way, we got to ask a bit about the artist's work on this winter's How to Hook Up Your Home Theater and the things he and the studio's animation team have in store for the future.
UltimateDisney.com: As a Disney fan, I'm very happy to get to talk to you today.

Andreas Deja: Oh, well thank you.

101 Dalmatians has returned to DVD. I think maybe the most memorable component of that movie for people is Cruella De Vil. You've animated your fair share of villains -- Jafar, Gaston, Scar -- how much do you look to Cruella and the Disney villains of her era in creating a modern Disney villain?

Well you look to these characters for their high standard of excellence, in terms of animation and design and entertainment, but you've got to do your own spin on things, you know, because what these old animators always said is that you've got to be personal in your work.

So I wouldn't look at these characters to steal a certain idea or a graphic shape or even a character concept, I would... try to let it come out of the material that I'm given and just be personal with it. Like when I did Scar for The Lion King, I didn't watch The Jungle Book at all because I had seen that movie so many times and I know that if I would look at the tiger and study the tiger again and again, it would have a way of influencing my work... So I didn't look at The Jungle Book for a whole year. I just looked at real lions; I studied Jeremy Irons in his movies and made that sort of the source of what Scar became.

Other than that, on the whole, I love studying these people's work, especially because they are so expressive, and going through things frame by frame and analyzing how they got certain moves and certain expressions. Basically the main question is always: how did they make these characters think? Because they have to be thinking drawings. That has to do with acting, of course, which is really more important than the drawing -- you know, the acting aspect of it. So I just get a lot of inspiration out of looking at classic work, whether it's Captain Hook or Cruella or Anita or Roger. All of those characters are just a great source of inspiration.

Do you prefer working on villains, as opposed to heroic characters like Hercules?

Well, I would have to say yes. (Laughs) The villains are just so much more juicy in terms of their range, their expressions, their motivation. You can really roll up your sleeves and just go much further with your expressions and your acting, like I said earlier on. With nice characters -- I had Hercules, for example -- you just have to be more careful with the way you draw them, and they have to be believable and they can't be very extreme, since they are the heroes.

They want to set things right, and they might fight the villains, but on the whole, these kinds of characters tend to be handsome [and] nice, so you're working with a much smaller range of acting. It's all about subtlety when you get those characters, and fine draftsmanship. But if you are on the animation side, then you better ask for a villain.

Cruella is one of, maybe the, most celebrated villains in the Disney canon. Why do you think her popularity has been so enduring?

That's a good question. She is just so outrageous in her role. I mean how much more evil and disgusting can you get than wanting to have these innocent little puppies made into fur coats? I mean that is pure evil. But then she is not your straight villainess. She also has quirks, you know? She smokes -- and the way she uses a cigarette in her acting pattern. There is one wonderful scene where she's about to leave Roger and Anita's house and she is putting down her cigarette into a little cupcake on the table. Just wonderful little funny character bits. And of course in her drawings, she is just so grotesque, but appealing at the same time, and I don't know how Marc Davis did it. She's got these gigantic cheek bones poking out of her face and a very, very sharp jaw and a little piggy nose. She's something that should look like it doesn't have much appeal, but you can't take your eyes off of her because she is so flamboyant and fun to watch. I think that's one of the reasons people are drawn to her.

You mentioned that scene with Cruella and the cupcake... do you have a favorite scene in 101 Dalmatians?

I think all of her scenes are really great because Marc Davis animated every single scene with that character, which is not really the norm at Disney. An animated part is usually too big for one animator to do alone, so we usually have a crew being supervised by one animator. But Marc did every single scene with Cruella. One sequence that comes to mind is when she's reading the newspaper: she's finding out about the dognapping, and she's having such a good time, and she is the one who's guilty, and she just loves it. And then in the middle of this laugh, she's looking at a picture in the newspaper of Roger and Anita and she gets the phone call and then there is that very broad expression change, like she hates to be interrupted in the good time that she's having, and then she talks to Jasper and Horace. But the whole outfit -- the curlers, you know... it just makes for a really fun character bit.

How difficult a task would an animator or an animation team have in putting spots on 101 dogs and keeping them there consistently?

Well there's your Disney accuracy for you. [There is a] team of effects animators, so the supervising animators would just animate the dogs and take care of the acting and all that. And then we have effects animators who usually are assigned to things like rain, clouds, dust, fire, shadows. They had to put those spots on, which was quite a job, because you don't just add the spots to the drawing. You have to make them move according to the form of the dog, because a dog has a rib cage, and then there's a shoulder, and then there's a hip bone. And as an effects animator, the way you place those spots -- those spots have to travel with that form, so that they turn with the dog as the dog is turning away. So you really have to not just put those spots on... you have to understand the anatomy and the movement of the dog to put those spots on there the right way.
So you need to look to real-life dogs as models, then?

Yeah, they had real life dogs at the studio to study... they were always doing this. They had them for Lady and the Tramp and for Bambi, they had deer at the studio. I don't think they could have added more spots on the dogs than they actually did, even though real dalmatians have more spots on them than the animated ones. I mean there just comes a time where you have to say look, you know, if we add five more spots it'll cost... much more money.

And also graphically, if you have too much going on on the screen, the eyes might get distracted. So it's just a nice balance of deciding on how many spots you put on. But I'm sure they did several tests, you know. They're very good at testing these things and finding out in the end what works best.

When one of your characters becomes a character inside the Disney theme parks, are you consulted at all in the costume design?

We get occasionally pulled in, yeah. We take photographs and we have input. One of my favorites is actually Jafar. I think he really looks really, really scary in the theme parks and looks quite a bit like my drawings [that] I've done for the character. So I think he's the one that really sticks out as being truthful to the animated movie.

And how is a decision made as to whether the characters in the park will be masked or an unmasked face character?

I haven't really talked to Imagineering about it, but as far as I know, it's the degree of realism. If you have a realistic face, like if it's Aurora or Prince Philip or Jasmine, then you would take a human being. If you have something like the Queen of Hearts in Alice in Wonderland, you would take a mask because their face is so cartoony. So it's really realism that decides that kind of thing.

When you joined Disney, the studio was putting out some really interesting and unique material, but it wasn't capturing the same level of critical and popular attention that Walt's films had been getting. And then you were there for -- and part of -- the sort of return to the spotlight in the late '80s and the early '90s. In recent years, there's again been a lot of interesting stuff but maybe less mainstream attention. Now, with Pirates and Meet the Robinsons and Enchanted, do you sense a similar kind of resurrection today?

Yeah, I think once in a while, a group of artists, like ours at Disney, we have to redefine ourselves and change. And I think that's what's happening right now. As you probably know, we have new management. We have John Lasseter managing us right now, and his team. So that's a big, big, positive change for us, just because of the fact that these people are animators. When I talk to John Lasseter about certain animated issues that I might have, he understands immediately. So I don't even consider him management. But we are reconfiguring ourselves.

We are starting on a new animated film called The Princess and the Frog right now and I think we have a chance to reach new heights again because there is that renewed enthusiasm about the art form. There was a while at Disney where we thought, well, maybe computer animation is really the way to go, that's what the audiences tend to flock to. But when John came in with his crew, he said, "You know what, this is Disney. There's no reason why we can't do both types of animation at this place." I completely agree with him. So we're just in the process right now of rebuilding a big crew for the feature.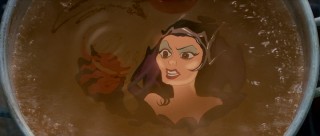 Something else that is sort of a return to the past for the studio is the animated short film. You recently worked on How to Hook Up Your Home Theater. How did the short film end up back in theaters?

For a while, we didn't even know what it would be coupled with. It was always the idea to put it with a Disney live-action film and we didn't know if it would be Enchanted... it was actually very late when we heard all of a sudden that it was going to be in front of National Treasure[: Book of Secrets].

So we all thought, "Well, great," because that will most likely be a hit so we can be sure it's going to be seen. We don't want to be coupled with a film that might not do that well. So we were absolutely thrilled when it was coupled with National Treasure. And you bet millions of people saw that and enjoyed it.

Each time I went to a movie theater and saw it, people really seem to get it. I had, actually, some people tell me that when the title, [labeled as] a Goofy Short, came up, they think it's an old movie that we dug out. And then the story starts and it's about high definition and surround sound and they go, "Wait a minute, they didn't have all that stuff way back then." (Laughs). It's a new film. So it's interesting. [It's] exactly what we wanted to do. We wanted to hook up with the quality of these "How To" films from the '40s but just give it a modern twist. And it's just really satisfying to see people getting it.

Going back to 101 Dalmatians, that film heavily employed the Xerox process in its animation and the result is a look that we don't see so much in animation today. What is your impression of the Xerox style seen in 101 Dalmatians?

I absolutely love it. It's more of a sketchy style. The other films have a more romantic, painterly look because the animators' drawings were actually hand inked in different colors, so it has more of a softer edge in terms of visual style. But all animators like to do their own drawing on the screen, even though it has that more, sort of rough, sketchy look. But these are all gorgeous sketches.

I mean these guys were a master class. There's absolutely nothing wrong with showing the individual work on the screen. I feel like these animators felt like way, way back when; like I said, for the first time, when they saw their drawings on the screen, sort of reinterpreted by an assistant cleaning it up. You know, it's just more personal, it's your own handwriting really, on the screen.

I personally grew up with those films because all the way through The Jungle Book and The Aristocats, they employed the Xerox style. It just reminds you as a kid, wait a minute, you're watching a movie with these characters, but they're actually sketches, the actual drawings. And you're excited. It's just a really nice, new style that also had a side effect: it really saved the animation department because they had to bring down the cost of feature animated filmmaking and the Xerox style really, really helped to bring the cost down and it was all for something new, something fresh, that people hadn't seen before.

Thank you, Mr. Deja, it was an honor to talk with you today.

Thank you.