In America, the number of cats owned (88.3 million) narrowly exceeds the number of dogs (74.8 million). But dogs have long featured more prominently in the world of Disney films. Among animated fare, there are the esteemed canine classics 101 Dalmatians and Lady and the Tramp plus extensive series starring the anthropomorphic Goofy and the speechless Pluto. Housecats, on the other hand, have been largely relegated to supporting roles (Alice in Wonderland's Cheshire Cat and Dinah, Lady's Siamese twins) and short-lived series (Pinocchio's Figaro).

Even Oliver & Company buries its cat protagonist among a cast of canines. The margin widens when the number and scope of live-action features are considered (Old Yeller and The Shaggy Dog come to mind much more quickly than The Cat From Outer Space or The Three Lives of Thomasina).

Not among the best-known Disney cartoons, The Aristocats is perhaps most distinguished for two things: A) Walt Disney died while the film was in its early stages of development and B) it is the most feline-filled of any of the company's works.

Set in 1910 Paris, the movie centers on Duchess, a mother cat, and her three spunky kittens, Berlioz, Toulouse, and Marie. Unbeknownst to them, their aging owner Madame Bonfamille has just arranged for her many riches to be inherited by her beloved cats. The news surprises and upsets Edgar, the thankless family butler who has been expecting the substantial wealth to be in his future. Responding less than sensibly, he feeds the four felines some sleeping pills and abandons them far from home.
As you could probably guess, a number of adventures ensue for the cat family. Accompanying them on most is Thomas O'Malley, a smooth-talking alley cat who serves as both streetwise guide and father figure. Along the path to their inevitable mission to make things right, there are two gabby geese and their inebriated uncle, a couple of slow-witted farm hounds, and a band of ethnically diverse (today, less than culturally sensitive) cats who invigorate an entire house with their swinging jazz.
It's easy and all too common for The Aristocats to be written off as just another Disney talking animal cartoon. But although it is generally viewed as the start of a creatively dark period for the studio's animation department (the uncertain time between Walt Disney's premature passing and the medium's late-'80s resurgence), there's plenty to like about this film.
Credited to seven writers and two story men, the screenplay unquestionably lacks the important literary foundation of classic fairy tales and 19th century triumphs. That proves to be somewhat of a blessing, though, for it lessens expectations and eliminates having to live up to a treasured source. Knowing that this was written to be a live-action, two-episode installment of Walt's weekly TV anthology series, one remembers the effort put into that program (called "Disneyland" and many other things) during the less promotional stretches of its long run. Somehow the material proves to be just right for the light, witty adventure that Aristocats ends up being. Were it flashier or more original, the movie may have made a sturdier impression on our collective consciousness. But playing it safe, it still satisfies with its modern mentality, time-tested elements, and winning spirit.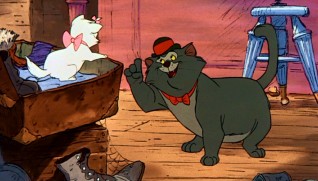 One of the most frequent complaints leveled at the film is that it's too similar to other Disney 'toons. It's a valid argument, for there isn't a great deal to distinguish

the cute kids, momentarily diverting supporting characters, and amusing situations from those of other animated features made before and after. For instance, O'Malley (whose full name is Abraham de Lacey Giuseppe Casey Thomas O'Malley) exudes charm and easily becomes the outing's boldest character. But he is essentially a cat version of The Jungle Book's Baloo, whose carefree mode marked all three of Phil Harris's successive voice performances (the third was as big bear Little John in the studio's all-animal Robin Hood).

His song, "Thomas O'Malley", instantly calls to mind "The Bare Necessities", also written by Terry Gilkyson. Nonetheless it ranks among the film's strengths along with "Scales and Arpeggios", a catchy piano tune from Disney's go-to songwriters Richard and Robert Sherman. The best tune is the last one, Floyd Huddleston and Al Rinker's "Ev'rybody Wants To Be a Cat", which infuses the film with some brief but needed magic as colors flare and characters dance. Even if you can't remember much about The Aristocats (including its opening title song, one of the last things performed by Maurice Chevalier), you're sure to remember that emphatic jazz club scene. If that is the case, know that most of what you may have forgotten is pretty charming as well.

The Aristocats made its DVD debut in 2000, the year that gave us an abundance of Disney animation in the short-lived Gold Classic Collection line. It became a likely candidate for a new release in 2006 when the studio began revisiting moderately popular post-Walt, pre-Eisner cartoon features like The Fox and the Hound and Robin Hood. With retailers' supply of the Gold Collection DVD dwindling, a new edition seemed inevitable and plans were announced near the beginning of 2007 in an insert inside Cinderella III for a 2-Disc Aristocats Special Edition to debut on March 27, 2007.

It quickly became evident that the DVD wouldn't make its announced date and soon the studio issued news that the set was being delayed until Spring 2008 to "add new, never before seen bonus features." A year later, we now get The Aristocats: Special Edition, with suspiciously few all-new features added and, more noticeably, the announced second disc dropped. Disney DVD collectors who paid attention to the studio's 2005 Tarzan Special Edition re-release may be experiencing déjà vu here. Tarzan was more extensively promoted and actually made its announced release date, but it too was originally announced as a two-disc affair only to quietly have been downgraded sometime before reaching stores.
DVD Details

1.75:1 Anamorphic Widescreen (Matted Theatrical Ratio)
Dolby Digital 5.1 (English, French, Spanish),
Subtitles: English; Closed Captioned
Extras Subtitled in English
Release Date: February 5, 2008
Single-sided, dual-layered disc (DVD-9)
Suggested Retail Price: $29.99
White Keepcase with Side Snaps,
Housed in an Embossed, Holographic Cardboard Slipcover
VIDEO and AUDIO

The Aristocats joins its immediate predecessor (The Jungle Book) and successor (Robin Hood) by having its second DVD release treat it to a matted 16x9-enhanced widescreen transfer that purportedly upholds a 1.75:1 theatrical aspect ratio. Though we've been trained to think "widescreen good, fullscreen bad" on any movie from the late-1950s on, Disney animated features present less of an open-shut case.

As on Jungle and Robin, comparing the framing reveals that it's the earlier fullscreen presentation, not this subsequent widescreen one which displays more of the movie's visuals. Of course, "more" isn't always better, but it's harder to dismiss when it's referring to an additional 25% of classic Disney animation intended to be seen in TV broadcasts and not some boom-mic-intruding empty space on an open matte Steve Guttenberg comedy.

This phenomenon is clearly becoming more common, much to the delight of 16x9 television owners who would otherwise choose to distort or zoom to fill their widescreen displays. Personally, I cringe a little every time part of a character disappears at the now-tightened top or bottom of the frame. Disney isn't even being consistent with their decisions; of the seven animated films for which this is clearly an issue, 3 have been reissued in widescreen, 3 remained in 1.33:1 fullscreen on their second DVD (including the imminently-resurfacing 101 Dalmatians), and it's anybody's guess what will happen to the 7th (Sword in the Stone) when its number is inevitably called for a new release.
Happily, the framing is not much a concern here. Whether it's coincidence or the result of careful vertically centered compositions, there are only a few brief shots where characters or settings feel tight and even those are far from severely cramped. Some shots, like the one above of the three kittens strutting across the railroad tracks, look even better in widescreen.
Like the other Disney cartoons from its era, The Aristocats has a slight bit of a rough look to it, with pencil lines appearing from time to time on characters. The DVD preserves those and generally matches what one can say is the film's traditional and intended appearance. While that makes it easy to grant the transfer points for fidelity, it also means the film hasn't received the type of drastic digital restoration that makes a decades-old work look strikingly new and vibrant. Reflecting the film itself, the presentation doesn't sparkle and shine quite like Platinum Edition fare, but it is clean and generally pleasing, with only some minor grain and softness marring the proceedings. Aside from those watching on displays five feet or larger, viewers are more likely to be struck by the film's somewhat simplistic artistic sensibilities than anything troubling about this benign transfer.
| | |
| --- | --- |
| | |
| Screencap from The Aristocats Gold Collection DVD | Screencap of same frame from this Special DVD |
The differences in presentation go beyond framing. The full moon now casts less of a yellow tint.
This Special Edition provides considerable improvement over the Gold Collection DVD, with a clearly sharper and more vibrant picture. The colors here may vary from bright to pallid, but on the whole, they're consistently more pleasing than on the 8-year-old disc. In a few places, the video seems excessively sharp, but this is still preferable to the comparably washed-out former appearance.
The Dolby Digital 5.1 soundtrack certainly doesn't deliver a dynamic experience on par with one of Disney's Enhanced Home Theater Remixes. In fact, it sounds a great deal like a two-channel Dolby Surround mix, meaning you'll be tempted to put an ear up to the rear channels to make sure that wires haven't mysteriously fallen out. At least it trumps the Gold Collection DVD's plain stereo track. The sound elements are presented satisfactorily, with dialogue, music, and the limited effects all being easy to take in and distinguish without shrouding their age.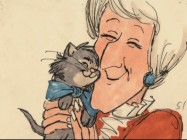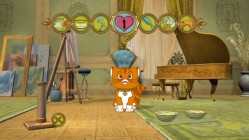 BONUS FEATURES
Like Fox and the Hound: 25th Anniversary Edition and Robin Hood: Most Wanted Edition, The Aristocats: Special Edition can easily be deemed supplementally superior to its Gold Collection incarnation but is still rather stark for a heavily-promoted DVD rerelease.
The paltry slate of bonus features begins with the deleted song "She Never Felt Alone" (7:54). As the runtime suggests, we get more than just the song here (pieces of which comprise the film's forgettable poetic sequence). Legendary Disney songwriter Richard Sherman discusses the number, plays a little, and introduces the demo of the deleted portion performed by Madame Bonfamille (Hermione Baddeley) and set to artwork. The same treatment is given the second part, performed by Duchess (Robie Lester).
Music & More holds a bonus that only barely qualifies as such. "Disney Song Selection" gives you the choice to watch the film sequences which showcase four songs: "The Aristocats", "Scales and Arpeggios", "Thomas O'Malley Cat", and "Ev'rybody Wants to Be a Cat" with -- get this! -- ordinary subtitles that display the lyrics. With Play All, you get a nearly 11-minute all-musical cut of the film. Yippee!
Under Games & Activities, you could say we could find one of each. Disney Virtual Kitten is the feline answer to the Virtual Puppy exercise on Lady and the Tramp: Platinum Edition. Like a more aesthetically pleasing Tamagotchi, you care for a digital pet by giving them food, fun, sleep, and grooming. Though not named such, the four cats from which you can adopt resemble Marie, Berlioz, Toulouse, and Figaro (of Pinocchio). It offers a small dose of fun and no reward, despite promises to the contrary.
A significantly enhanced version of Virtual Kitten can be played on DVD-ROM-equipped computers. It loses the commands and provides many more options, such as the chance to name your cat, paint with paws and brushes, practice piano, print out an adoption certificate, and vary your playing and feeding. Don't even bother with the set-top version unless DVD-ROM isn't viable for you.
Though not announced anywhere on the packaging or standard DVD menus, the DVD-ROM component of the disc also includes an animated wallpaper and screensaver which each put lively versions of the four Virtual Kittens on your desktop as they strut, rest, and play.
"The Aristocats Fun with Language Game" seeks to teach youngsters English names of various musical instruments through repetition and association. After the objects in a room are identified, the player is tested by having to locate each one. There are three different rooms, each with some different instruments. Education value surely surpasses entertainment, but I don't think too many families will find enough of either to stay interested. And cursor placement is quite spotty.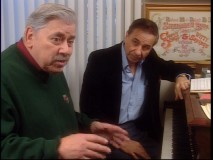 Backstage Disney delivers arguably the most important material, but not an abundance of it.
"The Sherman Brothers: The Aristocrats of Disney Songs" (4:22) finds Richard and Robert Sherman at a piano sharing their remembrances of the film and the occasional song excerpt. Short, limited, and looking at least several years old, the piece is quite lacking as the disc's primary retrospective.
A straightforward, well-designed interactive gallery, "The Aristocats Scrapbook", serves up 68 stills across 18 pages. It's a rather satisfactory mix of concept art, storyboard sketches, behind-the-scenes production photos, and marketing media. Those who aren't captivated by rough drawings will particularly appreciate the latter pages, with pictures of voice actors, live action reference footage, assorted posters, and the Christmas-flavored LA premiere. All should enjoy discovering a homely maid character who was subsequently deleted.
Rounding out the section is "The Great Cat Family" (12:50), an excerpt from a 1956 episode of Walt's "Disneyland" anthology series. After a short intro from Uncle Walt, this plays out with a narrated, animated history of cats that traces the species' origins from pampered and populous in Ancient Egypt to domestic pet worldwide, with special note being given to their role in wiping out the Bubonic Plague and their persecution among witchcraft.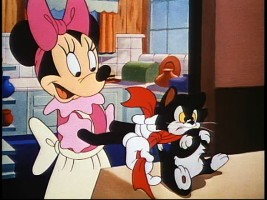 The disc comes to a close with the 1946 Figaro short Bath Day (6:38), in which the black and white cat is reluctantly bathed

and beautified by his post-Pinocchio owner, Minnie Mouse, only to become ridiculed and bullied by tough neighborhood alley cats. A good cartoon which has only turned up on the largely superfluous Best Pals: Mickey & Minnie Classic Cartoon Favorites DVD, it's a welcome inclusion even if it's just for the feline connection.

Not a single thing from the movie's Gold Collection DVD is carried over here. Most missed, and least necessarily so, was a trailer from a 1980s rerelease. Also gone are an Aristocats read-along storybook, a 17-question trivia game, and -- in early copies, at least -- a "Fun with Music" booklet.

With the magic of Disney's FastPlay, the disc opens with trailers for 101 Dalmatians: Platinum Edition, WALL-E, this fall's Sleeping Beauty: Platinum Edition, and Snow Buddies, plus a commercial for the Disney Movie Rewards program. These ads also adorn the Sneak Peeks menu, where they're joined by promos for The Little Mermaid: Ariel's Beginning, "Hannah Montana": One in a Million, "Handy Manny": Fixing It Right, "Little Einsteins": Race for Space, "My Friends Tigger & Pooh", Twitches Too, and Tinker Bell.

MENUS and PACKAGING

Feeling more like a shot from a '60s Peanuts special than a 2008 DVD menu, the main menu nonetheless improves upon the Gold Collection's static selection screens with an infinitely looped little stretch of the jazz club cats making music. Submenus are even simpler, with instrumental jazz selections accompanying more looped animation or still shots within the jazz clubhouse.

Naturally, the Special Edition's enhancements in packaging are about as remarkable as the on-disc contents. The DVD boasts a cardboard slipcover which is selectively embossed and holographic to stand out on store shelves. Inside the side-snapped keepcase, one finds a double-sided chapters/extras list, a two-sided Disney Movie Rewards sheet with code, and a booklet of coupons and advertisements. Most notable in that last piece are a trio of $3 coupons on "Hannah Montana", Snow Buddies, and upcoming Playhouse Disney DVDs plus a page promoting April 29th's Classic Caballeros Collection of Saludos Amigos and The Three Caballeros, a 2-movie DVD with which you're apparently supposed to celebrate Cinco de Mayo.
CLOSING THOUGHTS
Though not one of Disney's all-time best animated features, The Aristocats is a fun film which deserves a place in most collections. This Special Edition clearly isn't all it could have been and it doesn't meet one's expectations for what was announced as a two-disc set. Supplementally slight though it may be, this new edition still handily surpasses the movie's Gold Collection release in picture, sound, and bonuses. That's reason enough to recommend an upgrade and 16:9 TV owners especially should pounce on this reissue. But owners of the original DVD who consider themselves big Aristocats fans may want to hold onto the old disc for its fullscreen/stereo presentation and few unique goodies.