Page 1: Show and Season 6 Discussion, Disc 1, and Disc 2
Page 2: Disc 3, Video/Audio, Bonus Features, Menus & Packaging, and Closing Thoughts

Entering its sixth season on the air, the family sitcom "Home Improvement" was no longer the ratings behemoth it was a few years earlier.

Its viewership continued to slide, with nearly 6 million less viewers tuning in than had three seasons ago. Still, "Home Improvement" remained a major draw in 1996-97, claiming a larger audience than any other primetime program aside from NBC's potent Thursday night "Must See TV" lineup and ABC's "Monday Night Football."

Though "Home Improvement" may have been past its prime in terms of popularity, the sixth season found the Tuesday night staple with plenty of creative juices still flowing. It delivered some classic episodes of the series, perhaps none more inspired than two fall holiday shows, the Halloween prank war and partially claymated Thanksgiving. While there were also a number of less on-target episodes, the season was a success on the whole, representing the last time the series could be deemed an artistic triumph without hesitation.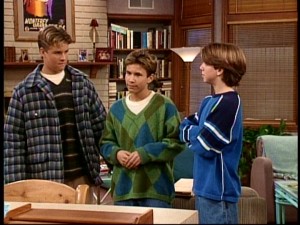 As always, detecting changes from previous seasons was no easy task. There were no major overhauls in terms of personnel, at least none which were noticeable; directing duties were seamlessly passed from Season 2-5 stalwart Andy Cadiff to a trio of competent individuals (Peter Bonerz, Andrew Tsao, Geoffrey Nelson). For the bulk of the season, it seems as though comedic but realistic looks about married and family life have been dropped in favor of funny situations and big laughs. By the end, however, there are enough episodes commenting on these central themes to reverse the trend.

Of course, the sitcom's central premise was untouched: this was still a show about Tim "The Toolman" Taylor (Tim Allen), working man, family man, and man's man. Ever sarcastic and inept on his cable renovation series "Tool Time" and at home with wife Jill and three sons, Tim nonetheless shows evidence in Season 6 that he's held onto some of the sage, over-the-fence advice his neighbor Wilson (Earl Hindman) has dispensed over the years.

Thus, while he's still a likable accident waiting to happen (this season's most thick-headed transgressions include hotwiring Jill's new car and escaping from a hospital to claim a longevity record), Tim shows a sensible side on a number of occasions and interactions.

The rest of the Taylor family receives more of the limelight in Season 6, with Patricia Richardson's understanding wife seeing her duty as the show's emotional core move from the sidelines to center stage a few times. Jill's family by birth --a handful of diverse sisters -- gets to collectively feature in two episodes. For the Taylor offspring, the word that first comes to mind this season is "puberty", which arrives for two out of the three sons, yielding voice changes for teenagers Brad (Zachery Ty Bryan) and Randy (Jonathan Taylor Thomas). While only Bryan physically welcomed a growth spurt, both actors were treated to growing roles, as plots about a girlfriend, a girl friend, a driver's license, a mall job, and a school job all enter the fray. Youngest son Mark (Taran Noah Smith) is also still in the mix, figuring centrally in three episodes, though minimized, outcast, and dwarfed by his castmates all other times.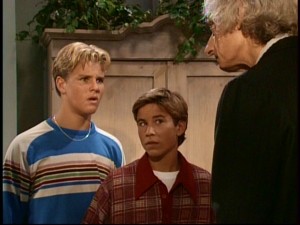 Tim's circle of guy friends, established the previous year, is once again employed this season. They include sensitive "Tool Time" co-host Al Borland (Richard Karn), whose snort-laugh puns might not crack up Tim, but do provide some of the show's bigger laughs. The engaged mama's boy again enjoys off-work screen time as family friend and part-owner of Harry's Hardware. Owner Harry (Blake Clark) and his gruff diner waitress wife Delores (Shirley Prestia) again appear, often peripherally. As do permanent loafer Benny Baroni (Jim Labriola), Tim's sarcastic brother Marty (William O'Leary), and Al's betrothed orthodontist Ilene (Sherry Hursey), each getting a few small turns and an episode involving them more prominently. In her fourth season as "Tool Time" girl Heidi, Debbe Dunning finally gets more to do than simple introductions in a couple of episodes which center around her actions and incorporate her real-life pregnancy.
The sixth season's guest stars include racecar driving families on "Tool Time" (the Andrettis and the Unsers make separate appearances), the Beach Boys at Wilson's house, and an assortment of famous faces in character. In that last class are TV veterans Bonnie Bartlett and Polly Holliday, who return as Tim and Jill's mothers, respectively. Comedians Drew Carey and Janeane Garofalo turn up in guest appearances. Even original "Tool Time" girl Pamela Anderson resurfaces (as Pamela Lee) to reprise her role in the season finale. One of the season's (and the show's) most memorable guest stars is the recently-deceased Tom Poston, who entertains as an unhelpful gas station attendant the very same way he did in other roles (playing the character's brothers) in single-episode spots of the preceding and subsequent seasons.
During the summer of 1996, prior to starting Season 6, much of the core cast of "Home Improvement" tried its hand in movies. Tim Allen shot Jungle 2 Jungle, his second live-action feature, a strong-performing comedy for Disney. Fan favorite Jonathan Taylor Thomas, who already had two Disney comedies and an animated feature under his belt, branched out to make Warner/Morgan Creek's coming-of-age flick Wild America. The efforts of Zachery Ty Bryan (True Heart, co-starring Kirsten Dunst) and Richard Karn ((Legend of) The Mummy, adapted from a Bram Stoker novel) would not be seen for a few years to come, thanks to distribution hold-ups, and even then would only bow on video. However, Patricia Richardson won strong reviews for her work in the independent drama Ulee's Gold, in which she shared the screen with Oscar-nominated Peter Fonda and pre-"7th Heaven" Jessica Biel.
Arriving exactly six months after Season 5's release, The Complete Sixth Season rings in change for "Home Improvement" on DVD. No, Disney hasn't suddenly realized the value of bonus features and loaded the set up with relevant extras on this long-running sitcom. Like those before it, this set is nearly barren in that department.

Instead, the list price has dropped to just $23.99, less than half of what Season 1 clocked in at 2½ years ago and $16 below more recent seasons. The substantial reduction probably reflects modest sales numbers and a flooded marketplace.

By introducing a different price tag for a catalog show (versus a current one), Disney is surely giving the series' fanbase (which lacks the fervor it held even a few years ago) an extra push to want more than the chopped-up reruns frequently aired in syndication. Such a tactic may benefit not only this sitcom, whose final two seasons might otherwise have not seen the light of DVD, but other favorites that Buena Vista Home Entertainment has cautiously left unreleased or abandoned after unacceptable profit margins. Coinciding with this set's release, "Home Improvement" has had its Season 1 and Season 2 DVD releases lowered to the much more attractive $23.99 SRP, meaning that half of the show's six available box sets should be easily found for under $20. (In between writing this paragraph and publishing the review, Buena Vista has scheduled an August 7th DVD release for "Home Improvement": The Complete Seventh Season as well as "8 Simple Rules (for Dating My Teenage Daughter)": The Complete First Season, both at the $23.99 price tag.)

Keeping with tradition, "Home Improvement"'s sixth season, consisting of 25 episodes, is spread across three discs. As usual, I've marked ten standout episodes with a star (

).
Disc 1
1. At Sea (22:19) (Originally aired September 17, 1996)
Tim wreaks havoc for the Navy as "Tool Time" films on the USS Constellation air carrier. Back home, Jill and Tim worry that Brad may be having sex.
2. Future Shocked (22:02) (Originally aired September 24, 1996)
Disagreements over Tim's daily routines lead Jill and Tim to dream about what their lives will be like when they're much older. Their highly amusing, divergent visions of the future make up the bulk of this episode.
3. Workshop 'Til You Drop (22:20) (Originally aired October 1, 1996)
Tim is reluctant to join Jill for a couples therapy workshop, but both are in for some surprises. Meanwhile, Randy starts to write for the school newspaper.
4. Burnin' Love (22:37) (Originally aired October 8, 1996)
Randy really clicks with his car-loving fellow newspaper writer Lauren (Courtney Peldon), so he's hurt when she goes out with Brad's smarmy friend Jason (Jarrad Paul).
5. Al's Video (22:21) (Originally aired October 15, 1996)
Tim goes overboard in directing Al's hardware video, creating a rift in their friendship. Jill gets a new laptop.
6. Whose Car Is It Anyway? (22:22) (Originally aired October 22, 1996)
Jill uses the money she inherited from a deceased aunt on a 1967 Austin-Healey, which she buys without consulting Tim. When she won't let Tim drive the British sports car, he hotwires it!

7. I Was a Teenage Taylor (22:22) (Originally aired October 29, 1996)
In the spirit of Halloween, Tim and Jill elaborately prank back and forth with Brad and Randy. Once again, the autumnal holiday puts "Home Improvement" at its best; this is one of the series' all-time funniest and sharpest episodes.

8. Jill and Her Sisters (22:37) (Originally aired November 12, 1996)
Three of Jill's sisters visit to plan their parents' anniversary party, which quickly proves to be a tough task. Tim and the boys camp out in the backyard.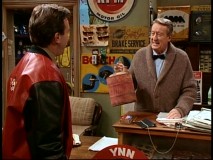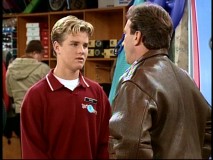 Disc 2

9. The Tool Man Delivers (22:15) (Originally aired November 19, 1996)
En route to accepting the Car Guy of the Year award, Tim's car runs out of gas and Heidi goes into labor. In his second of three "Home Improvement" guest spots, Tom Poston plays an unhelpful gas station clerk.

10. The Wood, The Bad and The Hungry (22:28) (Originally aired November 26, 1996)
After spotting Benny at a soup kitchen, Tim changes his mind and invites him over for Thanksgiving dinner.

In a memorable Rankin/Bass-inspired middle stretch, Tim dreams of himself and others in wooden form, thanks to a stop-motion animation sequence by Will Vinton Studios. On "Tool Time", Mario and Michael Andretti join Tim and Al in the "Butterball 500", a turkey-carving race. All the elements add up to one of the show's finest episodes, holiday or not.

11. Workin' Man Blues (22:30) (Originally aired December 10, 1996)
Brad gets a job at a sporting goods store in the mall, but his devotion to work soon interferes with his family, friends, and schoolwork.
12. No Place Like Home (22:23) (Originally aired December 17, 1996)
Tim's brothers Marty (William O'Leary) and Jeff (Thom Sharp) join him and his family to help his mother (Bonnie Bartlett) move out of her home. Saying goodbye to the childhood house his father built proves difficult for Tim in what is the show's least Christmasy Christmas episode.
13. The Flirting Game (22:23) (Originally aired January 7, 1997)
Jill scolds Tim for buying household cleaner from an attractive door-to-door salesman. When she unconsciously flirts her way out of a speeding ticket, she worries she might be a hypocrite.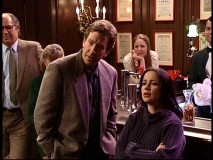 14. The Karate Kid Returns (22:33) (Originally aired January 14, 1997)
Mark uses his karate training to defend Randy from a bully at the mall. Wilson's cousins and their band (The Beach Boys) visit him, but bitter feelings still linger between them over his unused lyric suggestions.
15. Totally Tool Time (22:22) (Originally aired January 28, 1997)
Hoping to sell the show to a foreign market, Tim and company plan a big, Swede-friendly "Tool Time" episode to impress the Swedish executives on hand. From a dull guest (Drew Carey as a highway roadkill cleaner) to botched demonstrations, it's a disaster. As far as the show-outside-the-show, this episode is unique for being nearly completely set at "Tool Time" and for taking us behind the scenes there.
16. A Funny Valentine (22:33) (Originally aired February 11, 1997)
Tim gets tracked down by a woman who knew his father. Meanwhile, he and the boys try to find his Valentine's Day gift for Jill, whatever it may be.

17. Wilson's World (22:36) (Originally aired February 18, 1997)
When Wilson's one man show at a coffee house gets a negative review, he decides to re-evaluate his life and be more like everyone else. On "Tool Time", Tim and Al compete to come up with the most creative culinary concoctions.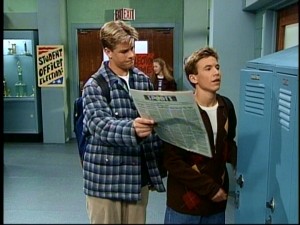 Order Home Improvement: Season Six DVD from Amazon.com