UltimateDisney.com | DVD and Blu-ray Reviews | Live Action Disney Films (1980-Present) | Upcoming Disney Movies | Search
Newsies: Collector's Edition DVD Review
Newsies

Theatrical Release: April 10, 1992 / Running Time: 121 Minutes / Rating: PG

Director: Kenny Ortega / Writers: Bob Tzudiker, Noni White

Cast: Christian Bale (Jack Kelly), David Moscow (David Jacobs), Robert Duvall (Joseph Pulitzer), Ann-Margret (Medda Larsen), Bill Pullman (Bryan Denton), Max Casella (Racetrack Higgins), Marty Belafsky (Crutchy), Charles Cioffi (Seitz), Gabriel Damon (Spot Conlon), Jeffrey Demunn (Mayer Jacobs), Arvie Lowe (Boots), Aaron Lohr (Mush), Michael Lerner (Weasel), Deborra-Lee Furness (Esther Jacobs), Ele Keats (Sarah Jacobs)

Songs: "Carrying the Banner", "Santa Fe", "Seize the Day", "King of New York", "My Lovey-Dovey Baby", "High Times, Hard Times", "The World Will Know", "Once and For All" (All Songs Performed by Cast)
| | |
| --- | --- |
| Newsies is a bold and lavish production, a full-blown musical which calls to mind popular musicals of the '60s and '70s. Loosely based on the true story of the New York newspaper boy strike of 1899, the uplifting part of this tale focuses on a group of teenaged-and-younger newspaper sellers who decide to take a stand. When the newspaper publishers seek an increase in profits, and recognizing that a price raise for the public would have a negative effect on sales, they decide to increase their profits by charging more to the kids who sell their papers. Led by teen fugitive Jack Kelly, the boys unite with those in the city to not budge, even if a strike means hardships for them. | |
Newsies is a rousing and likable film, equally energetic and inspiring. The songs, written by Alan Menken (who's been responsible for songs from The Little Mermaid and a number of Disney films from last decade), are lively. Like most musical's songs, these are quick to catch on to, but unlike many others, they're not forgettable once the movie has ended.
Christian Bale (recently cast as the new Batman) turns in an outstanding performance in the lead role as Jack, the voice of the Newsies. David Moscow (who played young Josh Baskin in Big) is adequate as the new newsie in town with a family who becomes Jack's partner and the brains of the operation. The two stars who are top-billed on the packaging actually have relatively small roles -- Robert Duvall is less than his usual stellar self as one-dimensional nemesis Joseph Pulitzer and Ann-Margret is barely on screen at all as a friendly performer named Medda.
More effective are Bill Pullman as sympathetic reporter Denton who covers the strike for his paper and Max Casella (perhaps still best known as Doogie Howser's best friend Vinnie Delpino) who is animated and as always, displays presence in this his first film role.
First-time feature director Kenny Ortega is a choreographer first and foremost (he choreographed the fantastic parade sequence in Ferris Bueller's Day Off, for instance), but he does a fine job in both this capacity and as the film's helmer. He's only directed one film since, Disney's Hocus Pocus and has been directing TV shows since.

The film is well-designed, and credit there goes to director of photography Andrew Laszlo, production designer William Sandell, and costume designer May Routh.
DVD Details

2.35:1 Anamorphic Widescreen
Dolby Digital 5.1 (English),
Dolby Surround (Spanish)
Subtitles: English, French, Spanish
Closed Captioned
Release Date: January 15, 2002
Single-sided, dual-layered disc (DVD-9)
Suggested Retail Price: $14.99 (Reduced from $19.99)
White Keepcase
Although Newsies failed to gross even one-fifth of its $15 million budget in domestic box offices, the film has developed a strong following since its video debut just over a decade ago, and when it finally made its DVD debut in January 2002, it was in a full-blown Collector's Edition, which remains unrivaled by any other DVD release of a live action Disney film from the '90s.
VIDEO AND AUDIO
Newsies looks great, and that's speaking about both the film and the transfer. Framed in the wide 2.35:1 ratio as most lavish musicals of the '60s were, Laszlo's cinematography is just constantly interesting and offers satisfying compositions. The staging of the numbers really makes good use of the Panavision frame. The video transfer is great too. Clear, vibrant, sharp, and colorful, this illustrates that when given the proper effort, movies from last decade can look as good as new. It's not quite flawless, but you'll have to look closely for flaws, and certainly the transfer contributes to a pleasing presentation.
The sound quality of the 5.1 Dolby Digital track is also pleasing. The musical numbers open up the soundfield and make good use of the surrounds - overall dialogue is clear (well some of the turn-of-the-century New York accents are exaggeratedly thick, but that's neither here nor there).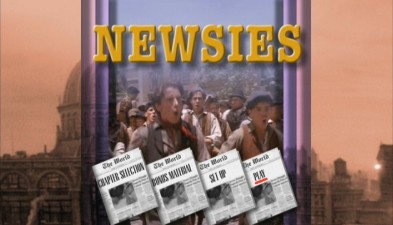 EXTRAS

Much to discuss here. There is an hour of video content presented in 3 20-minute featurettes. "Newsies, Newsies, See All About It!" is from the film's original release and is hosted by three of the young stars (Max Casella, Aaron Lohr, and Arvie Lowe). This focuses on the young actors' preparation for the film (lots of exercising and dancing)

and their experiences on the set while making the movie. It's very easy to watch, just the right length, and nicely presented.

"Newsies: The Inside Story" appears to be a new featurette (at least the interview with director Kenny Ortega might be new), but the majority of it is comprised with additional footage from production in 1991 - interviews with the cast and crew. This featurette provides more perspective on the design of the film - framing, costumes, and choreography. Very little is overlapped from the previous featurette, and this one works quite well, too.

"Strike! The True Story" discusses, as you can probably guess, the history behind the film's story - the turn-of-the-century strike by New York newsies. Much of the film's story is simplified or condensed, so it's interesting to hear a more accurate depiction of the events behind the strike, and the reality of life as a newsie. Old footage and stills of real newspaper boys from the period are mixed with scenes from the film, and crew members (screenwriters and producers, mostly) provide new interviews on the film's real-life basis.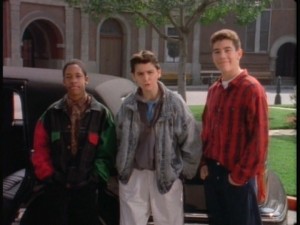 There is a full-length audio commentary featuring director Ortega, writers Bob Tzudiker and Noni White, producer Michael Finnell, and co-choreographer Peggy Holmes. From just listening to bits and pieces, this sounded interesting and upbeat, certainly something to enthusiasts to check out when they get the time.
Two theatrical trailers are included (a true rarity on DVDs for the studio's live action '90s fare). Both are interesting, and the second includes snippets from other popular Disney films from the time like The Little Mermaid and Honey, I Shrunk the Kids.
"Storyboard-to-Scene Comparison" (6:10) alternates between storyboard drawings and a collection of scenes from the movie, which are unfortunately cropped to unsightly pan-and-scan. You can also view this montage with audio commentary by production Bill Sandell.
Newsies Sing-Along is a simple, but neat feature that enables bold yellow subtitles to pop up and provide lyrics to the musical numbers while you are watching the film.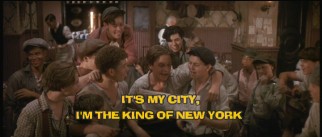 "Talkin' Newsies" is an interactive feature which allows you to go through a collection of slang terms used in the film and at the turn-of-the-century and translate them. Though this feature seems designed for the young ones, and comes complete with a perky narrator, some of the terms may likely fly over their heads, even with the translation. ("What's a Simpleton, Mommy?")
Oh yes, and there's a whole slew of trailers at the beginning, which can easily be skipped. They are for Return to Never Land, Atlantis: The Lost Empire, Cinderella II, Hunchback II, and what was then referred to as 101 Dalmatians: The Animated Sequel.
CLOSING THOUGHTS

Why does box office flop Newsies get deluxe treatment when so many live action Disney films of the '90s did well at the box office get dirt-poor, cropped DVDs? That's a mystery, but one that I'm sure the enthusiastic fan following of this film will gladly disregard. They have nothing to do but celebrate this wonderfully-produced disc of their beloved musical. There's no hesitation in recommending this film and this DVD - it's a fun movie that has been given first-class presentation in all regards on DVD. I can't pretend to understand how a film like this can flop and earn 5 Razzie nominations, whereas Chicago wins the Best Picture Oscar. Nonetheless, I'm glad that this film has found its audience. If only more of Disney's live action films from the '90s could receive this kind of DVD treatment...
More on the DVD / Buy from Amazon.com


Related Reviews:
Early-'90s Disney: The Muppet Christmas Carol • Aladdin • Wild Hearts Can't Be Broken • The Rocketeer • Perfect Harmony
Directed by Kenny Ortega: Hocus Pocus • High School Musical • High School Musical 2 • High School Musical 3: Senior Year
Musicals: Across the Universe • Chicago • Sweeney Todd: The Demon Barber of Fleet Street • Dreamgirls • Popeye
Music by Alan Menken: The Little Mermaid • Beauty and the Beast • Home on the Range
Christian Bale: The Prestige • Pocahontas • Howl's Moving Castle | David Moscow: Big (Extended Edition)
Robert Duvall: Four Christmases • The Godfather | Ann-Margret: The Santa Clause 3: The Escape Clause • Old Dogs
Max Casella: Dinosaur • The Little Mermaid II: Return to the Sea • Revolutionary Road | Arvie Lowe: Lizzie McGuire: Box Set Volume 1
Written by Bob Tzudiker & Noni White: Tarzan • 102 Dalmatians • The Hunchback of Notre Dame • Tarzan II
Ultimate Guide to Disney DVD Home
Live Action (1980-Present) Home
DVD Review Index
Newsies in UD's Top 30 Live Action Disney Films Countdown
Search This Site:
UltimateDisney.com/DVDizzy.com Top Stories:
Reviewed September 21, 2003.