By Albert Gutierrez

Nine years after the first Air Bud hit theatres, yet another film has spawned from the wonder dog of sports. Having made their movie debut in 2000's Air Bud: World Pup, Buddy's offspring now get a film of their own, the aptly-titled Air Buddies. These tots, however, don't share their father's talent in sports... instead, they possess the gift of speech. Unlike the previous films in the franchise, the dogs here are given voices to express their thoughts.

While it makes for an amusing time, Air Buddies lacks the heart of the original Air Bud, and genuinely fits the bill as a children's movie. The first film, on the other hand, was touching in its story and amazing in its canine antics, becoming a charming minor classic for families and children of all ages.

This sixth entry to the series begins with warm narration by Sniffer, the sheriff's dog (voiced by the late Don Knotts), as he introduces us to the Air Bud family of golden retrievers. Naturally there is Buddy a.k.a. Air Bud (now voiced by Tom Everett Scott), and his female companion Molly (Molly Shannon). Buddy lives with his owner, a young boy named Noah Framm (Slade Pearce), while Molly stays across the street with her owner Henry (Christian Pikes). The Framms also take care of the "Air Buddies", Buddy and Molly's five puppies, who each hold a distinct personality and name to match it. B-Dawg (Skyler Gisondo) wears a gold chain around his neck and loves to talk with gangster slang. Rosebud (Abigail Breslin) is the only female puppy, and can be quite pompous, always frustrated with her four brothers. Mudbud (Spencer Fox) lives up to his name by being dirty most of the time. The ever-peaceful Buddha (Dominic Scott Kay) prefers meditation and harnessing positive energy. Finally, Budderball (Josh Flitter) is the largest of the five, with an appetite to support his stature.

Due to movie magic, the Air Buddies have not grown at all in the past six years. Because of the difficulty that exists in raising five young animals, Noah's parents Jackie (Cynthia Stevenson) and Patrick (Richard Karn) decide to sell the puppies to good families, screening various applicants. Noah at first doesn't understand why, but a quick reference to older siblings Josh and Andrea (the only nod to previous Air Bud films and characters) leaving for college helps, at least a little. Naturally, none of the puppies want to leave, especially when they see their prospective new owners.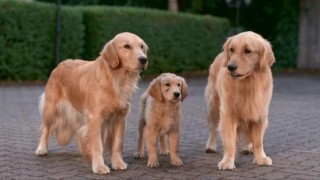 Meanwhile, in another part of Fernfield, bratty rich kid Bartleby (Tyler Guerrero) rejects an exotic tiger caught by Selkirk Tander (Holmes Osborne), citing that he can't play with a tiger. Bartelby asks his father (Steven Makaj) to get him Air Bud, because what could be better than a pet versed in basketball, football, and soccer? (I'm guessing they decided to forget the pooch's forays into baseball and volleyball.) Offered $500,000 for the dog's capture, Selkirk enlists his nephew Grim Tander (Trevor Wright of "George Lopez") and a man named Denning (Paul Rae) to assist in a kidnapping. The two bumbling henchmen snatch both Air Bud and Molly, and after Selkirk realizes the two have puppies, he sends Grim and Denning back out to nab them too.
Having seen their parents kidnapped, the five Air Buddies venture on their own to save them. Along the way, they stop at a drive-in theatre (featuring the 1961 animated classic 101 Dalmatians and sensitive bikers watching in the front), hide a billy goat (voiced by Toy Story's Wallace Shawn) who is escaping a farm, and meet a wise old wolf (who sounds like Michael Clarke Duncan) who offers help. While the Air Buddies are searching for their parents, Noah and friend Henry are searching for them, as are Denning and Grim. All the while, Air Bud and Molly are digging their way out of their wine cellar prison. Unsurprisingly, the movie culminates in all parties meeting up for a grand finale in the winery.
As a whole, the film celebrates, and indulges in, being nothing but cute. Naturally, the puppies are cute. So is the humor, with lines such as "They're like the Pup-parazzi!" and characters like a pig who's fluent in Pig Latin. My favorite "cute" sequence in the film involves Budderball falling into a vat of wine. He promptly gets intoxicated and chases his own tail, singing "Where Oh Where Has My Little Dog Gone?". Unfortunately, not all of the movie's choices in comedy are as amusing; there are a number of fart jokes thrown in, which are never in good taste.
The childish nature of the film makes for too predictable a story that expectedly will have a happy ending.

Getting there, the good characters are much too nice and the villains far too campy for either to be taken seriously. Within the compact 80 minutes, four sides of one story are portrayed, an approach which could be disjointing, but actually proves quite easy to follow.

The movie may just be kiddie fare, but it ultimately has some positive messages relatable to any viewer. The puppies, initially reluctant to leave their family, learn the value of growing up and how it's a part of life. Parents can easily sympathize with a kid like Noah -- the puppies are as much his children as they are Buddy's. Learning to let a child go and saying goodbye often come much later for a parent, but watching a child deal with the same struggle can seem just as emotional, though in the film, this too is viewed as part of maturing. To an extent, the old saying "opposites attract" can also be applied to the film: the Buddies at first clash with their new owners (for example, Mudbud gets sent to a boy who plays video games and hates getting dirty), but they remember some relevant advice from Buddy regarding compromise that benefits both parties. Finally, through the character of Bartleby, Air Buddies teaches viewers that even "bad guys" have some good in them.

As the first Air Bud film in which the dogs talk, Air Buddies illustrates this technique has effects both good and bad. Similar in nature to Disney's 1993 talking-animal film, Homeward Bound: The Incredible Journey, these dogs don't talk around humans, or at least they are only understood by other animals. Whereas Homeward Bound made the concept work, here it yields merely a couple of funny one-liners. Losing the voices might have been to the filmmakers' advantage; try muting the television during any doggie dialogue scene, and you can still understand the action just fine.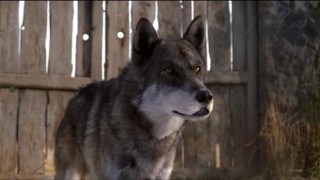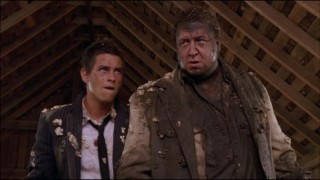 Nevertheless, the voice cast is quite impressive, with the legendary Don Knotts claiming the minor role of Sniffer, and nice vocal cameos made by Wallace Shawn and Debra Jo Rupp (as a billy goat and pig, respectively). Tom Everett Scott and Molly Shannon perform capably as Air Bud and Molly. Special props go out to Michael Clarke Duncan, who voiced the wise old wolf. Whoever thought to put his deep voice in an animal like the wolf should get a nice Christmas bonus. While Duncan doesn't have as much screentime as others,

his character provides a sense of security for the Air Buddies and some philosophical advice for both the pups and viewers. The Air Buddies are brought to life by a number of young actors who should be familiar to Disney fans. Abigail Breslin (Rosebud) played Mel Gibon's daughter in Touchstone's hit thriller Signs; Spencer Fox (Mudbud) voiced Dash in Pixar's The Incredibles; Josh Flitter (Budderball) was the tiny streetwise caddie in The Greatest Game Ever Played; and Dominic Scott Kay (Buddha) provided vocals for Young Samson in flashback scenes from the recent Disney-distributed CGI flick The Wild.

While there is not much to criticize within the voice cast (as all bring plenty of emotion and energy to their roles), the live-action cast is not as prominent. The original Air Bud succeeded by balancing family drama with an inspiring story of a talented dog. This latest installment finds much more time spent on the puppies than the humans, giving the two-legged characters the short end of the stick. The parents have little to do besides dole out the occasional reassuring word, the dog owners function solely to rescue their missing pets, and Sheriff Bob (making his third appearance in the series) seems present for no reason except to look over Sniffer. It's unfortunate that these good guys are severely underrepresented next to the villains. As the Horace-and-Jasper wannabe dognappers, Paul Rae and Trevor Wright are given a lot of physical comedy, enduring a fair share of pain which mostly stems from their own idiocy. While such antics may amuse few, I found much of them to be forced, awkward, or just plain unbelievable. Then again, it's a talking dog film, so there is a high degree of liberty from reality that must be allowed.

The film ends with a dedication to the late Don Knotts and Patrick Cranshaw, both of whom passed away in the past twelve months, long before the movie's release.

VIDEO and AUDIO

Air Buddies is presented in a 16x9-enhanced widescreen transfer, something that none of its five predecessors (even the two theatrically-released films) have received on DVD. As a newly-produced, studio-backed direct-to-video film, video quality is, unsurprisingly, exceptional. Colors stand out nicely, and the picture is very clear and crisp. Even the CGI-altered mouths look natural, something that's especially hard to do achieve.

Audio is provided in Dolby Digital 5.1 in English, French, and Spanish. Music, a major part of this movie, seems to run non-stop, which can get quite annoying but helps set a consistent mood throughout the movie. Also, English subtitles are provided for deaf and hard of hearing.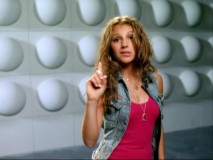 BONUS FEATURES, MENUS and DESIGN

The bonus features offered here are anemic

but still provide a few glimpses into Air Buddies' production. Up first under the Music & More heading is a music video for the end-credits song "We Are Family" (3:24). Jordan Pruitt gives a bad hip-hop cover of the Sister Sledge classic, and the music video is worse, with self-obsessed teenagers taking turns mugging for the camera.

The section Backstage Disney holds the remaining bonuses. The first of three featurettes, "Hollywood Backstage Pass" (4:02) is a special episode of The Disney Channel's "Mike's Super Short Show." It features Mike (Mike Johnson) and Sally (Alyson Stoner) interviewing the dog actors. Though offering little in the way of behind the scenes information, this brief piece is highly amusing and provides some behind-the-scenes footage.

"Train Your Dog to Be a Star" (2:30) has trainers Jordan Heppner and Rowan Harland explaining how to educate dogs especially for working in films. The least fluffy of the paltry supplements, this one includes training examples, with help from actors Slade Pearce and Christian Pikes.

Finally, "Puppy Profiles" (2:02) provides a narrated set of traits for each puppy: likes, dislikes, and favorite sayings, with relevant clips from the movie.

Equipped with Disney's FastPlay, the disc starts with previews for Peter Pan: Platinum Edition, Meet the Robinsons (the now familiar teaser), Cinderella III: A Twist in Time, and concurrently-released The Fox and the Hound 2. From the limited-animation 16x9-enhanced main menu, you can find additional previews for The Little Mermaid III, the CGI Tinker Bell movie, an odd animated Jetix series called "Yin Yang Yo!", as well as the recently-released DVDs High School Musical: Remix Edition and Disney DVD Game World.

Inside the side-snapped white keepcase, one can find a two-sided insert containing a chapter index and bonus features. There is also a two-sided Disney Movie Rewards ad with code, and a smaller booklet of "Tail Waggin' Savings" in the form of promotions, coupons, and an offer for a free Copper or Budderball plush when you purchase both this DVD and The Fox and the Hound 2.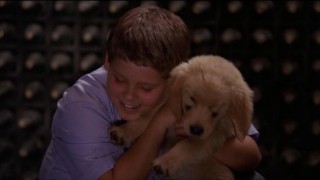 CLOSING THOUGHTS
Air Buddies is a children's film, with a predictable story, good clean humor, and obvious life lessons. While a family can sit down and watch it together, it would be quite straining on the parents, who may not enjoy talking dogs as much as their children should. Still, it's a very cute film that's worth catching on the Disney Channel, where it will most likely air in the near future. I wouldn't recommend it for a blind buy, but if you're a big fan of the Air Bud series, and don't want to wait for a TV broadcast, a rental might be better for now.