By Aaron Wallace

There are two ways to look at Disney's abundant crop of sequels to their animated classics. The first is to consider them in the context of the original films that they follow, judging them on their ability to maintain the integrity of the first movie while believably furthering its story. So far, that has proven to be a near impossible standard for Disney's sequel factory to meet, as their productions tend to crumble beneath the weight of any such critical analysis. The alternative is to largely disregard the original film and look at the sequel as a singular story in its own right.

Either approach can be problematic. It isn't at all unreasonable to expect a sequel to live up to (if not surpass) its predecessor. After all, sequels are supposed to be connected to the originals at some level

and most truly classic films should have enough life left in their story worlds to warrant further exploration. That might make the second perspective seem a bit short-sighted, but at the same time, it's important to realize that a sequel can fall short of its source and still manage to entertain.

For Disney fans, things get even more complicated when the film being followed was made by Walt Disney himself. Issued directly to video in 2001, Lady and the Tramp II: Scamp's Adventure was the first sequel to skate onto that thin ice. (Fantasia 2000 had already been released, but to theaters and as part of the official canon). With nearly fifty years having passed since the production of Lady and the Tramp (released in 1955), the artists, actors, and creator responsible for the first film weren't around for the new movie. Add to that its mandated theatrical bypass and Walt's famed distaste for sequels in general and fans' trepidation seems justified. Despite all that, however, Scamp's Adventure enjoys a record of tremendous success and a reputation as one of the studio's better follow-ups to any of their films. Whether that has more to do with its own merits or simply the shabbiness of the competition is up for debate.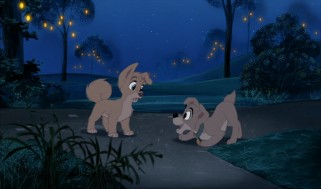 Set around the 4th of July in turn-of-the-20th-Century America, the story picks up some time after the original's end with all the Darling family offspring in the limelight. Of the four pups, it's the lone male, Scamp, who sees adventure in this tale of his quest for independence. Feeling restricted by the constraints of domestic life, the "tramp" in Scamp leads him to run away from home and join up with the Junkyard Dogs, a ragtag group of collar-less strays. There, he meets a young female puppy named Angel, with whom he strikes up a back-and-forth romance not unlike the one that led to his conception. Scamp finds the Junkyard lifestyle invigorating until truths about the motives of the Junkyard Dogs' leader, Buster, Angel's feelings for him, and his father's past are revealed.
Scamp's Adventure doesn't begin to compare to the original. A weaker story and script, less sophisticated animation, far less memorable music, and a considerable reduction in charm all ensure that audiences won't be confusing the two. To be title characters, Lady and Tramp don't figure into the story all that prominently; Lady in particular sees very little screen time. Tramp comes around a good bit in the beginning and end, though he's preachy and didactic when he does. While all the original characters thankfully return for at least a few moments (and some of them in greater capacity, such as Jim Dear and Darling), it's Scamp and the cast of new characters who steal the show.
The voice acting is adequate and comes courtesy of an all-star cast, including Scott Wolf ("Everwood"), Mickey Rooney (Pete's Dragon), Alyssa Milano ("Who's The Boss?"), Jodi Benson (The Little Mermaid), Chazz Palminteri (A Bronx Tale), and Bronson Pinchot ("Perfect Strangers"). It's clear that efforts were made to find close matches for the returning characters' voices, but the differences are noticeable. The voices of Lady and Tramp's other three children, Danielle, Annette, and Collette, are most annoying (two-thirds of them voiced by the same actress responsible for "Rugrats" Phil & Lil, who does little to distinguish the two sets of characters), but Scott Wolf does a good job with Scamp.
Near the end of her life at the time of its release, music legend Peggy Lee, who lent her singing and speaking voice as well as song-writing ability to the original film, was apparently either unavailable or unwilling to be a part of the sequel. Only one song is repeated;

a polished "Bella Notte" cover accompanies the end credits. The rest of the new soundtrack is a distinct departure from the heavily jazz-influenced sound of the original, favoring modern pop sensibilities for its mostly forgettable songs. "Welcome Home" and "A World Without Fences" are actually pretty good, but even the talent of Jodi Benson and Susan Egan isn't enough to save the rest of the songs.

The animation is pretty well-done, though not nearly as detailed and lush as Walt's Nine Old Men would have had it. While Disney typically attempts to emulate original styles in its newer productions, the artists of Scamp's Adventure intentionally meld Lady and the Tramp's distinct aesthetic with the highly stylized appearance of Sleeping Beauty for reasons unknown. CGI is sometimes noticeable and there's a definite DisneyToon Studios quality to it, but characters happily stay on-model more often than not and colors are put to good use, all resulting in a pleasing final product.

The story engages in a bit of role reversal and it does so with a twist, avoiding a simple retelling of the same story (while at the same time throwing in a few fun nods to the original). It's easier to appreciate Scamp's Adventure when it's thought of as a "Rescue Rangers" kind of deal, where memorable Disney characters are cast in a new light for the purposes of telling a specific story. Without the pressure of the proper Disney canon surrounding it, the movie emerges as a fairly entertaining if far from perfect work. Though certainly transparent and hardly original, Scamp's coming of age is nonetheless relatable and the straightforward story is at least diverting. Even that is more than can be said for some of Disney's other direct-to-video affairs.
Lady and the Tramp II: Scamp's Adventure was originally released to DVD on February 27, 2001. That release went out of print in January 2004 and is now being replaced by this new issue (titled a "Special Edition" in advance previews), timed to coincide with the recent release of Lady and the Tramp as a Platinum Edition DVD. As the rest of the review will demonstrate, the two releases are essentially the same, save for two minor additions on the reissue.
VIDEO and AUDIO
The movie is presented in the 1.66:1 anamorphic aspect ratio that it was created in and looks absolutely fantastic on DVD. Of course, that was the case in the last go-round too, but it's evident that there was no need for improvement. Colors are crisp and none of the usual suspects show up here. In short, there aren't any flaws to comment on.
Impressively, both a Dolby Digital 5.1 and a DTS 5.1 track are made available and while both are good, the latter far surpasses the more traditional Dolby Digital track. It's not the most dynamic movie to begin with, so viewers shouldn't expect a trembling surround sound experience, but the track does make very good use of what it finds in the sound field. The songs in particular sound very good and fill each speaker with resonance. Even the bass is a little stronger with the DTS. I did notice that the loudest moments sound every-so-slightly distorted on both tracks, but that's barely noticeable. In all, a most pleasing audio/video presentation for a direct-to-video sequel.
BONUS FEATURES, MENUS, and PACKAGING

The slate of bonus features accompanying Lady and the Tramp II on DVD is a much fuller one than expected for a home video native. First up in the Backstage Disney section is a feature-length audio commentary (an exclusive among DisneyToon fare) by director Darrell Rooney, co-director and producer Jeannine Roussel, and animation director Steve Trenbirth.

Rooney and Roussel recorded together and dominate the track, with Trenbirth's independent comments inserted where appropriate. Well-paced, informative, and relevant, the commentary displays a healthy balance of general insight and technical revelation. Once it's finished, one can learn more about the movie in "The Making of Lady and the Tramp II: From Tramp to Scamp" (16:34). As the title suggests, it's as much about the first Lady and the Tramp as it is the second, but it's filled with lots of good media and more useful insight.

Three classic Disney cartoons are included, Pluto flicks all. "Pluto, Junior" (1942, 7:11), "Bone Trouble" (1940, 8:45), and "Pluto's Kid Brother" (1946, 6:54) all appeared on the previous Scamp's Adventure DVD and more recently on The Complete Pluto, part of the Walt Disney Treasures line. Given their fairly rough appearance, these appear to have been recycled from the previous Scamp disc, which predates The Complete Pluto.

In the Games & Activities section, "Tramp's Hide-and-Seek Game" returns, which is sort of like a virtual round of "Memory." There are three sets of three dogs that are hidden somewhere within three different still-screen scenes. It's up the gamer to find each of their three assigned characters by selecting from available locations (behind a tree, inside a trash can, etc.) If the guess is incorrect, there's still a glimpse of which character is actually hiding there, a hint that comes in handy later on if you can remember where you found each character. Finding each set of characters triggers a "special carton" that turns out to be one of the three Pluto shorts that are directly accessible under the Bonus Shorts section. As Disney DVD games go, this is one of the less annoying.
All of the above is ported directly over from the movie's previous release. The only new additions to this disc are a set of sing-alongs with the movie's musical numbers (the flickering rotation from one line to the next is extremely bothersome and could have been easily avoided) and a game called "Junkyard Games." The latter is not nearly as much fun as its companion, as it takes gamers through three rounds of carnival-like games inside the junkyard, not all of which even lend themselves to skill or strategy.
The standard keepcase is housed inside a cardboard slipcover (with barcode opening punched in the back), each bearing the same nifty artwork. It's marked with a "Limited Time Only" sticker, though whether that will end up applying to the disc itself or merely the slipcover remains to be seen. Included inside is a scene selections insert. Sadly, the DVD has been treated to Disney's FastPlay system. If you choose to bypass that, you'll encounter (gasp!) menus. Those are pretty well-done here, with the animated main menu showing off some festive animation and the still sub-menus accompanied by some upbeat music.
The disc opens with previews for The Little Mermaid: Platinum Edition, Meet the Robinsons, Cinderella III, The Fox and the Hound: 25th Anniversary Edition, and subsequently-renamed Disney Princess Fairy Tales. The main menu also holds sneak peeks for "That's So Raven": Raven's Makeover Madness and "The Suite Life of Zack & Cody": Taking Over the Tipton, Little Einsteins: Mission Celebration!, The Wild, Brother Bear 2, and the "Little Einsteins" series on Playhouse Disney.
CLOSING THOUGHTS
Lady and the Tramp II: Scamp's Adventure may not be Disney's best direct-to-video sequel, but it's in the upper class. Like most in its ilk, it pales in comparison to the original classic that is its basis. When spared that comparison, though, it actually fares pretty well despite its imperfections. The new DVD release is one of Disney's better single-disc affairs, boasting fantastic audio and video with a bonus features menu that throws a bone to both casual fans and enthusiasts. The difference between this and the movie's previous release is minimal, so there's absolutely no reason to upgrade, but those who haven't yet encountered Scamp's Adventure are urged to give it a try. Just make sure you see the original first.
Buy from BestBuy.com / Buy from Overstock.com
/ Buy from Buy.com
Buy from Amazon.com / Buy from DVD Empire / Buy from WalMart.com
/ Buy from eBay