With his record for innovation, Walt Disney is often labeled a visionary who was ahead of his time. But, Walt was not merely a forward thinker. He was a man in tune with all times. His success with contemporary audiences was mostly unquestionable and his legacy has continued to delight today's children as much as his creations did their first viewers. While his revolutionary and enduring work in animation, cinema, television, and theme parks is very much reflective of its production eras, Walt often achieved a timelessness in his projects by being conscious of the past and open towards the future. These two chronological absolutes which surround every moment were represented in Walt's original Disneyland design in the areas known as Frontierland and Tomorrowland. In turn, the past and future were also conveyed in two components of the similarly-patterned anthology television series which first took to the air in the fall of 1954 with the title "Disneyland." The hour-long weekly program, which arose primarily out of a need to fund Walt's ambitious plans for the unprecedented Anaheim theme park, found popularity quickly. While it would undergo a number of title changes over the years, Walt's unique series would live on well beyond his death and continue to appear in late-night reruns after its 1990 cancellation.
With "Operation Undersea", the seventh episode of "Disneyland" which detailed the filming of 20,000 Leagues Under the Sea, the show had produced what would win the Emmy for Best Individual Program of the Year. In "Davy Crockett, Indian Fighter", episode #8, Walt had a bona fide phenomenon on his hands. You probably know about that series' unparalleled success, the merchandise craze it spawned, and the way in which Walt resurrected Davy, who had died in his third episode for two additional shows. As far as DVD goes, "Davy" had its day in the sun in 2001, among the first wave of four limited edition tins in the collectible Walt Disney Treasures line. But the popularity of the Davy Crockett adventures, which were among the first of the Frontierland-themed anthology episodes, undoubtedly laid the groundwork for Walt to tell the stories of other real life heroes from America's past. This is precisely what he chose to do, which leads us to "Elfego Baca" and "The Swamp Fox", launched under the Frontierland banner of the anthology series (then known as "Walt Disney Presents") in the falls of 1958 and 1959, respectively. Disney has seen fit to include three episodes from each of these two series in a Walt Disney Treasures set called Elfego Baca • The Swamp Fox: Legendary Heroes.
"Elfego Baca", set in 1880s New Mexico, tells of the improbable but mostly true adventures of a Mexican American man who earned a reputation for being difficult to kill, became sheriff of a town, and then an underdog-defending lawyer. Elfego is not the type of individual you'd read about in history books, but he (at least in Walt Disney's version) is principled and brave, like any hero should be. In its first two episodes, Disney's series can easily be labeled a Western, but those whom the genre immediately turns off, will soon discover (should they give it a chance) that in spite of the untamed West setting of just-north-of-Mexico, the series offers quite a bit more than cowboys, Indians, saloons, and gunplay. All four of those elements do figure in the three chosen episodes and you might be surprised by the levels of violence in a 1950s television program bearing Walt Disney's name and introduction, but comedy, drama, adventure, crime, and mystery are also seamlessly weaved in alongside the involving gunplay.
By today's standards, the acting in "Elfego Baca" is generally pretty weak with one major exception. That exception is Robert Loggia, a young Italian American man from Staten Island, New York, who in the lead role of Elfego had one of his first professional filmed acting gigs. Loggia has had quite an active career since and, now in his mid-70s, is still performing in films and television. Here in his late 20s, Loggia oozes with charisma and just the right amount of confidence, which is good because he's in almost every scene. He makes for a surprisingly convincing Latino and assures that Baca is a hero you can stand behind. Elfego is quite the compelling protagonist, one who doesn't take himself too seriously and isn't upstaged by his nemesis or anyone else.
A total of ten episodes of "Elfego Baca" were produced; this DVD contains the first two and #5. The selected shows provide the all-important incident that had some (including the obligatory theme song men) calling Elfego "El Gato" and a look at Baca's lives as unorthodox sheriff and unrelenting attorney. In the former, Elfego is accompanied by his deputy sheriff Ed Morgan (Robert F. Simon). In the latter, he's joined by senior partner J. Henry Newman (James Dunn). The roles are somewhat interchangeable as mere straight men to Elfego's sensible quirks; Newman is at least defined as an old bachelor. Nonetheless, the show obviously belongs to Elfego and the stories surrounding him are quite compelling. Whether he's tracking down a wanted criminal, trying to prove the innocence of another, or fighting for his life in a hucal, Elfego's encounters with those around him are interesting and entertaining almost entirely due to the character's (and actor's) charm.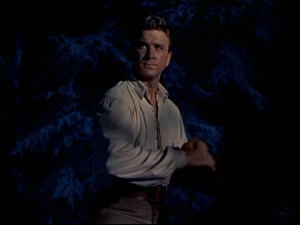 Twelve months after introducing Elfego Baca, Walt turned his attentions to the East Coast just over a hundred years earlier. Then existed times of change, with the British-owned American colonies having proclaimed their independence and revolted against the King of England. War persisted, though, and not all Americans saw eye-to-eye on its necessity. In South Carolina, a man named Francis Marion strongly believed in his people's independence. He headed a small but effective group of soldiers and, on account of his elusive tactics, was dubbed the "Swamp Fox" (hence, the series' title) by his foes, which included British commander Banastre Tarleton.
"The Swamp Fox" is strictly an episodic Revolutionary War drama, adapted from the book Swamp Fox by Robert Bass. Whether historically accurate or not, this series places its interest more strongly into the battles and campaigns conducted by patriots like Marion than in any of the individual characters who might have figured into its stories. This focus on strategy, coupled with the physical similarities among the predominantly white male cast, makes it hard (at least for this modern viewer, seeing the show for the first time) to connect emotionally with the
individual characters or invest too much into what happens. Next to "Elfego Baca" and "Davy Crockett", this series is considerably slower and dryer, in spite of the presence of guns and the inherent drama of galloping horses. It is dated and its historical origins seem to lend to only so much of more than minimal excitement.

Marion himself seems to have his heart in the right place and his actions are largely praiseworthy, but he is not the most charismatic protagonist as played by Leslie Nielsen. Nielsen, who has been known for the past 25 years as purely a comedy actor, rarely cracks a smile in the three selected episodes, a fact which contributes to the all-too-serious nature of the dated proceedings. With its attentions held steadfastly to a war now rarely considered for the majority of the year, "The Swamp Fox" is most entertaining in its subplots, where the slightest bit of humanity is enabled to show forth. To this end, there is Sergeant Jasper (Richard Erdman), an excessively theatrical ally of Marion's who gets his jollies by misdirecting the British with a phony contempt for the Swamp Fox and other patriots. There is also Young Gabe Marion (played by Tim Considine of Disney's original The Shaggy Dog and before that, "Mickey Mouse Club" serials "Spin & Marty" and "The Hardy Boys"), Francis's teenaged nephew who yearns to perform heroics for a cause like his Uncle. Finally, there is Marion's girlfriend Mary Videau (Joy Page in the first two episodes, Barbara Eiler thenceforth) whose parents are devout Tories (i.e. British Loyalists), making the face of the enemy potential family for the righteous Marion.

The real Marion would have been nearly fifty during the encounters depicted in Disney's series, quite a bit older than the clean-cut 33-year-old Nielsen. The Swamp Fox was the inspiration for Mel Gibson's character in the 2000 film The Patriot, which, it is said, was supposed to be about the actual Marion until historians cried foul over some questionable actions among Marion's life, such as his mistreatment of slaves and slaughtering of Native Americans. These claims have gone largely unsubstantiated -- which explains why the state-supported Francis Marion University in South Carolina has not changed its name -- and you can be certain that nothing of this sordid sort is depicted in Disney's filming. A little bit of controversy might have given more impact to a modern-day viewing of "Swamp Fox", but alas, it is as inoffensive and bland as any family-friendly drama that manages to cover war and be conscious of its human costs can be.

PACKAGING

True to the Treasures line, Legendary Heroes is presented in a double-width keepcase housed inside a silver tin. The case's color and disc-holding have endured minor changes, but the good stuff inside remains good. The inserts include an individually-number certificate of authenticity (a modest total of 125,000 copies of the set were produced) and an 8-page booklet with basic background on Walt, a listing of the discs' contents, and a Maltin-penned introduction to the set. There is also a collectible card, which appropriately enough, reproduces the cover art for the December 1959 - February 1960 issue of the Walt Disney Presents comic series promising tales of both of the set's featured protagonists.

DISC 1

The first disc opens with an "Elfego Baca"-tailored introduction (2:45) from Treasures host and film historian Leonard Maltin. He discusses the real-life inspiration, how this series followed in the mold of earlier anthology mainstay "Davy Crockett", and two key players involved in the series, star Robert Loggia and "Crockett" director Norman Foster. The set's three "Elfego Baca" episodes all appear on Disc 1. They are available to select individually or with a "Play All" button. While the episodes are not individually introduced the way other Treasures composed of television programming have been, they are divided into about 5 or 6 chapters each, where one assumes commercial breaks would have been, an assumption that the significant fadeouts would seemingly agree with.

"ELFEGO BACA" EPISODES

Episode #1: The Nine Lives of Elfego Baca (50:51) (Originally aired October 3, 1958)

Our first glimpse of Elfego Baca comes as he borrows a sheriff's star to arrest a drunken cowboy who is stirring up trouble along the town streets. A $5 fine may seem inconsequential even in 1880s currency, but the cowboy's friends respond to Baca's uncommon act of law enforcement. The first half of this debut episode depicts the incident which earned Elfego his reputation for being incredibly tough to kill. In a tiny shack, he holds off a band of bullies firing endless amounts of bullets from numerous directions. This goes on for a period of 33 hours. Close and long-range bullets plus a bit of dynamite take a serious toll on the shack, but Baca and his only company (a statue of Santa Ana) emerge without a scratch.

Elfego only surrenders to an out-of-town member of law enforcement and his improbable escape from death garners him the sparsely-used nickname "El Gato" (Spanish for "The Cat", a reference, along with the title, to feline's propensity to multiple lives).

The latter portions cover Elfego's criminal trial, where his fate appears to be in question only if you forget that there's no way our clearly self-defensive hero is going to jail for a long sentence. Freed on his charges, Elfego picks up a love interest (Anita Chavez, the woman who impromptu lent her shack for his earlier stand-off), resolves a miner issue at his cousin Arturo's store, and then achieves the unlikely capture of a gunman holding down a hotel room. This all leads to Elfego acquiring the role of sheriff in Socorro, his cousin's town, while continuing his new, self-initiated studies to become a lawyer on the side.

Episode #2: Four Down and Five Lives to Go (52:17) (Originally aired October 17, 1958)

Comfortable in his role as a principled sheriff, Elfego carries out his job in his own way, writing letters to wanted criminals requesting they turn themselves in or he'll come shooting at them. This works for some, but others requires a more active approach, like "Grub Stake Charlie" Filmore, a mountain man who is hostilely possessive of land that isn't his. In a task which occupies more efforts, Elfego also must deal with a Mexican murder suspect who has the vaguest of descriptions and is known only by the name "El Sinverguenza" (The Shameless One). This assignment has Elfego combining business and pleasure at a feast day dance in Frisco, and then following the outlaw's trail, with a bit of guidance from an Indian chief. Bringing "El Sinverguenza" in on charges requires Elfego to go south of the U.S./Mexican border and back. Instead of gratitude, the sheriff is met with new mobs who wish to take justice in their own hands and prison cells oozing with unrest. This and a near-death encounter lead Elfego to resign as sheriff at the end of the show, heading for Santa Fe to study law full-time. The post-climactic content previews upcoming anthology installment "Texas John Slaughter", "The Pigeon That Worked a Miracle", and Disney's ABC series "Zorro."

Episode #5: Elfego Baca, Attorney at Law (52:18) (Originally aired February 6, 1959)

We then skip ahead to the fifth episode, perhaps for no reason other than to include the series' lone guest appearance from Walt's most famous Mouseketeer, Annette Funicello. In a pretty small role which predates most of her Disney feature film work and all of her beach movies, Annette plays an unconvincing Mexican girl named Chiquita, one of two teenaged daughters that Fernando Benal must leave behind when he is arrested in conjunction with the tense bank robbery that begins this episode. One can deduce from the title and the show itself that Elfego has been a lawyer for some time, and this fact introduces a change of tone from the first two episodes on the disc. There's less gunplay and a feel more in line with Disney's big screen melodramas of the era, like Pollyanna and such. Nonetheless, it also seems ahead of its time with its In the Heat of the Night-type mystery.

As a lawyer, Elfego's motives are different from what they were as a sheriff but they are no less respectable. Convinced that Fernando is innocent, Baca tries to piece together a reasonable explanation why Mrs. Simmons identified his client at the scene of the crime. Meanwhile, Fernando's two daughters Chiquita and Lolita (an uncredited Gloria Castillo) invade the bachelor zone that is the home of Elfego's law partner J. Henry Newman (James Dunn). Elfego's trail leads him to a cranky drunk named Red Daniels (Kenneth Tobey from the "Davy Crockett" series) and Mrs. Simmons herself, much to the disapproval of deputy sheriff Joe Monroe (James Drury of Pollyanna and Toby Tyler). This episode is not necessarily weaker than the first two, but it does take the series and Elfego's character in a new, slightly less life-threatening direction. The post-show footage previews sixth Elfego Baca episode "The Griswold Murders", a Donald Duck shorts-compilation anthology special titled "Duck Flies Coop", and then-playing-theatrically animated fairy tale Sleeping Beauty.

VIDEO and AUDIO

The three episodes of "Elfego Baca" are presented in their original 1.33:1 broadcast aspect ratios. Though they aired in black and white, Walt Disney had the foresight to shoot them in color and that is how they are presented on this DVD, with the exception of the very opening and closing sequences. (Walt's on-screen introductions are in color.) For a nearly 50-year-old television program, the video quality on "Elfego" is very good. Picture is sharp, clean, and vibrant. The only drawback is minor artifacting from time to time and a few reel change marks. The latter's presence is odd, but perhaps can be explained by the fact that some episodes of "Elfego" were edited together and released as feature films overseas. All things considered, the restoration work here is evident and "Elfego Baca" certainly looks better now than it ever has.

In the audio department, the disc delivers -- what else -- a Dolby Digital Mono track encoded as two-channel sound. You can't go into "Elfego Baca" expecting the sound presentation of a modern-day Pixar production. At best, you can hope for distinguishable audio, faithful music presentation, perfect synching, and minimal distortion. Gladly, the DVD provides that, allowing for easy aural enjoyment and no noticeable shortcomings in sound.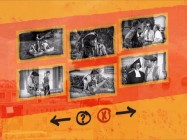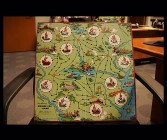 BONUS MATERIAL

While many people associate the Walt Disney Treasures with being overflowing with special features, this set proves that is not always the case. But there has yet to be a Treasure barren in the bonus department and Legendary Heroes does not end that trend.

Two supplements can be found on Disc 1. First is about the coolest newly-produced "Elfego Baca" piece you could hope for. That's right -- an interview with the star in "The Many Lives of Robert Loggia" (16:30). Lifelong Disney fan Leonard Maltin catches up with the actor, who you're apt to know more from Big, Scarface, or Independence Day, as Loggia turns on the memory machine (Maltin's phrase, not mine). He recalls developing the character of Elfego with Walt, having had no prior experience with horse-riding or other ways of the West, appearing at Disneyland in 1959, and other occurrences tied to his breakthrough television role.

There are a few noticeable (and probably unnecessary) edits to the interview, which result in tone changes in the middle of statements and Loggia saying a grand total of one sentence on voicing Sykes in Oliver & Company. On the whole, though, it's still very neat to hear Maltin chat with Loggia, who clearly holds fond (and vivid) memories from the series. Loggia even shares a funny anecdote about when the "yuppies" finally noticed him. Plus, he puts on his old hat and points his old gun at old Lenny, making this one bonus you definitely won't want to miss.

Next and last on Disc 1 is that Treasures staple: Galleries! There are a grand total of three collections of images to choose from. There's one for Elfego and one for Swamp Fox, holding 26 and 27 black and white photos of production and action. Most interesting is the Merchandise gallery, containing 17 stills primarily of Walt Disney Presents magazine covers plus a few promotional photos, and a couple of pictures of a Swamp Fox board game. (Let's hope it was more rousing than the series!)

In typical Treasures fashion, Disc 1's menus are low-key but sufficient. Each selection screen, aside from the Episode Selection page, is accompanied by music but not animated. There is the curtains-opening animated introduction and the ability to "Play All" episodes, as well.

NEXT >>
ONTO PAGE TWO, DISC 2, and "THE SWAMP FOX"

Order Elfego Baca • The Swamp Fox: Legendary Heroes from Amazon.com