On October 7, 2008, Disney re-issued Sleeping Beauty in 2-Disc Platinum Edition DVD and Blu-ray editions. This new set boasts a number of exclusive bonus features plus a remastered transfer in 2.55:1 widescreen and Disney Enhanced Home Theater Mix Dolby 5.1.
Click here to read our complete Sleeping Beauty: Platinum Edition DVD review, here to buy Sleeping Beauty: Platinum Edition DVD from Amazon.com, here to buy Sleeping Beauty: Platinum Edition Blu-ray from Amazon.com, here to read our interview with Princess Aurora's voice Mary Costa, or read on for a full critique of the out of print 2-Disc Special Edition DVD.
---
Review by Jason Seiver

Walt Disney embarked on the creation of his 3rd princess fairy tale in the 1950s after Snow White and the Seven Dwarfs and Cinderella.

But this new motion picture that would tell the story of a young maiden cursed to fall into a deep sleep would be unlike any that came before it. It would utilize a heavily stylized form of artistry and would be one of the first animated films created for a super-wide scope in theaters. This made it a very bold project that, in the end, didn't strike as strong a chord with audiences as much as some of Walt's earlier endeavors. But to this day, Sleeping Beauty remains a beautiful and ambitious experience quite unlike any other.

Throughout the years, the motion picture has never gotten an enormous amount of attention, and apparently lacks the giant public appeal of other Disney fare. Indeed, if you were to mention animated movies to a random person, this one most likely wouldn't be one of the first to pop in their head.
While I'm a very big fan of the movie,

I have to admit that I can understand why it's not incredibly popular. The story itself is a fairly simple one, requiring some padding in order for it to be drawn out to a feature-length movie. This padding comes in the form of the fun antics of the three good fairies, which really seem to get the most screen time. I would even say they are better developed characters than anyone else in the film. Therefore, I think it's hard to truly sympathize and relate to the supposed main characters, Aurora and Phillip, who come off a bit like cardboard. This is a pretty big contrast to a character like Cinderella, where it's relatively easy to relate to her and her predicament.

But besides Sleeping Beauty's relative weaknesses, it has a lot going for it. It contains one of the most sinister and fantastically evil villains in the form of Maleficent, who makes a great protagonist. It has a beautifully haunting score and songs, adapted from Peter Tchaikovsky's famous ballet. Best of all, watching this film is like viewing a medieval painting being brought to life. It looks gorgeous and very unique - I always find myself unable to take my eyes off the screen. There's no doubt in my mind that it's the most visually compelling Disney film.
DVD Details

2.35:1 Anamorphic Widescreen,
1.33:1 Pan & Scan
Dolby Digital 5.1 (English)
Subtitles: English; Closed Captioned
Released 9/9/03; Discontinued 1/31/04
THX-Certified
Two Single-sided, dual-layered discs (DVD-9)
Suggested Retail Price: $29.99
Black Amaray Keepcase with Cardboard Slipcover
Making its first arrival on Disney DVD, Sleeping Beauty was released in a 2-Disc set labeled a "Special Edition". I personally dislike calling it that, because Disney has used that phrase so many times to mean totally different things, its almost laughable whenever they slap it on a new DVD. Still, this set certainly is a special one, held in a black, standard amaray keepcase, with a flapper inside to hold both discs. When it was first released in September 2003, every case came with the now signature cardboard slip-cover that opens like a book to reveal a sampling of the set's contents (these days, not every copy in stores will come with the slip-cover, as Disney tends to exclusively manufacture the them close a DVD's release date). Inside, an insert describes the bonus materials and lays out where to find them on both discs, posts chapter listings, and devotes a few pages to showing the characters and their names from the film.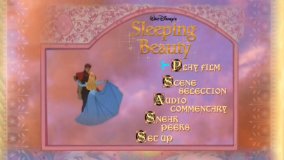 Disc 1: The Feature & Bonus Materials
The menu begins in the forest, before then we are led deep into Aurora's castle, where a book is opened, listing the menu options.
Here, there are two aspect ratios available for viewing Sleeping Beauty - its original widescreen aspect ratio of 2.35:1, enhanced for 16x9 widescreen televisions; and a cropped, pan-and-scan version with a 1.33:1 ratio (I've placed a curse on this one, just like Maleficent, so that anyone who dares to touch it will be pricked and die). The transfer looks just about perfect, being crisp and clean with no dust or deterioration whatsoever. The colors are all breathtakingly strong and vibrant. I can't imagine it looking any better. A big thumb's up goes to the wizards behind this meticulous restoration.
The THX-certified Dolby Digital 5.1 audio is equally praise-worthy, having very good range, with a welcome boom in the bass. As with practically all of the remixes for older films, it stays mostly in the 3 front channels, and only stretches to the 2 back speakers selectively. I've run out of good things to say about Sleeping Beauty's presentation, because it's all great.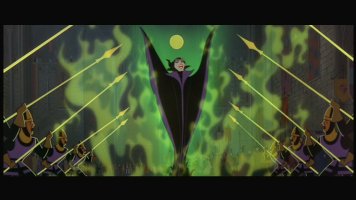 There's only one real extra on Disc 1: an audio commentary only available for the widescreen version (effectively hidden on the DVD's packaging), with animation historian Jeff Kurtti, art director Eyvind Earle, Sleeping Beauty artists Frank Armitage, Mark Davis, and Ollie Johnston,

modern day Disney artists Michael Giaimo and Mike Gabriel, and the voice and live-action reference for Aurora's character, Mary Costa. Since the movie gets most of its attention for its visuals, it's no surprise that the commentary focuses mainly on developing and creating these, and provides some very interesting information on the production.

Aside from this, there are Sneak Peeks for the theatrical release of Brother Bear and the DVD releases of The Santa Clause 2, The Lion King: Special Edition, Finding Nemo, and Kim Possible: The Secret Files, the Disney Princess merchandise, and Disney Electronics. Plus, there's a THX Optimizer to help calibrate the audio and video of your home theater system.

Disc 2: Bonus Materials

Once again, the menu options are laid out in a medieval-style book, divided into two sub-sections: "Games, Music & Fun" and "History and Behind-the-Scenes".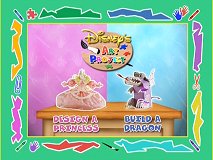 Games, Music & Fun
"Disney Art Project" is aimed at young kids, and within, it has two different activities – one clearly intended for a boy, the other clearly intended for a girl. A makeshift Aurora doll or a dragon can be made out of regular household materials like paper towel rolls, milk cartons, and suppositories (just kidding about that last one, could you tell?). Finally, here's an activity that I can actually see young kids having fun doing from a Disney DVD.
"Rescue Aurora Adventure Game" is quite possibly the poorest set-top game ever devised for a Disney DVD. The player must answer a series of riddles while riding through the forest to get to Aurora's castle. The riddles themselves are very oddly worded, but it's easy to guess the answer. It's not unusual to find these types of features un-challenging, but I'm most always amused by them. I found this one was just plain boring. The end of the game is just a clip from the movie of Prince Phillip fighting Maleficent and kissing Aurora.
"Princess Personality Profile Game" will tell you which princess from the various Disney movies you are most like, requiring you to answer a set of questions about yourself. You could be like Cinderella, Belle from Beauty and the Beast, Aurora, Ariel from The Little Mermaid, or Jasmine from Aladdin. I had fun playing it, and I turned out to be like my favorite one: Belle.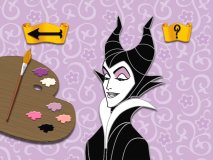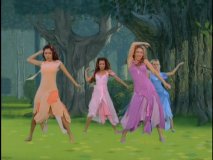 "Sleeping Beauty Ink and Paint Game" is a dull affair that allows players to pick a character from the film, and proceed to color them by choosing the proper hues. Next up is a "Once Upon A Dream" Sing-Along Song (2:54) - just compare the movie's transfer to this clip, for its an amazing difference.
Finally, Euro-pop group No Secrets performs the "Once Upon (Another) Dream" music video (3:39). The frisky young girls are shown to run around fields and forests, interspersed with clips from the movie. The song is actually nothing like the one from the film . . . which is good, because if they had taken a piece of Tchaikovsky's classical music and turned it into a rapid, sprightly dance tune, I'd probably have a seizure quicker than you can say "D'oh!"
After I've gone through all this fluffy stuff, you may be saying, "Where's the beef ?" Have no fear, there are plenty of meaty extras in the next section that make Sleeping Beauty my favorite DVD to come out since Snow White.
History and Behind-the-Scenes
Within this section, the material is divided into the following areas . . .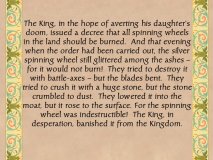 Story
"The History of the Story" is a text-based feature that allows the viewer to flip through screens that explain the origins and evolutions of the tale. Along with the good information, it has a good navigation system, whereas the next feature does not. "The 1951 Outline" is also text based, but does not allow the viewer to read by him or her self, or skip screens. Instead, the audience must listen to a narrator read it for 20-plus minutes in order view all of the text. Needless to say, the material is welcome, but the presentation is downright awful. Lastly, storyboard sequences for "The Fairies Put the Castle to Sleep" and "The Capture of the Prince" are introduced and explained by renowned modern-day animator Andreas Deja.
Production

Several brief featurettes are displayed underneath this heading. "The Music of Sleeping Beauty" (2:45) includes thoughts from film historian Leonard Maltin and Mary Costa, along with making-of photos. "The Design" (3:22) brings back Maltin, along with Eyvind Earle, Ollie Johnstion, and artists who worked on Pocahontas Eric Goldberg and Michael Giaimo.

Both of the above mentions consist mostly of praise for the movie, unlike the more interesting "Creating the Backgrounds" (1:07), in which Earle talks about his role in the production.

"Live Action Reference" holds the vignettes "Briar Rose Dance Reference" (0:48), which shows the animators sketching a live dancer, and "Prince Phillip and the Dragon Reference" (1:02) is made up of linked stills of the stand-ins for both characters. Then, 23 more reference shots are shown in "Photographs".

The last two shorts in this area are my favorites on the disc. "The Restoration" (2:56) entails the laborious process to make Sleeping Beauty look as good as it did for this release, hosted by the supervisor Aaron Dem. I laud Disney for the next one: a "Widescreen to Pan-and-Scan Comparison" (3:50) with Andreas Deja explaining the difference between the two, and then an actual comparison using the full "Once Upon A Dream" sequence from the movie. Not only is this great for those who are uneducated about the subject, but its also great to directly see just how much gets cut from the original aspect ratio (don't worry about my curse on the pan-and-scan version on Disc 1 – nobody will touch it after seeing this, and if they do, they deserve to die . . . only joking, silly.)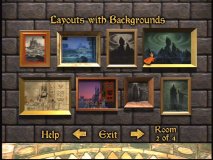 Sleeping Beauty Virtual Galleries

In the style of the virtual galleries on Snow White and Beauty and the Beast's DVDs, a humungous collection of stills are archived through the halls of Sleeping Beauty's castle.

While some would prefer a straightforward presentation, I really enjoy the virtual galleries (which appear to have been discontinued anyway, as they haven't appeared on recent 2-disc sets).

Close to 550 stills are organized into the following categories: "Concept Art," "Briar Rose/Princess Aurora," "Maleficent & Her Minions," "The Three Good Fairies," "The Royal Households," "Miscellaneous Characters," "Storyboards," "Layouts & Backgrounds," "The Sleeping Beauty Storybook," "Posters," and "Disneyland Walkthrough." Most of the above offer guided tours, with 2 separate commentaries on select stills – one for older viewers, and one for younger viewers. They differentiate in speakers and subjects, but both remain rooted in basic information. I have to admit that I'm surprised that Disney would try to appeal to kids on material like this, as it goes against their clear separation of what's supposed to be for "families" and "enthusiasts". Nevertheless, it's nice to see a single feature that tries to appeal to everyone, and is still meaty.

Publicity

All that is discovered here are 3 trailers: the Original Theatrical Teaser Trailer (1:43), the Original 1959 Theatrical Trailer (3:11), and the 1995 Re-Release Trailer (1:26).

Sleeping Beauty Scrapbook

Over 70 more still frames are displayed in a virtual scrapbook: photos of the making of the movie in "Behind-the-Scenes," posters and ads from the theatrical releases under "Publicity," books and other things within "Merchandise," and photos of film-related attractions at Disneyland in Anaheim and Paris in "Theme Parks".

Under no sub-division are 4 more extras. "The Making of Sleeping Beauty" (16:22) overviews the design and music of the movie, with participants from the previous featurettes Leonard Maltin, Mary Costa, Eyvind Earle, Ollie Johnston, Marc Davis, Eric Goldberg, Michael Giaimo, and newcomers: the artists Mike Gabriel, Ken Anderson, and Frnack Armitage. While it's a rather glossy discussion, with everyone glorifying the movie, it's an entertaining segment that offers some educational tidbits.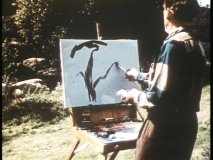 "Four Artists Paint One Tree" (16:07), is a clip from the Disneyland TV show, depicting Sleeping Beauty artists Eyvind Earle, Marc Davis, Josh Meador, and Walt Peregoy all drawing a single tree. The piece compares each artist's styles and the final result of their artwork. I found it to be one of the more truly interesting pieces of nostalgia that make their occasional appearances on Disney DVDs.
"The Peter Tchaikovsky Story" (30:22) is yet another clip from the Disneyland TV series, giving a short run-over of the life of the famous composer, from when he was a boy through his composing of the Sleeping Beauty ballet. The acting isn't too hot, and the production values are low, but fans of Walt's show should like it.
At the end is "Grand Canyon" (28:53), a live-action short subject that was shown along with Sleeping Beauty on its initial release. It's basically a nature documentary, set to the music of Ferde Grofe. While I don't like to admit it, I found this to be unexpectedly boring. Yet, I imagine it must've been more of a spectacle seeing it on a huge screen back in '59, and it rounds out the second disc nicely.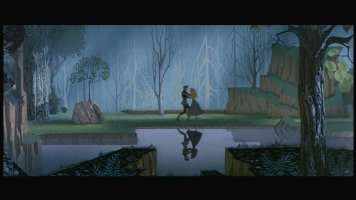 Closing Thoughts
While not as strong as Walt's other movies in the story department, Sleeping Beauty is a breathtaking and inspirational movie that truly expanded its medium. Flawless in video and audio and bursting with special features, this 2-Disc set gives it the extensive treatment it deserves.
More on the DVD / Buy from Amazon.com Marketplace / Buy the Platinum Edition



On October 7, 2008, Disney re-issued Sleeping Beauty in 2-Disc Platinum Edition DVD and Blu-ray editions. This new set boasts a number of exclusive bonus features plus a remastered transfer in 2.55:1 widescreen and Disney Enhanced Home Theater Mix Dolby 5.1.
Click here to read our complete Sleeping Beauty: Platinum Edition DVD review, click here to buy Sleeping Beauty: Platinum Edition DVD from Amazon.com, click here to buy Sleeping Beauty: Platinum Edition Blu-ray from Amazon.com, here to read our interview with Princess Aurora's voice Mary Costa, or read on for a full critique of the out of print 2-Disc Special Edition DVD.