In September of 2006, Buena Vista Home Entertainment re-released Disney Princess Sing Along Songs: Volume 1 - Once Upon a Dream in a Jewelry Gift Set. While the disc and price remained what they were, the new packaging included a free necklace featuring three of the Disney princesses. Click here to buy this new edition.
---
Disney's Sing Along Songs DVDs are compilations of musical numbers from one or more of the studio's various animated works. Thematic collections have been done in the past, and a collection of songs

by Disney's princesses seems like an obvious choice, so it's somewhat surprising that such a volume has not already been issued.

Until now. This long-awaited Disney Princess Sing Along Songs: Once Upon a Dream DVD finally arrives, in conjunction with two less traditional entries in a new Disney Princess line of videos and DVDs. An offering of Disney Princess home video releases seems obvious with young females composing a significant portion of Disney's modern demographic and Disney Princess merchandise already fueling the nationwide chain of Disney Stores.

What's presented here are some of Disney's most beloved songs and their memorable sequences in the animated classics. Some of the Sing Along DVDs try to have a clearly expressed connection between the musical numbers. In this Disney Princess volume, the transition between songs allows the sophisticated female narrator (Sheryl Bernstein) to briefly introduce the next number and discuss the featured princess and her situation in the film. These never get too intrusive. Even if they're not really necessary for continuity, perhaps they'll encourage some people to see some of the wonderful films featured for the first time.
After the usual Sebastian-hosted opening Sing Along theme, the disc moves on to "A Dream Is a Wish Your Heart Makes" from Cinderella, which will be the last Disney film to come to DVD. The Little Mermaid's "Part of Your World" and Aladdin's "A Whole New World" follow, and even if they are products of a different era, these songs uphold the same traditional high quality seen in the films from Walt's time that surround them. "Once Upon a Dream" from Sleeping Beauty and "I'm Wishing/One Song" from Snow White and the Seven Dwarfs come next.
From here on out, we stick with films from the past fifteen years. Included are some of the more memorable tunes from the past decade-and-a-half of Disney Feature Animation: Pocahontas' ode to nature "Colors of the Wind," the titular ballroom anthem from Beauty and the Beast, and Mulan's pensive "Reflection."
Next is "Like Other Girls," from Mulan II, a new sequel coming out next February 1st. The animation and lyrics aren't on par with theatrical output, but it looks like this could be one of the more decent direct-to-video follow-ups. Megara's bouncy resistance to formula in "I Won't Say (I'm In Love)" from Hercules is the next number, and the last one from a theatrical release.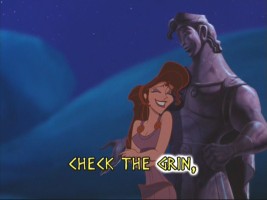 With its pop/dance groove, Cinderella II's "Put It Together (Bibbidi Bobbidi Boo)" feels out of place and does not encourage me to see that sequel anytime soon. "Sweet Wings of Love", from the recently-released Mickey, Donald, Goofy: The Three Musketeers, is much easier to take, with its lyrics set to the familiar melody of Strauss' "Blue Danube."
Wrapping things up is "If You Can Dream", the all-new princess song, which seems more appropriate and less offensive following this mostly winning assortment of tunes. The pop song, which attempts to synch up lyrics about dreams and romance with clips from a variety of Disney films, doesn't have the charm or memorable melody of the others, but it's an interesting montage, nonetheless. Clips are taken from Sleeping Beauty, Pocahontas, The Little Mermaid, Beauty and the Beast, Aladdin, Cinderella, and Mulan. The singing voices of Ariel (Jodi Benson), Pocahontas (Judy Kuhn), Belle (Paige O'Hara), and Mulan/Jasmine (Lea Salonga) are accompanied by Susan Stevens Logan, and Christie Hauser. But due to the different style of the song and the multitude of voices, it's tough to even tell that some of the voice talent has returned for this effort.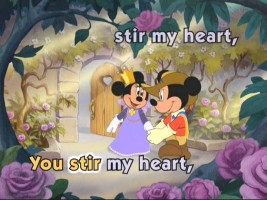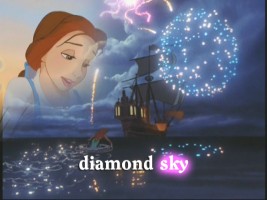 VIDEO and AUDIO

Video quality is quite good. As this is a new release and not a VHS converted to DVD, clips from each film look pretty spectacular.

Of course, the biggest drawback with this and all Sing Along Songs DVD is that all the numbers are presented in 1.33:1 fullscreen. This is as it should be for Academy Ratio films like Cinderella and Snow White. Compositions aren't drastically thrown off from the '90s films animated in the only slightly-wider 1.66:1 ratio. It does, however, mean an unsightly pan-and-scan version of the very wide Sleeping Beauty.

Still, there was a good amount of detail, and a pleasing clarity to each film sequence. "Colors of the Wind" lacked the excess grain of the Pocahontas Gold Collection DVD. Plus, Cinderella and Aladdin, still not on DVD as of now, looked far superior to VHS quality that many may be used to. I'll stop here, because generally people don't buy Sing Along Songs for those perfect transfers. But, the video here does display excellent sharpness and vibrancy.

As these are entirely music sequences, surround sound effects don't really figure into the equation. Still, this Dolby Digital 5.1 track presents these (mostly) beloved songs with sharp fidelity and a richness you expect in this digital age. A Dolby Surround French track is provided, and it accompanies narration and on-screen lyrics in the French language as well. This isn't touted as a bonus feature the way it is on some Sing Along DVDs.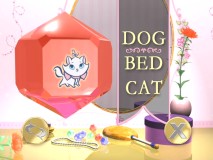 BONUS FEATURES

Under the heading of Vocabulary Activities,

there are three educational games for young viewers, set to instrumental versions of songs from the feature. In "Find It", a narrator says a word and you must highlight that item. When you get it right, there's a little spelling lesson. "Letter Puzzle" provides five jumbled letters, from which you must spell the spoken word. The three words get progressively longer, and if you get them all right, you're treated to something that makes use of all three. Last is "What's This?", in which a jewel spins and you must match the right word with the picture it lands on. Again, the words get longer. They're not much, but anything that promotes literacy is okay in my book, and I'm glad Disney included them.

Next, a Karaoke section allows you to play instrumental versions of the 13 songs featured in this Sing Along Songs DVD. There isn't much to say, except that it's obviously very cool to hear instrumental versions of the songs. Without the vocals, you'll also notice subtle sound effects and little bits of dialogue that are included. Oh yes, and you can choose to sing along with the lyrics provided on screen (if you need them). Only thing that would have been nice is a "Play All" option to cycle through the songs, but that might have made for branching difficulties, and as is, you don't have to go through any of the transitional narration.

The third bonus feature section rings in a whole new age of the Sing Along Songs DVDs: Dance Alongs. For all of you who have enjoyed Sing Along Songs DVDs, but needed some guidance in getting jiggy with it, your prayers are answered. Here, in thematic animated environments eight real live hip kids groove along to three pop renditions from other Disney DVDs. If you can keep up with them, you can follow along and learn some seriously cool dance moves. There are also some film clips interspersed allowing you some freedom to funk out in a way all your own. The three songs are Brooke Allison's "Put It Together" (2:25) from Cinderella II, Jump 5's "Beauty and the Beast" (2:00), and No Secrets' "Once Upon (Another) Dream" (3:40).

Random Play is a second alternate way to enjoy this Sing Along Songs DVD. Though the title's pretty self-explanatory, selecting this feature plays through the 13 Disney film songs and the Sing Along theme in a completely random order! It's like having 87 billion different Sing Along playlists, making for an exhilarating and unpredictable experience. This feature also gets rid of the transitional narration, which you may or may not find excessive.
MENUS AND PACKAGING
This Sing Along Songs DVD is "enhanced" with Disney's FastPlay, a new mode which essentially plays the DVD all the way through like VHS: sneak peeks, feature, and select bonus features, requiring no use of the remote control.
At the start, you have the selection to go right to the menu and navigate as you wish. The 16x9 menus feature an artistic-looking rotation of Disney princess banners as we sway back and forth through a scenic castle veranda. Like some other Sing Along DVDs, they are overly-narrated by a woman, who explains all the options, but can be easily skipped. Submenus neatly feature instrumental versions of some of the familiar Disney princess songs.
Sneak peeks at the start of the disc are for the Disney Princess Collection DVDs, Pooh's Heffalump Movie, and Mulan Special Edition. The Sneak Peeks menu provides a "Play All" option and additional previews for upcoming DVD releases The Magical World of Winnie the Pooh, Home on the Range, and Eloise at Christmastime, plus spots for the Disney Princess merchandise line and Disneyland Resort.
Inside the case is a two-sided insert which provides a listing of songs and bonus features, as well as an ad for the Disney Princess DVD line. You'll also find a subscription form for Disney Princess Magazine and a colorful 20-page booklet of princess tips, merchandise advertisements, and coupons. And for those who buy all three Disney Princess Collection DVDs, there is a mail-in certificate to get a Disney Princess Castle Playhouse (a $30 value) free, with a $7.99 check to cover shipping and handling.
It's unclear if there will be more Disney Princess Sing Along DVDs. The cover specifies "Volume 1", but that could just refer to being part of Wave 1 of the Princess Collection, since a Volume 2 of "Stories" and "Party" are slated for next February, but no new Sing Along.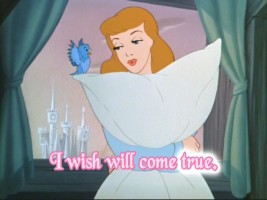 CLOSING THOUGHTS
Generally, Disney's Sing Along Songs DVDs seem like an inferior alternative to the films they excerpt from. But this Disney Princess volume contains such a fun collection of well-written, catchy songs and the unforgettable film scenes that introduced them to us. There are some weak entries in the later portions, but overall this is perhaps the most enjoyable Sing Along DVD that Disney has put out. Plus, the bonus features provide two welcome alternative ways to enjoy the collection of songs and (if you dare) some wild dance alongs. Anyone who appreciates the Sing Along format shouldn't be disappointed by this one.
More on the DVD / Buy from Amazon.com / Buy Jewelry Gift Set from Amazon.com
In September of 2006, Buena Vista Home Entertainment re-released Disney Princess Sing Along Songs: Volume 1 - Once Upon a Dream in a Jewelry Gift Set. While the disc and price remained what they were, the new packaging included a free necklace featuring three of the Disney princesses. Click here to buy this new edition.