Eighteen-year-old Rudi Matt (James MacArthur) dreams of climbing the mountains that loom dominantly around his Swiss town. For now, the young man keeps his feet firmly on the ground, working as a dishwasher in a hotel. Somehow, Rudi's aspirations must be realized, and he takes any opportunity he can to secretly frolic at high altitudes. His mother (Nora Swinburne) and uncle Franz Lerner (James Donald) have understandable reservations about allowing Rudi to climb. After all, his father died in the mountains.
That was sixteen years ago, and Josef Matt's reputation lives on as one of the finest climbers Switzerland has known. While the land remains active with climbers, no one dares attempt to conquer The Citadel, the largest peak around and the site of Rudi's father's death.
One day, while peacefully scaling the towering landscapes, Rudi barely notices a man calling for help. After Rudi successfully pulls off a heroic rescue, the English man he saved introduces himself as Captain John Winter. Winter (Michael Rennie) himself has a reputation for being one of the most proficient climbers around. Grateful to Rudi, and surprised to learn that the legendary Matt's son spends his day scrubbing plates, Winter offers for Rudi to go up on a climb with him and Uncle Franz.
The trip goes well enough until Rudi goes climbing off on his own, creating a bit of trouble for the trio and spirit-shattering embarassment for Rudi. This encounter reaffirms Franz's decision not to allow the youth to concern himself with mountain climbing. In fact, Franz tries to snuff out Rudi's spark by deriding the boy in front of the town, when he expresses interest in acting as guide to Captain Winter's ambitious plan to get atop the Citadel.
Though mother and uncle wholeheartedly disapprove of the activity, others provide support to Rudi. These include Lizbeth (Janet Munro), his cheerful girlfriend, who sees his dream as perhaps even destiny, and his boss Teo (Laurence Naismith), a man who went on journeys with the late Mr. Matt, and is willing to share some expertise with the soft spot he has for his daydreaming employee.
The big adventure that the film seems to lead up to is Winter's climb of the Citadel. Since all of the local mountain guides have rejected his requests to accompany him, Winter is forced to bring along Emil Saxo (Herbert Lom), a guide from another town. Suffice it to say the disagreeable Emil is none too pleased when Rudi shows up and Winter welcomes him with open arms.
When he learns that his nephew has joined Winter on this perilous quest, Rudi's uncle and some of the other local townsfolk begin on the trail to convince Winter and Rudi to come down. Of course, everything that the film reveals to you by this point assures you that there will be a mission up the Citadel, and indeed there is.
Based on a true story captured in James Ramsey Ullman's book Banner in the Sky, Third Man on the Mountain works well enough, but a number of problems keep it from reaching the heights of Walt's most memorable early films. Chief among those problems may be pacing. At 107 minutes, the film's running time is deceptively reasonable. Pacing is thrown off when the film devotes time to watching every move up the mountain during early runs, with step-by-step instrumentation providing an unextraordinary score.
These sequences surely intend to instill in the viewer an appreciation for the art of mountain-climbing and to elucidate a transcendence that people like Rudi and Captain Winter experience when ascending the rocky terrain. But they do not achieve that. For some reason, perhaps the lack of significance to these early climbs, the sequences seem to slow down affairs and unnecessary what we already understand: that the mountains draw in Rudi as with some kind of special powers.
One area Third Man undoubtedly succeeds at: atmosphere. Filmed entirely on location in Switzerland, the genuine mountain photography convinces where poor soundstages or ever-revealing visual effects of the era would not. Disney's legendary matte artist, Peter Ellenshaw, was called on to create a more convincing reality on down perspective shots, where scenery was often shrouded by clouds. The other "trick" the filmmakers relied on, was having Gaston Rebuffat, a skillful French mountain climber, head the challenging photography as mountain unit director. The actors underwent brief but significant training, so that doubles were used sparingly, and edited together seamlessly.
Ken Annakin, who directed two British period pieces among Walt's earliest live action productions, brings a reverence for the art of mountain-climbing that the characters who engage in it share. However, the fun-spiritedness that marks Swiss Family Robinson (which Annakin directed the following year), is noticeably missing for the most part here.
James MacArthur proves capable in the lead role, and his character here is much easier to like than Fritz Robinson, important because Third Man will fail viewers who cannot get behind the Rudi's goal and see the universality of the film's theme of realizing dreams. Janet Munro brightens every scene in which she appears. As such, it's a shame she's not in the film more. Laurence Naismith performs aptly as Teo Zurbriggen, Rudi's employer at the hotel who seems to think a lot more clearly than some give him credit for. In his first film for Disney, Naismith brings the same sensibility he would contribute to the other straight-faced productions he would appear in for the studio.
There is a certain attention to detail and undeniable effort which marks the earliest live action films that Walt Disney helmed. In the 1950s, Walt's interest in his television programs and films was remarkable for a man who had so many different things to juggle, and a growing audience to please. While Third Man on the Mountain is not as universally pleasing as the ambitious 20,000 Leagues Under the Sea, the sweet and affecting Old Yeller or the charming fantasy of Darby O'Gill and the Little People, this high altitude adventure definitely contains that early Disney detail and spirit.
Most of the folks who have been to Disneyland and taken the Matterhorn Bobsled ride may not know that the attraction owes its setting (if nothing else) to Third Man on the Mountain. This is the film that inspired the ride.
DVD Details

1.33:1 Original Aspect Ratio (Fullscreen)
Dolby Digital 5.1 (English),
Dolby Mono (French)
Subtitles: English, French; Closed Captioned
Release Date: September 7, 2004
Single-sided, dual-layered disc (DVD-9)
Suggested Retail Price: $19.99 White Keepcase

VIDEO and AUDIO

The opening credits sequence of Third Man on the Mountain looked so worn out and grainy that I feared the video quality could not get better enough to make this transfer passable. Naturally, following the optical titles the picture quality does get substantially better, but there are still a fair amount of problems.
The first thing to take into consideration is the age of the film. Third Man on the Mountain was released forty-five years ago this November. Filmed entirely on location, and having not undergone the dramatic type of digital restoration that Darby O'Gill and the Vault Disney DVDs (like Old Yeller and Pollyanna) did, that age does show. The picture never exhibits a satisfying sharpness; any efforts made to enhance edges are insufficient. There are several elements which mar the print, too. Grain appears excessively on long shots, dirt and scratches crop up with some regularity, and there are reel change marks on the top right corner on a few occassions. There also appeared to be some digital artifacts present.
Close shots in Third Man have a pretty polished look, but even when the print looks clean, it never pulls off a sharpness and clarity that shows off the possibilities of DVD technology and full-blown digital restoration/remastering.
Lastly, we come to the aspect ratio issue. I assume that Disney correctly presents Third Man in the Mountain in 1.33:1 fullscreen. While by 1959, widescreen had already become the norm for cinema, last month's Darby O'Gill DVD made special efforts to inform consumers that while matted for theatrical exhibition, the film was shot and framed for the full 1.37:1 Academy Ratio. Released to theaters just a few months after Darby, and coming to DVD at a time when Disney has shown unprecedented original aspect ratio support on catalogue DVDs, I'm willing to give the studio the benefit of the doubt. In the face of no odd-looking framing and no "The film has been modified" disclaimer (though this has been missing from some certainly reformatted DVDs issued earlier this year), we can probably exclude aspect ratio off the list of issues to take this transfer to task for.
Surprisingly, Third Man on the Mountain has been given a Dolby Digital 5.1 remix. But no mistake about it, the track is broad mono. The surrounds and side speakers essentially just provide subtle reinforcement to the music and to a lesser degree, dialogue and sound effects. The broad mono audio mix is pretty fine, otherwise. William Alwyn's score follows the action in a standard and straightforward fashion. There are some atmospheric sound effects, but dialogue and music carry the majority of the track, and each is adequately rendered.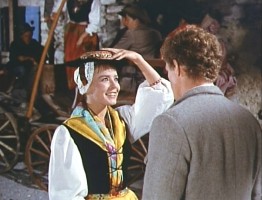 EXTRAS


Unfortunately, there are no bonus features included here. Out of all of September's catalogue releases, I was counting on this one to get some substantial bonus features. Considering that Disney has put out some strong supplements on other catalogue titles this year, and there's quite a bit to tell about Third Man, the bare disc is more than a little disappointing.
The two-disc Vault Disney DVD for Swiss Family Robinson, which reunited director Ken Annakin and stars MacArthur and Munro the year after Third Man, does contain some reflection on this film from MacArthur in a "Conversations" featurette.
The basic 16x9 menus contain stately artwork from the film, and a selection of score on the Main screen. The disc opens with a 90-second promo for classic live action Disney films on video and DVD.
CLOSING THOUGHTS

Disney's long-awaited DVD debut for Third Man on the Mountain should satisfy known fans of this old-fashioned adventure. The disappointing news in the absence of bonus features is that this disc sheds no light on the noteworthy Swiss production. Video quality falls short of the standard-bearing remaster jobs that Disney has given to select titles in its live action vaults, while the 5.1 remix does not provide anything beyond a standard mono presentation. What will attract most, then, is this sincere story of a young man's dream to climb mountains.