In full, the title of this DVD is Disney Learning Adventures: Mickey's Seeing The World - Mickey's Around the World in 80 Days. Despite the length of its name, you may be scratching your head and wondering, "Just what is this new Disney DVD bearing the beloved Mickey Mouse's name and image? And do I need to get it?"
The short answer to the first part is that Mickey's Around the World in 80 Days is part of the second wave of an educational DVD line the studio launched last October. The first two volumes of Disney Learning Adventures featured Winnie the Pooh and his friends from the Hundred Acre Wood. Those DVDs sought to impart wisdom to preschoolers, emphasizing lessons on the alphabet and numbers. From the back cover, this new disc purports to teach "Language and Geography Skills, Cultural Awareness, and Problem Solving."
In response to the second question, the most likely answer is no, you do not. As enticing as the DVD may be for diehard Mickey Mouse fans, this disc offers very little beyond its primary purpose of educating very young children in an entertaining fashion. And even in its efforts of achieving that basic goal, the disc does not succeed very well.
The DVD starts out promising enough with an exciting montage of a wide range of animated Disney characters set to a catchy theme tune. Learning with your favorite personalities from Disney films seems like a reasonable idea, no?
After being welcomed by the unseen narrator (voice of Cam Clarke), you ("the sorcerer's apprentice") embark on a global learning trip, only you don't literally go anywhere. The program begins with a simple activity in which the viewer practices saying "Hello, Mickey" in a bunch of different languages, from England to France to Italy to Egypt and so on. There's a word on screen, and the narrator and properly accented children responding follow-up by greeting the mouse.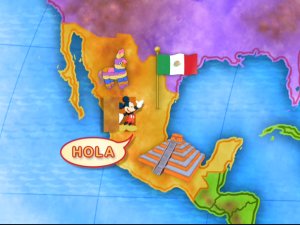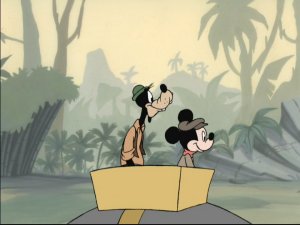 Then we go into the first cartoon, which is "Around the World in 80 Days." This short originally aired on "Mickey Mouse Works", a half-hour program on ABC's "One Saturday Morning" that played a variety of cartoons featuring the enduring personalities of the Disney shorts from yesteryear. It's tough to view these creations with the same perspective as the classic shorts of the late '20s through '50s. Those old 'toons had budgets and formulas, but the shorts that comprise "Mouse Works" are more freeform and even less ambitious. Whereas classic shorts aired in theaters before some films we now consider great historical pieces of art, these aired at noon on Saturdays, sharing a lineup with things like "Pepper Ann" and "Brand Spanking New! Doug." "Mouse Works" was cancelled in the fall of 2000 after just 26 episodes had aired.
With all that said, "Around the World in 80 Days" is a pretty charming short. It departs from Jules Verne's story almost completely, except for the setting. In this version, Mickey runs a financially-troubled orphanage. He stands to inherit a fortune from Scrooge McDuck, but only if Scrooge deems him worthy. As a test, Scrooge challenges Mickey to circumnavigate the globe in 80 days. With Goofy as his trusty sidekick, Mickey sets off on the expedition.
Halfway into the cartoon, we go back to learning. Viewers are tested with a series of questions on which animals live in different environments, with very generous hints pushing them in the right direction.
Somehow this segues into the conclusion of the cartoon, in which Minnie Mouse is brought in, as a beautiful Indian princess who doesn't want to get married. A rescue is in order, as Mickey and Goofy race to get back home in time to save the orphanage.
More questions follow, with the narrator now calling upon children to identify different types of houses and what types of places they might be found. This conveniently leads into "Mickey's Mechanical House", another "Mouse Works" production. Like that one, it's also narrated by the comedic actor John Cleese. This short also provides quite a bit of fun, as Mickey, fed up with the various noises of his house, settles into a state-of-the-art home where every task is seamlessly conducted with the help of electrical gadgets and technological innovation. If that all seems too perfect and easy, it is, and there's a moral in there amidst the imaginative visuals. ("Mickey's Mechanical House" is also included as part of Mickey's House of Villains.)
Following this, we get a bookend to the opening portion of learning greetings in different languages. Now, we learn how to bid farewell in various tongues. One might think this is the end of our program, but actually, it's followed up by "Around the World in 80 Days"...again. This time, it's uninterrupted, but I can't imagine any viewer having a great desire to revisit this 12-minute cartoon just 15 minutes after seeing it end. What's even more perplexing is there's little specific educational value or content which strongly connects to the simple lessons that have been going on throughout.
Now you've finally reached the end, and in just under a hour (or slightly less, assuming you skipped through the second viewing of the first cartoon). While it's easy to appreciate the intention of the DVD, in execution, it's not the best. The two cartoons are well-done and would entertain an audience of pretty much any age. But the lessons leave quite a bit to be desired. Despite the narrator's attempts to sound amusing, these fact-absorption sessions are just not too interesting or exciting. The simple format wears thin fast, and much better efforts have been made elsewhere to entertain and educate at the same time.
VIEWING OPTIONS
There are two ways to view the DVD. By default, it proceeds with "Guided Play" which requires no response from the remote control. If you select "Sorcerer's Apprentice Play", the DVD takes on an interactive element. In this playback mode, there is more to learn about the various countries explored by pressing "Enter" when different items become highlighted. This mode also converts the second iteration of "Around the World in 80 Days" to a read-along, where you can opt to read along or read it by yourself.
VIDEO and AUDIO
All the new material and both of the cartoon shorts are presented in 1.33:1 fullscreen. There's no fault to find with the picture. All of it's bright and vibrant, and the shorts employ clean, simple animation without incident.
Audio is supplied in the way of a Dolby Digital 5.1 track. At times, it's more lively than you might expect from an educational DVD. The opening song, for instance, is nicely conveyed. For the most part, the rest of the presentation is entirely satisfactory surround experience.
BONUS FEATURES
There's one bonus feature under the heading of "Game Time." This particular game is called "Sorcerer's World Challenge" and offers four levels of educational activities to get Mickey and company back home within 80 days. Each round is set in a different part of the world (New York, London, Egypt, and China) and hones childrens' skills on the days of the week, telling time, reading maps, and the calendar. It's more inspired than the educational activities in the feature, but it still seems a bit simple to sustain the entire DVD supplements section.
Sneak Peeks play at disc's start for Pooh's Heffalump Movie, the two next Pooh-themed Disney Learning Adventures due in the fall, and last month's Disney Princess DVDs. The second page of the Sneak Peeks Menu adds a dated promo for last year's "Bear in the Big Blue House" discs and previews for August releases Lilo & Stitch 2: Stitch Has a Glitch and Little Einstein.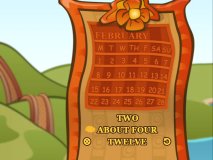 MENUS and PACKAGING
The 4x3 menus are explicitly narrated so that a preschooler should have no trouble navigating. They're not the nicest selection screens or even specific to this title, but they serve you in choosing options with a Disney Learning Adventures theme.
Inside the case, there's a two-sided insert, an activity booklet, and a savings booklet. The insert lists the 7 scene selctions, explains the two viewing options, and on the back, provides an overview of the bonus game. The activity booklet offers nine pages of activities for preschoolers. There are places for children to draw specific things, match pictures to words (or animals to environments - that appears to be a favorite), and circle different parts of maps.
The book o' coupons offers discounts on Mulan II, Pooh, Princess, and JoJo's Circus DVDs. The booklet also houses a mail-in certificate promoted with a sticker on the front of the DVD, which will get you a free plush of Mickey Mouse in Three Musketeers garb if you buy both this and the other new Disney Learning Adventure (Mickey and the Beanstalk). You just provide a $3.50 check for shipping. This is the same Plush that was sold last August in the Three Musketeers Gift Set.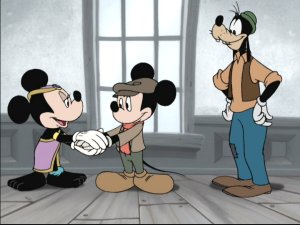 CLOSING THOUGHTS
Mickey's Around the World in 80 Days intends to teach youngsters about geography and different cultures and in a simplified fashion, it does. But the DVD does not meet its full potential in efforts to combine entertainment and education. The disc provides two fun "Mickey Mouse Works" cartoons, one with a nice narrative and one that's visually imaginative and clever. These widely appealing shorts are the highlights of the package, but they're not meant to sustain the DVD on their own or attract those outside of the preschool sect. As past creations, they're not also particularly relevant to the lessons at hand.
Those lessons fall short no matter what viewing option you choose ("Guided" or "Sorcerer's Apprentice"). The activities on geography and foreign languages are likely to prove either too simple or too dull for many children in the recommended age group of 2 to 6-year-olds. Then there's the fact that there's very little replay value to the DVD. Once you've gone through it, you're not likely to revisit. One might think it useful for a teacher, but any child in school will already have fallen out of the audience it's most tailored for. As such, it's suitable for a rental at best.