There are some direct-to-video features which feel as if as little effort as possible has gone into making them. Usually, these movies recycle and repackage old material, barely run at all, and leave adult viewers underwhelmed. Winnie the Pooh: A Very Merry Pooh Year would certainly seem to fit all of those requirements, running just 64 minutes long and devoting half of that time to an early '90s TV episode. And yet, overall, I must say that I liked A Very Merry Pooh Year in spite of the noticeable lack of effort.
I should make the distinction that I love Winnie the Pooh adventures featuring the Hundred Acre gang - I hold fond memories of the late '80s/early '90s weekly cartoon series and nothing but praise for the shorts and theatrical features that I've seen (The Many Adventures of Winnie the Pooh, edited from '60s shorts, and 2000's The Tigger Movie). I also happen to love Christmas - the holiday season that encompasses the later part of the year is my favorite and I tend to appreciate all things related to the season, especially music and movies. (Maybe it can be traced back to having a December birthday.)
So, it would seem like a new Christmas Winnie the Pooh movie would get a surefire recommendation from me, but my enthusiasm isn't so great, as the feature does suffer from a noticeable lack of inspiration. The film begins with a rendition of the Sherman Brothers' immensely hummable "Winnie the Pooh" theme song, performed by Carly Simon, who's apparently become Disney's new go-to singer for Pooh films. The set-up is that it's Christmastime in the Hundred Acre Wood and all of the gang is getting ready with presents and decorations. But rather than go from here, they pull a Tarzan & Jane "Remember the time when..." and this segues into the 1991 Christmas special "Winnie the Pooh and Christmas Too."
In this, the gang makes a list of what they want for Christmas and they send it to Santa Claus. Except that Pooh forgot to ask for something, so he takes it upon himself to retrieve the letter and get it to Santa by Christmas...which happens to be tomorrow. Like I said earlier, I enjoyed the TV show and this is not unlike other episodes of the show, so it's enjoyable and cozy, without attempting to break down traditional barriers beyond a 20-something minute story.
The "remember" framing bit ends, and we're back in the present day. Christmas is briefly celebrated, and Pooh is informed that he has forgotten to give a present to Piglet. He goes to look for it, and apparently falls asleep for nearly a week...and suddenly the gang is ready to celebrate New Year's Eve. A party is planned for Rabbit's place, but everyone manages to tick off the easily-irritated Rabbit, who decides not only is there NOT going to be a party at his place, but he's mad as hell and he's not going to take it anymore.
As Rabbit vows to leave town for Paradise (described as the place where there is no gloomy donkey, no petrified Piglet, no bouncy Tigger...and well, you get the idea), Pooh and company decide to make New Year's Resolutions to change themselves, so that Rabbit will decide not to move away.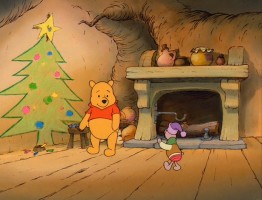 This amounts to a less-than-inspired situation where personalities are switched. Pooh becomes gloomy, Eeyore dons a red shirt and takes a liking to honey, Piglet takes up bouncing, and Tigger ties his tail to a big rock (the equivalent of being Piglet, somehow). Naturally, this will all end up happily in time for New Year's Eve, or more appropriately kind of a happiness twinged with melancholy (or as Gopher, who's not in the book, calls it, "kind of sappy.")
Overall, I can just appreciate the atmosphere and tone of Winnie the Pooh features, even if the story presented is less than thrilling, as is true of the weaker New Year's Eve half. Young fans of Pooh will likely be entertained, and I really don't think Disney can release too many Pooh features, even if they try. And they're flirting with trying. (A month from now, Seasons of Giving makes its DVD debut. A couple of months ago, the theatrically-released Piglet's Big Movie came to disc. Springtime for Roo, the next direct-to-video feature, is due next March.)
As much as I like Disney's Winnie the Pooh episodes and movies, and in spite of the fact that I can never watch enough Christmas specials, my recommendation for Very Merry Pooh Year is a mild one. If you're not enamored with the Pooh specials and movies, this one surely won't suade you. Diehard Pooh fans will likely be pleased, and it's nice to get a small part of the terrific animated series on DVD in the US, albeit in this form (meanwhile, complete episodes are being released in Europe).
DVD Details

1.33:1 Original Aspect Ratio
Dolby Surround 2.0 (English, French, Spanish)
Subtitles: English
Closed Captioned
Release Date: November 12, 2002
Single-sided, single-layered disc (DVD-5)
Suggested Retail Price: $19.99 (Was $29.99)
White Keepcase

VIDEO and AUDIO
Not surprisingly, this direct-to-video feature looks brand new, mostly. There is a noticeable change in animation quality when they go to the "Winnie the Pooh and Christmas Too" special - but that too looks clean, crisp, and sharp...just different from the rest of the program, which seems even warmer and sharper. There really aren't any problems with the video quality here.
Even though most direct-to-video features put out by Disney today are offered in Dolby Digital 5.1 (sometimes even in DTS), Very Merry Pooh Year is only presented in Dolby Surround. Pooh films can make good use of surround sound - one need only to give The Tigger Movie a listen for proof. But of course, the TV episode edited in originally aired in nothing better than 2-channel stereo, so Disney probably decided putting the whole thing in 2.0 surround would flow better. Nonetheless, like the video, there are no causes for complaints here.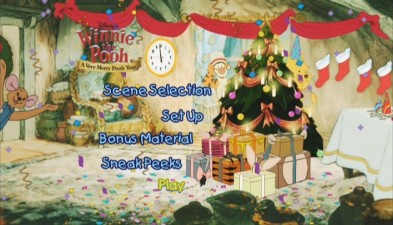 EXTRAS
Extra features are limited, but semi-satisfying. The main menu has a bunch of "Easter eggs", if you can even call them that. Moving the cursor over the presents under the Christmas tree accesses little 20-second video clip montages, for each of the six main characters (Owl seems to have been given short shrift in this movie). Highlighting the clock on the wall simply takes you to a New Year's countdown.
There are two short games that couldn't have taken very long to create - they don't take very long to play either. "Covered in Snow" is a trivia game in which a correct answer yields the ability to try to identify a character by their eyes. You see, they're covered in snow. "New Year's Eve Party" is more matching and selecting, and it all ends with the same thing that happens with the wall clock Easter egg.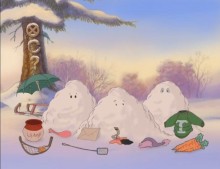 If you like Christmas as much as me, then you'll appreciate the basic-but-neat Enchanted Environment feature. Animation of a fireplace and Christmas tree is subtly looped, as snow falls outside the window. It's a beautiful, warm living room in winter scene, and you can display it with a medley of mostly soothing Christmas instrumentals, subtle crackling sound effects, or a mix of both. It'd be a nice thing to leave on the screen if you just want to create a Christmas environment without having a television show or movie dominate the room - like if you're decorating, maybe.
"Sing-Along With The Movie" includes subtitles whenever there is a song. The words get filled as they are sung, kind of a nice effect. Disney's Song Selection accesses just the songs from the movie, and you can activate or disable lyric subtitles from the menu. Nice for quick song access, and for knowing the names of the songs...and for those who actually wish to sing along. They're actually encoded as different titles, too. I'm sure they had plenty of disc space to spare on features like this, once they were happy with the transfer.
The last extra to mention is the first to play...Sneak Peeks of Piglet's Big Movie, Lilo & Stitch, 101 Dalmatians II: Patch's London Adventure, Beauty and the Beast: The Enchanted Christmas (Special Edition), and a promo for the Special Edition of The Santa Clause, which blatantly lies about "hours of extra features" (in actuality, they total less than 30 minutes). Previews for Rolie Polie Olie: The Great Defender of Fun, Belle's Magical World and Disney Interactive are accessible from the Sneak Peek menu, as well
CLOSING THOUGHTS
Winnie the Pooh: A Very Merry Pooh Year seems best to pick up when stores have a sale on holiday-themed DVDs; if you can find this one for cheap, it makes for a nice purchase. Otherwise, a rental or passing on it is probably favorable, particularly when it held its originally high $29.99 suggested retail price. Now reduced to a $19.99 list price, it is still a little underwhelming, but fans of Pooh and Christmas should not be disappointed.
More on the DVD / Buy from Amazon.com
Related Reviews:
Winnie the Pooh on Disney DVD
The Many Adventures of Winnie the Pooh: 25th Anniversary Edition
Pooh's Heffalump Movie / Pooh's Heffalump Halloween Movie
Winnie the Pooh: Springtime with Roo
Growing Up With Winnie the Pooh: Vol. 1 - A Great Day of Discovery
Growing Up With Winnie the Pooh: Vol. 2 - Friends Forever
Sing Along Songs: Sing a Song with Pooh Bear and Piglet Too

Disney's Christmas DVDs:
Eloise at Christmastime
One Magic Christmas
I'll Be Home for Christmas