In 1955, "The Mickey Mouse Club" became Walt Disney's second successful foray into the world of television in as many years and attempts. From the start, this weekday-airing, child-oriented program was composed of a variety of elements. There were the enthusiastic but ordinary boys and girls who donned Mouse Ear hats, wore their first names on their shirts, and engaged in assorted acts, often musical. There was Jimmie Dodd, the Head Mouseketeer who would sign off each episode earnestly dispatching a moral. There were also guest stars, human interest stories from around the globe, a "Mousekartoon" from the studio's animated shorts catalog, and a live action serial. It is this last component where The Adventures of Spin and Marty fits. Debuted just two months after the show that housed it, Spin and Marty quickly became the Club's most popular serial, generating unprecedented fan mail and a fair amount of merchandise. Spin and Marty enchanted enough viewers to spawn two follow-up serials set in its world (an honor given to no other) and they accompanied the subsequent two seasons of "The Mickey Mouse Club."
Fifty years later, Spin and Marty became the first "Mickey Mouse Club" serial tapped for a DVD release all its own. Not surprisingly, it came to the format via the collector-friendly Walt Disney Treasures line as a limited issue 2-disc set. As such, it fulfilled the vintage television quota of the fifth wave of the Leonard Maltin-hosted series along with a Legendary Heroes set shared by a couple of primetime personas from Frontierland-branded anthology shows.
Though both Spin and Marty would appear in the title to each of the three serials, the first season clearly belongs to Marty, as Spin rarely stands alone in the foreground. Marty Markham reluctantly arrives at the Triple-R Ranch, a cowboy-oriented summer camp for pre-teen boys, with a chauffeur and an English butler. This pampered, home-schooled youth (played by David Stollery) naturally takes offense to being called "Marty", preferring "Martin" as in the "Master Martin" with which manservant Perkins refers to the lad. While the nickname sticks, it doesn't take long for Marty to find other ways to ostracize himself from his fellow ranchers. They are clearly more comfortable than he is with the Triple-R, which he calls "a dirty old farm" upon first sight.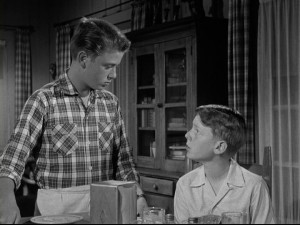 The Adventures of Spin and Marty covers an assortment of goings-on at the boys' ranch, but by far its single greatest focus rests on Marty, who must adapt to a setting that starkly contrasts with his life of privilege. The first half of the season is composed of plenty of "I want to go home" moments which are intervoven with stretches where it seems like Marty just might be able to fit in. A temperamental outsider in a jolly down-to-earth environment, Marty holds plenty of pretenses that distance him from his fellow campmates. Ultimately, though, the element of Old West-flavored excitement is too alluring for Marty (and most boys of the time, it would seem) to resist. Needless to say, horse-riding, cow-roping, and campfire gatherings ensue in 11-minute installments.
Spin Evans (Tim Considine) most embodies the adventurous fellow ranchers who initially represent "them" to Marty. The most popular kid at camp, Spin already rules the ranch by Arrival Day. His antics at the Triple-R the previous summer are enough to merit a round of applause when it's his turn to introduce himself (a mere formality) to the other campers. Giving Spin some depth beyond "the cool kid" is the fact that he works hard year-round to be able to afford a stay at the Triple-R. The class differences between the titular boys is hinted at, but the two have enough personality differences to prevent lingering on their contrasting backgrounds. Spin gets his own arc when he longs to win the individual prize in the much-discussed, camp-concluding rodeo, which would ensure free tuition for next summer. When the time comes, though, Marty takes more of an interest in Spin's personal success than Spin himself, illustrating the nonchalance which makes Spin the cool one.
Beyond Spin and Marty, most of the Triple-R boys don't make very much of an individual impression on the viewer, with their contributions to the group dynamic being greater than any distinguishing traits. There is one exception: Marty makes friends with a good-natured slacker he dubs Ambitious (B.G. Norman), who becomes repeatedly plagued by poison oak before the session ends. The rest of the secondary ranchers, however, end up being more identifiable by their looks (not always an easy task) than their name or personality, though one distinctly possesses a Napoleon Dynamite notion of "cool."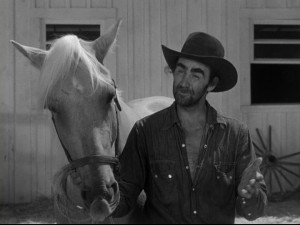 It makes sense that the Triple-R's adult figures,

clearly outnumbered by their campers, take on amplified roles. Most prominent are Mr. Logan (Roy Barcroft), the Ranch's manager/owner who gives off a Walt Disney vibe in appearance and manner; Bill Burnett (Harry Carey Jr.), the lone counselor who can be both firm and fatherly; and Ollie, the grizzled and bearded head wrangler whose catchphrase is "Well, I'll be a blue-nosed gopher." Marty's aforementioned butler Perkins (J. Pat O'Malley) also figures largely, as he assumes a job in the kitchen and provides comic relief in the amusing gap that separates his prim, proper speech and his rugged setting. On occasion, there are also Dr. Spaulding (George Eldredge) and Sam (Samee Tong), the chef who sprinkles Chinese lyrics into his campfire guitar numbers.

Spin and Marty was loosely adapted from Marty Markham, a 1942 book written by Lawrence Edward Watkin, who would pen many a live action Disney screenplay over the years, including Treasure Island (1950), The Great Locomotive Chase (1956), Darby O'Gill and the Little People (1959), and The Biscuit Eater (1972). The casting of established screen actor Tim Considine as Spin dictated an increased role and a spot in the title; Considine auditioned for the part of Marty before passing on it and letting David Stollery, his co-star in Her Twelve Men (1954), take the role. Considine would go on to future work for Disney, including the two-season "Mickey Mouse Club" serial The Hardy Boys with Tommy Kirk, a trio of "The Swamp Fox" anthology episodes, and 1959's The Shaggy Dog, before landing a starring role in the interminable family sitcom "My Three Sons", where his dad was Shaggy co-star Fred MacMurray.

Two other Shaggy Dog cast members crossed paths with Considine before that black-and-white comedy marked a noteworthy first for Disney: Annette Funicello and Kevin Corcoran would take on leading roles in the sequel serial The Further Adventures of Spin and Marty. Meanwhile, Stollery would reunite with Considine and Funicello in the Mickey Mouse Club's 1957 serial Annette and make two big screen appearances for the studio (in Westward Ho The Wagons! and Ten Who Dared, both largely-forgotten and still missing-on-DVD). But just when Considine got "My Three Sons", Stollery left Hollywood never to return, save for a cameo in The Wonderful World of Disney's The New Adventures of Spin and Marty: Suspect Behavior. Considine also turned up in that 2000 telemovie which transformed the characters (portrayed by Jeremy Foley and "7th Heaven"'s David Gallagher) into Hardy Boys-type sleuths.
Viewers of the mid-1950s -- many of whom would have been captivated by Walt's "Davy Crockett" stories that aired (or re-aired) on select Wednesday nights during the same season -- doubtlessly related to the protagonist and his new home, the Triple-R Ranch. But, with a few isolated exceptions, the Old West and cowboys haven't been much in style for quite some time now, so will Spin and Marty charm children of the early 21st century? Probably not so much. The show is dated in its themes; today, "pedestrian" isn't an ordinary put-down and boys are more apt to bond over Game Boy than lassoing. Nevertheless, the young male interaction at the series' core still rings true. And the dialogue and antics are not excessively or even particularly dated. The appeal of a ranch is what's more likely to be questioned, and surely, dude ranches have not entirely been wiped off the map today.
Still, this serial will most heartily delight those who grew up with it, whether they're Baby Boomers who caught the show in its initial airings or later generations who managed to catch reruns in the Disney Channel's age of Vault Disney. It could benefit from some variety and complexity, but viewed in succession as a self-contained body, Spin and Marty has turned fifty and kept some of its original appeal while making up for its losses with a bountiful nostalgia factor. If it's possible on a show like this to set nostalgia and fond memories aside, you'll find some mostly forgivable flaws in Spin and Marty, some of which seem inherent to its now-unusual format of non-self-contained 11-minute episodes. It is about as episodic as anything ever, yet it is designed so that individual installments occasionally throw in cliffhangers and rarely provide closure in their abrupt endings. Like this. (Fade out.)
PACKAGING
While the rare, vintage contents of the Walt Disney Treasures releases have helped, surely their slick, uniform presentation has played a part in making them one of the most collectible of all DVD lines, appealing chiefly to fans of classic Disneyana but also those who can't say no to a unique package (or the thrill of the hunt). About that package...it's undergone some slight modifications from Wave 1, but it still offers a Double Alpha keepcase inside of a tin. Only 125,000 copies of Spin and Marty were produced. A Certificate of Authenticity inside the keepcase bearing reproductions of the signatures of Leonard Maltin and Roy E. Disney (he's baaack!) tells you the number of your individual copy. An eight-page booklet provides an overview of this set's contents as well as information on the line and on this volume. Finally, a color postcard-sized lithograph ups the cool factor. It depicts the cover of a Spin and Marty comic (Issue #7, from the fall of 1958), and offers on the back a fun fact on the series' primary filming location.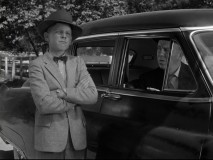 DISC 1

1. "The Triple-R" (11:05) (Originally aired November 7, 1955)
It's Arrival Day, which means that the kids move in and the new ones try to fit in. One of those, Martin Markham, shows up with a bowtie and an English butler named Perkins.

2. "The Misfit" (11:05) (Originally aired November 8, 1955)
Marty clashes with the other boys at the Ranch, while Perkins takes a job in the kitchen. Logan reveals why he won't let the reluctant Marty leave. Then Marty disappears.

3. "The White Stallion" (11:07) (Originally aired November 9, 1955)
The titular horse charges at Marty, giving the boy quite the scare. During dinner introductions, Marty surprises everyone with the revelation that he plays polo.

4. "A Froggy Day" (11:06) (Originally aired November 10, 1955)
After Spin and the boys conspire to awaken Marty with a frog in his bed, Bill decides to let Spin and Marty duke it out in the boxing ring. This episode ends with the events leading up to...

5. "The Battle" (11:07) (Originally aired November 11, 1955)
Shirtless action in the ring makes up nearly this entire episode, as Marty surprises most with his ability to keep up with Spin in their multi-round bout. Afterwards, though, Marty wants to leave the ranch and go back home.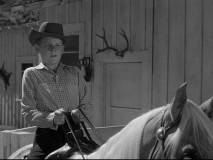 6. "A Surprise Decision" (11:05) (Originally aired November 14, 1955)
Ollie helps Marty face his fear of horses by introducing him to Skyrocket, the boy's assigned horse.
7. "Homesick" (11:07) (Originally aired November 15, 1955)
After a brief recap of what has already ensued, this episode finds the gang at a nighttime campfire, in which Logan informs the young ranchers that there will be a rodeo at the end of the session. Meanwhile, Marty spends all his time catering to Skyrocket. Later, he stands up for a crying roommate and vows not to leave the Triple R after all.
8. "Logan's Lesson" (11:06) (Originally aired November 16, 1955)
Freddy and Ambitious help Marty give his new pair of jeans that desired worn look. Then, in what gives the episode its name, Logan teaches the ranchers how to put bridles and saddles on a horse.
9. "The Chase" (11:06) (Originally aired November 17, 1955)
Marty admits his lie and runs off in the face of ridicule. Bill pursues the boy and convinces him to give riding Skyrocket a shot.
10. "Ride-'Em-Cowboy" (11:07) (Originally aired November 18, 1955)
Marty returns and wows everyone with his newly-acquired horse-riding skills. Campfire singing and laughter give way to preparations for a late-night snipe hunt.
DISC 2

11. "The Snipe Hunt" (11:05) (Originally aired November 21, 1955)
Marty, Perkins, and other Triple-R newbies hunt for snipes, until they realize they've been had, which isn't until nearly the end of this episode.

12. "The Secret Ride" (11:06) (Originally aired November 22, 1955)
Before going to sleep, Marty and Ambitious get back at their jokester campmates. Then, Marty wakes up early to sneak in some extra time riding Skyrocket bareback.

13. "Tragedy!" (11:05) (Originally aired November 23, 1955)
While engaging in some unsupervised training, Marty and Skyrocket come across a rattlesnake in the desert, which causes the boy to be thrown from the horse.

14. "Perkins' Decision" (11:07) (Originally aired November 24, 1955)
After a trip to the doctor, Marty returns to the Triple-R ranch and Perkins prepares to do damage control in reporting the boy's injury in a phone call to "Grandmama."

15. "Tossing the Calf" (11:05) (Originally aired November 25, 1955)
While Marty stays sidelined, the rest of the boys begin training for the rodeo by running with and roping calves.

Order Walt Disney Treasures: The Adventures of Spin & Marty from Amazon.com


ONTO PAGE TWO

REVIEW CONTENTS

Page 1: Set Overview, Packaging, and Episode Synopses
Page 2: Episode Synopses continued, Video & Audio, Bonus Features, Closing Thoughts