Next week, with Christmas steadily approaching, Disney's video branch Buena Vista Home Entertainment will release two holiday-themed DVDs from the Disney Channel's original programming. For big kids and teens, there is Disney Channel Holiday with episodes of comedy series like "Lizzie McGuire", "That's So Raven", and "Kim Possible." For people slightly older who have young kids of their own, there is A Very Playhouse Disney Holiday, which contains episodes from three shows that are a part of the cable network's preschool-oriented block which airs from 6 AM to 2 PM on weekdays, and 6 to 10:30 AM on weekends.
With only half as many shows and less than half the running time, A Very Playhouse Disney Holiday is far less satisfying as a DVD than its equivalent for slightly older viewers. Anyone whose notion of "Playhouse Disney" is shaped by the live stage show at Disney's California Adventure may be disappointed by the paltry offerings and noteworthy no-shows here. Despite having reviewed some of the handful of Playhouse Disney DVDs the studio has released in 2005, that class basically includes me, because it is probably the one area of Disney's visual entertainment empire that I know least about.
Needless to say, the DVD contains no sign of the biggest attraction (literally and figuratively) of the Anaheim park's half-hour of fun; Bear, the seven-foot star of the Jim Henson Company's "Bear in the Big Blue House" and currently-produced "Breakfast with Bear" hour block, is not here. Nor are Stanley or those vibrantly-adorned Wiggles (who have shown up on DVD thirty times, but never from Disney). We do, however, get JoJo, the likable young clown whose Circus of learning adventures has entertained plenty since it first appeared two falls ago. In addition, there is a special half-hour episode from younger series "Higglytown Heroes" and two installments of the mini-show "Shanna's Show." Young voices, a lack of irony, and simple plots all distinguish each of these shows as fare for young children. But, while some will lose their critical edge when faced with these guidelines, I think many can still find a wide range of quality among programming created for young children.
For this disc to make good on its promise of one hour of preschooler delight (and the "feature" itself only clocks in at under 55 minutes, including credits), your little one needs to be a fan of not just "JoJo's Circus", but also the other two less renowned series. Otherwise, you're getting just the 24-minute Christmas episode "A Circus Town Christmas", which would hardly seem to justify the $19.99 list price, the same tag applied to the two twice-as-long "JoJo's" DVD compilations released last spring. If the moral values and occasional cleverness of "Higglytown Heroes" have the approval of you and your spawn, then this pairing of half-hour Christmas specials could conceivably become an annual tradition for your family for the few years until all have grown out of it. That won't make the very brief "Shanna's Show" episodes less tedious on return visits, but if the 3¼ minutes are too much to bear, there is always the "Skip" button.
Let's take a look at just what exactly is on the disc:
JoJo's Circus - "A Circus Town Christmas" (24:00) (Originally aired December 7, 2003)

Youngsters' favorite six-year-old clown JoJo (voiced by Madeleine Martin) is enjoying a traditional Christmas with her parents and pet lion Goliath (Robert Smith):

singing songs, decorating the tree with hot dogs and banana peels, and so on. Tragedy strikes when the family's long-treasured Santa Clown tree-topper breaks. JoJo plans to make things right on her shopping trip to the Circus Town Perfect Present Place (which shows up only one day of the year), but she uses her last popcorn kernel (the place's currency of choice - don't ask) to buy a basket for a stranded bird that Goliath finds instead. JoJo struggles with the decision she made and worries her parents will be disappointed in her.

Like the handful of other episodes I've seen of this colorful stop-motion series, this Christmas episode (twice the normal length) imparts lessons in a straightforward but spunky manner. The catchy songs, completely secular treatment of Christmas, and avoidance of talking down to viewers amounts to pretty much what's expected of the show, which is now in its third season. While it's not spectacular enough to make me jump and emit silly noises (even though that's exactly the type of activity that JoJo encourages viewers to engage in from time-to-time), it garners a mild recommendation and is the best thing on the DVD.

Shanna's Show - "Shanna Mail Carrier" (3:15) (Originally aired November 1, 2004)

Disney must be banking on the Playhouse Disney viewer's illiteracy, because revealing the episode title (as I have done above, after deciding that none of the target audience is reading this review themselves) robs this mini-show any value that it has. You see, this entire short involves you the viewer guessing what occupation the title character is pretending to have. From the two segments included on this disc, I have deduced this much: Shanna is a little girl who only speaks in song and every 3 minute, 15 second episode of her show involves her and her small circle of friends giving you visual and aural clues to guess what job she may be pretending to hold, before revealing the answer that most intelligible humans should see coming long in advance. Considerably more childish than the other two programs on the disc, "Shanna's Show" is a little out of place here, though not without some charm. For one thing, neither this nor the second short have positively anything to do with Christmas or any other holidays. For another, even the compelling nature of the show's entirely-sung soundtrack doesn't give this guessing game much replay value once you've seen it and gotten your answer.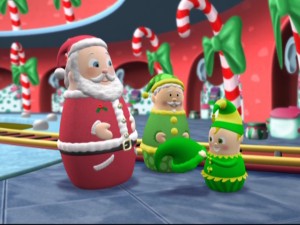 Higglytown Heroes - "Twinkle's Wish" (23:58) (Originally aired December 12, 2004)
It's Christmastime in Higglytown in this special episode, which like "JoJo's", is twice as long as a normal installment. Twinkle's (voiced by Liliana Mumy) skill and appreciation of gift-wrapping has her dreaming of being one of Santa's helpers. Meanwhile, in his first day at the North Pole, an elf named Pix (guest star Sean Astin) is disappointed to find himself relegated to wrapping gifts instead of doing something more important. Furthermore, Santa (Astin's father John, of the original Freaky Friday and "The Addams Family") won't give Pix a bell for the end of his hat until he earns it. Pix and Twinkle cross paths, and Twinkle winds up at the North Pole while Pix is stuck in Higglytown with Blitzen the reindeer. The thrill of helping Santa prepare for Christmas soon wears off as Twinkle misses her family, while Pix longs to earn his bell.
"Higglytown Heroes" boasts some unusual visuals. This town is inhabited by computer-animated Matrioshka-like characters whose arms often disappear into their round bases. The animation is fairly crude, even with the extra ambition evident in this Christmas special's background locations. For the most part, it's how I imagine Pixar's films might appear if the lighting and shading stages were abandoned; everything looks artificial and you never suspect these stylized figures are living beings. Surprisingly, despite imagery and sensibilities that screams low-budget and low-key, the show has attracted some noteworthy guest voices such as the Astins here. This episode (which is oddly and widely referred to as "Twinkle's Star" on the Internet) is not terrible, but it lacks originality and substance. Were it dragged out to feature-length, it'd probably play like In Search of Santa, the weak CGI holiday flick Miramax released direct-to-video last year. As it is, it's not entirely devoid of wit and by default, it's the second best thing on the disc, but it definitely does not deserve entry into the pantheon of television's top-notch Christmas specials.
Shanna's Show - "Shanna Ballerina" (3:15) (Originally aired November 13, 2004)
Again, this short installment features six-year-old Shanna ("it rhymes with banana"), her younger brother Shane, Dinah the dinosaur, Ducky, and Tiger engaging in a bit of guess-what-Shanna-is. Any child who can read the back of the keepcase, the menu, the insert, or this review can answer that question without viewing, while the rest should be able to guess long before the three clues have been dispensed. Though perfect as an in-between-program bumper, the series doesn't really work so great in this context. An apt inclusion on a "Holiday" DVD? No. Worth watching more than once? Not likely. A better route would have been to include the two "Shanna's" shorts (plus a hearty handful more) as bonus features with a "Play All" option but no answers in the listings. That's what I would have done had I been mastering the disc and then I'd be approving their presence right now.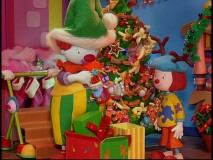 VIDEO and AUDIO

All of the content on the disc is presented in 1.33:1 fullscreen as it appeared when broadcast. The relatively clean and simple animation, paired with a fairly light slate, adds up to no problems whatsoever in the picture quality department. The visuals of "JoJo's Circus" and "Higglytown Heroes" are marked by bright colors (primarily reds, greens, and yellows) and no bleeding or inconsistencies occur.

There is some minor moiré effect detected in JoJo's sweater in some scenes; but this is probably how it looked on TV. The color palette of "Shanna's Show" is a little more subdued, but it too appears without incident, remaining appropriately sharp (with minor blurring that may be inherent to the animation) and pristine. To sum up, the shows are like they appear on the Disney Channel, only slightly better and free from the degradation that would mark your home-made cassette recordings.

Many a creature will be stirring and the house a-rockin' with the DTS-ES and DD-EX tracks boasted by this disc. Yeah, I too know that that's not really funny. Anyway, Disney must subscribe to the widely-held belief that little kids typically don't demand DTS or even a 5.1 soundtrack. The Dolby Surround presentation serves its purpose just fine, nonetheless. All vocals are crisp and perfectly understandable. Though the rear channel is used sparingly for music and bells and such, it can be effective, when need be. Music is readily featured in all three shows, and fortunately, the track offers much more zest and oomph than...an old dusty ham radio.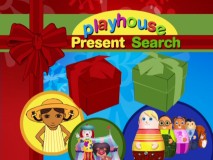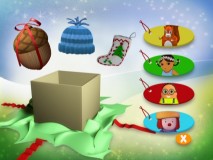 BONUS FEATURES
There are two bonus features on the DVD, one listed on the menu and one hidden. The advertised one is a game called "Playhouse Present Search." There are five presents under a tree, but their gift tags have blown off! After each present is opened to reveal three presents (i.e. extremely helpful hints), you must pick from the four characters offered who the box is meant for. You won't need to know about personalities of Playhouse Disney shows which aren't featured on the disc. It's a pretty fun game, and one which can be played more than once, since the choices and gifts vary. After correctly matching four characters and presents, the fifth is yours to open - revealing a special bonus for you, a randomly-selected one of the two extras that appear in the hidden section discussed next.
Though Easter Eggs are something of a rarity on Disney DVDs, especially for preschool discs, this one actually serves up a section with two minimal but welcome little bonuses. Perceptive viewers will notice a little gift imprint among the snowy ground of the Bonus Features menu, (especially if the keepcase's enclosed insert has already tipped them off to a hidden treat). Alternatively, if you didn't notice it, successful completion of the Playhouse Present Search game leads to one of the two and reveals how to access them anytime you want to without playing the game. Enough babbling, what are the hidden bonuses? They are sing-alongs of two musical scenes from the featured specials. From the "JoJo's Circus" episode, "It Wouldn't Be Christmas" (1:34) offers a variation on "The Twelve Days of Christmas" which explains the Circus Town way of decorating for the holidays. From "Higglytown Heroes", "Getting Ready for Christmas Day" (1:45) enables Twinkle and friends to imagine the thrill of being Santa's gift-wrapping helpers.
MENUS, PACKAGING, and DESIGN

Like many of Disney's preschool-friendly DVDs (a class which already includes direct-to-video sequels and anything with Winnie the Pooh and is verily growing to cover Valiant and more), this disc is equipped with "Disney's FastPlay." While I could never find anything particularly special or worth patenting about this playback mode (which essentially reduces the DVD experience to VHS by removing the need for interactivity), letting it run here illustrates its complete uselessness.

What it's supposed to do is play previews (read "ads"), the feature, and bonus features. What it actually does is play previews, the feature, and more previews, before taking you to the Menu to use the remote after all. Preschool DVDs allow Disney to get around FCC advertising regulations and the Disney Channel's semi-"ad-free nature, but should they really give the studio a free license to subject tiny viewers to more ads than someone who knows how to press the "Menu" button? I don't think so. Boo, Disney!

Those previews (for those who care and for trailer-search purposes) promote Disney Princess: A Christmas of Enchantment, Pooh's Grand Adventure: The Search for Christopher Robin, February 2006's Disney Princess DVD wave, and the delayed next batch of Pooh Disney Learning Adventures. The post-feature previews (also accessible from the Sneak Peeks menu's second page) tout Little Einsteins: Our Big Huge Adventure, Lady and the Tramp, and "JoJo's Circus" on Playhouse Disney.

Inside the white keepcase, there's a double-sided insert with (slightly-off) scene selections and an extras overview that alerts you to the presence of a hidden bonus. A fold-open coupon booklet presents you with some $3 coupons for Little Einsteins: Our Big Huge Adventure, Disney Princess: A Christmas of Enchantment, and "JoJo's Circus" DVDs.

Though the menu only allows access to four different (the starts of the four episodes), there are actually seven chapter stops, including the brief 7-second A Very Playhouse Disney Holiday title logo. Selecting any individual episode from the Episode Selection menu actually just takes you to that part of the whole feature. At its conclusion, the feature continues playing.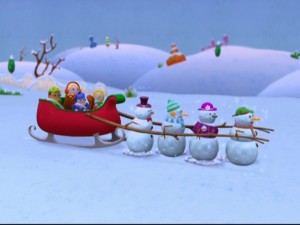 CLOSING THOUGHTS
Alongside Disney Channel Holiday, the kiddie counterpart A Very Playhouse Disney Holiday offers less than it should, even if its younger target audience has shorter attention spans. The half-hour Christmas specials of "JoJo's Circus" and "Higglytown Heroes" are both diverting and offer strong lessons, but are not likely to dazzle beyond the preschool sect. The two short "Shanna's Show" episodes have even less appeal for growing boys and girls, and don't make for a great inclusion based on their limited replay value and lack of holiday theme. The bonus game and sing-alongs provide the disc with a little bit of additional value, but still not enough to justify the list price. (Note, that as of 2006, the disc's price tag was sensibly reduced by a reasonable $5.)
Parents who are certain their children like both of the primary series probably know they already want to pick this up for some modest family fun around the holidays. Less acquainted viewers can get by passing on this or waiting for post-holiday discounts. Though underwhelming in its design, the disc would make for a fine bargain bin buy for little ones.