By Aaron Wallace

It is often said that the best family entertainment is that which appeals to adults as much as children. The same standard, however, is rarely used for preschool entertainment. Every once and a while, though, a toddler-targeted program comes around that boasts near-universal appeal. Debuting on the Disney Channel in 1986, the Canadian series "Under the Umbrella Tree" was one of those shows.

The show stars three young-sprited anthropomorphic animals -- Gloria Gopher, Iggy Iguana, and Jacob Blue Jay, all of them portrayed by puppets -- and their human caretaker, Holly Higgins (Holly Larocque). In each episode, the three creatures encounter a problem or embark on a mission that is perfectly poised to unfold and resolve within its fifteen minute runtime. While lessons of life and learning are imparted by the end, entertainment comes first and the teaching aspects of the show never seem suspect or transparent.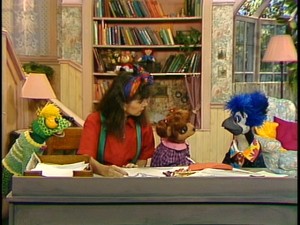 The characters are each assigned distinct personalities that are both interesting and consistent. Though the storylines are never very complex, they are sufficient in strength to support each episode and the ways in which the ensemble responds to them are delightful.

Partly because it represents the early days of the then-very-different Disney Channel and mostly because it's well-conceived and executed concept, "Under the Umbrella Tree" brims with charm for children and adults alike.

"Under the Umbrella Tree" is a show that was once considered unlikely to ever make it to DVD. Thanks a to a small Canada-based production/distribution company called Cinerio Entertainment, though, many of the episodes are now for sale on a series of single-disc, separately-sold DVDs. Each volume is produced with the utmost care and new interstitials starring the original puppets (and their original voices) -- only made to look a little older for purposes of retrospection -- have been filmed to introduce each new episode. For such a long-forgotten preschool production, that's a pretty exceptional effort and a very nice touch. The DVDs are available only at CinerioEntertainment.com and currently carry a retail price of $14.95 each. The episodes assembled for Volume 3, the subject of this review, make for a particularly strong lot and come highly recommended. A closer look at those episodes is provided below.
"To the Dentist" (1989) (15:20)
Upon learning that he's due for a dentist appointment, Iggy becomes gripped by fear. Holly, Jacob, and Gloria decide to stage a mock dentist visit to help ease his fears.
"Migration Party" (1989) (15:17)
It's Jacob's turn to host the bird migration party, in which hundreds upon hundreds of birds will stop by the home for refreshments and a rest. Needless to say, Holly is more than a little apprehensive about the arriving guests.
"Jacob's Girlfriends" (1989) (15:16)
Jacob juggles different dates in an attempt to find the best dancing partner for an upcoming competition, showing little regard for the girls' feelings.
"Going Bananas" (1988) (15:16)
Gloria is torn when she gets invited to a costume party but Jacob, Iggy, and Holly do not.
"Stargazing" (1989) (15:15)
In an especially mellow episode, the gang gets access to a telescope and go out on the porch for a night of singing and stargazing.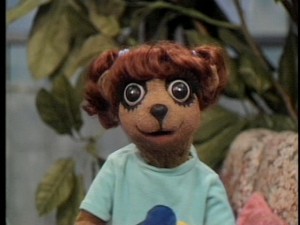 VIDEO and AUDIO
A relatively obscure 1980s preschool show brought to DVD by an independent distributor pretty much guarantees shaky video quality, right? Wrong. Bright, colorful, and mostly clean, the picture is remarkably satisfying. There's a little edge enhancement and a slight aged tint to the whole thing, but overall, this surpasses the efforts made by more reputable studios for more famous shows. True to its original creation and presentation, the show is offered in 1.33:1 fullscreen.
Audio comes by way of a stereo track which is also mostly pleasing. As with past releases, the audio is a little on the loud side, but not obnoxiously so. That one minor problem aside, the audio track proves itself to be quite capable. It should be noted that it packs a punch with the bass too.
BONUS FEATURES, MENUS and DESIGN
There aren't any bonus features included, or at least nothing that is labeled as such. The aforementioned interstitials are certainly fun and unexpected enough to qualify, though. There's also a sing-along that plays just after the end of the last episode. It's the same moon-dedicated tune that closed the episode (one of the better songs), only accompanied by scrolling lyrics this time. That's another enjoyable added touch. Both play automatically as part of the feature itself, thus making them not exactly bonuses, but they certainly add quite a bit of value to the product.
International fans of the show may also consider the disc's versatility a bonus. As a "Region 0" production, the DVD will play in most players around the world.
The main menu screen features some video clips from the show (including their audio) set behind a transparent green background in the same mold as the previous "Umbrella Tree" DVDs. The DVD comes in a standard black keepcase without any inserts inside.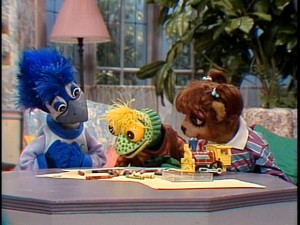 CLOSING THOUGHTS
Years after its production, "Under the Umbrella Tree" manages to endear and endure. Though it certainly exudes a certain late-'80s vibe, the material and the characters are strong enough to stand the test of time.