The Classic Cartoon Favorites would appear to be a flourishing DVD line for Disney. Launched in January, the series has provided roughly an hour of color animated shorts from the format's heyday with no bonus features per each modestly-priced disc ($14.99 SRP). Though each wave has offered one less title than the one before it, a third lot released late last month brought the line's current total of entries up to nine.

The issuance of nine discs in just over nine months leads one to think that these discs have been sufficiently embraced by the target audience and maybe some customers outside of it as well. Comprising that intended audience: those wanting vintage Disney cartoons on DVD without a desire for the collectible tins, bonus features, or comprehensiveness that the chief alternative line, the Walt Disney Treasures, has provided.

With Christmas less than three months away, it makes a little sense that this third batch of volumes would be centered on "the holidays." Though the selected cartoons which make up the two latest entries could have easily fit on one disc and even been accompanied by bonus features, Disney hasn't balked on the line's initial design -- an hour of shorts, no extras -- and any complaints from collectors appear to have been drowned out by satisfying sales numbers.

The subject of this review, Volume 9 - Classic Holiday Stories, actually does break with a couple of Classic Cartoon Favorites traditions. While adhering to the overall running time guideline (it clocks in at 58 minutes), the disc holds only three animated shorts, which of course means you are receiving some shorts longer than the typical 6 to 8 minutes. Two of the three 'toons provided are more substantial: The Small One (1978) and Mickey's Christmas Carol (1983) are "featurette"-length, or about three times as long as Disney's standard short films. Those release years you see in the parentheses of the previous sentence offer the second area where Classic Holiday Stories' contents differ from past volumes. Until now, the series has only mined cartoons as recent as the early 1950s, when the regularly full schedule of producing and releasing Disney shorts more or less came to a halt. The two bulkiest inclusions here were produced well after the relative and certain deaths of the short format and Walt Disney himself, but the title's labeling of them as "Classic" (twice, no less) does not seem objectionable because: A) those audience members who first saw them in theaters as children are now old enough to have children of their own and B) they represent high points in a lull for Disney animation.

Both Mickey's Christmas Carol and this volume's brief middle cartoon, Pluto's Christmas Tree, have already turned up on DVD twice. They first appeared (sans original credits) edited into the "all-new" direct-to-video movie Mickey's Magical Christmas: Snowed in at the House of Mouse in 2002. Then, in May of 2004, they both resurfaced in a more pleasing and complete pleasing presentation on the Walt Disney Treasure Mickey Mouse in Living Color, Volume 2. On the other hand, this marks The Small One's Region 1 debut on the format. Out of print on VHS for some time, but available on Region 2 DVDs like the UK's Countdown to Christmas, the cartoon's American DVD premiere is noteworthy and may mean there is yet another videocassette you no longer really need in your shrinking collection.

A closer look at the volume's three Classic Holiday Stories follows, in the order they are presented:
"The Small One" (1978) (25:25)

In this simple, sweet story, an unnamed Judean boy has the unfortunate task of having to sell his best friend, a playful but petite donkey named Small One. All the boy needs is to find someone willing to part with a lone piece of silver, but locating someone both wanting and worthy of the donkey proves to be a challenge. First, he encounters a dark man who is interested only in the creature's hide, then an odd trio of shysters making marketplace deals left and right who are little help, and finally a "jolly" auctioneer who ridicules the boy and makes a spectacle out of the donkey. Saddened and low, the boy and Small One are approached by a friendly bearded man looking for a donkey to help his wife get to Bethlehem. The deal seems to please all parties: Small One gets a chance to prove his strength in a most important way, the boy can rest easy that his pal will have a nice home, and the traveling couple will be able to get to Bethlehem. Even if the ending is somewhat subtle, I'm sure you can guess why Small One and his new owners are following the bright star in the sky and it is a most satisfying conclusion to a cartoon filled with heart.

The Small One marked the directorial debut of Don Bluth, who had spent the preceding years animating characters on Disney films like Robin Hood, The Rescuers, and Pete's Dragon. The short was released nine days before Christmas in 1978, attached to a reissue of Pinocchio. It would prove to be Bluth's last Disney credit, as he left the studio in grand fashion nine months later, joined by eleven others in the same week. Since exiting Disney, Bluth has helmed a number of animated films, beginning at a time when studios not named Disney generally didn't animate for theaters.

He has given us such sequel-spawning productions as An American Tail, The Land Before Time, All Dogs To Heaven, as well as more recently for Fox, Anastasia and the CGI-heavy flop Titan A.E..

This featurette is distinguished among the Disney canon not just because of the paucity of films of this length, but also because of its surprising religious theme. Truth be told, it hardly feels like a Christmas short until its closing minutes, but introducing this element impacts all that came before it and underscores the strong Christian nature of the film's message. The short was adapted from a children's book by Charles Tazewell (who did not live to see it made) and it is handled sensibly and effectively. Though some may fault it for being saccharine, I would wholly disagree. Compared to the typical glitzy Christmas specials of today, there's a pleasant low-key mood present here, which is apparent from the tender melancholy of its opening and closing song. In that regard and in the fact that Small One acknowledges the true meaning of Christmas goes beyond thinking of others and being nice, the cartoon reminds me a bit of A Charlie Brown Christmas. That's no small praise, as I consider the Peanuts' debut TV special perhaps the finest 25 minutes of animation ever produced. While I can't quite say the same about Small One after just one viewing, it is definitely a compelling cartoon I intend to revisit much.
"Pluto's Christmas Tree" (1952) (6:53)

On a lighter note, there is this standard-length short, which was the next-to-last Mickey Mouse theatrical cartoon produced for thirty years. It also happens to be one of Disney's best, with or without Mickey. Christmastime is upon us, a fact quickly announced by the brief medley of seasonal tune instrumentals that accompanies the opening title screens. To prepare for the holiday, Mickey and Pluto go out to chop down a Christmas tree. The one Mickey picks out unexpectedly comes with two chipmunk residents, Chip 'n (you guessed it!) Dale. When Pluto finds this out, he's enraged, but the two mischievous rodents narrowly and repeatedly escape the dog's attempts to thwart them.

Pluto's antics threaten the vibrantly-decorated tree and raise Mickey's rarely-seen temper. Another nice, happy, Christmasy ending punctuates this fun cartoon which at all times dazzles the eyes with its colorful holiday imagery.

"Mickey's Christmas Carol" (1983) (25:35)

This third and final short on the disc is really a wonderful blend of new and old Disney styles. Representing the "old" was Eric Larson (one of Walt's Nine Old Men, acting as "animation consultant"), Clarence Nash (the original voice of Donald Duck, in his last performance), and the visual sensibilities (from the enduring cast of characters to the feel which can be characterized both as vintage and timeless). As far as the "new", among those key players who were cutting their teeth on this production in anticipation of many great things to come were Glen Keane, Mark Henn, Don Hahn, and pre-Pixar John Lasseter. This hybrid of talent aligned to make Mickey Mouse's return to the big screen for the first time since 1953 an auspicious and memorable occasion.

Charles Dickens' beloved tale of redemption is condensed to featurette length with the miserly Ebenezer Scrooge being played, of course, by Scrooge McDuck. The rest of the casting is expertly done, with roles going to a mix of the regular gang (Donald, Pete, and so on) as well as some memorable supporting characters from 1940s animation like , Jiminy Cricket (the Ghost of Christmas Past), Willie the Giant (the Ghost of Christmas Present), Mr. Toad and his friends, and more. It's fun trying to recognize characters left and right, whether they're from Disney's Tortoise and the Hare of the 1930s or Robin Hood of 1973. Mickey plays Scrooge's thankless employee Bob Crachit who is used to putting up with his boss's stingy and self-serving ways. Scrooge, on the other hand, is not very aware of the error of his ways, until he is visited by his old (now dead) partner Jacob Marley (played by a shackled Goofy) and shown his past, present, and future pitfalls by a quirky trio of visiting spirits.

You and I both know the story, and yet, that alone never seems to rob any of its countless adaptations of their potency. Mickey's is not my favorite take on Dickens' masterpiece (that honor goes to Bill Murray's Scrooged), but it is hard not to love. Compact and clever, dramatic and funny, faithful and original, Mickey's is many things, and all of them to its benefit. Released in 1983, the short scored high praise and wound up earning top billing in many places over its feature-length accompaniment (a reissue of The Rescuers). It even garnered an Academy Award nomination in the Best Short category (but lost to claymated Ed Koch singing "New York, New York"). Christmas Carol may be Mickey and company's finest (half-)hour yet, and few would dispute it is the best use the Mouse has been put to since Walt's passing. If after watching this entire collection and you're still not in the mood for Christmas, you might want to check your pulse.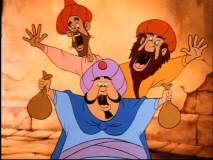 VIDEO and AUDIO

All three cartoons are presented in the 1.33:1 fullscreen aspect ratio, regardless of the dimensions they were created in. The Small One (which was animated for the full 1.37:1 Academy Ratio, though matted to 1.85:1 for theatrical projection) is riddled with digital artifacts and other minor but noticeable blemishes throughout. Like other shorts that have made their DVD debuts in the Classic Cartoon Favorites line, the lack of a Treasures-type restoration is evident in the choppy transitions, distracting print flaws, and restlessly busy shots. As easily the oldest of the lot, the wear-and-tear in Pluto's Christmas Tree is more understandable and comparable to a Treasures transfer which is imperfect but acceptable/good considering the age. Created in the Academy Ratio, fullscreen suits it fine.

As the 22-year-old "baby" of the bunch, Mickey's Christmas Carol definitely looks the best, but it is seen in the 1.33:1 ratio as opposed to the 1.66:1 16x9-enhanced presentation it received on Living Color, Vol. 2.

Comparing the two reveals that this disc definitely offers an open matte transfer, as the film loses literally one or two lines on each side (at most) while adding a more noticeable amount of imagery at the top and bottom. Though one assumes the Treasures presentation had it right, the mildly different framing here does not seem problematic either and it is perhaps a little odd (but not inconceivable) that work would have gone into visuals that only would have been seen on home video or television. Nonetheless, the open matte technique is less offensive than cropping (and even 20% missing picture is enough to bother, as was the case with The Prince and the Pauper on the recently-released Timeless Tales DVD), but the widescreen Treasures transfer could have just as easily been recycled if that is truly the animators' intended ratio.

Outside of the messy print intrusions on the first two shorts and Small One's unfortunate premature aging, picture quality isn't too bad. Colors are mostly consistent and vibrant, and Mickey's compromised element is basically immaculate.

The sound presentation, entirely encoded as Dolby 2.0 Surround, is mostly parallel with the visuals. The Small One's audio is in need of remastering; its dialogue is constantly muffled and its handful of songs clearly lack the zest they are intended to possess. Pluto's Christmas Tree was made in Mono, but it holds up fairly well. Few problems can be found on Mickey's Christmas Carol, as its dialogue and sound design are impressively conveyed, with subtle reinforcement from the rear speakers.
BONUS FEATURES and DESIGN
As you should know by now, the Classic Cartoon Favorites do not contain any bonus features. While I hate to constantly refer to a DVD that is not the subject of this review, Mickey Mouse in Living Color, Volume 2 did contain a wonderful making-of featurette on Mickey's Christmas Carol that runs only a minute shorter than the cartoon itself. Again, this disc's presentation is inferior, as the only things beside the feature short that you'll find are some colorful menus, ads for other DVDs, and that innovative Disney exclusive, FastPlay.
The 16x9 animated menus employ the same design as past Classic Cartoon Favorites, only with a holiday twist, which means that snow falls, there are more bells to the loud accompanying music, and Mickey and friends are decked in their winter attire. FastPlay, as you know, erases the need for viewer interaction by cycling through previews and the feature presentation for you without going to the menu unless you intervene.
Ads for other Disney properties can be found both on the disc and in the case. At the start of the disc, previews play for Lady and the Tramp: Platinum Edition, Chicken Little (its latest trailer), and Kronk's New Groove. The Sneak Peeks menu houses five additional promos for Toy Story: 10th Anniversary Edition, Tarzan: Deceptive Edition, Old Yeller: 2-Movie Collection, Kermit's 50th Anniversary Edition Muppet movie reissues, and the first wave of the Timeless Tales series. The double-sided insert lists the cartoons and almost-correct runtimes while pushing the line's other 8 volumes on back. Smaller papers promote the Timeless Tales series and the digital offerings of the studio's second date of holiday-themed DVDs (November 1).
CLOSING THOUGHTS

Classic Holiday Stories contains three of the finest shorts the Disney studio has ever made, cartoons which are ideal for Christmas season viewing and suitable for any other time during the year. The presentation, however, leaves something to be desired,

as the debuting featurette, The Small One, appears well in need of picture and sound work. Those who own the Walt Disney Treasure Mickey Mouse in Living Color, Volume 2 will be understandably reluctant to acquire second versions of the other two shorts (including an open matte version of Mickey's Christmas Carol). On the other hand, viewers who have avoided the Treasures and are content to own merely a sampling of cartoon shorts, the entertaining and enduring animation in this collection is as likely to please and of as high a caliber as any other collection in the Classic Cartoon Favorites line.

If you are able to put past the disappointments in presentation and the usual lack of bonus material, then don't hesitate to pick this up on the basis of the short films. Otherwise, get Mickey's second color Treasure (if you haven't already) and continue to wait for a more distinguished release of The Small One.

Buy from Amazon / Buy Mickey's Christmas Carol DVD / Buy Mickey Mouse in Living Color Vol. 2