No matter how popular they may be, few of Disney's franchises last longer than a few years. This is especially true of Disney Channel properties, which are generally created with a narrow audience in mind.

On the live-action front, tween actors become full-fledged teenagers and crave more substantial work. (For this reason, even the ultra-successful "Hannah Montana" has an end in sight.)

Such aspirations are a non-issue for animated shows, but these too have short shelf lives at Disney. The recent franchise that's come closest to becoming an institution, 12-year-old Baby Einstein, now appears to be on the way out thanks to bad buzz over disputed claims. That would make spin-off series "Little Einsteins" Disney's oldest active youth entity. Slightly younger and also running strong is "Mickey Mouse Clubhouse". Three and a half years after the series' debut, the repurposing of the company's oldest and most iconic characters is established, familiar, and lucrative.

According to market research issued for this, the franchise's seventh DVD release, "Mickey Mouse Clubhouse" is tied with "Dora the Explorer" for the title of basic cable's top-ranked preschooler program and watched by 57% of all U.S. preschoolers. What's more, Mickey's Q Score (used to measure brand familiarity and appeal) handily defeats those of Dora, Curious George, and Clifford the Big Red Dog.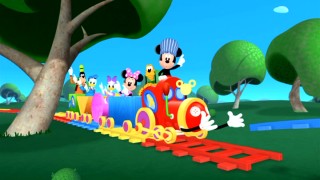 Choo-Choo Express follows in the footsteps of Mickey's Great Clubhouse Hunt and Mickey's Adventures in Wonderland, as an under 50-minute program which Disney generously labels "full-length." One difference is that those came to DVD without having been aired; Choo-Choo debuted on Disney Channel in late October and it carries a distinct two-episode feel that makes it conducive to Playhouse Disney's usual half-hour timeslots henceforth.
In the first part, Professor Ludwig Von Drake shows up to announce a significant achievement. He's created a snow that doesn't melt. In order to see this at invention site Mistletoe Mountain, Mickey and the gang must take a train ride. First, they assemble the train, spotting the different shapes that match the plans for the locomotive, caboose, and passenger cars in between. As the head of the train spits out and lays down track, the gang approaches their destination with minor obstacles arising. These obstacles, like little piggies standing in the way and a popped wheel, present the types of practically-solvable problems that Mickey and company are wont to solve with help from Toodles and the four Mouseketools he's got.
The second half begins with everyone back at the Clubhouse, where Von Drake's snow has been relocated. In order to celebrate the innovation, a party is scheduled for 6 o'clock. For that to take place, Engineer Mickey and his train riders must pick up the guests, including Chip 'n Dale and Clarabelle Cow. More challenges surface, such as a toll-collecting Pete, and are dealt with in the usual "Clubhouse" fashion. And ho, ho, ho, there are a couple of surprise guests excited to see the special Icy Nicey Easy Freezy Cold Snow.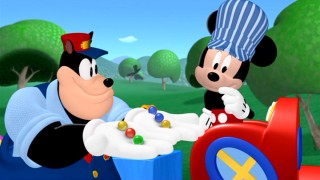 You can see Choo-Choo Express as an easy and efficient way for Disney to cash in on a proven brand and stores' increased holiday season traffic. It is that, as there's no unusual ambition and the feature plays like two standard episodes (albeit two with a continuous storyline).

At the same time, I'm not sure the producers can aim much higher while staying true to the series' design. Even the continuity offered here seems a bit taxing on a show that moves from point A to B to C in such a linear, reliable fashion.

The show continues to do a remarkable job of keeping true to its accomplished cast of cartoon characters (most of whom are around 80 years old) in personality, speech, and appearance. As far as I can tell, the writers have again concocted stories that will excite and be appreciated by the young target audience. My only reservations are in the series' presentation, which is explicitly educational. Should they not be bored by it, parents can easily identify the fundamental skills being taught and reinforced, from shapes and color patterns to recognizing matching pieces, simple addition, and telling time.

Children's programming has always carried some degree of educational value and if kids aged 2 to 6 are at all watching television, it should have some merit. The "Clubhouse" model of direct audience addresses and pauses becomes repetitive quickly. By sharpening the instructional facets, entertainment value does suffer. This design ensures then that no child is expected to remain a fan of this for more than a few years. That means the show's first wave of adopters have no doubt graduated from this and moved onto something else.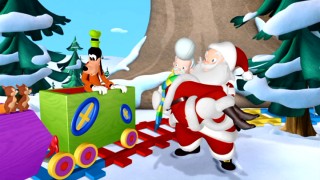 The packaging takes efforts to point out that the feature program includes a new song by They Might Be Giants, the alternative band that performs the show's opening and closing theme songs. The band is credited with writing and performing "The Choo Choo Express", although the characters do more of the performing. It's also worth noting that the feature is dedicated to Wayne Allwine, Mickey Mouse's voice for 25 years, who passed away in the spring. Allwine still speaks for Mickey here, perhaps for the last time.
VIDEO and AUDIO
Bolstering its movie claim, Choo-Choo Express receives a cinematic presentation of 1.78:1 anamorphic widescreen picture and Dolby Digital 5.1 sound. Visually and aurally, the feature yields no complaints. As a computer production, the show looks exactly as good as its makers have made it. While the show remains a far cry from Pixar in terms of detail and animation, the bright, clean visuals offer a perfectly pleasant aesthetic of their own. A few effects serve to make use of the wide sound field and throughout the track is crisp and lively. French and Spanish dubs in 2.0 Surround must be selected from the menu to be heard.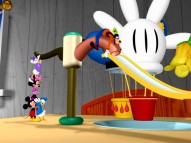 BONUS FEATURES, MENUS and PACKAGING

The disc's listed runtime falls short of the "Mickey Mouse Clubhouse" DVD runtime, but that's only because what is essentially the third episode earns bonus feature classification. Running 24 minutes, "Mickey's Big Job" (Originally aired August 23, 2008) is presented in 1.33:1 fullscreen and plain 2.0 stereo (French and Spanish dubs are also offered). Willie the Giant (originally from Fun and Fancy Free)

asks Mickey to take care of his farm while he visits his mother. With help from Toodles (and you!), Mickey, Minnie, Donald, Daisy, Goofy, and Pluto clean up Willie's bedroom, water his flower, and feed his two big chickens. This Season 2 episode seems a little less regimented and dry, a little more fun than the feature.

The only other bonus, interactive Adventure Modes quickly appear to be a new standard for Playhouse Disney DVDs. With this activated, playback of "Mickey's Big Job" is enhanced and extended with questions and exercises pertaining to what's occurring. The feature is implemented fairly fluidly and steadily, with a new question popping up naturally every couple of minutes. The feature serves to strengthen the series' "interactive" design.

There are two levels to choose from, each of which can be enjoyed with or without remote control usage (the less worthwhile latter turns questions into announcements). The DVD doesn't confirm this, but press materials stated that Level One is intended for kids ages 2 to 3, and Level Two is aimed at 4-6-year-olds. It seems pretty odd that the Adventure Modes are only offered on the bonus episode and not the main feature (as they were on the recent Mickey's Adventures in Wonderland) and this wasn't the original plan according to advance announcements. I'm guessing it was just easier and faster to apply this treatment to a year-old standard episode than a new double-length outing.

The FastPlay-enhanced disc opens with a folksy new mom-oriented promo for Disney Blu-rays and trailers for Dumbo: 70th Anniversary Edition, Handy Manny: Motorcycle Adventure, Mickey Mouse Clubhouse: Minnie's Boutique, and Winnie the Pooh: A Valentine for You 10th Anniversary Edition. Playing after the feature and bonus episode with FastPlay and also available from the menu are ads for Disney Movie Rewards, Toy Story 3, Tinker Bell and the Great Fairy Rescue, and "Handy Manny".

This is the second "Clubhouse" DVD holding menus that do away with the Clubhouse setting. In a scene resembling the cover art, Mickey and friends move about while their choo-choo remains still but aurally expressive. Viewer inactivity begets feature playback.

Reflecting the fact that this carries a list price $7 higher than straightforward episode compilations, the DVD includes an embossed cardboard slipcover with reflective foil (but none of the foils or holography you might expect). Inside the keepcase (which of course repeats the artwork above) are a Disney Movie Rewards code, a sheet explaining Adventure Mode playback, and a booklet of ads.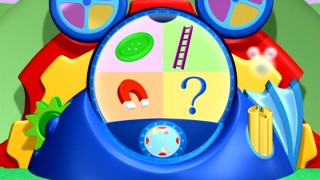 CLOSING THOUGHTS

The charms and accomplishments of "Mickey Mouse Clubhouse" are numerous.

By keeping the focus on learning, Choo-Choo Express might have quite limited appeal for those outside the target audience. But it also therefore carries a value greater than usual for youngsters who stand to benefit from problem-solving and gaining basic classroom skills.

While this disc contains a comparable amount of content to the six "Clubhouse" DVDs that have preceded it, it doesn't seem quite as fresh or spirited. But, discounting puts the price in the same neighborhood as the others and it definitely doesn't have a strong enough holiday feel to be limited just to seasonal viewings. Although you could find a better release within the show's canon, not many preschooler-oriented programs are as agreeable as "Clubhouse."