Lola Cep (Lindsay Lohan), lifelong Manhattanite and trendy teenager, is moving with her family to suburban New Jersey. Dellwood is their new town, and Lola is the new girl at the local high school. Lola's bent towards exaggerating and fantasizing, and the folks of Dellwood view Lola and her single mother (Glenne Headly) as being kind of strange.
Lola's passionate (and a bit of a "drama queen") about a few things, most notably being an actress and the fictional rock band Sidarthur. She considers band member and lyricist Stu Wolf to be the greatest poet since Shakespeare and a wall-sized photo of him adorns her wall. Her love of Sidarthur has her quickly getting along with Ella (Alison Pill), a not-too-popular classmate at her new school. On the other hand, Lola doesn't click with Carla (Megan Fox), the brat who happens to be the most popular girl in school.
As Lola struggles to adjust to the suburban lifestyle, she sees the school's drama department as one place where she'll shine. However, their choice of plays is off-putting to her; they're resetting George Bernard Shaw's Pygmalion in present-day New York City where Eliza Doolittle is a poor checkout girl and Henry Higgins is a professor at NYU.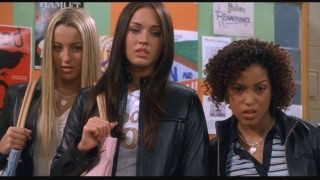 Even though Carla seems to get her way with everything (the play idea was hers), Lola manages to win the lead role of Eliza in "Eliza Rocks!" But Lola's world is rocked when Sidarthur breaks up. There's just one last chance to see the band, at their farewell concert in New York City, and the party afterwards. For Lola and Ella, this suddenly becomes the most important priority in life.
A hefty portion of the film is devoted to the girls trying to get permission and access to the concert. When the big night comes along, Lola and Ella remain without tickets. But as fate would have it, not only does Lola catch up with band member Stu Wolf (Adam Garcia), but she and Ella get to spend the night with him at a diner and at the Sidarthur post-concert party.
From here, the "dead" father that Lola has talked about shows up and Lola and Ella quarrel about honesty and friendship. Lola also quarrels with Carla, and their classmate rivalry boils over whether or not Lola really got to spend up close and personal time with Stu Wolf. It all leads up to "Eliza Rocks!", the school's hip, overblown, dance-filled retooling of Shaw's play.
The inevitable lessons about being true to yourself and your friends offer a change from the film's fast and colorful pacing. While these messages are trite and unsurprising, at least the film doesn't dwell on them.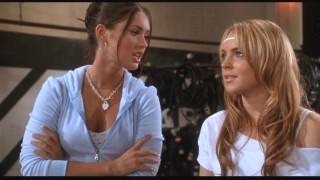 The biggest problem with Confessions of a Teenage Drama Queen is that it seems aimless and shallow. The high school environment and teenage efforts to shine in them have been explored before and in many a better film. Lola's individual story of moving to suburbia distinguishes this film and might have made for an interesting one, but this seems more of a set-up for uninspired adventures to go see a fictional band and an uninteresting struggle to succeed in the school's silly play.
Though Lindsay Lohan seems comfortable in her position as Disney's teenage female lead, her character is brash, dishonest, and whiny, and it's tough to find a film centered around her particularly compelling. The rest of the cast doesn't particularly stand out much. As drama teacher Miss Bagoli, Carol Kane is wasted with a silly costume and oddball antics.
Another problem is that this is a comedy, and yet the film is never funny when it should be. The film is adapted from Dyan Sheldon's bestselling book, which must have had its audience while staying off the mainstream radar. The treatment here is never so terribly bad; in fact the sleek and upbeat tone may do its part to entertain viewers. One needn't look hard, though, to find the film's weaknesses and be disappointed.
DVD Details
1.85:1 Anamorphic Widescreen,
1.33:1 Reformatted Fullscreen
Dolby Digital 5.1 (English, French)
Subtitles: English, French
Closed Captioned
Release Date: July 20, 2004
Single-sided, dual-layered disc (DVD-9)
Suggested Retail Price: $29.99
THX-Certified
White Keepcase
VIDEO and AUDIO

Confessions of a Teenage Drama Queen is presented in two aspect ratios: its original 1.85:1 widescreen theatrical ratio (enhanced for 16x9 televisions) and a 1.33:1 reformat job to fill 4x3 television sets. For such a new film, it's not surprising but still very pleasing that the video quality is just about perfect. Exhibiting a sharpness and clarity true to the film's budget and recentness, the transfer is free of problems of any kind.
Though the fullscreen version occassionally gets a tiny bit of extra head space, it more significantly crops picture off the sides, making it an unspectacular pan-and-scan presentation. Of course the film was intended to be seen in widescreen, so that's how you should view it.
The Dolby Digital 5.1 track also contributed to a high quality feature presentation. Unsurprisingly, the audio is filled with rock and pop tunes, but these never overwhelmed the dialogue or sound effects. The track made use of surrounds to create a deep soundfield, even if the brunt of the work was distributed among the front and center speakers. Overall, this is the type of 5.1 soundtrack you can expect from such a recent feature film, and the DVD's audio did not give any cause for complaint.
EXTRAS

The DVD is pretty short on bonus features too, with the most substantial supplement being a feature-length audio commentary. I can't see this attracting many young fans of the film, as neither the film's star nor any of her castmates contribute to the track. Commenting on the film are director Sara Sugarman, writer Gail Parent, and producers Jerry Leider and Robert Shapiro.
Discussion is mostly screen-specific and covers the production and design of the film. Everyone seems pretty proud of the way the film's turned out, and if the conversation isn't the most sophisticated or informative, the participants are energetic and easy to listen to. The commentary is only viewable on the widescreen version of the film.
"Confessions from the Set" (6:25) is a superficial on-location featurette, where we see the filmmakers working on a few scenes from the film and cast and crew dishing out praise for one another. The fly-on-the-wall approach often taken here usually works, but the piece is just too slick and short to provide any insight to the film beyond the English director's unique style.
There is one deleted scene, called "Eliza's Fantasy", which is actually just an extension of an existing scene where Lola auditions for the play. Here, she imagines a duet with her and Stu Wolf, which would have been his first appearance in the movie. Altogether it runs just over three minutes, but only about a minute is material not seen in the film.
Next is a music video for "That Girl", performed by a multiple of Lindsay Lohans, in a variety of outfits, and incorporating clips from the film. Some of this on-stage performance is seen in the movie as is, but the full music video runs 3 minutes and 45 seconds.
The very start of the disc prompts for a screen format selection: fullscreen or widescreen. But the familiar FBI warnings and sneak peeks soon come after this. Previews are for The Incredibles (still just the teaser), The Princess Diaries: Special Edition, Ella Enchanted, and The Young Black Stallion. The Sneak Peeks menu also includes a "Play All" option and additional ads for Confessions of a Teenage Drama Queen's soundtrack and Disney Channel's "Kim Possible."
Inside the case, in addition to the scene selection insert (which on the reverse side, advertises two upcoming Anne Hathaway DVD releases), there is a free 4-month subscription to Teen People magazine and an insert promoting the novel which inspired the film and its sequel, My Perfect Life, both written by Dyan Sheldon.
This THX-certified disc also includes the THX Optimizer audio and video tests designed to perfectly configure your settings.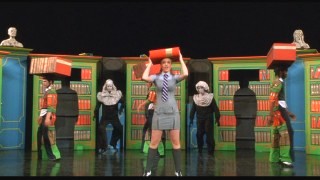 CLOSING THOUGHTS

Confessions of a Teenage Drama Queen doesn't garner a recommendation as a film, and its DVD special features are as breezy and shallow as the movie itself. Lindsay Lohan fans and teenage girls are bound to be the most interested, and they might well enjoy it on the surface as light entertainment. But for others, one viewing may be more than enough.