Attempting to make a follow-up to what is widely considered one of the best films created does seem like a strange and impossible task. But that is pretty much what Walt Disney Pictures tried with the release of Return to Oz in 1985.
Based on two of L. Frank Baum's follow-ups to The Wizard of Oz, Return to Oz tells of the adventures young Dorothy Gale faces after returning home from her magical encounters with wicked witches, munchkins, and a trio of companions who are all lacking something. In her film debut, ten-year-old Fairuza Balk plays Dorothy with the right amount of curiosity, as some more fantastical events occur around her.
Dorothy is having trouble sleeping, and her Aunt Em (Piper Laurie) takes her to see a specialist J.B. Worley (Nicol Williamson). Dorothy explains again her incredible story about her trip to Oz and losing her ruby slippers. Using some state-of-the-art 20th-century-ready electricity technology, Dr. Worley intends to remove the burden of these memories and restore Dorothy's ability to rest easy at night. Before the doctor can perform on her, some strange things happen, and Dorothy escapes with the help of another girl.
It's no secret from the title that Dorothy winds up back in Oz, although this is not the Oz she remembers. Accompanied by her chicken Billina, who now can talk, Dorothy finds the yellow brick road and the Emerald City in ruins, and all the people have been turned to stone.
You may wonder, 'What has happened to the Oz I know and love?' As does Dorothy, and as she figures it out and hopes to restore order, the viewer is bound to notice that even at its best, this Oz won't resemble the Oz of the 1939 MGM musical. No, this Oz remains more faithful to the darker world described in Baum's writings. There are no Frank Morgans to be found here.
Dorothy and Billina meet up with a wind-up warrior robot (and delightfully restrained comic element) named Tik-Tok, Jack Pumpkinhead (whose name matches his appearance), and an incomplete moose named Gump. Together they join forces to confront the Nome King, who is apparently responsible for the current state of Oz.
Return to Oz is jolly good fun, with its cast of colorful characters and well-crafted fantastic adventures. It is pretty much a prerequisite to not go into the film expecting The Wizard of Oz, Part II, as I've tried to make clear a number of times in this review. It is less a departure from the classic 1939 film than it is an attempt to stay closer to the text. In any event, if Return to Oz doesn't blow you away like Victor Fleming's film, it does work incredibly well and manages to delight the senses and appeal to the childhood imaginations we may tend to forget about as we age.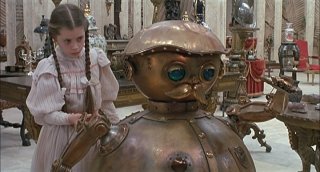 Although it was considered a failure for Disney when it was released in the summer of 1985, Return to Oz is a quality film and it holds up rather well. Even the undeniably '80s Claymation-heavy visual effects are still somewhat impressive all these years later.
Return to Oz was first released to DVD in August 1999, as one of a number of live action Disney films (predominantly from the '70s and early '80s) that the studio leased out to the small studio called Anchor Bay. Anchor Bay's DVDs from several years ago still often outdo the type of plain catalogue releases Disney bestows upon its live action films by the bushel. Anchor Bay's Return to Oz DVD contained both fullscreen and widescreen versions of the film, remastered in 5.1, and with the added bonus of a new interview with star Fairuza Balk.
In 2003, all of Anchor Bay's DVD releases of Disney films went out of print, and this month (February 2004), Disney began reissuing these titles in DVDs of their own. You might be wondering, does Disney's DVD offer anything over Anchor Bay's pleasantly adequate disc?