"Schoolhouse Rock!" is not your typical review subject. It's definitely not a movie. While it can be considered a series and one which aired on TV, it's not a TV series in the traditional sense. You could look at it as a collection of short films, but even that doesn't do it justice.

So what is it? Basically, a line of educational interstitials that convey elementary school level topics through the mediums of song and animation. That sounds simple and indeed it was.

But it was also a special and effective use of ABC Saturday morning airtime for memorable, spirited children's instruction. Many agree with that assessment, as evidenced by the fact that I'm talking about "Schoolhouse Rock!" over 35 years after it debuted. The line has endured as a source of nostalgic musical entertainment and as a teaching tool still fit for home or classroom use.

Recognizing those values, The Walt Disney Company, ABC's corporate owner since 1996, made "Schoolhouse" accessible in the digital age with 2002's 2-disc, Disney-branded Special 30th Anniversary Edition DVD set. Housing every available short plus some nifty bonus features and a number of creative playback options, the moderately-priced collection immediately became a fan favorite. In the six years since the release, the price has come down a little lower and the DVD has never strayed too far from Amazon.com's Top 100 Sellers list (it's #85 at the moment I write this). Who could complain that something so sweet and noble treated to an inclusive, affordable, and technically proficient release would gain entry into countless families' homes?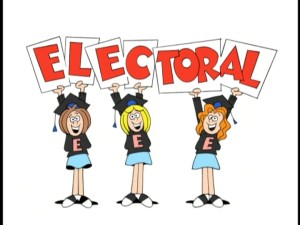 Though it seems that's the happy ending to this story, we continue. That's not because Disney is engaging the familiar custom of taking a popular property out of print for a few years,

to bring it back to increased demand. The 30th Anniversary Edition remains available and, by all signs, the franchise's definitive package. But as a timely alternative, the studio this month unveils Schoolhouse Rock!: The Election Collection, a much lighter serving of shorts that mostly adhere to a common theme -- the history and governmental practices of the United States. As an added gimmick, it will be available for a limited time only.

It just so happens that many of the hallmark Schoolhouse Rock song/lessons come from the headings Grammar Rock and Multiplication Rock. The songs that you're most likely to be familiar with -- like "Conjunction Junction" and "Three Is a Magic Number" -- aren't found here. Of course, one figures that the title "Election Collection" is used for a reason, and not merely to mine amusement out of embarrassing mispronunciations by consonantally-challenged Japanese folks.

Instead, we get fourteen lesser-known tunes. Ten of the eleven America Rock installments make the cut, including popular ditty "I'm Just a Bill" and 2002 creation "I'm Gonna Send Your Vote to College." The one odd exclusion is territorial expansion number "Elbow Room"; is manifest destiny too touchy for today's kids? Three additional numbers come from the Money Rock banner. And "The Energy Blues" is the sole taste of Science Rock supplied. (The package's count of fifteen songs includes "Presidential Minute", which is classified as a bonus feature and isn't exactly "new to DVD" as advertised.)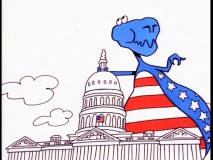 Each song runs very close to 3 minutes. Most departing from that clip is young'un "College", which runs a whopping 12 seconds longer.
"Energy Blues" (1978)
A globe gives us a brief history of energy sources, uses, and conservation.
"Tax Man Max"
A vaudevillian performer and his ladies chorus are far too cheery to be singing about all the different types of taxes and their functions.
"Walkin' on Wall Street"
A financially savvy New York pigeon explains the stock market, in the process investing in Whiz Bang Cola.
"Tyrannosaurus Debt"
Dinosaurs may be extinct but they still make a nice metaphor for America's titanic national debt.
"I'm Gonna Send Your Vote to College" (2002)
By far the most recent and most relevant to the title, this DVD-premiered piece details how electoral colleges elect president.
"No More Kings" (1975)
A very '70s-sounding woman (Lynn Ahrens) sings this ditty about the pilgrims and their formation of a new nation. Never before has a revolution been so calm and soothing.
"The Shot Heard 'Round the World" (1976)
Another mellow, dated tune covers the American Revolution with a catchy refrain.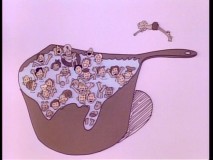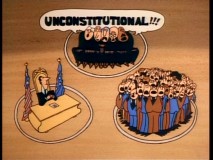 "Fireworks" (1976)
An indeterminate newsboy is at the center of this Bicentennial celebration of America's founding fathers.

"Mother Necessity" (1977)
The discoveries of American inventors, including Thomas Edison and Alexander Graham Bell,

are humorously dramatized through the terms of rocking chair granny Mother Necessity.

"The Great American Melting Pot" (1977)
Immigrants of all kinds visit Lady Liberty and dive into America's great melting pot.

"The Preamble" (1975)
This is part founding fathers lesson and part musical way to memorize the opening ideas of the Constitution.

"Three-Ring Government" (1979)
The three branches of government are envisioned as a 3-ring circus.

"I'm Just a Bill" (1975)
On the steps of Capitol Hill, a hopeful bill sings to a curious boy about his long journey from idea to law.

"Sufferin' Til Suffrage" (1976)
A hippie girl is the voice of women as she recounts her gender's fight for the right to vote.

VIDEO and AUDIO

Considering the age and modest origins, picture quality is quite outstanding. You may catch the occasional imperfection, but 1970s TV animation often looks much worse, so it's clear that restoration work has gone to Schoolhouse Rock. Of course, that was done in 2002; comparing this disc to the 30th Anniversary Edition yields no noticeable differences whatsoever. Regardless, the fullscreen transfers satisfied then and they still do now, although a few of the shorts hold up worse than their kin.

Though the package says the disc is equipped with Dolby Digital 5.1, that is not actually the case. It's merely two-channel sound, but that's understandable and matches the audio of the original DVD release for all but "I'm Gonna Send Your Vote to College." It was actually offered in both Dolby 5.1 and DTS on its first DVD. The aural elements do make their age known and to a larger degree than the picture, but I suspect that they sound this good is the result of efforts. But again, those efforts were taken years ago for the old set. One noticeable shortcoming is a skip in "Three-Ring Government"; it was there before too.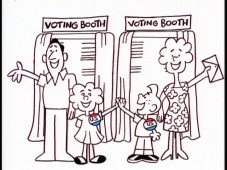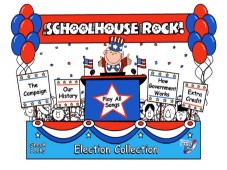 BONUS FEATURES, MENUS and PACKAGING

The only real bonus feature on the disc is "Presidential Minute". Living up to its name, it runs 60 seconds. It does an excellent job of upholding the Schoolhouse Rock style. Anyone mistaking this for an original 1970s number would be forgiven;

even the explanation of the election process could date back to then. Although Disney's advertising this as a never-before-seen short and I believed them at first, it turns out the number actually was included on the 30th Anniversary Edition as the reward for completing the demanding "Earn Your Diploma" game.

Two versions of the short are provided. After struggling to find any difference, I had it pointed out to me that the closing shot changes (as the back of the case notes). I won't spoil it, but let's just say the variation seems less appropriate now that Hillary's out of the race. As a reward on the previous DVD, one of the two versions was selected at random, requiring another play of the 5-level quiz.

The 4x3 menus convey the Schoolhouse Rock style and the disc's contents while a narrator speaks to young viewers interested in the election process and how the DVD covers it. The fourteen feature songs are divided into three thematic groups: "The Campaign", "Our History", and "How Government Works", while "Presidential Minute" gets an "Extra Credit" section to itself.

For once, more exciting bonuses are found inside the case, which slips into the obligatory embossed, holographic cardboard slipcover. I'm not talking only about the Disney Movie Rewards code or the ad for the very DVD you've just purchased. No, this release goes one step further and provides a map of the country that labels each state and its number of votes in the Electoral College. The map folds out to 9"x14" and features Schoolhouse Rock imagery on both sides and election trivia on back. For an Election Day/Night/Next Day activity, two sheets of colored circle stickers are provided -- 50 red, 50 blue (Take that, Ralph Nader!). Owners of the disc are encouraged to place the right party sticker on the appropriate states as they are called. Let's hope they're easy to pull off and put back on, should the media repeat 2000's Florida blunder. Reflecting Disney's recent cutbacks, there's no standard insert provided. That'd be easier to overlook if the back cover's song list matched the actual playback programmed.

The FastPlay-enhanced disc launches with a Disney company promo and previews for Schoolhouse Rock! Earth (the next DVD, which must be coming next spring), Sleeping Beauty: Platinum Edition, Beverly Hills Chihuahua, High School Musical 2: Extended Edition, "Little Einsteins": The Christmas Wish, Hannah Montana and High School Musical DVD games, The Chronicles of Narnia: Prince Caspian (an actual new trailer, this confirms the studio's rethinking the flop's marketing), and Disney Movie Rewards.
CLOSING THOUGHTS
In theory, the Election Collection makes perfect sense. What better way to make today's youths appreciate this year's presidential race than with the time-tested charm of Schoolhouse Rock's tremendously informative and fun musical shorts? Alas, for about the same price, you can get all the Schoolhouse Rock numbers (about four times as much featured content) plus some cool bonus features in the two-disc Special 30th Anniversary Edition set. Not only is it a far better value, but you don't have to wait for release date. All you'll miss out on here are an easily-accessed "Presidential Minute" in two versions, some Disney Movie Rewards points, and the stickers and map. I feel sorry for those who will buy this disc not knowing any better.
Buy Schoolhouse Rock! DVDs from Amazon.com: Election Collection / 30th Anniversary Edition