Among the most distinctive things of the 1980s were the abundant colorful TV cartoons and the plentiful merchandise closely associated with them. When it comes to these cartoons, few made as a big a splash as "Smurfs". It was more than just the Hanna-Barbera animated series which debuted near the start of the decade, it was an entire fantasy universe that intrigued with its bold blue characters and their slightly curious diction.

Like Care Bears and My Little Pony, the Smurfs were easily recognized and widely spotted by children of the '80s and their parents. But unlike those other properties (which have continued to live on in toys and off-radar animation), the Smurfs more or less disappeared shortly after their series was cancelled in 1990.

In recent years, they've still shown up in file-sharing networks, bootleg DVDs, the rare retro t-shirt, the little-known digital cable network Boomerang, and a few PlayStation games. But it's clearly been a quiet presence, a far cry from the retail staple the group once was.

Warner Home Video seeks to change that some when they give the Smurfs their long-awaited first official American DVD release next week. "The Smurfs": Season One • Volume One holds 19 episodes, a nearly even mix of 12-minute shows designed to share a timeslot and 23-minute ones able to single-handedly claim a half-hour of air. The DVD presents them as nine shows, ranging from 23 minutes to 48, arranged in an unspecified but mostly appropriate order.
Unbeknownst to no doubt a majority of viewers, the Smurfs actually existed for nearly 25 years before taking to American airwaves. The one-named cartoonist Peyo introduced the little blue forest creatures in a 1958 strip of Johan et Pirlouit (Johan and Peewit) for the Belgium children's comics magazine Le Journal de Spirou. By the next year, the Smurfs (called Les Schtroumpfs in their native French tongue) had their own series in the magazine and their own merchandise. By the 1960s, there were cartoon shorts on TV and a feature-length film compiled from them in theaters. This, however, was only in Belgium, as was the 1976 animated film La Flϋte ΰ six schtroumpfs.
The same year, an American entrepreneur acquired North American rights to the characters from the 48-year-old Peyo and his comics publisher Dupuis. Toys, initially just figurines and dolls, were made. Soon after, NBC requested a cartoon series for their Saturday morning lineup. Hanna-Barbera, the production company behind over 100 animated TV series of the previous 25 years (including such hits as "The Flintstones", "The Jetsons", and "Scooby-Doo, Where Are You!"), handled the creation of "Smurfs" with accomplished namesakes William Hanna and Joseph Barbera serving as executive producers.
A shortage of exposition is provided regarding the title characters of the show. The opening narration of each installment calls Smurfs "good" and an early episode adds that they "have big hearts" and are "only three apples tall." The legendary creatures are known to live in mushroom houses in the forest, but they maintain a fairly quiet existence. This, along with the Smurfs' cheery disposition, troubles Gargamel, the series' villain whose entire life appears to be motivated by disgust for the elusive race.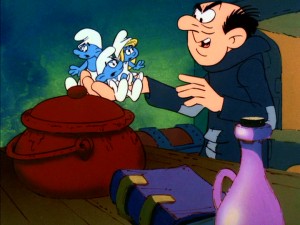 The balding, black-cloaked wizard and his nonverbal cat Azrael make endless attempts to catch Smurfs and treat them to the inside of a boiling pot. Beyond those simple aforementioned reasons and Gargamel's plainly sociopathic personality, we never really know what drives him to forever pursue his harmless neighbors. Some may yearn for the kind of depth that lends itself to fervent fan fiction, but frankly I feel that laying all its cards out and never even hinting at the slightest bit of pathos is part of the immense charm of "Smurfs."
Another hugely appealing element, likely the show's biggest, is the eponymous clan itself. The Smurfs are somewhat like the seven dwarfs of Snow White, only these characters number more than seven and, largely lacking distinguishable appearances, they're nearly only distinguished by personality. Inevitably, the few exceptions are the series' most conspicuous personalities. Papa Smurf, the only one with a red (for that matter, non-white) wardrobe and facial hair, is a wise wizard and the leader of the group. Brainy Smurf, his bespectacled, by-the-book assistant, is the resident geek, a position enforced by him repeatedly being tossed on his head. Smurfette, the only female Smurf, is created in the series' second episode by none other than Gargamel; by becoming a real Smurf, she receives a more feminine voice and long blonde hair.
Other shirtless Smurfs are summoned as needed to serve a plot or be part of a group dynamic. As you might imagine, Grouchy Smurf is cantankerous (his "I hate [insert item here]" declarations are an amusing recurrence), Harmony is musically inclined (though far from skilled), and Clumsy is... clumsy. There are also: the seemingly narcoleptic Lazy Smurf; the innovative Handy Smurf; the strong Hefty Smurf whose arms are marked by heart tattoos; idealistic Dreamy Smurf; and the culinarily gifted and sucker for snacks, Greedy Smurf. Two characters who make some of the strongest impressions in scattered screentime are Jokey Smurf, who believes that gift-wrapped explosive boxes are simply hilarious, and the unabashedly narcissistic Vanity Smurf, whose hand always wields a mirror reflecting his visage.
Even if you don't remember much about "Smurfs", you probably recall that the word "smurf" is interchangeable with a variety of verbs, nouns, and parts of words. It's the type of thing that doesn't make much sense when you think about it, yet raises no questions or concerns in application. Merely add it to the list of the show's curious charms and maybe those of you trying to cut back on swearing can attempt to clean your mouth by replacing profane words with "smurf." I'm sure everyone around you will like you a little more.
Though the storylines of "Smurfs" are straightforward enough for anyone to follow and they're definitely not replete with allusions or action, they're quite cleverly crafted. The makers of the series mostly avoided the temptation to run with formulas and occasionally twist them around.
Aside from the ever-present element of "Gargamel hates Smurfs", the episodes are varied and usually plenty of fun.

The "Smurfs" cartoon only recently turned 25, but as a multimedia entity, Peyo's little creations celebrate their 50th anniversary this year. Revisiting the show on DVD confirms that the Smurfs deserve to be remembered as one of life's simple pleasures. This very designation casts a shadow of doubt on Paramount Pictures and Nickelodeon's current plans to develop a trilogy of CG-animated Smurf feature films. It's not that such a venture is misguided financially (take a look at the stunning worldwide gross of Fox's recent Alvin and the Chipmunks movie), just that Smurf fans ought to be weary that the program's sensibilities can be maintained in the current climate of flashiness, self-parody, and sarcasm. Even if everything in the new films goes wrong (and published comments suggest that won't be the case), there will still be the existing material to fall back on. That's a much easier fall now that Warner has begun issuing these DVDs.

This premiere release barely scratches the surface in the task of getting the entire series available on DVD. Definitive information on the number and airdate of episodes produced seems very hard to come by, but most sources agree that over 400 episodes and 7 primetime specials were created. This two-disc set gets us just halfway into the 39-episode Season 1.

Short synopses of the set's 19 episodes follow.
Disc 1

The Smurf's Apprentice (12:56) (Originally aired November 28, 1981)
To redeem himself in his neighbors' eyes, Clumsy Smurf steals a page from Gargamel's book of spells.

The Smurfette (22:11) (Originally aired November 21, 1981)


Gargamel creates Smurfette, the world's first female Smurf, in an effort to undo the race. But she'd rather become a real Smurf than do his evil bidding.

Vanity Fare (12:30) (Originally aired September 12, 1981)
Gargamel manufactures a mirror which traps those who look at their reflections, leading Vanity and other Smurfs into his possession.

King Smurf (12:57) (Originally aired September 26, 1981)
With Papa Smurf away, Brainy tries to assert his authority by proclaiming himself King Smurf. His ironclad rule is met with resistance and civil war breaks out.

The Astrosmurf (22:13) (Originally aired September 12, 1981)
The Smurfs work together to help Dreamy realize his Smurfday wish of flying. They turn themselves into green "Swoofs" and trick "The Astro Smurf" into thinking he's in outer space.
Jokey's Medicine (12:28) (Originally aired September 12, 1981)
Greedy, Lazy, and Smurfette plot payback for Jokey and his many antics, but all four wind up in Gargamel's clutches.
St. Smurf and the Dragon (23:09) (Originally aired September 19, 1981)
The Smurfs have to deal with a shortage of glowberries, a baby dragon with colic, and the determined Gargamel who crafts a severe winter storm.
Sorcerer Smurf (12:29) (Originally aired September 19, 1981)
A group of Smurfs travels to see an unknown sorcerer Smurf who may even be wiser than Papa Smurf, while Gargamel unleashes a two-phase plan to thwart his foes.
The Smurfs and the Howlibird (23:38) (Originally aired September 26, 1981)
Papa Smurf invents a dangerous fertilizer, which Hefty and Lazy fail to properly dispose. As a result, a giant mutated bird wreaks havoc on the Smurfs.
Disc 2
The Magical Meanie (11:58) (Originally aired September 19, 1981)
Clumsy and Brainy discover a bottle which frees Genie Meanie, a powerful genie who will grant three wishes once the magical words are uttered. Until then, he's happy heckling the Smurfs, while Gargamel tries to gain control of him.
Bewitched, Bothered, and Be-Smurfed (22:13) (Originally aired September 26, 1981)
When Smurfette finds a magical locket in the woods, its owner, the piggish witch Hogatha, searches for the Smurfs with help from Gargamel. Meanwhile, Smurfette's wishes have serious effects on her fellow Smurfs.
Smurf-Colored Glasses (11:58)
Papa Smurf declares it Smurfette Day, and Handy's gift to the guest of honor (rainbow-touched Smurf-colored glasses) puts her at a disadvantage when Gargamel captures her.
Dreamy's Nightmare (12:29) (Originally aired November 28, 1981)
Bored with the Smurf life, Dreamy leaves home to travel the world.

Before long, though, he leads Gargamel directly into Smurf Village.

Fuzzle Trouble (12:56) (Originally aired December 5, 1981)
Disregarding Papa Smurf's warning, Clumsy keeps a "fuzzle" under his hat. Before long, the fuzzles have multiplied beyond belief and are eating Smurf homes and everything else in sight. Meanwhile, Gargamel tries to catch the Smurfs by uncovering their footprints.

Soup A La Smurf (22:43) (Originally aired October 3, 1981)
To spare Azrael, Gargamel directs the giant Bigmouth (briefly seen earlier on this set, but formally introduced here) to the Smurfs. They prepare food and, with a pot of "soup ΰ la Smurf", a plot to get back at Gargamel.

All That Glitters Isn't Smurf (12:56) (Originally aired October 3, 1981)
Upon learning that melted Smurfs are the missing ingredient in a formula to turn metal to gold, Gargamel rounds up his little blue foes one by one.
Romeo and Smurfette (22:41) (Originally aired October 10, 1981)
The arrival of spring makes all the male Smurfs eager to win Smurfette's affections. An especially bitter Gargamel takes advantage of the situation by turning Smurfette evil again with the help of a flower.
The Hundreth Smurf (12:56) (Originally aired November 14, 1981)
To prevent a hundred years of bad luck, Papa Smurf must round up 100 Smurfs to do a special dance. It's a challenge, but one that Vanity helps meet with an amusing reflection of himself.
Smurphony in 'C' (12:31) (Originally aired October 10, 1981)
Embarrassed to be the only off-key one in the Smurf orchestra Papa Smurf employs to bring his new composition "Smurphony in C" to life, Harmony runs off and is duped by Gargamel (disguised as a good fairy) into playing his kind to a deep sleep.
VIDEO and AUDIO

"Smurfs" appears in 1.33:1 fullscreen, the original aspect ratio of it and, as far as I know, every 1980s American television cartoon. It's not realistic to expect the same clarity from a 26-year-old animated TV series produced in mass as a feature film from the same era.

As far as the animation is concerned, though, "Smurfs" is no slouch. It is perhaps more restrained than its cartoon brethren but anomalies are few and far between, and shortcuts aren't easily spotted.

As for the transfer to DVD, modest expectations will be met. For the most part, the picture quality pleases. Specks show up for a few frames with some regularity. These are most noticeable in the Smurfs' white hats, against which, they appear gray. It's not really clear how these came to be and I have no idea if they existed when the show first aired, but they're noticeable enough to be a minor distraction. Otherwise, the series is clean, vibrant, and sharp. Some may say too sharp, as screencaps reveal mild ringing around edges. In standard TV playback, however, the show looks pretty smooth and certainly better than it will on 3-decade personal VHS recordings.

The speckle issue isn't as noticeable on bonus episode "The Smurf Springtime Special", but unfortunately its video is softer, more faded, and marred by erratic colors.

The soundtrack on all episodes is simply one-channel Mono, but it does a fine job of delivering the squeaky, hollow Smurf voices, the public domain classical music excerpts, and other sounds.
BONUS FEATURES, MENUS, DESIGN and PACKAGING

Two bonus features are included. "The Smurf Springtime Special" (24:22), listed among Disc 2's episodes, originally aired in primetime on April 8, 1982 and was subsequently nominated for the Emmy for Outstanding Animated Program.

In it, as the Smurfs are celebrating Easter, Gargamel is -- as usual -- plotting how to put an end to them. He reluctantly turns to his unfriendly godfather Balthazar for advice, who unknowingly leads him to Mother Nature. She is a mere pawn in the plan as Gargamel turns the new spring back to winter to lure the Smurfs into his trap.

The other inclusion, the lone listing on a erroneously plural "Special Features" menu, is "Smurfs: The Music Video" (1:25), which weaves together show clips, story sketches, concept art and promotional images without the most rhyme or reason. At least it's something, which other studios aren't always able to provide their '80s TV cartoons with. However, compared to the other Warner animated TV series DVDs I've encountered, this one's supplements are quite lacking, particularly when the show's popularity is considered.

Greeting you at the insertion of Disc 1 is a preview for Looney Tunes: Gold Collection Volume 5. It's not accessible from the disc's Previews menu, but the following promos are: Tom and Jerry Spotlight Collection, Volume 3, Harry Potter Hogwarts Challenge, "Shaggy & Scooby-Doo: Get a Clue" Volume 1, Horton Hears a Who: Deluxe Edition, and "What's New Scooby Doo?": The Complete 3rd Season.

The menus rely on a handful of static images and remain in silence, except for the main menu which plays the theme music at a much higher volume than desirable (but, par for Warner, only twice before the disc's shows start playing). Of the 19 "Smurfisodes" that the case touts, only 9 are instantly accessible from the Episodes menu. The others are easily reached with the Skip button since only the episode beginnings/ends make use of chapter stops. The minute-long opening credits sequence is missing on the first two of Disc 2's episode sets. (The first one lacks end credits as well.)

Those for whom shelf space is a concern should appreciate that Warner's first "Smurfs" DVD takes up less than a standard DVD keepcase. With the discs overlapping over colorful Smurf imagery, the slim Digipak fits snugly inside an embossed cardboard slipcover that's only half-redundant.
CLOSING THOUGHTS
After a very long wait, Warner finally treats the Smurfs to their first English-language Region 1 DVD release. Fans may be underwhelmed by the imperfect picture and bonus features that barely qualify as such. But it's all about the show, which still delights more than a quarter-century later. While it's tough to say if 21st century kids will be able to appreciate the simple joys here, children of the '80s weaned on this and other imaginative series should get a huge kick out of "Smurfs" today. With the episodes appearing intact and the price being right, this Season 1, Volume 1 set gets a strong recommendation. If purchased, it will be one of those sets you enjoy watching in full and revisiting from time to time, not one you only feel obligated to get through.