Indiana Jones, Batman, and RoboCop together in one DVD set? That must have taken loads of inter-studio conferences to clear all the legal red tape.

That's not the case, however, when you're Alvin and the Chipmunks and your right to parody these famous characters is protected by the fair use doctrine of U.S. copyright law.

Whether you consider it a newly-directed eighth and final season or merely a spin-off to NBC's long-running '80s show, "The Chipmunks Go to the Movies" ran for 13 episodes in the fall of 1990. The Saturday morning series starred the Chipmunks and their color-coordinated counterparts, the Chipettes, in loose, abbreviated versions of popular recent films. Most were spiced up with Chipmunk renditions of popular recent songs. The commentary part of parody, essential to fair use, is nearly non-existent here. Instead, cinema's most exciting adventures are simply relived in terms that make sense in the collective imagination of mischievous suburban rodent youths Alvin, Simon, and Theodore Seville.
On the heels of Fox's highly profitable CG/live-action feature film, Paramount has suddenly shown much more interest in issuing DVDs of the Chipmunks from their long, popular run as 1980s cartoon icons. In addition to a steady stream of repackagings, this month sees the studio releasing a number of brand new discs containing past highlights of the 2-D animated Alvin, Simon, and Theodore.

The releases begin next week with this review's subject, Alvin and the Chipmunks Go to the Movies: Daytona Jones and the Pearl of Wisdom.

This disc is the third 3-episode compilation given to "Chipmunks Go to the Movies" and it means more than half of the series (7 of thirteen) has been made available on studio DVDs. The title episode is accompanied by "Batmunk", which was on the series' since-discontinued first DVD, and format-debuting "Robomunk."

1. "Daytona Jones and the Pearl of Wisdom" (23:02) (Originally aired October 6, 1990)
In a story that employs elements from what was then the complete Indiana Jones trilogy, Alvin plays archaeologist-adventurer Daytona Jones. He's forced to hand over a daringly-rescued piece of the treasured Tasmanian Oyster to ruthless foe Roland Bellyache. This triggers globetrotting excitement, as Daytona and his wise brother Saratoga (Simon) travel to Hong Kong and, with the company of Bellyache's girlfriend Bambi (Brittany) and a (vaguely Short Round-esque) local guide (Theodore), beyond.
Songs: "Chinatown" (Chase/Rucker original), "Good Thing" (Fine Young Cannibals)

2. "Batmunk" (22:32) (Originally aired September 29, 1990)
Leaning heavily on Tim Burton's blockbuster Batman film, this episode depicts Brice Wayne (Simon) and Joker, er, Jokester (Alvin) as rival toy moguls. After Jokester sends out his clown henchmen for some dirty deeds done cheap against the competition's breakthrough toy, Wayne unleashes his alter ego as caped crusader Batmunk. Theodore plays clumsy butler Happy, while Brittany is like a redheaded Kim Basinger as reporter Nikki Nale. This episode is presented without closing credits.
Songs: "Danger Zone" (Giorgio Moroder and Tom Whitlock, popularized by Kenny Loggins)
3. "Robomunk" (23:04) (Originally aired October 20, 1990)
The Chipmunks here emulate the spirit, but not style, of Paul Verhoeven. As part of a grand scheme, Mr. Pinkie (Theodore) has been commissioning pollution throughout the city to deflate property values. In response and at the demands of bossy Miss Mayor (Eleanor),

Dr. Simonize (Simon) turns injured Officer Malone (Alvin) into a robotic grime-fighting machine. Robomunk's former partner Violet Bronson (Brittany) helps work out the bugs.
Songs: "He's Gonna Be Your Hero", "C-H-I-P-M-U-N-K Trouble" (Chase/Rucker originals)

VIDEO and AUDIO

I would classify the video here as pleasantly surprising if it turned up on an old homemade VHS or Internet download. For an official studio DVD release in 2008, it's plenty disappointing. Little effort seems to have gone into making this 18-year-old series look presentable. The picture is generally soft, regularly littered by a variety of flaws, and lacking in consistency. Obviously, the source material on an economical Saturday morning cartoon like this isn't going to be perfect, but I have no doubt it could look a lot better.

The two-channel Dolby stereo soundtrack is less lamentable. This is one of the few available DVDs where much of the dialogue should sound squeaky and it does. The original Chipmunk songs and covers have all been cleared and they're easy to appreciate here. The room for improvement the mix leaves is noticeable but not too troubling.
BONUS FEATURES, MENUS, and PACKAGING

The disc launches with a cool new 75-second promo for animated Alvin and the Chipmunks DVDs and additional previews

for DVDs of "Spongebob Squarepants" and "Go, Diego, Go!". Unfortunately but unsurprisingly, those ads are the closest thing to a bonus feature we find on the disc.

The static, silent main menu offers individual episode access and a "Play All" option. It features a Chipmunks movie screening in a room whose touched-up wall dressing consists of a poster for the recent Chipmunk Adventure DVD re-release. Without language options or extras, it stands as the disc's lone menu.

The only in-case insert is an understated pitch for the Chipmunks' official website.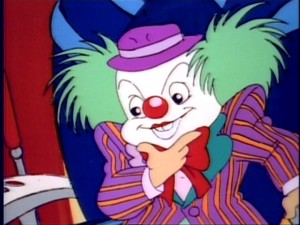 CLOSING THOUGHTS
What it lacks in production values, "The Chipmunks Go to the Movies" makes up in fun. More than most, the show serves as a charming time capsule of the music and cinema that excited Americans in the late '80s and early '90s. This set can also claim a certain timeliness from the fact that it features two of Summer 2008's biggest box office heroes.
Unfortunately, Paramount's latest DVD doesn't change the lackluster treatment this spin-off/season has previously received. The picture quality disappoints. The void of extras probably could have been corrected with a simple outreach to the creating-producing couple of Ross Bagdasarian Jr. and Janice Karman. Perhaps above all else, the disc clearly needs either more episodes or a lower price to be worth customers' time. It pains me to that a subpar release keeps me from recommending its entertaining content.