Superheroes are currently all the rage in Hollywood, but ten years ago, you'd be much more likely to encounter flashy crimefighters and menacing masterminds on television or in comic books than at your local theater. Saturday morning programming in the 1990s was especially loaded with colorful cartoons depicting regularly-scheduled battles between good and evil. Icons of DC and Marvel comics had yet again leapt off the page and onto TV sets across the world.

Sandwiched between "Batman" and "X-Men" and later "Spider-Man" and "X-Men" was "The Tick", an animated 3-season staple of the Fox Kids lineup.

Unlike the epic battles of costumed characters that surrounded it, "The Tick" played its super struggles for laughs, poking fun of the genre's long-held conventions with a cast of certain oddballs. At the heart of the series is the title character, The Tick, a man of much brawn but little brain who lives forever in an outlandish blue insect costume. Usually by his side is Arthur, a man dressed in an even more ridiculous, winged, white moth suit, who gave up accounting for the sidekick lifestyle. Together, the two best friends patrol their hometown, definitively called The City, and foil no shortage of absurd supervillains who seek power and fame in a variety of unusual ways.

Whereas its weekly on-air companions had decades worth of folklore to lean on, "The Tick" had much humbler origins. The series was the product of Ben Edlund, a teenaged comic book shop employee who introduced the character as a newsletter mascot in 1986 and developed him through college in a series popular with the underground comics scene.
In 1994, Fox took a chance on then 25-year-old Edlund's creation, licensing it for half-hour treatment. Scheduled against "Teenage Mutant Ninja Turtles" (in one of its later seasons) on CBS and candlepin bowling on ABC, "The Tick"'s 13-episode Season 1 was deemed enough of a success for the big blue bug man to return for 13 more installments in the fall of 1995.
In watching the show more than a decade later, one can't imagine people not liking it. "The Tick" is dripping with abundant appeal, much of it in the style of The Incredibles' winning affectionate superhero parody. At the same time, "The Tick"'s refreshing tone surely contrasted with the straight-faced fare that neighbored it, leading one to wonder if the same kids getting wrapped up in action-heavy, multi-episode arcs of Marvel 'toons were able to appreciate "The Tick"'s goofy sensibilities. Seeming almost too good for the public to embrace, the series retrospectively feels like it could have been short-lived the way creative TV programs often are. Perhaps young people deserve more credit or maybe the Saturday morning climate is just more open-minded, but this animated "Tick" would accumulate 36 episodes altogether. That's 28 more than what was able to air of Fox and producer Barry Sonnenfeld's primetime, live-action 2001 series, which starred Patrick Warburton in the bright blue tights.
Of course, kids aren't the ones that "The Tick" aims at. While it's void of any content worse than slightly suggestive, the series' depictions of neuroses-addled, childlike heroes operating in a clearly contemporary setting is more apt to register and ring favor with adults. Unlike Cartoon Network's Adult Swim programs that go directly for the college demographic with irony, profanity, and sometimes outright graphic content, "The Tick"'s aim isn't so narrow. It's able to please someone looking merely for good and bad guys superficially duking it out just because. But its wit and quirky characters are able to also earn appreciation from someone who holds little regard for superhero action.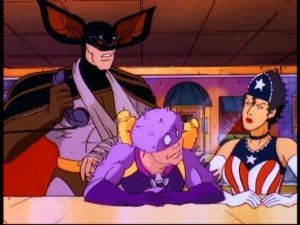 Quite frankly, "The Tick" is a funny series and one which reveals itself to be even more comedically robust in Season 2,

having gotten past merely introducing oddball foes and plotting their demise. The sophomore year finds the series departing from formula and ceasing attempts to earn a reputation for coolness. Instead, it revels in its delightful peculiarities, defining its own sense of cool for viewers to agree with or not. Less by-the-numbers and more clever, Season 2 "Tick" opts for more than just insecure, visually curious antagonists wielding half-baked plans for world domination. There's definitely still some of that; the wackiest example is The Ottoman Empress who in "Evil Sits Down for a Moment" commands an army of furniture. A number of Season 1's silly supervillains return, either in passing (Chairface Chippendale, The Evil Midnight Bomber) or as the primary opponent (El Seed, Brainchild).

But Season 2 proves to be clever beyond concocting funny, formidable foes for The Tick and Arthur to overcome. Its imaginative stories include a parody of "COPS", a Christmas episode, a broad intergalactic war, and an imaginative detective tale set in Reno.

Providing support to Tick and Arthur are three peripheral characters who come into clearer focus in this second season. They are American Maid, Die Fledermaus, and Sewer Urchin, the supporting superheroes for whom voice credits are always supplied. The stiletto-throwing Maid reveals herself to be a flower enthusiast who sweetly sings patriotic jingles to prevent a 400-year bloom from growing bad. A suave ladies' man in his own mind, Die Fledermaus registers as an uncool Batman who is prone to getting injured. Meanwhile, regularly punctuating sentences with either a "yeah" or "definitely", Sewer Urchin continues to sound an awful lot like Runt from "Animaniacs", which means he too is channeling the autist for which Dustin Hoffman won his most recent Oscar. The three together contribute to the series' most noticeable air, which is that superheroes have problems and are often downright weird.

Forty-nine weeks after first surfacing on DVD, "The Tick" returns in similar fashion, with vs. Season Two inexplicably one episode shy of a complete season collection, lacking any bonus features, and carrying an unusually high list price.

A star (

) denotes the five best episodes from this Season 2 set, which was not easy to select based on the all-around high quality.
Disc 1
1. "The Little Wooden Boy and the Belly of Love" (21:16) (Originally aired September 9, 1995)
Arthur meets and falls for Carmalita, daughter of his moth suit's maker. A book in his suit makes the new lovers the targets of yodeling Swiss spies. Meanwhile, legged giant whale Blow-Hole runs around the country and, left alone on Hobby Night, The Tick "rescues" and befriends a "wooden boy."
2. "Armless But Not Harmless" (21:19) (Originally aired September 23, 1995)
After getting thwarted by Tick and Arthur, art thieves Venus and Milo hatch a plan to get recognized at the annual Enemy Awards. The Tick and Arthur have their arms removed and attached to evildoing robots, leading police to suspect them of going bad.
3. "Leonardo Da Vinci and His Fightin' Genius Time Commandos!" (21:19) (Originally aired September 30, 1995)
A madman air conditioner repair school dropout summons great past inventors, including Leonardo Da Vinci, Benjamin Franklin, and Wheel, in order to rewrite history with credit going to himself. When the revolutionary figures won't comply, he enlists ninjas, knights, and Mongols, threatening The Tick and Arthur along with mankind.

4. "Coach Fussell's Lament" (21:17) (Originally aired October 7, 1995)
A nanny wreaks havoc on The City and captures The Tick, but she is merely a remote-controlled weapon in the arsenal of Brainchild, a.k.a. Charles, the boy with a glass upper skull. With the help of a newly-acquired Fiend Finder, Arthur, Die Fledermaus, American Maid, and Sewer Urchin venture to Charles' parents' home, where the boy is auctioning off The Tick, who has been turned into a six-inch, two-headed bird that speaks only in high school level French.
5. "Bloomsday" (21:17) (Originally aired October 21, 1995)
To take control of a rare 400-year bloom, evil sunflower man El Seed unleashes fierce greenery and kidnaps the plant's curator. When Tick, Arthur, and American Maid take care of the special flower (which requires constant music), Seed's Bee Twins set their sights on them.

6. "Evil Sits Down for a Moment" (21:20) (Originally aired November 4, 1995)
While shopping with Tick and Arthur,

Die Fledermaus takes a romantic interest in a fetching fellow customer. She turns out to be The Ottoman, who is building an evil army of furniture. On her side is The World's Most Comfortable Chair.

7. "Heroes" (21:19) (Originally aired November 11, 1995)
Though the title has been borrowed by NBC's young hit series, it's Fox's "Cops" that this episode parodies. An unseen cameraman tags along with The Tick and Arthur on a typical day of combating crime. They run into The Deadly Bulb, an insecure villain who has an oft-noisy pig at the end of his right leg.

8. "Ants in Pants!" (21:20) (Originally aired November 18, 1995)
Mysterious women in hats and trenchcoats are really large groups of ants, who are strangely stealing pieces of glass around The City. The sight prompts The Tick to visit a sanitarium for some coupon-priced counseling with Captain Sanity. Meanwhile, Arthur, American Maid, Die Fledermaus, Sewer Urchin, and Fishboy try to stop the diabolical ants.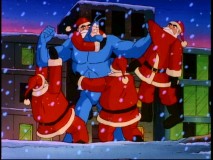 Disc 2

9. "The Tick Loves Santa!" (21:19) (Originally aired November 25, 1995)
It's Christmastime in The City when an evil bank robber in a Santa Claus suit gets electrocuted, spawns clones of himself, and assumes the name Multiple Santa. Meanwhile, other superheroes chide The Tick for still believing in Santa, a faith which makes it difficult for him to stop the malicious, electric St. Nicks from causing terror.
10. "Tick vs. The Big Nothing" (21:20) (Originally aired February 3, 1996)
The Tick gets abducted by space aliens whose native tongue consists exclusively of the word "what", while Arthur is roughly interrogated on suspicions of being an intergalactic spy. Both Tick and Arthur find themselves in the middle of a war between Whats and Heys that threatens the entire universe.

11. "Tick vs. Reno, Nevada" (21:18) (Originally aired February 10, 1996)
The Tick and Arthur are summoned to Reno, where two animal trainers need help in retrieving their prize dolphin Mr. Smarty Pants from the cult that's kidnapped them. There, as The Tick feels a strong urge to gamble, Mr. Smarty Pants has some ideas of his own.
12. "Grandpa Wore Tights" (21:20) (Originally aired February 17, 1996)
As The Tick listens to a retirement home's stories of yesteryear heroics, The Terror uses his son Terry to help him relocate his long-lost Desire-O-Vac weapon. When this becomes known, the now-geriatric members of The Decency Squad team with Tick and Arthur to thwart the plans of The Terror, who is joined by The Human Ton and his puppet Handy.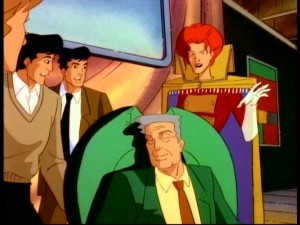 The Season Two DVD's lone exclusion is Episode #15, "Alone Together", which finds The Tick venturing to the moon to eliminate Chairface's handywork (a gag that is upheld in one of the firmest enforcements of continuity ever). In comparing the details of this episode with those of Season One's exclusion, "The Tick vs. The Mole-Men", one thing immediately struck me. Both were written by Christopher McCulloch (a.k.a. Jackson Publick, the creator of Adult Swim's "The Venture Bros."). Perhaps this is behind the "creative considerations" that account for their absence? If the two episodes turn up on the third and final "Tick" DVD release, then each set will contain exactly 12 episodes, but I somehow doubt the absences have been done in the name of symmetry. However, if McCulloch is responsible for the missing episodes (which wouldn't make much sense, since his episode of the live-action "Tick" came sans issue), it doesn't bode well for the future; he is credited with the scripts of four of the final 10 episodes.

VIDEO and AUDIO

"The Tick" doesn't stand as strong visually as it does scripturally, but it's no worse than any other animated mid-'90s TV program and it's certainly not as minimalist as today's most frugal cartoons. What it lacks in graphic imagination, the series makes up for in vitality, with a variety of angles and a number of moving shots serving to add dimensionality and spice up the fluid interactions. Presented of course in its native 1.33:1 "fullscreen" aspect ratio,

Season 2 "Tick" suffers from fewer issues than the Season 1 DVD did. Sure, these episodes still have a budgeted look and sometimes lifeless colors, but the element here remains mostly clean and consistent. Though the opening title sequence is always a little fuzzy, the remainder of the shows fare better and edge enhancement doesn't ring its ugly head as it did before. Either the series' visuals improved in Season 2 or the DVD producers put more work into Season 2, but either way, this picture quality is an improvement and fairly satisfactory overall.

Season 1's set fluctuated between two-channel Dolby Stereo and Dolby Surround. This one is all Surround, boasting a rear channel which provides very slight reinforcement on instances of music. The audio is simple but fine, rendering all dialogue and effects as crisp as desired. The Tick must be huge in France, because the set includes a rare offering of a French dub, French subtitles, and translation of English on-screen text into French.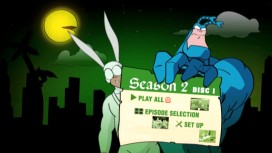 BONUS FEATURES, MENUS, DESIGN and PACKAGING

Once again, there are no bonus features whatsoever to be found. This is disappointing and perplexing

because creator Ben Edlund has again contributed in the form of a newly-created cover artwork. Either he's staunchly opposed to extras or someone ought to be fired for failing to serve fans supplementally.

A sticker on the embossed cardboard slipcover touts a "Collectible Lithograph", which one indeed finds inside the keepcase. It's a glossy postcard image of The Tick climbing walls with speech bubbles. Like before, a piece of trivia appears on the back. In a nice little touch, the discs boast full-color artwork, something the studio has avoided for most of this year.

The disc-specific Main Menus deserve some points, with clever newspaper introductions giving way to Tick and Arthur holding a sheet of menu options. While the instrumental theme tune plays, the menu delivers subtle animation, including villains in motion in background silhouettes. Submenus are silent, static, and plagued by curious ringing, but match the Main selection screen thematically. Episodes are appropriately divided into five chapter stops, enabling quick scene access and, for those who desire it, an easy skip of the opening title sequence.

Disc One opens with trailers for Underdog, The Invisible, "The Muppet Show": Season 2, and Buena Vista TV shows on DVD (highlighting "Ugly Betty", "Lost", "Grey's Anatomy", "Desperate Housewives", "Brothers and Sisters", and "Kyle XY"). No Sneak Peeks menu is provided.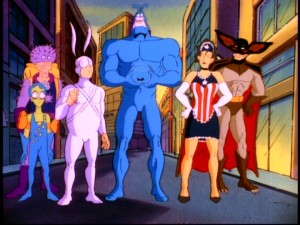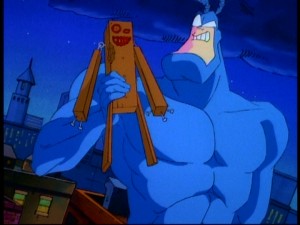 CLOSING THOUGHTS
"The Tick" vs. Season Two again fails to provide the type of fan-friendly DVD treatment that this esteemed mid-'90s cartoon deserves. It's lacking an episode and any on-disc bonus features while reaching stores with a higher price-per-episode than is usual for a 12-year-old TV series. But all of this was true a year ago when "vs. Season One" was released, so Disney at least can't be faulted for inconsistency.
What makes it easy to overlook the digital shortcomings is the show itself, which improves quite a bit over Season 1, developing the quirky superhero parody into less formulaic, more inventive tales. Unlike some Saturday morning cartoons, "The Tick" is no mere toy-pushing diversion that is soon forgotten. A dozen years since first airing, this group of episodes is funny, memorable, and apt to be revisited with some frequency. In other words, it's not the type of TV DVD you buy just because it deserves to stand proudly in your collection for childhood memories or cultural significance. It's one you'll own because it's good and good enough to watch, share, and enjoy for more than mere nostalgia purposes.