Page 1: Show Discussion, Disc 1, and Disc 2
Page 2: Disc 3, Disc 4, Video/Audio, Bonus Features, Menus & Packaging, and Closing Thoughts

The unique, wit-filled puppetry of Jim Henson did not become a major show business force overnight. While wetting his feet in television as a college freshman in 1955, Henson spent the next several years in the small leagues. There, his 5-minute show "Sam and Friends" for local TV in Washington, D.C. gave way to irregular showcasing of his flexible foam rubber creations on talk shows and coffee commercials. One of his characters, the piano-playing Rowlf, rose from dog food ads to a regular stint on "The Jimmy Dean Show" beginning in 1966.

In 1969, Henson got his big breakthrough, as one of the driving forces behind public television's revolutionary children's program "Sesame Street." Not content to merely be an instrumental part of an instantly popular and widely recognized educational series, Henson longed to employ his creations, called Muppets, for general entertainment purposes. During the early seasons of "Sesame Street", Henson directed a trio of hour-long fairytale retellings starring the Muppets on the side.

Then he and the Muppets became a part of the premiere 1975-76 season of "NBC's Saturday Night", a hip sketch comedy show that continues to run today as "Saturday Night Live." At the same time, Henson hoped to give the Muppets a weekly TV show all their own. Despite funding and airing two pilots, networks were not sold on Henson's ideas, believing that only children (the target audience for Henson's much-celebrated and ongoing PBS show) could take to such a program.

"The Muppet Show", as it would come to be called, finally made it to the air in 1976, but it didn't do so, as planned, in primetime. Instead, the variety series fell into a first-run syndication deal, assuming a slot on CBS as part of the FCC's recently-enacted Prime Time Access Rule (PTAR) that passed the half-hour of air before 8:00 PM Eastern/Pacific from networks to their affiliates. The difference between syndicated and network fare may have been invisible to some viewers; the domain did not yet have the stigma of being home to low-budget genre and game shows and a last resort for network sitcoms that got cancelled. But the nature of the series' contract meant that "The Muppet Show" would air on different channels and nights for different parts of the nation. "The Muppet Show" would emerge as the most successful syndicated series of the '70s and it remains today one of the best examples of a first-run syndicated program that made it big.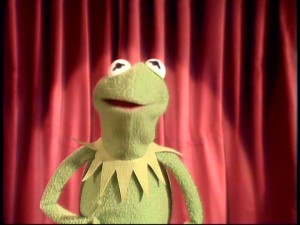 Exactly two years since being first treated to a complete season release,

"The Muppet Show" returns to DVD in a Season Two/Complete Second Season 4-disc set, housing the 24 episodes of the 1977-78 season. Once again, the series offers a practically even mix of comedy and music. The former proves to have more staying power and rests heavily on the shoulders of the outstanding characters that populate the Muppet Theatre.

A few of Season 1's personalities have been dropped for Season 2; gone are grumpy janitor George, wardrobe mistress Hilda, and the abruptly-interrupted singing duo Wayne and Wanda. Most of the other Muppets (and all of the leads) return and by this point, they're in the mode that they're well-known for. Kermit the Frog is the likable emcee, Fozzie Bear is the group's underequipped stand-up comedian, Gonzo is the oddball "intellectualist" performer. There's also porky diva Miss Piggy, the largely unintelligible Swedish Chef, nepotism-protected gofer Scooter, pompous moralist Sam the Eagle, rarely pleased balcony hecklers Statler and Waldorf, and skillful canine pianist Rowlf, who doubles as an absent-minded surgeon in the frequently-recurring Veterinarian's Hospital sketch. Another returning segment takes us to the Muppet Labs, where Dr. Bunsen Honeydew is now accompanied by Beaker, a squeaky assistant who often suffers as a reluctant experiment tester. Also new to this season is "Pigs in Space", which finds Miss Piggy and two fellow anthropomorphic swine, Captain Link Hogthrob and Dr. Julius Strangepork, parodying "Star Trek" and male-oriented, exposition-loaded sci-fi serials of the past.

On the whole, the pun-heavy humor is usually far from gut-busting, but it's always gently diverting and occasionally quite funny. It's not the type of content that you'd call the guys over for some you-must-see-this late night laughter. It is, however, the type of comedy that almost everyone watching -- young, old, anywhere in-between -- is sure to appreciate on some level. Most viewers will agree that some material works better than others, but deciding the funniest content naturally comes down to individual tastes. Some of the biggest kicks I got out of Season 2 were from the cranky old peanut gallery of Statler and Waldorf (who regularly acknowledge their illogically faithful attendance) and from easily-offended patriot Sam the Eagle. Your mileage may likely vary, but in terms of the enormous cast of characters, I couldn't classify any of the speaking parts as weak or unwelcome.
The same cannot truthfully be said for the second element of "The Muppet Show", the music. In catering to musical celebrity guest stars and presumably just a general penchant for song and dance acts, the series supplies a lot of music. Oftentimes, there's some aspect of comedy to the song performances, especially when the Muppets are involved (which they usually are, at least in accompaniment). The compositions recorded run quite a gamut; there are many Broadway showtunes, some Vaudeville numbers, and, on occasion, a contemporary pop song is covered. I would argue that there's too much music.
To compare, between a musical act and the surrounding commercial breaks, "Saturday Night Live" provides a veteran viewer with a good 10-minute chunk to go to the bathroom, make a sandwich, eat the sandwich, and brush their teeth afterwards without missing a comedy sketch. Though DVD renders commercial breaks a non-issue and scene access a breeze, a similar approach doesn't really work for "The Muppet Show." Its music and comedy aren't as tonally different as a typical "SNL" slate, and since the music of "Muppet Show" is scattered throughout each episode, trying to skip over things leaves only a hollow shell of a show. I can't go as far as saying that the music aspect is poor; it'd be impossible to praise the series without at least somewhat enjoying the plentiful song renditions. It's just that the variety aspect of this variety show really does demand a wide array of passions to appreciate in full. This is all the more true with the niche numbers that were filmed exclusively for United Kingdom airings, which are restored for American audiences here.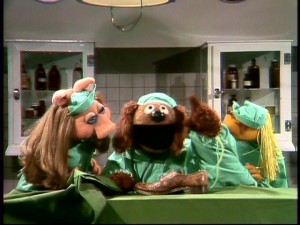 The episodes of "The Muppet Show" had no titles, save for the famous human guest star which appeared in them. Classification was therefore made easy by the fact that every episode had a guest. The celebrities of Season 2 are much more recognizable in name and face than those of Season 1, even if nearly half of them have passed away to date. At least outside of the fifth/final season and judging retrospectively from today rather than the time of airing, Season 2 may be the one with the greatest human star power. Singers, comedians, and actors who earned renown in an often overlapping mix of Broadway, radio, television, and cinema join the Muppets this year. In his early 30s but already silver-haired, Steve Martin stars in a "cancelled" episode. Elton John spices up the music aspect by playing four of his biggest hits of the '70s.

Noteworthy appearances are also made by Julie Andrews; comedy legends Bob Hope, George Burns, and Milton Berle; impressionist Rich Little; puppetry pioneer Edgar Bergen; Monty Python founder John Cleese; and funnywomen Madeline Kahn and Cloris Leachman. Ironically, one of the guests that may be least familiar to today's viewers, Russian ballet dancer Rudolf Nureyev, is said to have advanced the series in a major way, creating publicity that yielded an increase in prestige and demand for the guest star slot.

It may have taken two full years for Disney to get the second season of "The Muppet Show" out on DVD, but the good news is that this set arrives without any of the types of cuts that mildly marred Season 1's release. In fact, it arrives without missing any original content, making the spine's claim of "The Complete Second Season" an accurate one.

The 24 episodes are again arranged in production order and unevenly spread out over 4 discs. Bonus features are all relegated to Disc 4 and there are some good ones among the reduced slate. As usual, I've marked my ten favorite episodes of the collection with a red star (

).
Disc 1

1. Don Knotts (25:43) (Originally aired November 1977)
Rubbery-faced funnyman Don Knotts has a close call with a boisterous baby beast, gets a lesson in coolness from shades-wearing Fozzie, and plays bass for the Electric Mayhem. Floyd is very happy with Fozzie Bear's closing number selection ("Lullaby of Birdland"). Gingerbread men sing and dance to their trademark tune ("Sweet Gingerbread Man"), an internally frantic creature sings "Windmills of Your Mind" and visits Dr. Bob, Rowlf serenades a real puppy with "What a Wonderful World", and the Swedish Chef makes fish chowder.
2. Zero Mostel (25:44) (Originally aired December 1977)
Bulky Broadway and film star Zero Mostel performs a lengthy costumed number from Camelot and discusses his fears amidst the Muppet monsters. To fund the Muppet Theatre's payroll on payday, Kermit accepts the owner's request for lady wrestlers. Dr. Teeth reworks Chopin, Sam the Eagle speaks out on the show's moral integrity, tennis jokes mark the return of a ballroom dancing montage, Dr. Benson Honeydew and new assistant Beaker demonstrate magnetic carrots, and Rowlf and Zoot combine for a smoky piano and sax number.

3. Milton Berle (25:40) (Originally aired November 1977)
Renowned TV comedian Milton Berle holds the stage during one of Statler and Waldorf's funniest and longest heckle sessions. Too shy to meet the guest, Fozzie tries a number of disguises before sharing a vaudeville act with him. A single round light confounds the "Pigs in Space" in their first appearance. With help from a chorus of Muppets, Berle sings the little-known words to "The Entertainer" and Piggy follows up with her own take on the tune. Also, unsightly monsters sing about being ugly, while Zelda Rose and Her Singing Owl perform.

4. Rich Little (25:42) (Originally aired September 1977)
Master impressionist Rich Little entertains with his impersonations of movie stars and Muppets. Gonzo auditions chickens for a dancing act. Crazy Harry turns a French trio's song and a ballroom scene explosive. Miss Piggy sings "The Boy in the Gallery", a lizard interrupts his scatting for snack worms, and Fozzie gets "treated" at Veterinarian's Hospital. Finally, Little recreates scenes from classic movie musicals.

5. Judy Collins (25:44) (Originally aired January 1978)
Music is in high supply for this episode's guest, folk singer Judy Collins. Collins performs with birds ("Leatherwing Bat"), shadow puppetry ("I Know an Old Lady Who Swallowed a Fly"), Rowlf in a piano duet of "Do-Re-Mi", and clowns for "Send in the Clowns."

Meanwhile, Scooter's uncle J.P. Grosse has plans to tear down the Muppet Theatre to build a junkyard. In addition, Kermit reports on a quickly-evolving Koozebanian, Sam the Eagle objects while Waldorf hangs in the balance, Pigs in Space vie for button-pushing powers, and the Swedish Chef makes salad.

6. Nancy Walker (25:42) (Originally aired October 1977)
With Kermit home sick, Fozzie runs the show with some difficulty, which explains how ballroom dancing and Veterinarian's Hospital go on together. The show's guest, actress Nancy Walker (best known then for her role on "Mary Tyler Moore" spin-off "Rhoda"), doesn't get to do much: chats backstage with Fozzie and Piggy, a comedy sketch about disappearing items at a luncheon, and a tuxedoed song and dance with Sweetums. Also, birds take over a man's living room, Sam the Eagle editorializes on nudity, and Burlington Bertie performs a sad song.
Disc 2

7. Edgar Bergen (25:36) (Originally aired October 1977)
Famed ventriloquist Edgar Bergen follows his daughter Candice's Season 1 appearance with an episode of his own. Naturally, he brings along his sidekicks, sharp-tongued Charlie McCarthy and slow-witted Mortimer Snerd. Fozzie tries to copy Bergen's act, without understanding how it's done. In addition, chickens cluck out the song "Baby Face", a blindfolded Gonzo wrestles a brick, Rowlf sings about roses, a scientist tries to turn back time, and Piggy must save the Pigs in Space.

8. Steve Martin (25:40) (Originally aired October 1977)
"The Muppet Show" is cancelled for this episode, but that suits pre-film career Steve Martin okay, as he still gets to juggle, make balloon animals, and play "Dueling Banjos" with the gang. Other Muppets object to the auditions being held, as the new acts bear striking similarity to existing performers' shtick. Among those trying out are Mary Louise and frog (under several aliases), Marvin Suggs and an all-food glee club, the Flying Zucchini Brothers, four Koozebanians, and vaudeville-style Statler and Waldorf. Gonzo also gets to sneak in a dance with a female cheese.
9. Madeline Kahn (25:39) (Originally aired September 1977)
Comedic actress Madeline Kahn is the special guest star and after paying Gonzo a compliment, he plans to marry her. In two of the Muppets' better-known musical numbers, Gonzo delivers "The Wishing Song", while Kermit does "Happy Feet." Kahn celebrates feet in a song of her own, while also admiring nature's beauties in front of a destructive monster. Also, Lobster Bandidos save a Swedish Chef meal-to-be, Floyd sings "New York State of Mind", Piggy and Link argue over control buttons, Animal plays Gershwin, and Fozzie sings about pigs.
10. George Burns (25:41) (Originally aired September 1977)


Cigar-smoking comedian George Burns drops by The Muppet Theatre for some song and amusing conversation with the fuzzy regulars. Meanwhile, a newspaper reporter interviews the cast looking for gossip. A phone gets treated at Veterinarian's Hospital, Piggy pushes Kermit to dance in a ballroom sequence, a monster devours an expensive machine piece by piece, a barbershop quartet croons "Chattanooga Choo-Choo" by railroad tracks, and Fozzie sings.

11. Dom DeLuise (25:38) (Originally aired October 1977)
This episode's guest star, Dom DeLuise, feels underappreciated next to the overwhelmingly favorable response given to Miss Piggy, which is really part of an elaborate plot to get herself a raise. DeLuise performs sketches in outer space and a rambunctious animal institution; he also sings with Miss Piggy. In addition, Veterinarian's Hospital has a cow patient, the Electric Mayhem and jug band members perform forgettable songs, and Statler and Waldorf join in with Piggy's popular opening number.

12. Bernadette Peters (25:40) (Originally aired November 1977)
As guest, Broadway star Bernadette Peters gets a chance to sing three songs, the middle of which cheers up Kermit's diminutive nephew Robin, who tries to summon the courage to perform a musical number of his own ("I'm Five"). Taking offense at Kermit's opening duet with Miss Mousey, Miss Piggy enforces a reaction of disapproval from Statler and Waldorf. Sam the Eagle tells the tale of the grasshopper and the ant with an unexpected ending, Dr. Bob looks at a shoe, Bunsen and Beaker test a new element, and Uncle Deadly returns for a rendition of "Sheik of Araby."

13. Rudolf Nureyev (25:32) (Originally aired January 1978)
Russian ballet dancer Rudolf Nureyev shares the stage with a pig in Swine Lake, performs the reluctant part of "Baby, It's Cold Outside" in a sauna with Miss Piggy, and tap-dances for all. In the name of decency, Sam the Eagle unknowingly throws out the guest star, though his blind hopes for a cultural show are disappointed. Also, Piggy's opera performance goes awry, a man sings about the numerous things that are missing from his life (and body), Veterinarian's Hospital pays tribute to Shakespeare, and Fozzie disrupts Rowlf's performance of "Claire De Lune" with a candelabra.
Order The Muppet Show: Season Two DVD from Amazon.com