Though The Emperor's New Groove had a messy production (to put it lightly) and was relegated to a underpromoted December theatrical release, the wacky comedy it wound up being won over enough moviegoers and, more substantially, home video buyers and renters to label it as a success with the public. As such, arriving five years to the week that Emperor's took to cinemas is this direct-to-video follow-up, Kronk's New Groove, the creation of which can hardly be labeled surprising and the timing of which also seems par for the course.

This sequel stays true to the original's zany spirit, with the dim-witted henchman Kronk filling in for Kuzco in the central redemption arc. In the first movie, Kronk (voiced by the unmistakable Patrick Warburton) was a conflicted crony and unlikely (plus thankfully underplayed) love interest to the jealous, hideously aged Yzma (Eartha Kitt). It's safe to say that Disney did their research and found Kronk to be the most popular of the four central characters of the highly entertaining buddy comedy. Accordingly, it seems appropriate that the guy who hummed his theme song while attempting to carry out a clean disposal of the reigning emperor would definitively hold the limelight here. Having put his days of restrained evil behind him, Kronk is now the head chef at Mudka's Meat Hut. The townspeople respect him and the opening musical number "True To Your Groove" (clearly in the vein of Kuzco's "Perfect World" anthem which established the former protagonist) would seem to suggest he has found happiness.

But Kronk has problems, which while not involving power-hungry advisors, murderous plots, and talking llamas, do seem to merit our attention nonetheless. It is learned that Kronk's father Papi is coming to town, expecting to find his son with a nice home, family, and career - none of which the semi-aloof, muscle-bound softie has. As a bit of backstory reveals, Kronk has struggled to earn respect and approval from Papi and he struggles with a mix of fear and dread at the prospect of getting his old man's dreaded nose flare instead of the much-sought thumb up.
The film relies upon two thorough "flashbacks" that explain how Kronk wound up in the pickle he is currently in. Skeptical viewers might assume that these two stories could be episodes for a failed Kronk-centric TV series (which would not be the Disney Channel's forthcoming "The Emperor's New School"), but they seem a bit more polished and seamlessly interwoven with the protagonist's contemporary lamenting at Mudka's than a simple face-and-cost-saving recycling would allow.

The first encounter has Kronk lured back into the grip of Yzma, who has mostly undone the feline curse she was afflicted with upon last sighting. With the aid of Kronk, who is undisputedly in possession of the local senior home residents' admiration, Yzma hopes to obtain the seat of emperor, apparently determined by a public election. She concocts a formula that will restore youth in members of the older generation. Kronk's endorsement is enough to convince the stereotypical but sympathetic elderly folks that they should part with everything they have to buy the magic potion

and throw their support behind Yzma. Most notable among these is the returning Rudy (voiced by the late John Fielder, most recognized for his longtime portrayal of Winnie the Pooh's fearful but faithful pal Piglet), who oversees the sale of the plush senior home to Kronk. Needless to say, a moral dilemma ensues.

The second and slightly more memorable recollection covers Kronk's finding and losing of true love in his adventures as a leader of Junior Chipmunks at Camp Chippamunka. That love is Miss Birdwell (Tracey Ullman), a fellow counselor who speaks with a British accent and looks like a far homelier version of Mulan. At first sight, Kronk and Birdwell do not see eye to eye: his rough-and-tumble lot is the polar opposite to her refined and ruly wards, a contrast which seems fairly representative of their personality differences. But opposites do attract and their romantic pairing may just be the least sappiest ever placed in an animated film. Their competitive natures prove to be an obstacle as their two groups face off in an all-important multi-event challenge, and ultimately leads to their obvious parting of ways.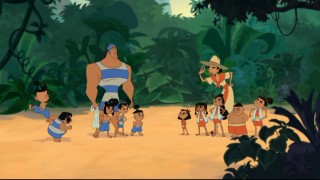 Both of these storylines come together with the present and lead to a cross-dressing-filled finale as the setting for the arrival of Papi ("Frasier" father John Mahoney). Groundbreaking and epic this film is not, but its lighthearted approach is especially welcome on the heels of DisneyToon Studios output which has generally faltered when wavering into dramatic territory (with Lilo & Stitch 2 being the most capable treader of this domain). Kronk makes for a likable protagonist and his time in the spotlight proves, as did its predecessor, that a Disney animated film need not be a classic to be enjoyable and good.
Kronk's earns points for being sufficiently and refreshingly original. Sure, its structure follows Emperor's patterns to excess, but at least its story does not rely upon a simple twist or dumbing down on the original's transformation tale the way many an uninspired Disney sequel has. A sequel to The Emperor's New Groove could never be considered necessary, but the filmmakers seem aware of this and in turn, they have delivered about as good as a follow-up as most could hope for.
In a breaking of DisneyToon Studios tradition, Kronk's is the most adult-friendly cartoon sequel perhaps ever, which seems appropriate based on the previous film's success with teenagers and older viewers. This is high-energy comedy with wide appeal, offering lots of loopy fun and something kids will like too. To this end, the movie is actually something most audience members, regardless of age, could qualify as "funny", not merely "cute", even if laughs are more often gentle than hearty.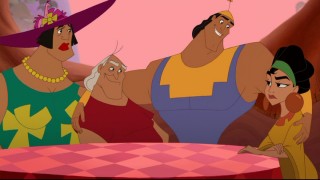 A quality newly found in this film (and previously present in the likewise pleasing Lion King 1½) is a high level of intertextuality. Kronk's is filled with many an homage to other movies and entities; nods range from theme park attraction "It's a Small World" and Lady and the Tramp to Titanic and Gollum from the Lord of the Rings movies. Some of the references are likely to swoop over the heads of the tots this is marketed to while rewarding adults in a good-natured way, not pointed or dirty

(with Yzma's "proposition" being the one exception, albeit a callback to a similarly suggestive scene in the last film) the way some PG-rated cartoon comedies' smarmy inclusions have been (think Shrek, Home on the Range, and other offenders here). This addition may not be needed, but it seems in line with the sensibilities of Emperor's and works quite well. Also bound to be as appreciated (or more) by older viewers than the so-called target demographic is a boisterous mid-movie dance montage between "Kronky-poo" and "Birdy-poo" set to Earth, Wind & Fire's "Let's Groove", which can likely be classified as the most surreal sequence in a Disney sequel and makes fine use of the catchy tune employed in the original film's trailers. (Unfortunately, we are dealt to a charmless end credits cover of the song by curiously riot-inciting boy band B5).

One thing that may upset some of the previous film's numerous devotees is that outside of Kronk, the last outing's leads are reduced to glorified cameos. In particular, Kuzco and Pacha are almost entirely absent. The once-llama's best gag is robbed of a little potency thanks to a cover art change made prior to the sequel's release and the virtuous peasant could have just have easily been written out due to his expendable usage. Some conventions upheld from the previous film pay off - such as Kronk's offbeat narration. Others do not - shoulder spirits are employed more than necessary and Kuzco's mostly pointless film interruptions seem like an excuse to get him back. From their reduced parts, you'd think that Disney wouldn't have bothered to pay David Spade and John Goodman to reprise their roles, but they thankfully do return, as does Wendie Malick as Pacha's wife Chicha, mother of three. The return of basically the entire essential voice cast in spite of a paucity of lines does lend an air of credibility to the proceedings, making it feel like more than a way to launch next month's new series "The Emperor's New School", which is almost unmentioned on the DVD, seems to take a rather different approach, and does not retain Spade as the sarcastic tyrant. Patrick Warburton again deserves praise for his on-spot performance (one can never be sure if he gets enough acknowledgement despite the fact that everyone seems to love him), and Eartha Kitt merits mention if nothing else than for her bravery to engage in spirited septuagenarian singing.

All things considered, Kronk's New Groove seems to have its heart in the right place and succeeds in entertaining, thanks in part to the freewheeling nature of its predecessor but more significantly thanks to a sharp and satisfying execution. It may not challenge your notion of life, change your perspective on cinema (or Disney direct-to-video sequels), or stay with you too long after viewing, but Kronk's New Groove does delight in diverting you for over an hour with no pandering, a commendable and subtle message, and plenty of random humor in the tone of its winning predecessor.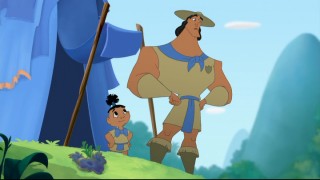 VIDEO and AUDIO
Kronk's New Groove is presented in 1.78:1 anamorphic widescreen, and as you'd expect from a 2005 big studio creation, it looks fantastic. Colors are vibrant, the digital element is perfectly clean, and the closest things to minor imperfections that you can spot (like faint edge enhancement) don't even approach inhibiting your visual enjoyment of this bright and bouncy cartoon. As seems to be a tradition, the stylized animation achieves, more or less the look of the previous film while not aspiring to the same level of artistic ambition in backgrounds.
Like a majority of today's direct-to-video Disney sequels (or "cheapquels", as some like to call them, in spite of increasingly satisfying production values), Kronk's comes in the 5.1-channel soundtrack of your choosing, DTS or Dolby Digital. Both seem sufficient without offering anything too remarkable. There's a bit of separation to the music and the occasional effect which introduces dimensionality. But, that's mostly taken for granted at this point, and while the disc gives no reason to lodge an aural complaint, it also doesn't make quite the impression that the theater-worthy mixes of some other DTV sequels have.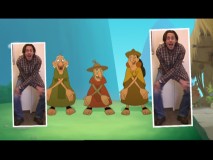 BONUS FEATURES

This DVD serves up three supplements, a seemingly slight menu which actually puts Kronk's in about the middle of Disney's direct-to-video film pack for bonus features. First up are two games. "Kronk's Brain Game" lets you see through the star's eyes as he must achieve a number of tasks in preparation for Papi's arrival. You select one of five icons you

think will be most useful to him (and you). It seems like the right one is always in the same place and the banter and humor are never too exciting.

"Pyramid Scheme" is a three-round trivia challenge in which you must choose from questions worth 1-5 points to add up to 7 in three tries or less. Zeros get added in each round (so that in Round 2, you're choosing from 10-50), but the basic idea and goal is the same. The questions deal with both Kronk's New Groove (obviously) and less obviously, Incan culture. The latter may lead youngsters to merely guess, but the answers are usually pretty obvious. Still, with no second chance, they may wind up having to play this a couple of times to win (it took me three!). Unfortunately, the questions appear to be the same in each subsequent visit, although there are some you won't have gotten in each round of play by the very design of the game. The game is hosted by Kuzco, as voiced by J.P. Manoux, who holds the role for the forthcoming Disney Channel series. While quite funny (especially in his caveman role) on "Phil of the Future", Manoux is an underwhelming fill-in for David Spade, with his sarcasm lacking a spark. Let's hope he fares better on the show. Nonetheless, this game is slightly better than average and the charities to choose from as your sponsor provide a smile.

Finally, there is "How to Cook a Movie" (7:52), an actually worthwhile (though brief) making-of featurette that's not merely a generic praise-packed piece of fluff. It's silly but still genuine and is amusingly hosted by Patrick Warburton and directors Saul and Elliot. Among the highlights are the helmers' re-enactment of their pitch to the studio executive and footage of Earth Kitt at work.

More bonus material could have easily been added to lend insight into the production, but the modest sampling is mostly satisfying and the disc deserves credit for sparing us of a B5 music video (which is likely making the rounds on the Disney Channel to promote this DVD right about now).
MENUS and PACKAGING
As is the norm for Disney's DTVs, Kronk's is equipped with "Disney's FastPlay" which "enhances" playback by making you watch all the sneak peeks before and after the movie without pressing a button. Those sneak peeks promote Lady and the Tramp, the Disney Channel Movie Surfers' look at Madaga..., I'm sorry, The Wild and The Shaggy Dog remake, and Bambi II. Post-show/menu-only previews look at Leroy & Stitch, The Fox and the Hound 2, Valiant, Pooh's Grand Adventure: The Search for Christopher Robin, and "The Emperor's New School."
The 16x9-menus are sufficiently inspired. The Main Menu features Kronk running around and preparing orders at Mudka's Meat Hut while the red-headed waitress holds the list of options. A couple of Easter Eggs merely offer brief fun with the menu. Outside of transitions, none of the other menus offer animation, but all provide instrumentals that may drive you mad if looped for too long a time.
Per the DTV tradition (dating back to last year), Kronk's New Groove is packed in a cardboard slipcover which mostly just recreates the cover artwork (with the slipcover adding a picture on the back and an opening for the UPC to partly show through. Those used to finding big coupon books and revealing promotional booklets will discover no such treat inside the standard white keepcase. All that was in this review copy was a two-sided insert listing scene selections and providing overview for the special features, and squeezing in a promotion for Valiant.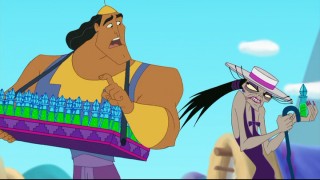 CLOSING THOUGHTS
Kronk's New Groove did not have to be made, but knowing this and recalling The Emperor's New Groove's goofy, free-for-all comic spirit enable it to delight in much of the same fashion without being taken too seriously. Fairly humorous, sufficiently sharp, and not merely a 75-minute babysitter, Kronk's may not be as much fun as its predecessor, but it still is plenty of fun on its own right. More cynical critics of Disney's direct-to-video sequels will probably put Kronk's among the least offensive of the canon, but it deserves to be distinguished from past clunkers as an entertaining outing that should not disappoint fans of the original movie, especially those who took to Kronk.
The DVD pretty squarely hits our expectations for a 2005 Disney DTV (it's the year's fourth), delivering near-flawless picture and sound and a light plate of bonus features. At least its three offerings include a unique making-of featurette and a better-than-average game. A rental might be sufficient for those who aren't positive they'll enjoy it, but this spirited sequel certainly deserves at least that much.