When the Walt Disney Company purchased Fox Family in the summer of 2001, they got more than the then-faltering, Pat Robertson-founded, 24-year-old cable channel. The $3.2 billion purchase also netted the Fox Kids Network, a joint division of Rupert Murdoch's and Haim Saban's respective television empires which had maintained a presence on the airwaves for over a decade. While the rights to many of the series that had comprised the 3-hours-a-day, 6-days-a-week programming block still belonged to other studios (like Warner Brothers), the acquisition effectively placed lucrative new properties owned by Saban Entertainment into the Mouse's ever-expanding entertainment castle. Among the noteworthy gains were the Power Rangers (in their various incarnations) and assorted cartoon adaptations of Marvel Comics franchises (including "X-Men", "Fantastic Four" and multiple "Spider-Man" series).
Then, there's "The Tick", which also made its way over to Disney via Fox Kids and seems undoubtedly inspired by the Marvel entities that simultaneously changed hands. Like Spidey, the X-Men, and the Fantastic Four (three of Hollywood's most profitable brands this decade), "The Tick" began as a comic book. Actually, the character debuted in a newsletter for New England Comics, a Massachusetts chain of comic book stores. It was precisely twenty summers ago when 17-year-old Ben Edlund devised the personality; twenty months later, the robust, antennaed superhero got a comic book of his own. Through 1993, The Tick would appear in twelve black-and-white comics while his creator attended college on the side. Not only was this semi-aloof evil-fighter popular enough to sustain this dozen of publications, but when Edlund halted his duties, it was not because his comedic hero's career was at an end. On the contrary, The Tick was headed for bigger things: television (specifically, Fox Kids) was a-calling.
September of 1994 came and with it, a fifth season of Fox Kids. Joining returning favorites "Tiny Toon Adventures", "Animaniacs", and "Mighty Morphin Power Rangers" was -- you guessed it -- "The Tick", a half-hour animated series which, like the comics that inspired it, fused superhero action with contemporary satire. Naturally following his hero to the small screen, Edlund assumed writing and co-producing credits on the cartoon. Soon, the unique traits of Edlund's off-kilter protagonist and the quirky world that housed him were winning over children and (to a greater degree) older Fox Kids viewers, much the same way that they had delighted the underground comics scene in the preceding years.
The central and titular figure of the series is a highly likable fighter of evil, whose imposing dimensions and chiseled features contradict his easily-bewildered nature. In this first season, The Tick moves into the apartment of Arthur, a pudgy accountant-turned-sidekick. Clearly, their dynamic is of the "odd couple" variety; more than being marked by contrasts, though, the pairing exhibits apt complements.

The Tick, in his bright blue, muscle-emphasizing suit, takes action in tandem with a verbal arsenal of befuddlement and awkward confidence. Standing next to him is a guy who is ordinary at best, one who dares to be different in an outfit that is regularly mistaken for a bunny suit. (He's supposed to be a moth.) Arthur makes up for his lack of physical prowess with an intellect that guides his better half through moments of uncertainty. Together, the two protect The City, which could be called Gotham or New York, if the show was not embracing the limitless joys of nonspecificity.

Surrounding The Tick and Arthur is a dense population of fellow imperfect superheroes and imaginatively goofy supervillains. With a few exceptions, the good guys seem to come and go as needed, either serving a brief standalone gag (like Bi-Polar Bear and The Crusading Chameleon) or maintaining a recurring presence while rarely partaking in any of the heroics reserved. Falling into this latter class are American Maid (who would appear to be the spawn of Wonder Woman and Captain America), Sewer Urchin (basically Rain Man with an unpleasant odor), and Die Fledermaus (a type of cowardly Batman). Then, there are the nemeses, which tend to be introduced on a one-per-episode basis. Some of these are, especially early on, are a diverse, grotesque, plainly-named collection of human-esque villains that remind one of the bizarre world of Dick Tracy. Others are ordinary folks who have gone awry in some way. Still others emanate from different dimensions or species. The traits that unify them all: they (like their good counterparts) are flawed, complex, generally conquerable, and provide as much humor as malice.

Throw in the entire bunch of good and bad characters, string them together with comedy that pokes fun of comic book conventions as well as contemporary life and mannerisms, and you end up with a pretty compelling universe. Even with a somewhat clear formula in place (heck, every Season 1 episode is titled "The Tick vs." something), the show manages to stay fresh and hardly redundant. Each largely amusing installment begins with a seemingly ordinary setup and then follows Tick and Arthur against their opposition in a unique way. It helps that the opposition varies, from generic bank robbers to a ticked-off giant clown, from an extradimensional baddie to a delightfully insane self-narrating bomber. It also helps that even though "The Tick" can be accurately classified as an action series, it avoids the often-troubling reality that battle sequences rarely yield surprise. It does this by keeping such interactions brief and imaginative; even if you can foresee the conclusion, the unfolding of events to get there typically doesn't wear out its welcome and always offers large doses of wit among the usual element of characters hitting each other.
No matter what is served up, the affairs remain interesting thanks to the solid central chemistry of Tick and Arthur, who figure largely enough without approaching staleness (at least not in this collection). The blend of traditional and anti-heroic qualities of The Tick himself enables him to emerge as an especially endearing character who is marked by curious contradiction. While the big blue guy may regularly address those around him as "chum" and "friend" and is a force to reckon with thanks to his "nigh-invulnerability", he also gets a kick out of a menial task like finding his way around a giant retail store. It's impossible to miss the bold strokes of irony with which Tick is painted; as such, his cheesy bits of dialogue are forgiven because they're designed to be uncool (though another '90s cartoon might use the very same dialogue completely straight-faced). Perhaps the defining characteristic of this clever personality is his flair for monologuing; he does this in philosophical outbursts from time to time, but never as wholeheartedly as at the conclusion of each episode, when he unleashes all kinds of bizarre metaphors in a totally tongue-in-cheek and wacky inspirational lesson.
After years of fan-expressed desire (most clearly illustrated in an Internet petition of nearly 15,000 signatures), Buena Vista Home Entertainment has finally seen fit to bring "The Tick" to DVD in a two-disc set titled "The Tick" vs. Season One. Why "vs. Season One" instead of just plain "Season One" or the route more often taken ("The Complete First Season")? Because this collection only holds twelve of the thirteen episodes that comprised this popular show's first season. Episode #11 -- "The Tick vs. The Mole-men" -- has not been included due to "creative considerations", which, in reality, probably means legal/financial hurdles which could not be cleared. Why that one episode? Nobody has gone on the record, nor are they likely to, but BVHE has expressed hopes of including the episode in question on a future set. The studio does deserve kudos for not entirely hiding the fact that the set is one episode shy of a season; both the back cover and its mildly reworked slipcover indicate its absence in a fairly clear fashion.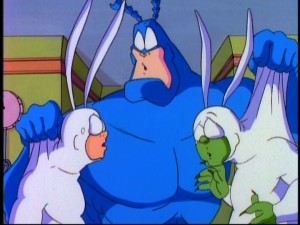 Even forgiving the missing episode, this "vs. Season One" set probably isn't exactly what the show's fanbase hoped for. The 12-episode compilation carries a $34.99 suggested retail price, which would be reasonable if the rest of the DVD marketplace wasn't overflowing with more reasonably-tagged alternatives.

For instance, BVHE concurrently issued Volume 1 box sets of two favorites from the syndicated "Disney Afternoon" block, "TaleSpin" and "Darkwing Duck." For the same price, these 3-disc sets offered 27 episodes, more than twice as many (and close to 2.5x as much content, thanks to slightly-longer episode runtimes). That might be easier to forgive if "The Tick" was given fan-tailored bonus features the way that Disney's cult favorite "Gargoyles" was. But, no such luck.

Not only that, but a number of "The Tick"'s episodes would appear to be cut, from the erratic and sub-20-minute running times. (By comparison, "Gargoyles" episodes ran just under 23, in the same 1994-95 season.) If the prevailing runtime of about 21 minutes and 17 seconds is correct (and the second half of shows here all basically end up there), then Episodes #2, 4 and 5 have some explaining to account for running about two minutes shorter. Likewise, one might question #1 and 6 for falling about a minute short. Then there's #3, which runs 40 seconds longer; does it mean that all the others have been shaved from a comparable length? I have no idea, and having never seen the show prior to DVD, I wouldn't be able to recognize missing bits. Still, two years of reviewing TV shows on DVD, I can say that such inconsistent runtimes are an anomaly and the slight runtimes do lead me to believe that, for whatever reason, some portions could very well be amiss.

"The Tick" ran for three seasons altogether, with 36 episodes fully produced. Such a number is precisely the limit of episodes that BVHE would have included on a 4-disc set, so fans could have had all of the animated "Tick" in one Complete Series shot, much like what the studio did for the '90s "Fantastic Four" cartoon to coincide with last year's live action filming's big screen release. Even dividing the run into two sets, a Volume 1 and Volume 2 would have given customers more bang for their buck and more to hold them over until the next release. Still, there are those who may feel that a season shouldn't be split up like that and they might be happy with the way Disney has chosen to present the show. But then, there's the business strategy which says that a low-priced collection is the best way to get someone hooked on a show (look at the success that the 9-episode first season "Grey's Anatomy" DVD found this year); but with the standard box set pricing out of place here, that argument gets thrown out the window. Nevertheless, it is worth celebrating that the studio could have easily teased more money out of fans, while frustrating them with 5-episode compilations they way that discs of the '90s animated "Spider-Man" has. In short, the studio could not have fully pleased everyone. But it still seems as if they could have very easily satisfied a lot more people with either more episodes or a low price.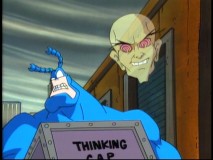 A star (

) denotes five standout episodes from this Season 1 collection.
Disc 1

1. "The Tick vs. The Idea Men" (20:55) (Originally aired September 10, 1994)
The Tick is established, beginning with his assignment to "The City" through a convention in Reno. Arthur's costume gets him fired from his accounting job and he becomes The Tick's sidekick. Together, they attempt to break up a bank robbery being conducted by a mysterious gang of masked mumblers known as The Idea Men.
2. "The Tick vs. Chairface Chippendale" (19:15) (Originally aired September 17, 1994)
On evening patrol, The Tick and Arthur discover a burglary being committed by a trio of goons. American Maid drops in and she helps the good guys track the operations back to Chairface Chippendale, who really does have a chair for a face (and a head, actually). American Maid, Tick, and Arthur sneak into Chairface's birthday party as caterers. Shortly after discovering Chairface's evil plans, they learn what he does to superheroes: cause them trouble, in challenging ways.

3. "The Tick vs. Dinosaur Neil" (21:57) (Originally aired September 24, 1994)
The Tick and Arthur wake up early to enjoy their day off at the science park Dinosaur Grotto. There, they befriend Dinosaur Neil, an employee who is trying to grow his own dinosaurs. After Neil accidentally eats a piece of dinosaur tissue, he turns into a very large (and still mustachioed) green dinosaur. This interrupts the nice dinner Arthur has planned for his visiting younger sister Dot, as The Tick and Arthur try to save both the city and their new pal.
4. "The Tick vs. Mr. Mental" (19:28) (Originally aired October 1, 1994)
Thanks to an anonymous complimentary pass, The Tick and Arthur enjoy a night of entertainment at the Evil Eye Cafe. But one of the night's performers, Mr. Mental, establishes a mind-link with Tick as part of the mentalist's plan to get Tick to steal a thinking cap for him.
5. "The Tick vs. The Breadmaster" (19:39) (Originally aired October 8, 1994)
A day of grocery shopping quickly becomes dangerous when The Breadmaster unleashes a massive, expanding loaf on the supermarket. When disaster is allayed, The Breadmaster and his sidekick, Buttery Pat, plan more baked mayhem while making demands for The City to close its culinary institution.
6. "The Tick vs. El Seed" (20:36) (Originally aired October 15, 1994)
A human-hating sunflower devises a way to wipe out all of the animals on the Earth. Soon, all sorts of plants are waging war against mankind, while The Tick is sprouting roots and assorted vegetation.

7. "The Tick vs. The Tick" (21:17) (Originally aired October 22, 1994)
The Tick, Die Fledermaus, and Sewer Urchin excitedly enter the Comet Club, a nightclub just for superheroes, while Arthur is redirected to the Sidekick's Lounge, where a depressing little gathering keeps him away from the action. Dampening the otherwise high spirits at the Comet is the arrival of Barry,

the club owner's brother-in-law who has anger issues and the contention that The Tick stole the name from him. Simultaneously, a loony who calls himself The Evil Midnight Bomber What Bombs at Midnight approaches the club with an amusing stream of dialogue and a plan to bomb it to shreds at, you guessed it, midnight. Like the first episode, this highly entertaining one opens with a brief sit-down interview; this time, The Tick fumbles through a discussion his superpowers.

8. "The Tick vs. The Uncommon Cold" (21:16) (Originally aired October 29, 1994)
While The Tick is crippled by a strong cold, his out-of-this-world new neighbor Thrakkorzog makes quite the impression on Arthur, by chaining him up and revealing his plan to take over the universe. The plan involves obtaining a tissue sample from Arthur, cloning him, and using the Arthur clone to do the same to Tick. Only things don't go exactly as the evil glob hoped. Fortunately for us, the results are very funny as the clear-cut setup yields one of the season's best episodes.
Disc 2

9. "The Tick vs. Brainchild" (21:17) (Originally aired November 5, 1994)
Tick and Arthur go shopping for a new microwave, as does Skippy, a flying robotic dog; when the store only has one left, trouble ensues. Tick and Arthur track the dog back to the house of his owner, Charles, a young evil genius who has a transparent domehead which showcases his brain. As Tick and Arthur get acquainted with the boy's "progressive" parents and try to set him straight, the brainchild concocts an evil plan which involves both siccing Skippy on the superheroes and smashing the moon into the Earth. Just another day for the four-member family of the '90s...
10. "The Tick vs. Pineapple Pokopo" (21:14) (Originally aired November 12, 1994)
Secret government agents show up at Arthur's apartment requesting the services of The Tick, American Maid, and he on a mission to rescue Yank, a gifted U.S. space monkey, from the island of Pokoponesia. To do so, they've got to get past riptides, shark-infested waters, and, most importantly, the pineapple-headed general Pineapple Pokopo, who is planning to take over Hawaii.
11. "The Tick vs. The Proto-Clown" (21:18) (Originally aired February 4, 1995)
A state of national emergency greets The Tick and Arthur upon their return from Wheatland. The cause of it: Proto-Clown, a giant clown who is terrorizing The City. Arthur and the Civic-Minded Five team up with the clown's well-intentioned creator Bud (a genetic engineer with big theme park ideas) to try to stop the destruction. Meanwhile, Tick's mind leads him on an existential voyage where he discovers the various elements which make him, well, tick.
12. "The Tick vs. Arthur's Bank Account" (21:17) (Originally aired February 11, 1995)
A sighting of The Terror puts The City in fear, without even knowing that the aging threat is training an odd new crop of supervillains. In response, The Tick finds his battle cry ("Spoon!") and also runs up Arthur's credit cards on pricey new equipment. It is the latter act which puts a fork in the pair's friendship.
VIDEO and AUDIO

"The Tick" appears in its original aspect ratio which, as is true of nearly all pre-2000 television programs, is 1.33:1 fullscreen. Picture quality is adequate; it's definitely not something to demonstrate the potency of DVD's 720 x 480 resolution. But at the same time, if you have homemade tapes from last decade, you'll probably notice a world of improvement. As is true of most Saturday morning cartoons, the animation is imperfect. The visuals can be a little bright and at times, the colors are a bit garish-looking.

That may be the nature of the creation. However, backgrounds seem a little twitchy, and the episodes appear to be afflicted with a bit of edge enhancement. If compression woes are an issue, that could very well be due to the fact that the twelve episodes are split up eight on one disc, four on the other. That would make sense if Disc 2 was a single-layered disc, but it's not. Disc 2's episodes didn't exhibit as much ringing, so it seems like the mastering may be partly to blame.

There are also a bunch of minor issues, which may or may not be right to correct: there is a black-out for a few frames in the set's final episode, Arthur and Tick appear out of nowhere in one "Dinosaur Neil" shot, and most frequently, there are tiny marks scattered about the frame. Being familiar with TV animation, I realize the disc's producers aren't necessarily to blame. But this portion critiques the visual aspect and there's plenty of issues keeping this set from a perfect grade.

In the audio department, there is one quirky thing. The first three episodes are presented in two-channel Dolby Stereo. From the fourth episode on, the English track is offered as Dolby Surround, with a rear channel offering mild reinforcement. The difference is not very significant, as even when there is the opportunity for aural fanfare, you need to strain to notice the rear channel. The soundtrack is sufficient, but the volume needs to be cranked up a bit. A French track is included and it is Dolby Stereo throughout. While it sounds like it has a little more oomph to it (and needn't be turned up so much), it also has some distortion.
BONUS FEATURES, MENUS, PACKAGING and DESIGN

As mentioned earlier, there is nary a true bonus feature to be found on either disc. That's too bad and quite a bit surprising, because "Tick" creator Ben Edlund did contribute a complex new piece of artwork for the cover. Presumably, he also had something to do with the "collectible lithograph" found inside the case;

a postcard-sized piece of colorful art which features The Tick striding off a building top. The back of this card contains a straightforward three-sentence fun fact about The Tick's design and how it applies to "The Tick vs. The Tick."

I find it hard to believe that Edlund wouldn't have enough interest or information to share his thoughts on this series. After all, he recorded commentaries for two episodes of the short-lived 2001-02 live action incarnation's Sony DVD release, and he appears to have held more substantial roles for the animated counterpart. Thus, the altogether absence of either commentaries or at least Stan Lee/Greg Weisman-type introductions seems unforgivable. As usual, I'm willing to bet important body parts that fans of the series would be excited by even old promotional material, like episode ads and on-air bumpers, or galleries of artwork. The acquired nature of the series might make some of that more difficult to include than on an in-house production, but judging from the void of supplements found on The Disney Afternoon series' DVDs, I'm guessing nobody in charge even gave such inclusions any thought. As always, it's too bad when the DVD format's grand opportunity to reflect, document, and contextualize a beloved piece of entertainment is completely and utterly missed.

All that said, at least some thought seems to have gone into both the physical and on-screen design of the set. The former finds a standard black dual-amaray keepcase housed in an embossed cardboard slipcover which actually speaks and shows (accurately, no less) much about the contents of the set, a nice surprise next to the generic pastiches that grace the few Disney-made shows to end up in box sets. Another pleasant surprise comes from an insert which reveals that The Tick vs. Season Two (or II, or even Aye Aye, as Tick reads it) is on the way for an unspecified date. One minor but obvious gripe arises from the spine of the case/slipcover, which both label this merely "The Tick"; such short-sightedness will render it lacking once the remaining seasons show up.

The clever animated menus also aspire to more than what is given to Disney's in-house series. Disc 1's Main Menu finds villains floating about and trying to menace an unflappable posing Tick. Disc 2 find something similar, as antagonists (and Tick) fly and bounce around while Arthur reacts (sort of) in front. In a nice little touch, the cursor is a spoon (which I was surprised to see unmentioned until the season finale). The episode selection screens are even animated, and I'm not positive, but I think all the menus are equipped with 5.1 surround sound, or at least a more active Surround presentation. One disappointment worth mentioning: there are no chapter stops within the episodes, which requires old-fashioned fast-forwarding to skip the opening sequence or to jump to a scene. I never considered avoiding the title sequence; each episode contains a complete 63-second which boasts a theme song that mixes catchy jazz with scat.

The customary Buena Vista sneak peeks appear the start of Disc 1. They promote The Wild, "Lost": The Complete Second Season, and Cars. There is no dedicated menu to access these from, which of course means that there are no additional previews to be found, if you like that sort of thing.
CLOSING THOUGHTS
"The Tick" is a fun cartoon that is not as easy to outgrow as more child-oriented series. Its satire of superheroes, or rather people who just so happen to be superheroes, is regularly amusing. Its episodes stand strong on their own and offer a welcome amount of variety. Its moral struggles are spiced up with clever references to facets of contemporary life. Its comic-inspired action never grows tired and a good sense of humor keeps the proceedings sprightly.
The show's long-awaited DVD release is not as easy to commend, however. Picture quality is lacking, sound is inconsistent and underwhelming, and that's even the case when you recall its nature, as Saturday morning fare. The utter lack of bonus features (aside from a postcard insert, which almost counts) would be easier to swallow if it meant a discounted price. Instead, you're being asked to pay a standard season set price (and above-standard for some studios) for a twelve-episode collection which doesn't even hold all of Season 1.
Still, many folks will find the desire to join The Tick's ardent fanbase too difficult to resist. With no alternative, one might as well just take the cons in stride with the more important pro, which is the inspired animated series at the core of the set.