Page 1: Show Discussion, Disc 1, and Disc 2
Page 2: Disc 3, Disc 4, Video/Audio, Bonus Features, Menus & Packaging, and Closing Thoughts

When The Walt Disney Company purchased The Muppets Holding Company in February 2004, it gave Disney the home video rights to select titles in the illustrious catalogue of Jim Henson and company's enduring and immensely popular furry friends. Among the most important and beloved entities acquired by Disney's Buena Vista Home Entertainment branch was "The Muppet Show", the half-hour weekly variety series which brought the Muppets into homes around the world on a weekly basis in the late 1970s and early '80s.

"The Muppet Show" was a big break for talented performers like creator Jim Henson, Frank Oz, Jerry Nelson, and Richard Hunt. These individuals would not often enjoy immense personal recognition for their accomplishments, but their voices and characteristics were infused into a colorful cast that was widely embraced by the world over.

In the nearly thirty years which have passed since "The Muppet Show" first aired, the word "muppet" has constantly stayed in the vernacular and handheld puppets like Kermit the Frog, Fozzie Bear, and Miss Piggy have remained beloved staples of the entertainment industry, relishing show business careers longer than the majority of human talent.

This television series was not the official birth of all of the characters within or of Jim Henson's unique vision; in fact, as a promo on this Season One DVD set reveals, Kermit had been around for more than twenty years before "The Muppet Show" was picked up by the networks. But it was "The Muppet Show" which introduced the gang to a wide audience; movies, television specials, cartoon spin-offs, theme park attractions, figurines and other merchandise, music videos, and more would follow and ensure that there was plenty of room in Hollywood and elsewhere around the world for a mild-mannered frog, an overzealous pig, a Swedish chef, and countless others to make us smile.
After several pitches and the taping of two half-hour pilots, "The Muppet Show" appeared on the airwaves of CBS and local stations in the fall of 1976. Set in a grand Vaudeville theatre, each episode is hosted by Kermit the Frog and comprised of at least a dozen segments which together offer a blend of comedy, music, and a bit of the absurd. Each episode features a real life entertainer as guest star. While these individuals would have been recognized by viewers in the late '70s, hardly any are A-list celebrities, and time has almost entirely forgotten the guests of Season One. The best known today of the Muppet Theatre's earliest visitors are Joel Grey, Rita Moreno, Jim Nabors, Florence Henderson, Peter Ustinov, Sandy Duncan, Candice Bergen, Phyllis Diller, Vincent Price, and Ethel Merman. The living members of that group of actors have not been in the spotlight much lately and those born after the debut season's episodes aired (a demographic which includes folks turning 28 this summer) may well be scratching their heads while trying to place some of those names. Fortunately, that doesn't matter much because most of the fun "The Muppet Show" delivers stems from the Muppets themselves or the interaction with the guests they engage in.
The pacing of "The Muppet Show" is fairly chaotic; things move quickly from sketch to sketch, with nothing to tie them together but a dissolve transition. Many of the sketches are recurring in nature. Kermit will welcome the guest star, later he'll have a one-on-one chat with them (where another star- or love-struck Muppet will often show up too), and he'll also manage the show from backstage, putting up with requests and demands from other Muppets. Other staples of the show are comedy and "art" acts by Fozzie the Bear and Gonzo the Great, respectively, that are supposedly unentertaining for the Muppet Theatre audience, but naturally, delight the actual viewer. Statler and Waldorf are two elderly Muppets who regularly dispatch sarcastic disapprovals from the balcony and heckle Fozzie during his standup routine. Additional standalone sketches include the announcing of scientific breakthroughs from Dr. Bunsen Honeydew at Muppet Labs, satirical Muppet Newsflash segments with an unnamed reporter, and cooking with the mostly unintelligible Swedish Chef.
Music is a key element of the show, and while many of the guest entertainers revel in song with Muppet accompaniment, the regulars don't need any professional input to provide harmony or lack thereof. Musical performances are often given by the Muppet Show band Dr. Teeth and the Electric Mayhem, the piano-playing dog Rowlf, and the upbeat hillbillies of the Gogolala Jubilee Jugband. Wayne and Wanda, two musical performers whose act is always reverentially introduced by the wholly approving moralist Sam Eagle, have trouble getting very far in songs for some reason or another always tied to the lyrics they begin crooning. Very few, if any, of the songs are written just for this series; most of the musical performances by guest stars and Muppets are covers of prerecorded songs, be they pop numbers or showtunes from the stage.
Throughout the five-season run of "The Muppet Show", each episode had one sketch which only appeared in the United Kingdom airings, not in the United States. This DVD set preserves those,

which are generally slower and often feature piano performances by Rowlf. While they may rarely be the highlights of the episodes, there's some really great ones and their inclusion is appreciated.

One-liner jokes turn up repeatedly in Fozzie's act, and they also flow forth in the frequent "At the Dance" interstitials of couples moving about a ballroom dance floor and from time to time in a recurring sketch featuring talking houses. Another punny sketch, entitled "Veterinarian's Hospital", features Rowlf as a half-baked surgeon who never much helps his patients.

At a time when seemingly every TV show popular enough to survive to a second season has come or is coming to DVD, it's somewhat surprising that this fondly remembered series is only getting season set treatment now. Before Disney's purchase of the Muppets, Time-Life released more than a dozen "Best Of" compilations. These volumes each delivered a random collection of three episodes from various points of the series' run and were not widely available in stores. Now, Disney has given the series the type of respect and comprehensiveness that fans have been clamoring for.
While "The Muppet Show" is not too often laugh-out-loud funny, its clever humor is usually very easy to appreciate. Many factors contribute to the show's high likeability. There seems to be no shortage of well-realized characters; some only turn up once, or once in a while, and some (like Kermit, Fozzie, Statler and Waldorf) are guaranteed to be in every episode. All contribute to a welcome whimsical atmosphere, where you can easily move from a Broadway star potently singing a familiar tune to dancing monsters without thinking anything odd of it. The variety of the characters, coupled with the sharp writing, humorous self-referentiality and top-notch puppetry, create a unique and phenomenal twist on the format which as a whole you can't help but enjoy. Some of the material may be dated, but overall, it's a charming and winning mix.
Unfortunately, some episodes in this set are missing musical numbers for whatever reason (notice the box set doesn't claim to be "The Complete First Season", although that may be a case of semantics). From extensive research, I was able to notice five episodes with cuts; four were edited to remove one musical performance each, the other trimmed episode has oddly lost a couple of Muppet Newsflash segments. I assume the deletions are not a simple case of overlooking or mishandling, but the result of tangled or especially pricey song rights. The missing Vincent Price song was at least advertised as appearing on one of the Time-Life DVD releases, so its exclusion is especially disappointing. While the incomplete nature of it is troubling, I don't think we'll see an uncut set in our lifetime, and this set otherwise pleases in every way.
A star (

) denotes my ten favorite episodes from the season. A pair of scissors (
) indicates that the episode is missing a segment.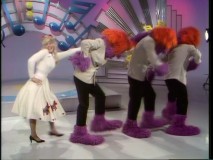 Disc 1

1. Juliet Prowse (25:34) (Originally aired April 25, 1977)
British dancer Juliet Prowse becomes the Muppets' first guest and she gets to strut amidst neon green giraffes. The first genuine sketch is a puzzling but catchy piece in which a caveman-like fellow repeatedly sings "Manha, Manha" to the delight of two accompanying pink creatures. Rowlf makes a splash by singing the amusingly poor "You and I and George." In a Western sketch, Fozzie illustrates the power of loaded pickles and other produce. Scooter and Fozzie do a musical act as Simon Smith and a dancing bear after Muppy the dog makes wild demands that can't be met. Finally, Kermit directs the Muppet Glee Club performing "Temptation" during which Miss Piggy gets carried away.

2. Connie Stevens (25:34) (Originally aired February 29, 1977)
With a singer for a guest star, music figures largely in this second episode. Kermit starts things off singing about Lydia the tattooed lady, and then Connie Stevens sings "Teenager in Love" with some towering purple backup vocalists. Dr. Teeth and the Electric Mayhem perform a bluesy "Ain't Misbehaving", and Connie returns to sing "Close to You" to Kermit and Fozzie. Meanwhile, after hearing Gonzo ask others if he should get rid of his teddy bear, Fozzie worries that nobody likes him and packs his bags.

Near the end, "Sesame Street" favorites Ernie and Bert show up; Bert fears about being on a big time variety series, but Ernie allays his roommate's fears and soon, Bert is performing "Some Enchanted Evening" with Connie Stevens.
3. Joel Grey (24:32) (Originally aired October 18, 1976)
Fozzie drives everyone nuts with his feeble attempts to turn everything said into a joke. Stage/screen actor Joel Grey performs a song from Cabaret and later "Razzle Dazzle" from Chicago to cheer up Gonzo, whose act doesn't yield praise. A slower-moving skit has a Turkish man singing an ode to "pachalafaka." An entertaining sketch features Rowlf as Sherlock Holmes in a murder mystery where the overwhelming evidence gradually vanishes. This episode runs about a minute shorter than most of the others and puzzlingly appears to be missing two Muppet Newsflash briefs.

4. Ruth Buzzi (25:24) (Originally aired October 11, 1976)
Actress Ruth Buzzi, who appeared in such '70s Disney comedies as The Apple Dumpling Gang and Freaky Friday, makes for an interesting guest. She gives a physical performance of "Can't Take My Eyes Off You" with the monstrous Sweetums, tickles Kermit, and portrays a prisoner of war who gives out too much information. Other highlights from this show include Rowlf performing a song about his tear-induced relationship with onions and other foods, Scooter introducing a wind-up Kermit host replacement (whose presence befuddles Miss Piggy), and a funny standup act from Fozzie in which Statler and Waldorf provide most of the humor.
5. Rita Moreno (25:39) (Originally aired October 9, 1976)
Oscar-winning actress Rita Moreno (West Side Story, Singin' in the Rain) embodies a number of personas in this episode, as a fiery lover, a discussion panelist whose accent overshadows her point, and as just herself to perform "Fever" with an overzealous Animal. Puns are abound in a sketch where Rowlf plays inept veterinarian Dr. Bob, the Hillbilly Band's song about futile efforts to take a trip "To Morrow", and the running gag in which callers to the Muppet Show phone make a splash (and other elemental imprints) on Fozzie. Moreno won an Emmy award for this appearance.

6. Jim Nabors (21:07) (Originally aired September 27, 1976)
Comedic actor Jim Nabors interacts joins the Muppets with a style not far from the character he's best known for, Gomer Pyle. Nabors is most memorable as a bakery security guard in an animal-filled sketch with Rowlf. Scooter, the nephew of the theater-owner who is kept around solely for this claim, is introduced in this episode, though he has already appeared several times before. Unfortunately, this episode runs several minutes shorter than the rest and, from a bit of research of online episode guides, appears to be missing Nabors' "Gone with the Wind" musical number. Still in tact are Jim performing "Thank God I'm a Country Boy", Dr. Teeth singing the praises of money, and the UK musical number "Dog Eat Dog" by Baskerville and Rowlf.
Disc 2

7. Florence Henderson (25:28) (Originally aired November 15, 1976)
"The Brady Bunch" mother Florence Henderson proves she can sing, appearing and disappearing in the distinctly '70s setting of a foggy white forest accompanied by neon butterflies. Florence also upsets a jealous Miss Piggy (who thinks she has competition for Kermit's affections) and again during a discussion panel on whether Shakespeare was really Bacon.

More music is provided by an upbeat rendition of "Happy Together" by Henderson and several fuzzy puppets, and this episode further provides Rowlf playing Winnie the Pooh's confused song "Cottelston Pie", a clumsy lot of pig acrobats, Fozzie's impressions of great actors in great movies, and Kermit's news report from an alien planet.

8. Paul Williams (23:15) (Originally aired October 25, 1976)
Diminutive singer/songwriter Paul Williams stops by and when not talking about his height, he performs a couple of soothing musical numbers, "Just an Old-Fashioned Love Song" and "Sad Song." Scooter "helps" Fozzie with an idea for his standup act in which the bear will play a telephone pole. Also, Rowlf delivers a poem about "Silence" over an increasingly intrusive amount of noise and in his first appearance, Dr. Bunsen Honeydew informs us of the Muppet Lab's new breakthrough, all-purpose tenderizer. This episode began a long-term working relationship between the Muppets and Williams, who would show up in The Muppet Movie and compose songs for The Muppet Christmas Carol. A third song, "All of Me", was apparently aired but is not included here.
9. Charles Aznavour (22:22) (Originally aired January 17, 1977)
French singer/actor Charles Aznavour is the guest and the biggest impression he makes is in his lesson to Kermit about using "the language of love" to woo ladies. He also meets some French bread and sings the slow "Inchworm." Backstage, Scooter agrees to be Gonzo's manager and encourages him to try female impersonation for his next act. In addition, Rowlf and company return for another installment of "Veterinarian's Hospital", a panel discussion dissolves when idiomatic phrases are taken too literally, the Gogolala Jubilee Jugband sings about chewing gum in the UK sketch, and West Side Story's "I Feel Pretty" gets a new spin from some monstrous Muppets. This episode appears to be missing Aznavour's performance of "The Old-Fashioned Way" near the beginning.
10. Harvey Korman (25:34) (Originally aired December 13, 1976)
Comedian Harvey Korman of "The Carol Burnett Show" and others is this episode's guest, and his humorous sensibilities don't exactly gel with the Muppets'. He also doesn't get too much screen time or make a great impression when he does; by episode's end, he's been in a chicken costume for some time. His finest moment is a sketch where he plays a seemingly fierce circus tamer to a gentle giant (the ginormous blue Thog). The episode also features two explosive musical performances by Dr. Teeth and the Electric Mayhem, a standup act by Fozzie and Kermit with problematic timing, a panel on the meaning of life gone awry, another appearance by Rowlf's absent-minded Dr. Bob, and the solemn song "Halfway Down the Stairs" performed by Robin the little frog.
11. Lena Horne (25:36) (Originally aired November 1, 1976)
Singer guest stars entail an episode with plenty of singing, and this show with Lena Horne does not surprise in that regard. She performs three numbers, most excitingly the "Sesame Street" favorite "Sing." Horne also makes Fozzie's day by knowing all about him, encourages Gonzo via song, and creates a bit of a scheduling problem for Miss Piggy, whose musical number gets bumped. The episode also features Rowlf and Zoot playing the theme from Love Story and the catchy tune "Ragg Mopp" performed by...a bunch of ragmops.

12. Peter Ustinov (25:34) (Originally aired November 8, 1976)
Making for a big name guest in this episode is legendary actor Peter Ustinov, who Disney fans may recognize as the voice of Prince John or the ghost of Blackbeard. Ustinov's presence seems to have everyone starstruck, including Miss Piggy, Fozzie, and Hilda the costumer. At the Muppet Lab, Ustinov amusingly illustrates Dr. Bunsen Honeydew's Robot Politician. He also portrays a crotchety economics professor gradually telling a joke, a psychiatrist defending his practice to a confused discussion panel, and simply himself, in some comic interactions with Kermit about the show. This episode also includes "An Evening at the Pops" (an act featuring balloons), an amusing magic-laden rendition of "You Do Something to Me", and Kermit performing his melancholic theme, "Bein' Green."

13. Bruce Forsyth (25:33) (Originally aired December 6, 1976)
Guest star Bruce Forsyth may not be a familiar face to American audiences (though his largest film credit is in Disney's Bedknobs and Broomsticks), but his comedic talents certainly lend themselves to an enjoyable episode. Forsyth struggles to perform "All I Need is the Girl" with a giant Gawky Bird lurking and gets overshadowed by Piggy in the closing number "Let There Be Love." He also coaches Fozzie through standup, instructing him how to respond to Statler and Waldorf's routine balcony hecklings. There are also musical performances by the horn-nosed Snerfs and the Gogolala Jubilee Jugband, the latter singing about a complicated family tree.
Order The Muppet Show: Season One DVD from Amazon.com