The nominees for the Best Picture Academy Award for 1965's films were fairly representative of what was considered respectable cinema that year. The Oscar would be won by The Sound of Music, the crowd-pleasing musical that evolved from Broadway into a big screen sensation. It bested Doctor Zhivago, David Lean's big romantic epic drawn from a famous Russian novel.

While those two films have remained as well-known and well-loved as any '60s movies, the passage of nearly fifty years has plunged their competition into varying degrees of obscurity. Also figuring in the category were Darling, a British drama that won Julie Christie the Best Actress Oscar; the dramedy A Thousand Clowns adapted from a Broadway play; and Ship of Fools, the first of two movies I'm reviewing today.

The title and cover art for Ship of Fools anticipate a comedy, as does the film's direct camera address of an introduction from a jovial dwarf (Michael Dunn). But, though director/producer Stanley Kramer had just dabbled in that genre with It's a Mad, Mad, Mad, Mad World, this production would actually return him to the more serious fare for which he is better known. The film is adapted from Katherine Anne Porter's 1962 novel of the same name, a Book of the Month Club selection and bestseller whose film rights were quickly and lucratively sold to Columbia Pictures.

The film is almost entirely set on a German ocean liner as it makes a return voyage from Veracruz, Mexico in 1933. Instead of a traditional narrative plot, the film recognizes that everyone aboard has a story. It gives us a chance to survey them with its attentions divided among its international ensemble of passengers and crew members. The sturdiest thread involves the ship's doctor Willie Schumann (Oskar Werner), a scarred family man with heart trouble who is attracted to a middle-aged countess (Simone Signoret) dependent on sleeping aids and other drugs. Contrasted with that forbidden romance is a tested one between a young couple of aspiring painters (Elizabeth Ashley and "Just Shoot Me!"'s George Segal), who are challenged by separate compartments and artistic differences.
Two middle-aged Americans attract attention for the wrong reasons. Randy, drunk, bigoted brute Bill Tenny (Lee Marvin) lusts after Spanish dancers, but is unwilling to shell out their asking price. Bitter, lonesome divorcée Mary Treadwell (Vivien Leigh) starts feeling her age as she celebrates her 46th birthday. In reality, Leigh was 51 and looked even older; she would pass away two years later from tuberculosis, making this her final film.
An assortment of other characters also get notice, like a plain Jane "16-year-old" (Israeli fashion model Gila Golan, actually 25) too embarrassed to dance with her father; a man (Alf Kjellin) who has his seat reassigned once it's learned he has a Jewish wife (ex-wife, actually); and an anti-Semitic Austrian (José Ferrer) who endorses ethnic cleansing when he's not playing ping-pong with his young blonde mistress (Christiane Schmidtmer). There's also a couple that has their dog dine with them, a talented artisan in steerage who has his carving knife confiscated, and a shy, penniless virgin (Charles de Vries) who takes drastic measures to get some money out of his uncle to be with one of the Spanish dancers/prostitutes.
Ship of Fools feels older than it is and not merely because it is set in the past or filmed in black and white. Sure, color had already evolved into the new standard, but there was still enough black and white cinema to warrant separate technical categories at the Academy Awards. In the penultimate ceremony to make that distinction, Ship would win two black and white-specific Oscars, for Art Direction-Set Decoration and Cinematography. The film lost its other six bids, which included lead acting nominations for Werner and Signoret, a supporting actor nod for the diminutive Dunn, and an Adapted Screenplay campaign by future "Kojak" creator Abby Mann, who had won that honor four years earlier by adapting his own story for Kramer's Judgment at Nuremberg.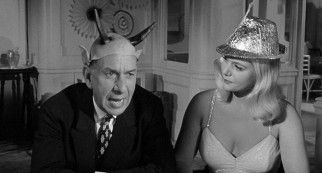 Kramer, who began producing features in the 1940s, is remembered today for making message movies and, as the setting suggests, this is certainly one of those. Passengers deemed Jewish by faith or marriage have different reactions to being seated away from the Captain's table in the dining room, from acceptance to outrage. In case you miss the historic implications of such classification, there is more explicit pontification. Captain Thiele (Charles Korvin), a vulgar man by his own description, quietly expresses relief at the anti-Semite's hateful ideas, confident that such rhetoric could never catch on.

The understanding to a fault Lowenthal (Heinz Rühmann), who makes his living by selling religious necklaces to all faiths, laughs off the notion that the Germans could eliminate such a significant portion of their population. The on-the-nose topical discussions extend to the jam-packed steerage class, where Spanish laborers (including Henry Calvin of Disney's "Zorro") unable to find work in a bad year for sugar crops, start a little riot, just because.

While the allegorical nature and critical reflection on the path to Nazi terror are not implemented in an especially artful way, they do give the film some of its greatest interest and value. Without that historical backdrop, this is simply a long, inert, melodramatic, and very slow character study. Even with the political subtext, Ship of Fools earns all those labels, resembling three weeks' worth of "Love Boat" episodes without the kitsch, laugh track, nostalgia, guest stars, and self-contained storylines. Perhaps it's unfair to compare a Best Picture nominee to a campy '70s/'80s sitcom, but Ship is closer to that than its self-importance and humorlessness suggest.

Ship of Fools was one of a number of Sony Pictures Home Entertainment titles farmed out to Mill Creek Entertainment that made their Blu-ray debuts last month in low-priced Double Features. You can question the unusual decision to make films initially available only in two-movie sets, but little Mill Creek has shown prudence in their pairings, uniting films that have eras and genres in common.
---
Ship of Fools shares its disc with Lilith, a 1964 black and white drama adapted and directed by Robert Rossen from the second novel of J.R. Salamanca. It opens with young, handsome, quietly traumatized Army veteran Vincent Bruce (Warren Beatty) seeking employment at Poplar Lodge, a private insane asylum. Vincent claims he has no particular calling to the expensive, serene facility, but the specter of his late troubled mother hangs over him, as do his own unvoiced demons.
Hired as an occupational therapist in training, Vincent takes a special interest in one patient, the schizophrenic artist Lilith (Jean Seberg), who claims "her people" communicate with her in their unique language. Though not officially diagnosed, Lilith seems to be bipolar and a nymphomaniac, too. But she's also pretty and thus her inappropriate romantic interest in Vincent is reluctantly requited. A patient since age 18, Lilith seems unlikely to realize Vincent's hopes of being cured, but the two begin a relationship in secret.
During a scene in which Vincent sips beers and watches war documentaries, you suspect that subtlety was in short supply in the years before the arrival of New Hollywood. Gladly, that is an isolated bit of heavy-handedness, ultimately standing as an exception in a fairly mature, sophisticated drama.
A screenwriter since the 1930s, Rossen began directing in the late 1940s and soon made All the King's Men, a film that won the Best Picture Oscar but lost the directing and adapted screenplay awards for which he was personally nominated. Rossen was one of many Hollywood figures whose career was affected by the Red Scare. After being named a Communist by several witnesses at the House Un-American Activities Committee, Rossen invoked the Fifth Amendment and refused to testify. Blacklisted and unable to renew his passport, Rossen budged two years later and named 57 individuals as members of the Communist Party.
Rossen was able to regain his footing in the industry and delivered a career highlight in the classic 1961 pool hall drama The Hustler, which raised Rossen's Oscar nomination count to five but kept him winless. The director reportedly clashed with promising young leading man Beatty on Lilith and lost interest in filmmaking as a result. He would die two years later following a series of illnesses while in the early stages of planning a new film.
It's tough to imagine what could have divided Rossen and Beatty, who had worked with respected auteurs but not yet ventured behind the camera himself. The fresh-faced actor seems to be on the same page as the movie, which is big on metaphors and treating the insane with measured respect. Lilith hasn't aged as poorly as Ship of Fools. It only starts to lose its way near its end, taking dramatic turns that don't add up in a satisfying way. Even if the central romance is precarious, there is intelligence and sweetness to the proceedings that makes it easy to remain invested.
Beatty was soon to climb Hollywood's ladder as the producer and star of Bonnie and Clyde. Seberg, an Iowan who had previously starred in Jean-Luc Godard's Breathless, returned to France, then came back to America where she picked up two of her best-known credits in the Clint Eastwood musical Paint Your Wagon (1969) and the influential series-launching disaster film Airport (1970).

Sadly, with her career stalling, she would die in 1979, ending her fourth and shortest marriage at age 40 by an overdose that would be ruled suicide.

Many of Lilith's other cast members would enjoy more longevity. They include New Hollywood icon Peter Fonda, a writer and star of the epochal Easy Rider, as a sensitive "scholar" patient; Kim Hunter, best known under the heavy make-up of Zira from the Planet of the Apes films, plays Beatty's hirer and supervisor; and Jessica Walter, famous today as the alcoholic matriarch of "Arrested Development", appears as Beatty's former love who has married someone else while he was away. That someone else is none other than film legend Gene Hackman, picking up his first theatrical credit and laying the foundation to reunite with Beatty on Bonnie and Clyde for his first of five Oscar nominations (two of those victorious). In addition, a brief, uncredited but easily recognized Rene Aubjernois of M*A*S*H, "Benson", and "Star Trek: Deep Space Nine" fame, makes his first film appearance by far, at the tender age of 23. Even Moonstruck Oscar winner Olympia Dukakis shows up for a few frames during one of the picnic outing scenes.

Lilith apparently wasn't well-received by critics and its only recognition on record is Jean Seberg's Golden Globe nomination for Best Motion Picture Actress in a Drama. Still, the film currently holds a respectable 6.9 rating on IMDb, suggesting it has withstood the years and resonated with fans of Rossen, Beatty, and Seberg.
Blu-ray Disc Details

1.85:1 Widescreen
2.0 DTS-HD MA Mono (English)
Subtitles: English for Hearing Impaired; Not Closed Captioned
Release Date: March 26, 2013 / Suggested Retail Price: $9.98
Single-sided, dual-layered disc (BD-50) / Blue Keepcase with Side Snap
Ship of Fools also available in 4 Movie Collection DVD ($9.98 SRP; October 23, 2012) and on Amazon Instant Video; Previously released by Sony on DVD (December 2, 2003) and in Stanley Kramer Film Collection ($59.95 SRP; February 12, 2008)
Lilith also available on Amazon Instant Video; Previously on Sony DVD (August 24, 2004)
VIDEO and AUDIO

In its first DVD appearance back in 2003, Ship of Fools appeared in cropped 1.33:1. Then, 2008's Stanley Kramer Film Collection restored the film to its original theatrical aspect ratio. Mill Creek's Blu-ray thankfully opts for the latter, presenting the drama in its intended 1.85:1 widescreen. The picture quality looks pretty fantastic from a distance. There is the occasional white speck, but for the most part, the element is sharp and spotless. If you look more closely, though, you'll spot some very digital-looking grain.

There are also a few other minor blemishes, like colorless lines on the screen. For a film like this that isn't popular enough to warrant a more drastic restoration, the results here are plenty satisfactory. The film's 2.0 DTS-HD master audio soundtrack also holds up surprisingly well, the recordings staying clear throughout. Gladly, English SDH subtitles are provided, which could come in handy when the cast's either genuine or convincing German accents slip past you. They're also useful for getting the proper spelling of character names.

Lilith too is presented in 1.85:1, as it was on its one and only 2004 Sony DVD release. The results are similarly delightful from a standard viewing distance and they even hold up when subjected to close scrutiny. The element stays stunningly clean and appropriately sharp and defined, especially considering its age. The film's 2.0 monaural DTS-HD master audio mix is also commendable. You can spot a few moments where post-production looping wasn't perfect, but the recordings maintain weight and clarity. Again, English SDH subtitles are gratefully offered, though you aren't likely to consult them unless you truly are D or H.
BONUS FEATURES, MENUS, PACKAGING and DESIGN

Neither film gets any bonus features here. That matches Lilith's total number of DVD bonus features, but it is a downgrade for Ship of Fools, which was joined by its original trailer on its original DVD and by a photo gallery,

a Karen Kramer introduction, and the featurettes "Voyage on a Soundstage" and "Onboard the Ship of Fools" on its Stanley Kramer Collection rerelease.

Mill Creek Entertainment is obviously limited by what they can get their hands on, but it makes no sense that they and Sony would allow relevant, easily transferrable extras to disappear and cloud what could and should have been an easy upgrade. Customers shouldn't have to choose between extras and a better feature presentation. At the very least, Mill Creek should make trailers a standard inclusion, as they seemed to be doing at one point.

Each film gets its own menu of rectangles that display stills and play clips while excerpts of opening credits' score is looped. The disc doesn't allow you to place bookmarks on the film, but does remember and resume where you left off if you didn't finish one of the movies.

Unsurprisingly given the rock-bottom list price, no inserts, slipcover, or reverse side artwork jazz up the side-snapped blue keepcase.
CLOSING THOUGHTS
Though it's one of only fifty films nominated for the Best Picture Oscar in the 1960s, Ship of Fools is not something many would be quick to declare among the greatest works of its decade. Stanley Kramer's at sea drama is not the most enduring of films and makes for quite a laborious watch today, but it does hold interest for a number of reasons, among them it being the final film of Vivien Leigh. Lilith falls more in line with today's tastes and is fairly easy to enjoy on its own merits in addition to its fascinating parade of talented young actors with long careers ahead of them.
The loss of Ship's bonus features is unfortunate and prevents this low-priced platter from being a clear-cut upgrade despite its probably significant gains in picture and sound. That said, the Kramer box set holding those extras presently commands upwards of $25 in the second-hand market, while this double feature BD carries an SRP of just under $10 and adds a superior film. While the major studios largely resist making their voluminous libraries available on Blu-ray, Mill Creek deserves credit for licensing titles with relatively high quality presentations yet bargain bin pricing. At the low asking price, it's easy to upgrade movies merely worth seeing to movies worth buying, especially if it allows for more output of this caliber.
Buy Ship of Fools & Lilith: Double Feature Blu-ray at Amazon.com