Though Paths of Glory was his fourth feature film in a career that would only reach thirteen, Stanley Kubrick was not a household name when he made it. Of his three movies that preceded the 1957 World War I drama, one exists exclusively in bootlegs (Fear and Desire), one remains only slightly less obscure (Killer's Kiss), and one is regarded as the first taste of the director's brilliance but only by those who have sought it out (The Killing).

Paths of Glory is Kubrick's first film with a big movie star and his first widely recognized as something truly special. Beginning with The Killing and continuing with Paths, nine of Kubrick's last eleven films presently reside on the much-cited Top 250 list of the Internet Movie Database. That alone impresses, but when you consider how heavily the list skews towards young male tastes and the latest cool films, the achievement becomes downright astonishing.

Loosely based on a novel inspired by true events, Paths of Glory tells the story of an injustice occurring within the French army as they struggle to stave off German forces in 1916. The movie begins with General Broulard (Adolphe Menjou) approaching General Mireau (George Macready) about the prospect of taking "The Anthill", an important but well-defended position, from the Germans. Mireau anticipates the proposal and swiftly refuses it as an impossible mission. When Broulard mentions that Mireau is being considered for a promotion, the high-ranking but subordinate general reconsiders the offer and accepts.
While Mireau's reputation is on the line with this mission, the actual commanding falls to Colonel Dax (Kirk Douglas), who is devastated to learn that estimates expect more than half of his troops killed in the battle. Though Dax seems well aware that taking The Anthill with no support and no preparation is beyond improbable, he is compliant and determined to lead his fatigued regiment to triumph.
But this is no tale of heroism. As feared, the French forces are no match for the German stronghold. The regiment is so overpowered that men can barely make out of their trenches, let alone to their own wire fences. Appalled by the efforts, Mireau orders soldiers to fire at their own positions. They refuse, citing the need for such orders to be in writing. When the dust settles, Mireau airs his grievances to Broulard, announcing his plans to charge one hundred men with cowardice in the face of the enemy. After some discussion, Mireau agrees to settle for just one soldier from each of the three companies involved.
Colonel Dax, an accomplished criminal lawyer before the war, volunteers to defend the three charged soldiers, who if convicted would face a firing squad. None of the soldiers has valid reason for being selected by their commanding officer; one (Joseph Turkel) pulled the wrong card in a random drawing, another (Timothy Carey) is deemed "a social undesirable", and the third (Ralph Meeker) believes (quite reasonably) that confronting his superior about his cowardice has made him a vengeful pick. While Dax is prepared to give the men a fair fight, the martial court isn't really interested, disallowing character witnesses and potentially enlightening testimony. Can this possibly end in the way viewers see that it should?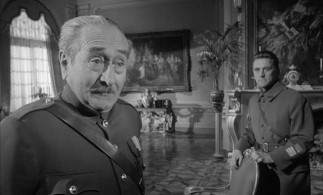 War was the one subject Kubrick dealt with most in his five decades of ambitious, meticulous, reclusive filmmaking. The director's opposition to combat is evident in both Paths of Glory and his penultimate work, the segmented Vietnam drama Full Metal Jacket. In between those, Kubrick used the Third Servile War for inspiration in the slave uprising epic Spartacus (which reunited him with leading man Douglas), the Cold War for satire in Dr. Strangelove, and the Seven Years' War for circumstance in Barry Lyndon. In addition, Kubrick's first film Fear and Desire (prints of which the self-condemning director supposedly acquired to suppress) centered on a fictional war.
Like most people, I haven't seen Fear and Desire, but among Kubrick's other war films, Paths of Glory is easily the most bleak and humorless. In fact, beyond some early banter that could register as amusing, there seems to be nothing deliberately comical about the picture. There's nothing wrong with that. Kubrick, a mere 27 years old during filming, hadn't yet developed his subversive sense of humor or tastes for the absurd and interpretive. As a straightforward drama, Paths is sharp, taut, and unflinching. It's also downbeat and grim.
What it's not, at least not to the same high degree as many of Kubrick's films, is divisive. There isn't much common ground for a person to find as reason for liking every one of the director's films. But it seems that each film benefits from the legend of the man, his extreme methods, his defiance of convention, and the controversy that lingered over almost everything he did. Paths of Glory appeals to fans of old war movies and Kubrick buffs alike. It is specific in its criticisms of military hypocrisy and rank politics but also clear in its general dislike of every aspect of war.
Paths may not lend itself to the studious dissection that Kubrick's subsequent movies do, but it does have its fair share of interesting directorial decisions.

Though at its heart, it's an uninspirational legal drama, the film doesn't shy from depicting its critical piece of combat. You'd be hard-pressed to find something as ambitious in 1950s cinema, with its long, mobile view of the impossible battlefield full of explosions and chaos. As the film progresses, we move away from Dax (seeing very little of the little defense work he is afforded) and onto the imprisoned soldiers, seeing their hopes dwindle and hearing their fears articulated. Such scenes grant the film humanity that's subservient to thrills and bravery in many war movies. An earlier scene does the same, as a philosophical soldier waxes on the various ways to die and the degree to which they're feared.

For all its subtlety and complexity, the film can't help but contain some of the broadness common to its production era. The characterizations are generally cut and dry. Kirk Douglas is the good guy, supplying moral heroics with the conscience, varied intonations and calculated eruption you probably know from one of his other stout-hearted turns. George Macready, prominent face scar and all, is the unrepentant villain who doesn't even seem human in compromise. Claiming less screentime, Adolphe Menjou provides a shade of gray, but even his sociable General Staff official gets called out for his inaction with no uncertainty.

The film concludes with a captured young German woman (Susanne Christian, soon to be Kubrick's third and final wife) whose onstage singing in her native tongue moves an audience of French soldiers from rowdy lewdness to tears. The discussable coda, an unusual end for a 1950s film, sets the stage for the filmmaker whose meanings could be debated while his means almost universally exalted.

Though not among Kubrick's very best-known or most-loved features, Paths of Glory is the director's first admitted into The Criterion Collection. That seems more of an ownership issue than anything else. As a United Artists release, Paths is part of the library of MGM and Fox, studios that have been happy to collaborate with the boutique film lovers line lately. While the majority of Kubrick's work is proudly distributed by Warner and Dr. Strangelove has been loved by Sony, the early Kubrick films Killer's Kiss (1955) and The Killing (1956) are MGM property. I think that makes the latter especially a likely and exciting candidate for future Criterion treatment.
DVD Details

1.66:1 Anamorphic Widescreen
Dolby Digital 1.0 Mono (English)
Subtitles: English
Not Closed Captioned; Extras Not Subtitled or Captioned
Release Date: October 26, 2010
Single-sided, dual-layered disc (DVD-9)
Suggested Retail Price: $29.95
Clear Keepcase
Also available on Blu-ray Disc ($39.95 SRP)
VIDEO and AUDIO

Paths of Glory is the latest Kubrick film to receive a widescreen DVD transfer following a fullscreen one. Most of the director's output, Warner claimed, was intended to be viewed in 1.33:1. Those claims were forgotten or amended last time around (2007), when all the revisited Warner-distributed movies were given new 16:9 transfers on DVD and the then two high-def formats. Paths, which made its DVD debut in June of 1999 alongside Warner's films and Eyes Wide Shut's theatrical opening, was deemed to be in its theatrical format by MGM.

Those who know film history, however, know that by 1957, movies were generally being made in widescreen. If any studio can be trusted to get something it right, it is Criterion. Their 1.66:1 anamorphic widescreen transfer does not arouse any framing concerns. It also doesn't elicit any major quality concerns, particularly in light of its age.

The black and white picture is clean and sharp, suffering from no woes greater than rare, barely-registering flicker. The visuals are consistent and consistently pleasing. While I was unable to get ahold of the movie's MGM DVD in time for this review (even though I either have or had a copy of it somewhere), I have no doubt that Criterion's widescreen 2010 presentation blows away MGM's 20th century one. Online screencaps show that we do lose a tiny bit of height on this new DVD, but no doubt we're getting the right amount of picture.

The monaural soundtrack is unusually potent for a single-channel mix of a 50-year-old film. It delivers dialogue, effects, and music cleanly and without any major sign of age. There is real impact to the mix, which it's tough to believe emanates from just one speaker with the deft way it is experienced. There isn't much more to say, but that's only because this is so satisfying, in contrast to the distorted, dated audio I remember the film offering on its original DVD.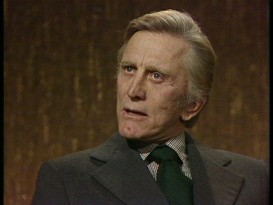 BONUS FEATURES, MENUS and PACKAGING

Criterion's robust supply of extras begins with a feature audio commentary by critic Gary Giddins. Extremely well-prepared, Giddins almost sounds like he's reading from a script

as he touches upon every key player, every fascinating detail, and similarities to and differences from the source text. He's an engaging and articulate speaker who throughout complements what's onscreen with superb research and observation.

Next comes a 2-minute short that sets a 1966 Stanley Kubrick audio interview with author Jeremy Bernstein to a slideshow of relevant photos. The director discusses Paths of Glory and the wife he gained from it.

The disc's best bonus feature is a Kirk Douglas interview from the February 3, 1979 episode of British chat show "Parkinson" (29:27). Though Paths of Glory is only discussed for a few minutes, Douglas makes for an interesting and revealing guest for host Michael Parkinson. Among the topics touched upon: growing up poor in a house with seven women, his tough guy reputation, his lack of an Oscar win, career decisions, and stunts. This complete segment concludes with Douglas proudly doing something he's not known for: singing a song.
James B. Harris, who was just in his twenties when he produced Paths of Glory, looks back at the film in a new video interview (21:08). He largely recalls the nature of production, covering the project's development, the lack of French accents, the sentiments that steered the shoot, and sneaking the film's unhappy ending past the studio execs.
In another new interview, Christiane Kubrick, the director's widow, also reflects on the film (6:58), one of her few as an actress. She comments on her input to this film, her husband's work in general, and her preference for art over acting.
The final new interview is with Jan Harlan (9:07), Kubrick's brother-in-law, biographer, and repeat executive producer. He provides an objective, informed analysis of Kubrick's methods and life's work.
A January 1997 report from French news program "JT Basse-Normandie" (3:10) briefly tells the story of Théophile Maupas, the executed World War I corporal among those who inspired Paths of Glory. Subtitled in English, the clip looks over the efforts by Maupas' widow and others to clear the names of him and his colleagues.
Last but not least is the movie's 3-minute original theatrical trailer, a thankfully standard inclusion for Criterion.
Starting with sound effects and moving to score, the main menu (the DVD's only animated one) features the long shots of Dax walking among the troops in the trenches.
Inside the clear keepcase, which shows genuine thought on both inner and outer cover artwork, a booklet contains chapters, credits, and a 7-page essay from Kubrick biographer James Naremore. It is a rich but grounded article that informs with a minimum of ostentation.
CLOSING THOUGHTS

Paths of Glory seems to split audiences to a lesser degree than Stanley Kubrick's more famous later films.

The hopeless story is too much of a downer to consider this an enjoyable movie, but it is well-made, fast-paced, and deeply stirring.

Criterion's new release gives the film the prestige befitting it. This may not be as expansive as some of the studio's other sets, but it's a fine disc, providing a substantially improved feature presentation and first-rate extras, most notably a great audio commentary and vintage Kirk Douglas interview. Furthermore, having just one disc keeps the DVD's price down to a more reasonable rate. While the film's replay value may be somewhat limited by its depressing subject matter, the set otherwise is strongly recommended.

More on the DVD / Buy from Amazon.com / Buy on Blu-ray / Buy the MGM DVD / Buy the Book