Every month on the Criterion Collection's Facebook page, the company teases upcoming releases it is soon to announce,

allowing fans to speculate and anticipate. Every month, at least one and usually more would voice a wish for Badlands to enter the ranks of the boutique line's esteemed world cinema. Criterion has apparently listened in what is either the first or one of the first times they've been able to collaborate with Warner Home Video, the world's biggest movie library, on a title.

Today, Badlands, the 1973 film that launched the strange and beautiful directing career of Terrence Malick joins two of his later films (Days of Heaven and The Thin Red Line) in Criterion's catalog at a time when the filmmaker is the most productive he's ever been, with 2011 Oscar nominee The Tree of Life and four forthcoming releases in the course of just a few years surpassing the total number of films he directed over the four previous decades.
Badlands tells the story of two young people from small town South Dakota in the late 1950s. Twenty-five-year-old Kit Carruthers (Martin Sheen) is a solemn, thoughtful garbage man with no particular ambition. In the film's opening moments, he introduces himself to Holly Sargis (Sissy Spacek), a baton-twirling 15-year-old. The two start a relationship in secret. When Holly's widowed sign painter father (Warren Oates) finds out, he shoots Holly's dog and flatly disapproves of the relationship on no specific grounds.
Refused a chance to prove himself, Kit takes drastic measures without premeditation, shooting and killing the old man. Rather than face the consequences, he and the naive Holly take off, leaving behind the corpse in a blaze with a looped coin-operated booth record confessing the murder and the couple's own suicide. But, Kit and Holly don't really kill themselves, they just shut themselves off from the world around them, building a tree house with booby trap protection in the wilderness. When bounty hunters come looking, Kit adds to his criminal record and body count, requiring the young outlaws to flee elsewhere.
Though not advertised as a true story, Badlands is very clearly based on the case of Charles Starkweather and Caril Ann Fugate, a teenaged couple from Nebraska who went on a killing spree throughout the Great Plains that lasted for two months. The names are changed, the more heinous crimes are omitted, and Malick interestingly chooses not to turn the leads into unsympathetic monsters. Both Kit and Holly are depicted as disaffected youths in a dead-end town who unintentionally stumble into murder and cannot help but fall deeper into a criminal lifestyle to protect themselves.
It's a fascinating portrayal that stands more as its own drama than an account of the true crimes. Malick, who also wrote and produced the film, does not glamorize the outlaws, though each is shown as a good-looking, clean-cut American. Nor does he justify or excuse their actions. Instead, the film is about finding the couple's perspective and trying to make sense of it. We sympathize with both of these characters, who are more antiheroes than villains. They're young, confused, and lack friends, a supportive family, and life prospects.
Both Kit and Holly seem to regret that first taste of murder, but with no clean alternative, Kit comes to relish his ability to defy death and eliminate those posing a threat. By the end of the film, he seems to take genuine delight at leading police on a high-speed chase through the Montana desert. It may even make him feel more alive than the company of the quiet, freckly Holly.
There is definitely potential for the subject matter to render Malick's debut sensationalistic or distasteful,

like a Natural Born Killers only with real murder victims at the foundation. However, any inkling of that reaction fades as you are swept up by the distinct and confident arrival of an important filmmaker. Movie fans puzzled by the respect that Malick's name commands from his few obtuse yet acclaimed modern films (The Tree of Life, The New World, The Thin Red Line) need only see Malick's debut to understand the legacy.

In Badlands, Malick supplies a straightforward, traditional narrative. The director's recent works have been more comparable to epic poems, sprawling in their focus and meandering in their presentation. Here, the cinematic power of those is tied to a taut and tremendously compelling character study. Malick makes excellent use of both image and sound. He captures the rarely dramatized Great Plains with purpose and precision. There are only a few hints at the late-'50s setting and they're all you need, because the fifteen years separating the real crimes from this filming seem all the more insignificant when removed another forty years.

Images of nature and geography complement the primordial actions of our characters. While conveying a specific period and place, the film simultaneously has a timeless and even post-apocalyptic feel to it. The latter may just be due to the unpopulous nature of the Northern Planes. The former meanwhile is reinforced by moments of destruction and self-documentation, as in when Holly wonders what people a thousand years from now will think upon finding the ordinary items they bury. There is a subtle but certain sociological and archaeological awareness to this.

Sound is also critical to the film's success, from the diary-like Spacek narration that pervades the film to the ambient noises of nature that define the desolate setting to the inspired incorporation of music including a recurring use of Carl Orrf's uplifting, instructional "Gassenhauer" and a haunting, effective children's choir.

The overflowing artfulness in what might just be another Bonnie and Clyde tale is a testament to the gifts of Malick, then just a fledging young screenwriter. Malick even plays a small role in the film, which is more significant now that his reclusiveness and reluctance to be photographed are well-known.
Predating the introduction of a PG-13 rating, Badlands could either stand today as a hard PG or a tame R. It is the former, which is somewhat surprising given the nature of its violence (admittedly still mild by today's standards) and amusing since PG is largely reserved for animated comedies these days.
By the way, has anyone ever noticed that the underrated 1990 comedy Men at Work stars Martin Sheen's sons Emilio Estevez and Charlie Sheen as garbage men who similarly rifle through and comment upon the trash they collect? Seems like those boys truly take after their father, even if the two movies (which even each contain the memorable line "He was provoking me") seem unlikely to invite many comparisons.
Available in a single-disc DVD and a single-disc Blu-ray that supplement but do not replace Warner's barebones 1999 DVD, Badlands claims spine number 651 in Criterion's storied canon.
Blu-ray Disc Details

1.85:1 Widescreen
1.0 LPCM Mono (English)
Subtitles: English for Hearing Impaired
Not Closed Captioned; Extras Not Subtitled
Release Date: March 19, 2013
Single-sided, dual-layered disc (BD-50)
Suggested Retail Price: $39.95
Clear Keepcase
Also available as DVD ($29.95 SRP)
Still available as Warner DVD ($12.97 SRP; April 27, 1999; repackaged in 2011)
VIDEO and AUDIO
Criterion's reliable restoration efforts ensure that Badlands looks great in high definition. The 1.85:1 transfer isn't spotless, but it is close, which is quite impressive, especially for a low-budget 40-year-old movie. Sharp, clean, and nicely upholding the earthy color palette intended, the picture is highly satisfactory and age-defying.
The 1.0 LPCM monaural soundtrack is less breathtaking, but it too is commendable, especially when you learn that the vast majority of the film's dialogue had to be re-recorded in post-production. Between the thick accents and the film's quiet design, you may need to consult the impeccable English SDH subtitles. It's worth noting that Warner's DVD apparently presented the film in Dolby Digital 5.1. That Criterion doesn't offer a similar surround remix suggests that Malick doesn't approve of one.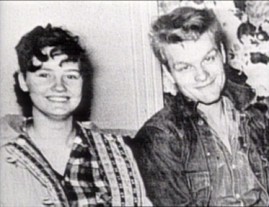 BONUS FEATURES, MENUS, PACKAGING and DESIGN

Without removing the mystery of Zoolander-loving Terrence Malick (there's nary a behind-the-scenes image of him), Criterion still manages to put together a solid collection of HD extras here.

First and most substantial is "Making Badlands" (41:25), a brand new documentary that interviews Martin Sheen, Sissy Spacek, and art director Jack Fisk (Spacek's husband of nearly 40 years).

All three fondly and vividly reflect on the film as an important experience from near the beginning of their careers. It's a great retrospective.

Two other Badlands crew members get their own new video interviews taped last fall. Producer Edward Pressman (12:34) recalls how he got into the business, the somewhat tumultuous shoot, and the film's reception. Editor Billy Weber (21:52) discusses making his debut alongside Malick, touching on specific challenges and revealing some of the featured animals were stuffed.

In the unexpected but appropriate department, we get the half of a 1993 episode (20:46) of the A & E show "American Justice" (called "Notorious" in Biography Channel syndication) dealing with Charles Starkweather and Caril Ann Fugate. A compelling report with a '90s television feel, it includes valuable photographs and clips from crime scenes and the investigation, a then-new interview with Starkweather's prosecutor, and even a few Fugate remarks spanning from 1976 to 1993.
On-disc extras close with the film's original theatrical trailer (2:56),

a long, old-fashioned preview utilizing freeze frames and narration, while revealing too much.

Sadly, there's no interview of Bruce Springsteen, who reportedly wrote "Nebraska" (not "Badlands") after seeing the film on television.

The menu perfectly sets a simple montage of clips to "Gassenhauer." As always, Criterion authors this Blu-ray to resume playback absolutely in addition to allowing you to place bookmarks on the film. Menu selection response time seems to have been shortened too.

It wouldn't be a Criterion release if this section ended there. Badlands gets one of the company's substantial booklets inside the case. The heart of this 24-page staple-bound companion is "Misfits", an essay by filmmaker Michael Almereyda. It offers thorough analysis and some thoughts on the elusive Malick amidst the usual disc acknowledgements and transfer information.
CLOSING THOUGHTS
Badlands is one of the all-time great directing debuts and it's one that Terrence Malick has yet to best even as his ambitions and technical prowess have grown. Long worthy of a better release, this masterpiece finally gets it in this strong Blu-ray Disc that's likely to satisfy both Malick fans and the faithful Criterion customer base that will be happy to discover this 1970s gem.
Support this site and great cinema when you buy Badlands from Amazon.com:
Criterion Blu-ray / Criterion DVD / Warner DVD