Sing Along Songs: Disneyland Fun - It's a Small World is one of four new Disney DVDs being issued this September to mark the 50th Anniversary of Disney theme parks. A few things distinguish this disc from the rest of the batch. Disneyland Fun is the only volume set at the originating park, the one which Walt Disney lived to see realized. While all four titles were initially released to VHS last decade, Disneyland Fun is also the oldest, having debuted on home video in the summer of 1990. The feature itself has not been updated in any way whatsoever from its first incarnation. As a result, it offers nostalgia quite different than that which the golden anniversary has mostly provided, since it harks back only fifteen years rather than to the Anaheim park's 1955 launch.
For Disneyland Fun, as much as any of the studio's DVDs, we must hop in our time machines and return to 1990, when Disneyland celebrated its 35th anniversary, The Little Mermaid was classified as a hit rather than the start of a Renaissance, and the zany title character of Touchstone's 1988 blockbuster Who Framed Roger Rabbit apparently assumed a theme park presence as large as icons like Pluto and Goofy.
This volume starts with the old Sing Along Songs opening, which features animation of Professor Owl and his music class from the 1953 short Toot, Whistle, Plunk, and Boom. After they appear to perform the Sing Along Songs Theme, Professor Owl appears to briefly introduce the volume in the same fashion (recycled animation with new matching dialogue). Then, the Disneyland Fun unique to this DVD kicks into high gear.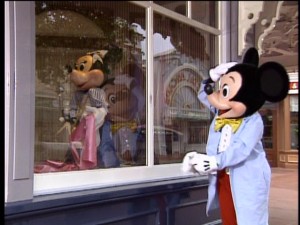 Disneyland is about to open, and Mickey, Minnie, Donald, Pluto, Goofy, Chip, Dale, and Roger Rabbit are making sure everything is clean, ready, and just right for the guests' arrival. While engaging in their duties, they appropriately sing "Whistle While You Work" from Disney's first animated film Snow White and the Seven Dwarfs. The park then opens, and the masses enthusiastically arrive (without bag checks or long lines) to "Step in Time" from Mary Poppins. Most of the lyrics from these two and subsequent songs appear on screen enabling you to perform the series' essential duty (singing along) with a little bit of effort. These aren't as refined or animated as today's ones are (each song features a different basic font), but they serve the purpose and when they are absent, you are assumed to have caught on to the song.
Having ushered the happy crowds into the park, we now begin exploring the various parts of Disneyland. First, the eight previously-seen personalities are joined by Alice and the White Rabbit, Mary Poppins, Bert, and their assorted penguin friends for "I'm Walking Right Down the Middle of Main Street U.S.A.", a catchy, laid-back ode to the turn-of-the-20th-century section of the park that Disneyland visitors first pass through.
"Follow the Leader" from Peter Pan accompanies our introduction to Adventureland. Children gleefully waddle behind Donald Duck into the area and then check out the beloved faux-safari Jungle Cruise ride. Tom Sawyer Island and its adjoining areas are explored with "The Great Outdoors" sung by the Country Bears, whose unconvincing old cape-topped design is more than a little alarming.
Uncle Remus' enduring "Zip-A-Dee-Doo-Dah" is performed as the visitors and their character buddies race through many of the most famous rides in different parts of the park, including the roller coaster Thunder Mountain, the Song of the South-themed Splash Mountain, the Star Wars-inspired simulator Star Tours, the Matterhorn bobsleds, the monorail, and Autopia (which is tame enough for Roger Rabbit). Dating this segment a bit (but no more than any of the others), the song is given a bit of an early '90s hip-hop twist in its middle, with appropriately-timed neon "Zip" graphics.
Pooh's hunger anthem "Rumbly In My Tumbly" sets up a none-too-subtle reminder of the many overpriced dining options there are at Disney theme parks. As a "Hunny" pot bounces along with the Sherman Brothers' bouncy lyrics, footage shows young parkgoers consuming it all, from chocolate bananas to Mouse Ear pancakes served by Donald. As you might expect, the old costume designs of Pooh, the near-neon Tigger, and Eeyore are readily on display in this segment.
"It's a Small World", from the boat ride of the same name, sets the stage for all of Fantasyland's many sights and sounds. Most of what is promised won't actually be delivered for park visitors, such as having Alice in a spinning tea cup for the Mad Tea Party, the White Rabbit along for the title attraction, and Snow White aboard Dumbo the Flying Elephant, but it makes for interesting visuals, I suppose.
The lyrics and images for the next sequence, "Making Memories", amount to a prolonged advertisement for cameras and film (they were written by Brothers Sherman for a Kodak-sponsored pre-show), while highlighting another attractive aspect (the ability to document) of a Disneyland vacation. What follows - "Grim Grinning Ghosts" - is slightly more imaginative, though it only depicts a tiny bit of the Haunted Mansion ride from which the selected song stems. Most of it features Disney villains (the Wicked Witch of Snow White, Maleficent from Sleeping Beauty, Captain Hook, and the Big Bad Wolf) ghouling it up outside the spooked New Orleans Square site along with Donald in a ghost suit and some dancing trees.
Brief but enticing, "The Character Parade" shows off another attraction of the park. Finally, "When You Wish Upon a Star" bids a slow-motion nighttime farewell to guests as Mickey, Minnie, and company escape through Sleeping Beauty Castle.
All in all, Disneyland Fun runs just 29 minutes including end credits, which seems short, but is appropriate for the intended pre-school audience and does pack in more fun and activity than your typical half-hour of television. Still, while highly entertaining for those familiar with the Anaheim park (a class I finally entered this past July), it does not amount to much more than a promotion for a Disney vacation or a vicarious trip down memory lane. That might be enough for you, especially if you have fond memories of the old videocassette. Just make sure you don't expect anything new, for even the post-credits listing of the first six Sing Along Songs volume titles (none of which have been released to DVD) remains intact.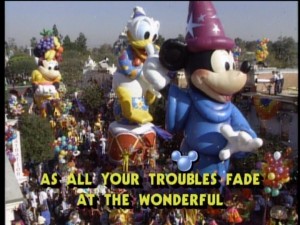 VIDEO and AUDIO
As stated before, the program itself hasn't been touched, so unsurprisingly, it looks pretty much how you'd expect a 15-year-old video taping to look, without any drastic or noticeable remastering work done. It beats the VHS presentation by the sheer increase in resolution and the non-degrading nature of the format. Otherwise, the master does not yield results greatly different from what the cassette would have looked like brand new and unplayed. The element is satisfactorily clean, but the picture is never as detailed as film or as a higher-budget production would be. Throughout, the video looks soft and a little washed out in comparison to the sparkling new productions and thoroughly remastered classics we're used to seeing in most of the high-profile DVDs Disney releases these days.
The average bitrate is an impressive 7.74 Mb/s, which is not surprising since all that's on the disc is a 29-minute program, four menus, some previews, a 5.1 track, and one subtitle stream. Even so, the slight disc only makes use of 2.16 GB of space, or about half of a single layer, which makes an alternative release method seem like an obvious choice (more on that in "Closing Thoughts").
Though encoded as Dolby Digital 5.1, like most Sing Along Songs DVDs, this one does not deliver an abundance of demands upon your surround system. In fact, surround speakers appear to only provide subtle reinforcement of the front channels; there is little noticeable speaker separation among the orchestration. As you'd suspect, the track's most apparent offering is music, which is delivered in crisp and clear fashion. No distortion was noted, nor was there any problems with the dialogue (which was looped for characters) and recorded sounds of park excitement. While it doesn't pack the dynamic Disney Enhanced Home Theater Remix wallop you might have hoped for, the audio performs just fine.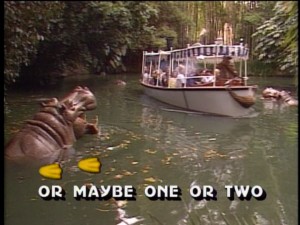 BONUS FEATURES, MENUS, and DESIGN
Neither Disneyland Fun nor any of the three concurrently-released Sing Along Songs volumes contain any bonus features. The disc opens with previews for Cinderella: Platinum Edition, Pooh's Grand Adventure: The Search for Christopher Robin, Disney Princess: A Christmas of Enchantment, and Chicken Little (which is at least the latest theatrical trailer, rather than the spot that usually appears on DVD). The Sneak Peeks menu offers a second page with previews for the next wave of Disney Learning Adventures, the latest wave of Disney Princess DVDs, and Disney's Princess Fantasy DVD Game.
The 4x3 menus match the other new-to-DVD volumes. The animated Main Menu (set to an instrumental of Sing Along Songs theme music) features bouncing musical notes with still images, which move across note paper in front of the Sleeping Beauty Castle at night. The golden Mouse Ears of the 50th Anniversary adorn each note and appear next to the title at top. None of the sub-menus are animated nor do the backgrounds even change, but the imagery is unique to the disc and Set Up is accompanied by a portion of the Sing Along Songs theme tune instrumentation. As you'd expect, the 14 chapters of the Song Selections menu take you directly to the twelve included songs, the program's opening or closing.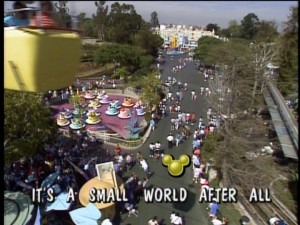 CLOSING THOUGHTS
Disneyland Fun is the best of the studio's lot of four Sing Along Songs making their DVD debuts this week. The songs are appropriately selected, the performances and other visuals are well-staged and edited, and most of the important attractions and characters of the 50-year-old theme park get their due screen time (as they were fifteen years ago). Another nice thing about is that the program's unique format ensures you are not just getting musical excerpts from DVDs you may already have as the case is for other volumes in the line.
Fans of the Anaheim resort should find some value in this, in spite of (or perhaps partly because) the fact that the featured presentation has not at all been altered from its 1990 home video debut. For the ever-renovated Disneyland, that means character designs have changed, attractions have come and gone, and the fashions of park visitors have been updated as well. Those expecting a new or revised program will be disappointed, but those wanting to see what things were like at the time of the Park's 35th Anniversary will be satisfied, as will those who owned the video and simply want it on a non-degrading format.
Still, even as the best of these new DVD volumes, Disneyland Fun leaves a little to be desired. A lengthier program would have allowed for the overlooked portions of the park to have been covered in additional song selections. That much is excusable, since it applies to the way the Sing Along Songs format has always been, making the complaint more than 15 years too late. But, though it is at bargain bin prices from the get-go, $10 still seems a little pricey for a half-hour of musical nostalgia/Disneyland ad. Furthermore, with no bonus features whatsoever, I think a 4-title disc would have been a better route to have taken for both Disney and viewers, with all four of the theme park volumes (running about 2 hours) easily fitting on a dual-layered disc, and making for a more attractive value.
As it is, if you only get one of the theme park Sing Along Songs volumes on DVD, this is the one to opt for. If/when the delayed Disneyland 50th Anniversary disc Secrets, Stories & Magic of the Happiest Place on Earth ever emerges, it may render this superfluous. Until then, Disneyland Fun lives up to its title and remains your only non-Park exclusive DVD offering copious amounts of relatively "modern" theme park footage.