By Aaron Wallace

Few films are as revered as Cinderella, the 1950 animated classic that may just be the most widely adored of all in the Disney canon. These days, success at the box office opens the window of opportunity for a lucrative line of sequels. After half a century has passed, though, that window is generally understood to be closed... unless, of course, it looks into the office of a high-ranking Walt Disney Company executive. For Disney, no film is too old or too admired for resurrection, which explains why I'm writing to tell you about not the first but the second sequel to Cinderella.

Cinderella III: A Twist in Time essentially overlooks 2002's Cinderella II: Dreams Come True. That's a good thing because all anyone needs to know about that installment is that it may be the worst "movie" Disney has ever attached their name to.

With very little development and no real plot, there was nothing much to offer in the way of informing a third chapter. The chronologically-minded can rest at ease, however; the second film's silly stories from Cinderella's earliest days as Queen-to-be still seem to fit into place before her one-year wedding anniversary to Prince Charming, where the third film picks up.

As the title suggests, A Twist in Time takes viewers back into the original Cinderella film to explore one ominous quandary: what if the slipper didn't fit? Or, as is more closely the case, what if it had fit stepsister Anastasia first? Having nabbed the Fairy Godmother's wand, Lady Tremaine (more commonly known as "Evil Stepmother") turns back time to ensure that her daughter by birth winds up at Prince Charming's side, hoodwinking the kingdom and forcing Cinderella to continue her life of mistreated servitude. Once the ever-friendly mice, Jaq and Gus, figure out what's going on, they and Cinderella devise a plan to expose Lady Tremaine and recapture Prince Charming's affection.
A weighty drama of political intrigue and royal corruption ensues. Okay, not really, but far from the parodic tone of The Lion King 1 ½, Cinderella III does take itself seriously.

Rather than poking fun at the original story, the film is genuinely interested in exploring this new direction. In comparison to the first two films, it's more an action-minded movie, featuring more prominent use of magic and the introduction of time travel, a staple of science fiction that isn't normally associated with a fairy tale like Cinderella. That this "twist in time" is achieved through magic allows the film to get around some of the technical trappings of time travel mechanics. Ultimately, though, the manipulation of space and time is believable -- more-so than The Butterfly Effect's, at least, even while less sophisticated than Star Trek or Back to the Future. That the filmmakers took the time to sort out all the kinks that can arise from such a story is a testament to the movie's merit.

At the risk of giving one movie a title only to change my mind and give it to another later, I think Cinderella III might be the best direct-to-video sequel to an animated classic that Disney has released to date. It is adventuresome, compelling, and for the most part, reverential towards the original. It is also funny, touching, and fresh. It is particularly exciting for fans of Disney's villains like myself, as Lady Tremaine steals the show and fuses the realistic terror that has always been her most fearsome trait with the dark magic of other villain greats. The good guys aren't neglected in the process, though. Prince Charming becomes a more visible and vocal character, given far more screen-time here than he has before and even feminist critics of the original movie might be appeased by Cinderella's opportunity to flaunt her skills of independence (though I doubt it). Even the stepsisters are paid more attention, as Anastasia's transition from bad guy to heroine (a trek begun in Cinderella II but fully realized here) moves to the forefront. The script believably addresses the questions and problems that would likely come about in the wake of the original movie, something the second film tried to do but failed.

Of course, immediately after offering up such praise, I must quickly point out that the movie is very far from perfect. Despite the packaging's claims, this sequel is not "bursting" with "more magic, wonder and suspense than the original", nor is it "just as magical as the original" either. Walt Disney's Cinderella is one of the greatest and best-told stories ever put on film, and the idea that the same can be said for this new installment is laughable. It is a worthy follow-up, especially in comparison to most Disney sequels, but not much more than that.
Some viewers will take issue with the aesthetic faithfulness to the original film. The voice actors all get close enough to the original voices but perhaps inevitably, the difference is apparent. The same is true for animation. As far as the backgrounds go, the animators have painstakingly recreated the world of Cinderella with masterful precision. The characters who live in it, however, are more hit and miss. Cinderella, one of the most notoriously difficult-to-draw characters in the Disney canon, varies from looking like herself to a Final Fantasy type, but the good news is that her hair is the right color, despite being blonde on the cover. Prince Charming, while recognizable, seems to have been re-inspired by Jesse Metcalfe of "Desperate Housewives" fame. The stepsisters, on the other hand, are a pretty close match. In terms of both looks and sound, it is Lady Tremaine who is the most like her original self, her sometimes stumpy arms notwithstanding. One thing is sure, all the characters look better here than they did in Cinderella II.
Musically, the movie is a mixed bag. Some songs are overly simplistic, too poppy, and lyrically unimpressive. Others are both clever and catchy. My personal favorite is "At the Ball", a Broadway-esque show-stopper delivered by Jaq and Gus. Surprisingly, none of the songs from the original film are reprised, though "Bibbidi Bobbidi Boo" gets spoken quite a bit. The score is better than the songs on the whole, holding up its end of the bargain in making the movie exciting. Also aiding in that is an excellent audio and video presentation which, along with the rest of the DVD's offerings, is covered in the remaining sections of this review.
VIDEO and AUDIO

Cinderella III is as dazzling on DVD as it should be for a brand-new production. The colors in each beautifully-rendered scene leap right off the screen. The 1.78:1 widescreen transfer (here described as "family-friendly", a meaningless term when applied to aspect ratios) is enhanced for 16x9 screens. Fantastically flawless, the transfer happily pleases in every way.

There are two audio options for English-speaking viewers: Dolby Digital 5.1 and Dolby DTS 5.1 (Spanish and French tracks are also available, but only in Dolby Digital 5.1). I watched the movie using DTS, which in this case is really tremendous. All five channels are in full force throughout, providing just the right balance of channel separation and volume.

Score, dialogue, and sound effects are all abundant and arranged in a way that complement one another. The bass is never quite pulsating and could have been louder in a few instances, but is certainly noticeable.

I went back and viewed a few key scenes in Dolby Digital 5.1 and followed them up with some back-and-forth comparisons. The difference between the two tracks on this disc is pretty drastic. I can't say that there's anything wrong with the Dolby Digital presentation, as it gets the job done, but the DTS track provides a lot more dynamism and oomph. The difference is greater than is normally the case, to be sure. The only advantage I noticed in the Dolby Digital track is during the all-important time travel scene in the early part of the film, which still sounds better overall in DTS, but more closely matched the swirling visuals with swirling sound from one channel to the next in Dolby Digital. Either way you watch it, you won't be displeased, but those with the ability to do so should definitely opt for the DTS track in this case.
BONUS FEATURES, MENUS and PACKAGING

The slate of bonus features for this disc is a very light one and even most of what is included isn't much to be excited over. There's one music video,

one virtual (as in virtually impossible to get through) game, one short featurette, and one sneak peek, along with a DVD-ROM activity.

The music video (3:38) is for a pop song called "I Still Believe" (no, it's not a Mariah Carey cover) by Hayden Panettiere, a teenaged veteran of Disney fare who sings and is part of the cast of NBC's freshman hit "Heroes." Intermixed with clips from the movie, the music video is a pretty standard one. The song itself is likable if unexceptional.

"Bibbidi-Bobbidi-Choose" is an utterly maddening game in which the absurdity is outdone only by the monotony. There are several levels and many different stops in each. In the first, the player encounters a number of household objects that have been transformed by magic and must guess whether it was Jaq and Gus or Lucifer who cast the spell. For many of the transformations, there is little to no apparent reasoning behind the spell and who cast it. All this gives the player access to the magic wand, which then opens the door to an entirely new mission: gaining access to Cinderella's secret room, in which her secret mirror will reveal her secret heart's desire, which turns out to not be such a big secret for anyone who has ever heard of Cinderella. To get that access, the player enters a room where six objects must be clicked on three times each. Why? In hopes that more play time will result in more fun, I guess, but it doesn't. With each click, the object changes appearance until the third click restores it to its original state. Once that's done, the player learns they have been lied to and that there are still more tasks to be completed before learning Cinderella's secret. The first is a fairly short and easy bout of Cinderella III trivia. The second is a new room in which even more objects must be selected three times each (and one of them a total of six times). Finally, once all this has been completed, Cinderella's mirror comes to life. If you dare to play this game in the first place, prepare to resist the urge to pull out the disc and snap it cleanly in half by the time it's done.

There are two bonuses listed under Backstage Disney. The first is a sneak peek (2:47) at Disney Princess Enchanted Tales: A Kingdom of Kindness which shows excerpts from several scenes in the Sleeping Beauty segment of the new DVD that is currently scheduled for a September 2007 release. The preview manages to excite and disappoint at the same time, as some elements look promising while others are not so much. There is no indication as to whether the second story on the DVD will feature Belle or Jasmine, a question about which there has been some confusion as of late.
The final and most exciting and worthwhile bonus feature is a making-of featurette on "Twice Charmed", the Cinderella-based musical stage show that is featured on the Disney Cruise Line. In the five minute runtime, everything from conception to production is covered, though none of it in as much detail as one would like. Still, it's a very nice and interesting inclusion, not to mention a very appealing and effective advertisement.
By inserting the disc into your PC, you can also access a couple of DVD-ROM-exclusive activities. Both are festive in nature, encouraging viewers to throw a party, whether it be virtual or in real-life. If you choose the former, you'll be whisked into the palace ballroom, the color and decor of which is entirely up to you. After that, you can also decide the guest list, choosing from Cinderella characters or avatars made from pictures of yourself and your friends, all of which will interact once things get going. If all that fun inspires you to host a little shindig of your own, there are a number of printable party-planning resources included as well. These activies are surprisingly well-rendered and more fun than is likely expected.
The lively main menu is colorful, sparkly, and filled with moving animation. In the background, score and audio clips from the film play. Naturally, the DVD features Disney's FastPlay feature. The disc is housed in a standard white keepcase (no side-snaps), which is itself housed in an embossed cardboard slip-cover that repeats the very lush cover art. Inside is a booklet of ads and coupons as well as a chapter index card and a points card for the Disney Movie Rewards program.
The disc launches with previews for Peter Pan: Platinum Edition, Tinker Bell, Ratatouille, and Disney Princess Enchanted Tales: A Kingdom of Kindness. From the main menu, one can also access sneak peeks at The Little Mermaid III at "Mickey Mouse Clubhouse": Mickey's Great Clubhouse Hunt, as well as a very cool Disney-themed promo for the Blu-ray disc and several upcoming releases of major Disney classics in the hi-def format.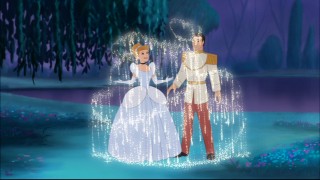 CLOSING THOUGHTS
As Disney sequels go, Cinderella III: A Twist in Time is a pretty good one. While the premise is hardly unique, it is intriguing when applied to such a familiar story with such endearing characters. It's a far cry from the original and certainly not without its flaws, but the movie does mark one of the studio's sincerest efforts at making a legitimate follow-up to a classic. The DVD is light on bonus features, but at least one featurette is a neat one and the audio/video presentation is top-notch. If the wretched Cinderella II has scared you off, fear not. This new movie allows us all to forget about the last one and remember that a sequel doesn't have to be tripe. Anyone fond enough of the original to want to see more of it is urged to check out Cinderella III; it's worth at least your time and attention.