Young people with secret powers is hardly a novel subject for 21st century cinema. One thing that distinguishes Push from other such films is that it is not based on a book or a series of comic books. As the product of an original screenplay, Push lacks the built-in recognition and expectations. But the film hardly seems to appreciate or exploit such freedom. Watching it, you'll be convinced that it must be adapted from some piece of teen fiction, for it bears all the signs -- a complex universe with extensive mythology, characters of gray with hinted-at histories, and the type of conflict that seems to change with every chapter-ending twist and lend itself to sequels.
In the world of Push, certain otherwise ordinary people have special psychic gifts that fall into different classes. Watchers can see into the future and act to change it. Movers are able to dabble in telekinesis. Pushers can enter others' minds and insert ideas and false memories. Sniffers can track down people on the slightest trace of scent. Shadows offer protection by shrouding a target who stays nearby. Bleeders can cause explosions and other problems with their high-pitched screams.
A government organization known only as the Division observes and moderates anyone possessing any of the aforementioned abilities. The Division is big on treating the gifted like lab rats, drugging and killing them in the name of some greater good only it knows. Ten years after seeing Division agents off his father, mover Nick (Chris Evans, the Human Torch of the Fantastic Four movies) maintains a low-profile in Hong Kong. One day, he is accosted by a couple of Division sniffs. Immediately after that, he is approached by Cassie (Dakota Fanning), a precocious 13-year-old watcher with pink streaks and a short skirt. Both visits pertain to Kira (Camilla Belle), a unique pusher who has escaped from a U.S. Division testing facility.
Cassie pleads Nick to join forces with her in order to locate the missing fugitive, acquire a secure case of extreme significance, and effectively cripple the group that's done bad things to their respective parents. The reluctant teaming sets forth the races and chases that no doubt challenge and utilize the powers of the three headstrong leads. Can Nick, Cassie, and Kira steer clear of the Division's diabolical head honcho (Djimon Hounsou), his driven team of agents, and the gifted Chinese Division that also gets involved? Even though Cassie's colorful vision-sparked drawings keep foreseeing our heroes' deaths? There are no answers at your local library; you'll have to check out the film if you care to know.
Push tries so hard to be cool. Its jumpy editing, slow motion effects, undisturbing scene of teen drinking, and often-blaring soundtrack of broody tunes come across as a desperate attempt to be hip and edgy. Were it a person, it'd probably annoy or merit pity. But as a teen-friendly action film, it wavers between harmless and cute. Aww, look at that rebellious spirit!
There are some pretty awful one-liners scattered throughout. Fight sequences are often more ridiculous than riveting. The whole story feels contrived, routine, and only superficially complex. Still, you aren't likely to hate this movie. The two most prominent actors help sell the nonsense. Evans is agreeable as usual and Fanning comfortably enters a none-too-provocative transitional phase from girl to woman.
It's also reasonably well put-together by director Paul McGuigan, who shows he knows the value of a well-placed montage and adequately-motivated good guy violence. Push is by far the biggest project to date from screenwriter David Bourla, whose sporadic past credits include scribing some independent and TV movies nobody's seen and directing three of Steve Odenkirk's half-hour "Thumb" shorts (Frankenthumb, Bat Thumb, and The Godthumb). It's not clear if this is a step up from the former in anything but budget and cast.
Lacking a popular source, a clear target audience, and an attention-grabbing title, it's not too surprising that Push didn't set the box office ablaze upon its early February release. Its $32 million domestic earnings fell a few million dollars shy of offsetting its reported $38 M production budget. We'll see if it finds new life and a more appreciative audience on DVD and Blu-ray, where it comes next Tuesday from Summit Entertainment. Even so, that probably won't be enough to fund the hypothetical sequel the film sets up.
DVD Details

2.35:1 Anamorphic Widescreen
Dolby Digital 5.1 (English, Spanish)
Subtitles: English for Hearing Impaired, Spanish
Not Closed Captioned; Extras Subtitled
Release Date: July 7, 2009
Single-sided, dual-layered disc (DVD-9)
Suggested Retail Price: $26.99
Black Keepcase in Holographic Cardboard Slipcover
Also available on Blu-ray Disc
VIDEO and AUDIO
Summit's DVD presents Push in its 2.35:1 widescreen aspect ratio. If you're a regular reader of this site, you'll know we're almost always satisfied with the picture quality bestowed upon major new studio films. Push doesn't upset this trend. To the contrary, it looks as fantastic up close via DVD-ROM as it does on your average 4:3 television set. The video is satisfyingly sharp and clean and the scenery it displays is pleasant enough.
The Dolby 5.1 soundtrack is a little less praiseworthy. It delivers some fine aural effects and, at times, killer bass. But it's mixed so that you're regularly required to adjust the volume so that the music and sounds don't blow your speakers but yet you can also hear the much softer dialogue. Maybe it's not a problem for those with soundproof home theaters, but it's a mild nuisance for the rest of us.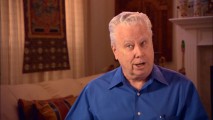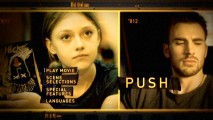 BONUS FEATURES, MENUS and PACKAGING

The first of three special features is an audio commentary by director Paul McGuigan and actors Chris Evans and Dakota Fanning. It's become rare for actors to turn up on a commentary, so it's neat to have the two stars here. McGuigan drives the discussion with talk about his philosophies, the film's stylings, characters and their powers. Evans encourages him and delights in seeing the parts he's not in (it sounds like he's not getting an ideal first viewing), while Fanning only occasionally chimes in. The three clearly enjoy recalling their time in Hong Kong and their collective fear/admiration of Djimon Hounsou,

yielding some amusement and a sense of exclusive camaraderie. But it runs out of steam and on the whole, it's probably not enough for most fans of the stars to bother with, unless they really enjoy Push and wish to hear scattered stories about its creation.

Next come four short deleted scenes (3:11). These barely seem worth preserving and do little more than establish a relationship between the lollipop-sucking Chinese watcher (Xiao Lu Li) and the healing-equipped stitcher (Maggie Siff). The footage is presented with optional commentary by McGuigan that explains the cuts.

Last up is "Push: The Science Behind the Fiction" (9:17), a featurette that surveys the film's psychic groups and adds an conspiratorial layer with thoughts from the film's technical advisor, a former US Army colonel who believes people and the science community are too skeptical of human superpowers. He doesn't seem skeptical enough, but that keeps this interesting.

Upon insertion, the disc plays trailers for Knowing, Astro Boy, and The Brothers Bloom.

After a short, high-octane montage, the main menu settles on a serene moving film strip of character stills that's jolted by the occasional jump.

Like so many of today's new films, Push has its DVD packaged in a standard keepcase that topped by a cardboard slipcover. Holographic on both sides, the sleeve's back loses the credits block and synopsis to enlarge one Chris Evans photo. The only case insert offers you the chance to get $5 back if you buy Knowing in addition to Push by the end of 2009.
CLOSING THOUGHTS
If Push was based, as it looks, on some bestselling young adult novel, we could assume a lackluster job was done on the adaptation. But while it may not be a literary travesty, it's still pretty mediocre cinema. Despite some decent efforts from Evans and Fanning, all of the gun-floating, pupil-widening, memory-erasing madness is ridiculous and unsatisfying, albeit not enough to warrant scorn. Unless you're up for some tame sci-fi/action on the order of Jumper and are in your teens, you can probably pass on this one. Summit's DVD doesn't overstretch in the supplements department, but it delivers a satisfying presentation of the film.
More on the DVD / Buy from Amazon.com / Buy on Blu-ray from Amazon.com