Before Pixar came along and set a successful model for others to try imitating, not much theatrical animation was being made in the United States outside of Disney. There was Don Bluth, whose most profitable works were produced by Steven Spielberg. And there were movies spun out of lucrative toy and television properties like The Care Bears and Alvin and the Chipmunks. Beyond these three classes, few American cartoon features gained notice prior to the medium's present boom. One of the few was The Last Unicorn, a traditionally-animated 1982 movie from Rankin/Bass Productions, the group behind dozens of holiday TV specials including the stop-motion Rudolph the Red-Nosed Reindeer.

Directed by namesake founders Arthur Rankin, Jr. and Jules Bass, The Last Unicorn would be the company's only theatrically-released feature film and one of its last notable creations to date.

Adapted by Peter S. Beagle from his 1968 novel of the same name, The Last Unicorn centers on a horned creature (voiced by Mia Farrow) believed to be the only living member of her magical species. She lives in a forest where her presence protects the wildlife and keeps the area in an eternal spring. Upon discovering that no others like her may be in existence today, the unicorn sets out on a quest to find another. She winds up captured by Mommy Fortuna (Angela Lansbury) and put on display as part of the witch's mostly fraudulent Midnight Carnival animal freak show. With help from bumbling magician Schmendrick (Alan Arkin), the unicorn escapes. The two of them continue on the journey, joined by Molly Grue (Tammy Grimes).

When the fabled Red Bull, said to be responsible for unicorns' endangered state, shows up, Schmendrick manages to save his magical companion by turning her human. With the transformation, the unicorn assumes the name Lady Amalthea and finds her immortal nature threatened. The party winds up at the castle of the Bull's keeper, King Haggard (Christopher Lee), where "Lady Amalthea" catches the interest of Prince Lir (Jeff Bridges), learns the truth about her kind, begins forgetting things, and tries to be turned back into her original form.
The Last Unicorn reminds me a little bit of the animated films of Hayao Miyazaki, namely for being a vaguely environmentalist fantasy in an unspecified setting. Just starting out his career in the early 1980s, Miyazaki would have been inspired by this rather than vice versa. In fact, the animating studio followed this up with Miyazaki's Nausicaδ of the Valley of the Wind. Whereas Miyazaki's works are widely praised the world over, The Last Unicorn seems to be missing some of the Japanese director's critical sources of universal appeal, namely charm, humor, and warmth. Not that Rankin and Bass don't try to supply all three elements. They just don't find much success. If you disagree, chances are you strongly disagree and chances are that you do so because Unicorn warmed its way into your heart at a very young age.
This is a film that doesn't seem to have aged very well. Catchy though it may be, the soundtrack supplied by the folk rock band America severely dates the movie. The few in-character songs fare quite a bit worse, being hindered by the sentimentality that feels a bit passι for 1982. No doubt both types of numbers will induce nostalgia for the film's original target audience and factor into their appreciation. One trait I must acknowledge and, to some degree, admire in the film is its earnestness. Rather than the gloss and volume practically required of today's CGI features, this possesses a low-key sensibility. It's comparable to the TV programs of the Rankin-Bass canon, which nowadays endear collectively and attitudinally regardless of any childhood attachment to them.
In some ways, Last Unicorn plays like television programming. The animation, done for cheap by Japan's Topcraft, is largely unimpressive. And some of the sequences have that incidental feel of a vintage Scooby-Doo episode, minus the laugh track. Efforts to do more, like a Unicorn/Lir romance and an adventurous climax, demonstrate some thought and imagination. They just don't play very compellingly or affect as they're meant to.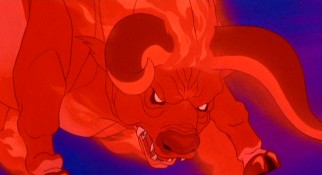 Like every animated movie of its time, The Last Unicorn received a G rating from the MPAA. While these days it seems that the ratings board continues to be more tolerant in what it slaps a desirable PG-13 on, it simultaneously seems less willing to give out a G, even on cartoon fare clearly aimed in large part at kids. Debuted today, there is no doubt that Unicorn would get a PG rating.

The scene in which an anthropomorphic tree traps Schmendrick between her large oaky breasts would merit some kind of mention as innuendo and the mortality discussion and frightening Red Bull might also constitute the oft-cited "thematic material." Unicorn's most kindred '80s toon just might be Disney's slightly scandalous The Black Cauldron, which would earn a PG two and a half years later.

Distributed to theaters by the short-lived Jensen Farley Pictures, The Last Unicorn did not make a huge splash at the box office, grossing a barely respectable $6.5 million playing for three weeks in just over 600 domestic theaters around Thanksgiving 1982. By comparison, in the same year, Bluth's feature directing debut The Secret of NIMH earned just under $15 M, while Disney's reissues of Peter Pan and The Jungle Book racked up $17 M and $23 M, respectively. Paramount's forgotten Hanna-Barbera musical Heidi's Song, on the other hand, accrued just $5.1 M in nearly 1,000 theaters.

Developing the reputation of a minor cult classic over time, The Last Unicorn premiered on DVD in 2004. Early in 2007, it was given a 25th Anniversary Edition upgrade. That disc is included as part of Lionsgate's brand new Blu-ray + DVD Combo Pack, which marks the film's debut in high definition next week. Like the two standalone DVDs, the cover art here oddly chooses to emphasize Angela Lansbury over more substantial parts by the likes of recent Oscar winner Alan Arkin, who is as recognizable today as ever.

More importantly, the Blu-ray looks to satisfy everyone, by including both the movie's original theatrical audio and the sanitized track that bafflingly accompanied the 25th Anniversary DVD's cleaned-up widescreen picture. The differences are fairly minor; for whatever reason, the default 25th Anniversary track cuts a few "damn"s and "hell"s. More significantly, derived from the European PAL format, the 25th Anniversary DVD is time-compressed, running four minutes and a few seconds shorter than the Blu-ray and looking jerky on account of it.
Blu-ray & DVD Details

BD: 1.78:1 Widescreen, DVD: 1.85:1 Anamorphic
Blu-ray: DTS-HD 5.1 (Theatrical Audio, 25th Anniversary Edition Cut)
DVD: Dolby Digital 5.1 (English), Dolby Surround 2.0 (English)
Subtitles: English, Spanish; BD-Only: English for Hearing Impaired
DVD Closed Captioned; Extras Not Subtitled
Release Date: February 22, 2011 (DVD first released on February 6, 2007)
Two single-sided, single-layered discs (BD-25 & DVD-5)
Suggested Retail Price: $19.99
Blue Eco-Friendly Keepcase in Reflective Cardboard Slipcover
Still available in 25th Anniversary Edition DVD ($14.98 SRP)
Previously released in Fullscreen Theatrical Cut DVD
VIDEO and AUDIO
Picture quality on this Blu-ray is largely quite terrific. A few scenes are saddled with heavy grain and there are some scratches and specks here and there, most extensively in a night scene. The afflictions were also present on the DVD, where they were less glaring. But the element is otherwise clean, colors remain consistent, and the video is sharp but not excessively or unnaturally so.
The 5.1 DTS-HD master audio is even more satisfactory. Score and effects breathe life into the proceedings and the dialogue remains crisp and clear throughout. Volume levels are a little erratic but not to a bothersome degree.
The DVD's feature presentation is somewhat comparable, but less pleasing. This is the 25th Anniversary Edition DVD exactly, so it takes no advantage of more recent restoration efforts. The paler colors don't pop as much and DVD's lower resolution obviously ensures it's not as sharp. But the video would be less disappointing if the film weren't sped and cleaned up. Likewise, the Dolby Digital 5.1 and 2.0 Surround tracks offered on the DVD don't have the clarity and impact of the Blu-ray's DTS mixes, but they are adequate on their own merits, minus the unnecessary content trims and 4% PAL distortion.
BONUS FEATURES, MENUS and PACKAGING

Blu-ray extras begin with a brand new audio commentary by writer Peter S. Beagle and publisher Connor Cochran. Much of their discussion either displays an appreciation for the film or compares/contrasts it to the book. This track takes a little bit of the promotional tone that many of the bonus features unfortunately have, but several good notes emerge.

On the video side, there is "Immortal Characters" (12:50), a new featurette that spends a few moments on each of the film's leading personalities and the actors who voiced them. Among those interviewed here are Beagle,

animation historian Jerry Beck, and, via phone, actor Christopher Lee and director Jules Bass.

The title "The Tail of The Last Unicorn" is an apparent pun; this recycled featurette (8:30) finds Peter S. Beagle talking about the tale and how he came up with it. The author gives off a Shatneresque vibe here as he spins yarns with lofty talk and irregular pauses.

Schmendrick's Magical Gallery holds photos and artwork. In a change from the norm, the first gallery and the first still in other subsections are accompanied by narration (6:42 overall) shedding light on the subject or section. That makes this feel more like an audio documentary on author/writer Peter S. Beagle than the standard fast, furious button-pushing, page-turning. The materials include the biographical "Inspirations" (6 stills), American book covers (8), foreign edition covers (11), Beagle pics (17), artwork by fan Rebekah Naomi Cox (8), IDW's Last Unicorn comic book (7), Peter Yuthrayard's graphic novel (7), the authorized 2009 stage play at Chicago's Promethean Theatre (13), Beagle's 2005 sequel "Two Hearts" (4), and a mix of concept art, storyboards, and stills under the header "Movie Moments" (58). With large images, clear descriptive captions, and fast navigation, this is one of the most thorough and satisfying video galleries I've seen (though admittedly it is my first on Blu-ray).

"Peter S. Beagle and His Work" is another narrated gallery/audio documentary (25:49) fixated on the author. It gives us a biography of Beagle, details on his various other published stories, and a bit about his music. Though much of it ties into The Last Unicorn, this Blu-ray really feels like it was produced by Beagle's publicist and publisher.

The 2010 Last Unicorn Art Contest Gallery is more of a standard gallery, letting you navigate around looks at the winning movie/book-inspired paintings, sculptures, costumes, and tattoos from Conlan Press's first official Last Unicorn Art Contest. There are about 40 stills overall.
The real extras conclude with The Last Unicorn's original theatrical trailer (2:48), presented in 1.33:1.

"Also from Lionsgate" serves up trailers for Thor: Tales of Asgard, Jonah: A VeggieTales Movie, Bratz: Pampered Petz, Bratz Kidz Fairy Tales, Fred: The Movie, Happily N'ever After 2: Snow White - Another Bite at the Apple, and Happily N'ever After. The disc-loading previews promote Thor: Tales of Asgard, The Spy Next Door, and Battle for Terra, meaning the latter two are otherwise inaccessible (since BD players do not automatically resume playback, they're easy enough to access).

The 25th Anniversary Edition DVD holds a few bonus features. The most notable is the "Escape the Red Bull" trivia game, which isn't carried over to Blu-ray (but isn't a huge loss).

"The Tail of The Last Unicorn" and the movie's original theatrical trailer are both there, as is an inferior version of "Schmendrick's Magical Gallery" (which lacks captions, narration, and all but 19 of the stills). Finally, "About Peter S. Beagle" is a shorter (6:11), dated, female-narrated version of "Peter S. Beagle and His Work."

The DVD opens with dated ads for Happily N'ever After ("now in theatres"), Rock & Bop and Dance & Hop with the Doodlebops, and "Teenage Mutant Ninja Turtles", all of which also play from the disc's "Trailer Gallery" (which isn't really a gallery at all).

The Blu-ray's main menu plays a montage of clips, with butterfly cursors and sparkly bars.

The DVD and Blu-ray discs are packaged on opposite sides of an ecologically-cut Blu-ray case. It is topped by a foil-faced cardboard slipcover. A couple of inserts promote Lionsgate Blu-ray and Conlan Press' many available Last Unicorn products.
CLOSING THOUGHTS
Animated films were such a rarity in the 1980s that I feel bad being unable to share the enthusiasm that many carry for The Last Unicorn. But, in truth, this fantasy doesn't do much for me, despite its noble intentions and earnest ways.
Lionsgate's Blu-ray delivers a delectable feature presentation, with the original soundtrack restored and remastered plus a handful of decent, substantive extras among with author promotion. With the 25th Anniversary DVD included and at a price other studios would place on a catalog title's DVD-only release, this combo pack is a no-brainer recommendation for fans of the film who are buying into high-definition discs or meaning to pick up the DVD and may go Blu in the near-future. Anyone else with a soft spot for unicorn fantasy or '80s animation should definitely give this a look.
More on the Blu-ray + DVD / Buy from Amazon.com / Buy just the DVD / Buy the Book