By Aaron Wallace

"Bear in the Big Blue House" is a delightful half-hour television show for preschoolers and young children that airs as part of the Disney Channel's Playhouse Disney programming block.

Each fun-filled episode packs lessons of life and education with catchy music and lively segments that are sure to entertain.

The host and star is Bear, a large, lovable, furry animal whose Big Blue House provides the setting for all of the show's adventures. Accompanying him is an assembly of creatures who look up to him and join in on songs and lessons. The characters resemble the Muppets, which is no surprise as they are both Henson productions and are part of Disney's Muppets Holding Company. The show likewise shares some of the Muppets' famed wit, but with a little less zing.

Each episode's point is spelled out to a degree, but this is a show that always respects the intelligence of its young viewers and, through the opportunity of interaction, makes them a part of the adventure. This is pulled off much better here than in most preschool shows. I was surprised to find Bear reciting Shakespeare and making jokes that even adults would find witty. Parents will likely enjoy watching this one with their children. Not only is there a chance to witness a lively connection between the show and their little ones, but clever references to things like Indiana Jones and Citizen Kane can put a smile on a parent's face as well.
The songs in the Big Blue House are real foot-tappers and are commendable for a children's production. Big words occasionally come in to play, but the points still come off with enough simplicity to be digested while having fun. Each episode throws in a very short story and, in the vein of "Blue's Clues" and "Sesame Street", interviews with real-life children to boot.
After a few years in production, "Bear in the Big Blue House" now exists in Disney Channel reruns and on DVD. Storytelling with Bear provides three episodes that relate to, you guessed it, storytelling! If you've seen many DVD releases of this type, you're probably expecting a loose correlation between the episodes. That's not the case here. Each episode directly applies to stories and they are presented in a logical order. The first deals with learning words to communicate and tell stories, the second applies those words to the structure of a story, and the third explores stories that can be found in books.
This is one of 13 "Bear in the Big Blue House" discs released onto Disney DVD, including four coming on June 7. Unlike others which were previously released to DVD by Columbia/TriStar Home Entertainment in virtually identical form, this Storytelling volume has never before appeared on disc. The DVD, like the show, is quite satisfactory.
The three episodes on the disc are:

"Words, Words, Words"
Bear's friend, Harry, deals with some self-confidence problems, but fortunately Bear is able to step in with some advice on friendship that offers a new perspective to Harry.

Topics explored include spelling, diction, tongue twisters, and rhyming (including a Peter Piper story and some clever raps).

"What's The Story"
Bear invites all his friends from the Woodland Valley, where the Big Blue House is found, to attend a story-telling festival in his living room. The episode addresses the construction of a story, its beginning, middle, and end, and how to tell a story from pictures.

"Read My Book"
The Big Blue House hosts the first meeting of Bear's Book Club. Bear takes a look at lots of books and discusses the different ones that are available, as well as the benefits of reading. As his friend Shadow points out, many of the show's greatest stories can be found in books.

VIDEO and AUDIO

The show is presented is 1.33:1 "fullscreen," the ratio in which it is aired on television. The video is colorful and vibrant. There are no noticeable problems of any kind.

The Dolby Stereo Surround audio track is just fine for a TV show like this and delivers dialogue and music without any problems. A Spanish language track and subtitles are also included.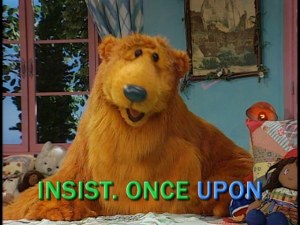 BONUS FEATURES and DESIGN

The only real bonus features are four Sing-Along Songs that place light-up captions atop musical scenes from the three included episodes. The songs are "Find The Words," "Once Upon a Time," "Just Reading a Book," and the "Goodbye Song" that ends every episode of the series. The show's music is one of its best attributes and so

the inclusion of these songs in sing-along form is the perfect compliment and is sure to be enjoyed by the target audience.

The menus, 4x3 and animated, are lively and start off just like each episode does, with a shot of Bear's Big Blue House opening up, followed by a main menu. Each episode runs approximately 24 minutes. The "Scene Selection" option is actually an episode selector; there are no chapter stops within each episode. An alternative "Play All" option runs through the three episodes back-to-back. The final playback option is "Continuous Play," which seems a bit useless, as it brings only repetition of the disc.

The disc opens with previews for upcoming installments in the Disney Princess and Disney Learning Adventures DVD lines, Pooh's Heffalump Movie, and an outdated promo for more "Bear in the Big Blue House" on DVD. The second page of the Sneak Peeks menu also offers a look at Lilo & Stitch 2: Stitch Has A Glitch, Chicken Little, and the Disney Channel's "JoJo's Circus."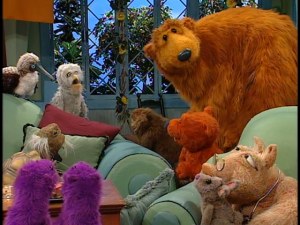 CLOSING THOUGHTS
"Bear in the Big Blue House" falls just short of television's best preschool programming. Needless to say, it's far better than most of what's out there. Relevant lessons on life and education are communicated successfully and there's plenty of wit that respects young viewers and can even entertain adults. Chances are that any young child is going to have a blast with the show. The included sing-along songs will make for even more fun. At such a low price, one really can't go wrong with this well-done DVD.