In its first season on television, "The Mickey Mouse Club" was, by nearly any standard, a success. Walt Disney's daily variety series had flourished with children, who made viewing it an important part of their weekday afternoon routine. Thus, when the unique program began its second season, little had changed. The series still prominently featured charismatic but ordinary children known as the Mouseketeers, most of whom were part of the previous year's cast. And episodes were still composed of a number of regular segments: newsreels, musical acts, cartoon shorts, and serials.

For this review, our interests lie with that last component: the serial. The premiere season of "The Mickey Mouse Club" introduced twelve different serials, most of which educated viewers on different parts and people of the world. While these types of international reports would continue to feature largely in Season Two, the Club also amplified production on story-based sagas modeled after Season One's most popular, The Adventures of Spin and Marty, a stop-and-go look at a summer on a dude ranch for boys.

Accompanying the launch of the second season was The Hardy Boys: The Mystery of the Applegate Treasure, the first of the season's sixteen serials. With episodes slightly longer than Spin and Marty but six fewer in number, The Hardy Boys would accompany the "Mouse Club" for its first four weeks of the season, requiring nearly the entire month of October 1956 to be resolved.

The Mystery of the Applegate Treasure unfolds chiefly from the perspective of Frank (Tim Considine) and Joe Hardy (Tommy Kirk), an adolescent pair of mischievous but good-natured brothers. Frank and Joe's summer has been dull, due in part to their largely absentee father Fenton Hardy (Russ Conway). The resourceful boys can only imagine the type of intrigue their father must experience as a private detective who spends most nights in "The City", where he works. It doesn't help that no matter how much interest the brothers show in Dad's career, he keeps his lips tight and his job a safe distance away from home. That leaves the boys frustrated, but, taken seriously or not, they maintain a belief in their sleuthing skills, acting as "junior detectives" to the dismay of their primary guardian, Aunt Gertrude (Sarah Selby).
Frank and Joe get their big break thanks to renewed interest in a case of a missing fortune. The story of Mr. Applegate (Florenz Ames), a wealthy eccentric, last gained much notice around Bayport ten years earlier. The strange, moody, sword-wielding Applegate's claim to pirate-inherited riches is widely doubted by the neighborhood. Talk of Spanish doubloons and pieces of eight is generally met with laughter, but upon learning about the long-lost gold, the Hardy Boys both believe in the tale and persist in uncovering the booty.
Rather than a straightforward mystery where dots are connected and a number of culprits considered, this serial proceeds mostly as a light-hearted look at boys' life. That's to its benefit, as it lends an appealing 1950s sensibility to the proceedings and it also ensures there's more going on than a mere "whodunit." The serial does prove to be sufficiently suspenseful, particularly after it gets a few episodes in. But unlike certain print mysteries which only provide pleasure in the challenge of figuring out whodunit, The Hardy Boys remains fun even if you can solve the case before the title detectives can. That's possible, for keen viewers who spot the sometimes subtle clues and take note of characters who fall out of focus might be able to figure out the antagonist(s) with a few installments to spare. Gladly, there's more than a surprising twist at the end to sustain the storyline.
The cast of characters also includes Iola Morton (Carole Ann Campbell), a roller-skating girl slightly younger than the Hardy Boys who longs to be like them. She shares their taste for adventure and secretly makes herself Joe's girlfriend, to his disapproval. There is Perry Robinson, a new boy in town with a supposedly wayward past who becomes the Hardy brothers' first client. Rounding out the leads are Applegate's plumber Mr. Jackley (Robert Foulk) and the coy Irish ex-gardener Boles (Arthur Shields), who serve to help and hinder the investigations.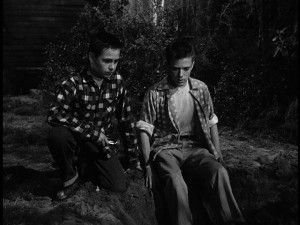 Acting is a bit of a mixed bag. For the most part, the cast is fine, but there's always an air of simplicity that's more inherent to '50s Disney television than it was to Walt's theatrically-released live-action films from the same era. Nevertheless, the serial's two young leads accrued respectable resumιs that hold up today.

Tim Considine, portraying the older Hardy brother, was previously the less prominent of the two stars of the influential Spin and Marty. Considine would remain a fixture of Mickey Mouse Club serials, headlining two Spin and Marty follow-ups and a Hardy Boys sequel before landing a lead role on Fred MacMurray's long-running sitcom "My Three Sons." More significantly, Applegate Treasure marked the Disney debut of Tommy Kirk, who would become the studio's most-employed young actor. Kirk would frequently portray the older brother of Kevin Corcoran in films like Old Yeller, The Shaggy Dog, and Swiss Family Robinson. In his early 20s, he even graduated to leading man status for the comedy The Misadventures of Merlin Jones and its sequel The Monkey's Uncle. Kirk's pre-pubescent appearance in The Hardy Boys clearly pre-dates his more familiar work for Disney; here, he maintains some baby fat and is a growth spurt away from his memorable Old Yeller turn.

The subject matter of The Hardy Boys is more appealing than that of Spin and Marty. That's especially true now that fewer of today's children aspire to lead the rugged life of a cowboy. Even if today's notion of detective work is more about forensics and surveillance gadgets than notebooks and a magnifying glass (neither of which actually appears in The Hardy Boys despite the title's conjured images), intrigue and case-solving remain interests that are less esoteric than lassoing and the rodeo. However, theme is not the only area where Hardy Boys improves over the previous "Mickey Mouse Club" season's big hit. Applegate Treasure relies less on a series of cliffhangers and more on a gradually evolving storyline.

Story is one area where credit must obviously go beyond the serial's writer Jackson Gillis, who would later pen screenplays for "Perry Mason" and a number of "Columbo" episodes and telemovies. That's because unlike most "Mickey Mouse Club" serials, The Hardy Boys is based on pre-existing characters that made their debut in print in 1927. The detective siblings were one of a number of children's literature franchises created by the Stratemeyer Syndicate, a group that would mine other successful mystery series including the Bobbsey Twins and Nancy Drew. By 1956, the Hardy Boys had already starred in 35 published books, all attributed to Franklin W. Dixon, a pen name of Leslie McFarlane and others. Applegate Treasure is adapted from the very first one, 1927's The Tower Treasure, though it makes some obvious and less obvious departures from the text to serve its serialized TV format. (For one thing, Disney's Hardy Boys are definitely a little younger than the 17 and 18 years of age that the early books claim them to be.) With over 400 volumes to their name through the canon and spin-off series, the Hardy Boys are still active in print today in a two-year-old line called The Hardy Boys: Undercover Brothers.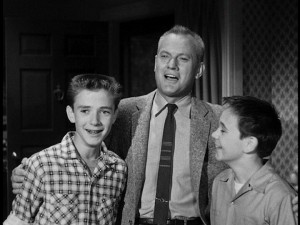 Walt Disney was the first to adapt the Hardy Boys books for television. He was also the second, bringing Frank and Joe back for The Mystery of Ghost Farm to accompany the 1957-58 season of "The Mickey Mouse Club." Other companies would follow suit and tap additional Hardy Boy mysteries for TV: there was a Filmation Saturday morning cartoon on ABC in the late 1960s, a primetime series in the late 1970s alternating Hardy Boys mysteries with those of Nancy Drew, and a short-lived syndicated Canadian series in the mid-1990s. The franchise is currently even being planned for big screen treatment, albeit in a comedy where Tom Cruise and Ben Stiller will play the sleuthing siblings grown-up. 20th Century Fox is developing the project, appropriately-titled The Hardy Men, with Night at the Museum director Shawn Levy.

Getting back to Disney's Hardy Boys, it is not without a few shortcomings that should be mentioned. For one thing, it was clearly made on a tight budget. While one never gets the feeling that the small-town setting isn't sufficient to tell the story, it's evident that nothing will stray far from the Hardy Boys' house and neighboring areas.

The most foreign locale is a newsstand, on which Scrooge McDuck and Goofy comic books are prominently arranged. Unlike the concurrently-produced episodes for Walt's weekly anthology series, this serial was filmed only in black and white. Perhaps the most telling sign of cost-cutting is that new kid Perry wears a Triple-R Ranch shirt inside-out in his first sighting. For another thing, believability is a bit suspect; though that is inevitable when dealing with teenaged mystery-solvers and no doubt needs to be forgiven in the books. Still, the howling barn owl that signals danger adds to the enjoyable hokiness of the serial.

One final quality about the serial which proves to be an obstacle to appreciating it is the practical challenge of how to view it. Intended to be seen in 11 and 2/3 minute chunks of an hour-long series from Monday to Friday, The Hardy Boys holds up quite well in viewing back-to-back. But there is a slight disconnect that arises from the fact that each episode has its own lengthy intro. With pirates imagery and Thurl Ravenscroft vocals, the theme merely discusses the missing treasure that's integral to the plot. In addition to this one-minute song and the subsequent handful of credits, there is sometimes a brief overlap from the previous episode (which varies in length) and a commercial fadeout in the middle. The next episode is mentioned at the end with its only on-screen appearance of the title. Completists would object to the opening being dropped and there's no denying the mood it establishes, but it does dampen the fluidity of lump viewings that this Treasure set offers for the first time. Even offering the option to skip over the beginning might have been appreciated. Alas, the short installments are merely each one chapter, leaving those who want to get straight to the action to either grin and bear it or master their fast-forwarding skills.

PACKAGING

The Hardy Boys made its proper DVD debut last December as part of the sixth and -- if Leonard Maltin has been properly informed -- final wave of the Walt Disney Treasures, Buena Vista Home Entertainment's annual treat for collectors of vintage Disney animation and television programming. As such, it is bestowed with a two-disc set packaged in a silver tin which holds a more common double Alpha keepcase. This most recent batch of Treasures offered its titles the most limited print runs to date. Thus, only 65,000 copies of this Hardy Boys set were produced. The number seems slight, but if the three more popular sets concurrently released are still available with identical production numbers, then this tin shouldn't be too hard to track down anytime soon and perhaps previous waves were produced in excess.

As is always the case, there are three remarkable items found inside the black keepcase. A certificate of authenticity, bearing replicas of the signatures of Roy E. Disney and Leonard Maltin, identifies the number of your individual copy. A color cover from one of Dell's comic books of Walt Disney's The Hardy Boys serves as this volume's postcard-sized piece of artwork. In between them, an eight-page booklet spells out the Treasures philosophies, outlines the two disc's content, and introduces the featured serial in a note from Maltin.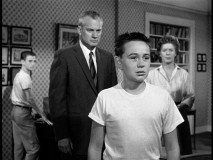 DISC 1

1. The Mickey Mouse Club: October 1, 1956 - "An Introduction" (Originally aired October 1, 1956)
The set begins with the complete October 1, 1956 episode of "The Mickey Mouse Club" (45:18). Since it holds the introductory installment of The Mystery of the Applegate Treasure, it's an apt place to start. As was the case with the Spin and Marty Treasures set, it's a delight to get a full episode of the series that housed the Hardy Boys serial both for context and entertainment purposes. Thus, it is a welcome and sensible inclusion, and its designation somewhere between bonus feature and feature program seems appropriate.

The second season premiere is comprised of several segments. First, a special Mickey Mouse Newsreel finds Mouseketeer Cheryl and a friend visiting the USS Nautilus, the Navy's atomic submarine on which their fathers work. The day-long trip provides a fairly detailed narrated tour of "the newest and greatest member of Uncle Sam's submarine fleet." Next, the Mouseketeers engage in their traditional song and dance act, having "Fun with Music" (per the Monday theme) from various parts of the world and introducing themselves via the custom "sound off" roll call. Then, Darlene and Bobby showcase their song and tap dance skills even further in a musical sketch set at a Coney Island midway. The Hardy Boys introduction follows, with Tim Considine using footage to discuss characters and plot elements in such a way that sells viewers on the soon-to-debut serial without spoiling much. (Tommy Kirk joins him before it's done.) After this, head Mouseketeer Jimmie Dodd briefly waxes poetic on the various regions of the United States. The funny 1936 short Mickey's Rival is the Mousekartoon; in it, Mickey is threatened by the resurfacing of Minnie's charming ex, Mortimer Mouse. The episode concludes with the usual musical and animated sign-offs. This is the only episode that is broken into chapter stops.

2. "The Stranger" (11:42) (Originally aired October 2, 1956)


A series of mysterious phone calls introduces a bit of excitement into Frank and Joe's dull summer.

3. "A Real Case" (11:40) (Originally aired October 3, 1956)
Joe takes it especially hard when his father's much-anticipated return home is to be short-lived.

4. "The First Clue" (11:40) (Originally aired October 4, 1956)
Investigating a possible robbery of Iola brings Frank and Joe into contact with a plumber named Jackley and new kid in town Perry Robinson, both of whom are employed at the Applegate Mansion.

5. "The Fugitive" (11:40) (Originally aired October 5, 1956)
Frank, Joe, and Jackley find a number of missing items in Applegate's gardener's room and the police get involved.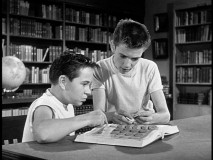 6. "Applegate's Gold" (11:41) (Originally aired October 8, 1956)
The Hardy Boys visit the public library to research their newly-acquired gold coin, which they learn to be a Spanish doubloon. It's the first step to tracking down Applegate's fabled pirate treasure.

7. "Dig for Treasure" (11:40) (Originally aired October 9, 1956)
Frank and Joe stay up late secretly scouring Mr. Applegate's yard for more gold doubloons.

8. "A Pirate's Chest" (11:41) (Originally aired October 10, 1956)
Mr. Applegate tells Frank and Joe about the history and disappearance of his missing treasure.

9. "Boys in Trouble" (11:40) (Originally aired October 11, 1956)
The Hardy Brothers get in trouble for holes they didn't dig, leading Perry and them to suspect someone else is after the missing loot.

10. "Female Detective" (11:40) (Originally aired October 12, 1956)
Mr. Applegate anxiously waits for Mr. Hardy to claim his sons' shovel and pick. Meanwhile, Iola gets her chance to shine when the Hardy Boys enlist her to retrieve the very same tools.

Buy The Hardy Boys: The Mystery of the Applegate Treasure from Amazon.com


ONTO PAGE TWO

REVIEW CONTENTS

Page 1: Set Overview, Packaging, and Episode Synopses
Page 2: Episode Synopses continued, Video & Audio, Bonus Features, Closing Thoughts