It's pretty tough to keep track of the Winnie the Pooh market these days, with Tigger and Piglet getting their own theatrical films and no short supply of direct-to-video releases, many of which recycle old material from the late '80s and early '90s television series "The New Adventures of Winnie Pooh." Now there's a Heffalump movie coming, as well as this fall's letter and number educational DVDs aimed at the pre-school sect. But the subject of this review is an all-new single-narrative feature released earlier this year, 2004.
A more appropriate title for Winnie the Pooh: Springtime with Roo would have been Easter with Rabbit, or even An Easter Carol. Though missing entirely from the front cover, Rabbit is at the center of this direct-to-video feature, which revolves entirely around Easter.
When the film opens, it's a nice, quiet spring day. It also happens to be Easter, which means everyone is excited to go over to Rabbit's for the day. Most eager is Roo, who can barely contain his excitement for the Easter Egg Hunt. Pooh looks forward to his annual excess of honey. And Tigger is just his usual perky self.
When the gang arrives at Rabbit's place, though, it appears that Rabbit has somehow forgotten that it's Easter. Instead, he has everything organized for Spring Cleaning Day, a special day which apparently consists of Rabbit assigning his friends to clean various parts of his house, while he toils undisturbed in the garden. Everyone tries to set Rabbit straight on the holiday, but he won't let anyone get a word in.
So, Pooh, Eeyore, Piglet, Tigger, and little Roo wind up indoors tidying up Rabbit's place. The cleaning proceeds well, until Pooh feels a sneeze coming along. This is no ordinary sneeze, and soon, all the cleaning accomplished has come undone.
But, the good thing about Pooh's reaction to the dust is that Roo has stumbled across the Easter decorations. With Tigger heading the festivities, the five of them quickly have Rabbit's house decorated for the real holiday. All seems to be going well, until Rabbit comes inside, and sees that not only is his house not cleaned, but it is decorated for a holiday he had no intention of celebrating. As their reward for not doing things his way, the grouchy host kicks them all out.
After talking with Roo, Tigger decides to go and make things right with Rabbit. It's not easy, as Rabbit doesn't even want the word "Easter" said inside his home, but with some help from the omniscient narrator, Rabbit recalls a time not long ago (last year) when he used to embraced Easter, albeit in a "lots of rules, little fun" kind of way that collided with the others' intentions.
This might seem like the perfect set-up to bring in some already-completed animation from "The New Adventures of Winnie the Pooh" like other direct-to-video Pooh films, but this one actually avoids that practice and relies entirely on new animation.
This may also sound a lot like Charles Dickens' A Christmas Carol, and rightfully so. About half-way into Springtime, one realizes that the filmmakers have opted to proceed with a rift on the timeless novel, something slyly referenced by Tigger at one point near the film's end.
Running with the situation, Rabbit is able to gaze in on Roo and see what he means to him. The narrator (voiced by Disney favorite David Ogden Stiers) subtly assumes the role of all three spirits, taking Rabbit around and enabling a more prominent part for the narrator than in past Pooh films.
So, Rabbit tries to grapple with what Easter used to be, and how he's lost sight of that. He's even treated to a nightmarish unwritten future where he gets his Spring Cleaning Day and everyone else in the Hundred Acre Wood has moved far away.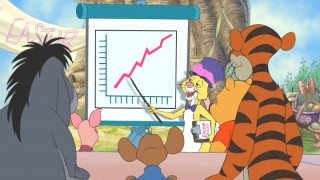 I suppose the marketing department decided that a more secular title featuring a more popular character would be good for sales. So even though the film is about Rabbit's transformation and a nonreligious celebration of Easter, Roo (with slightly above-average focus) gets top billing in a generic seasonal title.
The film remains true to a format established by the first "Winnie the Pooh" shorts Disney made forty years ago, in which the events are taking place as part of a book, primly narrated, in the ordinary child's room which happens to be Christopher Robin's. Christopher Robin actually doesn't appear, though. Neither does Owl nor Gopher.
As with all Pooh films, Springtime's pacing is a comfortable blend of slow and fast. "Slow" in that not much happens to get from beginning to end. "Fast" in that there is a briskness and rapidity to the character banter, and a high-spirited energy that pervades everything in the 65-minute running time just barely long enough to qualify it as a "feature."
The songs are easy to catch on to, and easy to forget. There's a satisfactory amount of humor, and the well-known and the very likable and very familiar characters are all properly on display.
While it adheres to formula and treads no new ground, Springtime with Roo remains entertaining and will please Pooh fans.
VIDEO and AUDIO
Springtime with Roo is presented in 1.78:1 anamorphic widescreen. By a slight margin, this is the widest a Pooh film has ever been. It's unusual to get Disney animation in this ratio, and the opening and closing Walt Disney Pictures logos are in 1.66:1, but framing seems fine, and this ratio was chosen again by the Disney ToonStudios for The Three Musketeers.
Not surprisingly, this brand new, direct-to-video has received a pristine transfer. Colors are bright and vibrant, maybe a bit more than the usual somewhat restrained Hundred Acre Wood palette. There's appropriate sharpness, with the tiniest bit of ringing (which some may call "edge enhancement") seen around some prominent lines. In all aspects, though, overall this is a pleasing video presentation.
The Dolby Digital 5.1 is certainly an adequate audio presentation, though it remains subdued and primarily relegates sounds to the front speakers. There is a fine range of dynamics and depth to the peaceful outdoor environment. There isn't much in the way of sound effects making use of all the separate channels or anything particularly animated that will really workout your speaker system. Spanish and French 5.1 tracks are also included.
BONUS FEATURES
First up is "Sounds of Spring", which I suppose is a game, but not much of one. Presented with three fullscreen stills of characters in environments, you move the cursor around to select characters or objects that move and make noise. If you're not among the young audience this is intended for, your response may likely be, "Whoopty doo!"
"Decorating Rabbit's House" is another basic game aimed at the easily amused sect. Here, one can flex their decorating muscles by choosing the place where various decorations go inside and outside Rabbit's house. Of course, creativity is discouraged, as you'll have to put the decorations where they best fit, and that's not a matter of opinion in this case.
Last of the kiddie corner supplements is "Disney's Art Project." Here, guided by floating hands Lefty and Righty, children can make a butterfly with construction paper, string, and paper plates. The video lesson runs under 4 minutes, so anyone savvy enough to try to make this will need to be ready to pause, or make use of the graphic which returns to the materials list.
There is a a first trailer (presented in non-anamorphic widescreen and Dolby Digital 5.1) for The Heffalump Movie, a new animated film starring the Hundred Acre Wood gang, which is now slated for theatrical release in February 2005.
Rounding out the disc is what's listed as a "First Look at the Magical World of Winnie the Pooh." What this actually provides are two 15-minute episodes of the very good cartoon series "The New Adventures of Winnie the Pooh", sans delectable opening credits sequence. For those of you reading this review, this is likely the only real bonus feature of interest.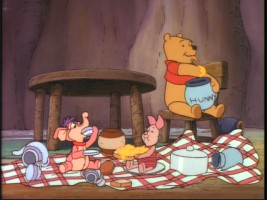 The first episode is "Honey for a Bunny." Giving up hope that he'll ever find its counterpart, Rabbit throws away his special bunny bookend. But when he sees one at Pooh's place, he makes every effort to get it, thinking he'll complete his set. "Every effort" includes performing dangerous stunts with Tigger to fill a honey pot to trade Pooh.
In the second episode "Trap as Trap Can", Father Heffalump tries to teach his clumsy son the fine art of trap-setting. Piglet and Pooh come across the distressed Junior Heffalump, and they try cheering him up with honey and tea at Rabbit's.
The video and audio quality of these episodes, which together run 22 minutes, isn't very good. Hopefully, if the actual Magical World volumes do come to Region 1 territory, they'll display higher quality video than this. Better yet would be Disney releasing "New Adventures" episodes on DVD in their entirety, with proper remastering.
The 16x9 animated menus pander to a very young (and/or illiterate) audience, in which a female narrator pleasantly explains all the options on all the screens. If you missed these first time, a graphic of an arrow will again play the explanatory narrations. The "First Look" option from the main menu plays both The Heffalump Movie trailer and the two "New Adventures of Winnie the Pooh" episodes.
The disc opens with sneak peeks for Home on the Range, Brother Bear, Winnie the Pooh ABC's and 123's, and Disney's Sing Along Songs DVDs. In addition, there's a preview for the first two volumes of Magical World of Winnie the Pooh DVDs, which have been available in Region 2 and are announced as coming "Summer 2004." These compilations, which consist mostly of episodes from the late '80s TV series "The New Adventures of Winnie the Pooh", are still not available in the United States. In the Sneak Peeks menu, you'll also find a promo for "JoJo's Circus" on Playhouse Disney.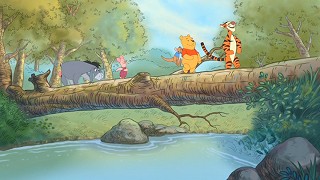 CLOSING THOUGHTS
This new Winnie the Pooh movie seems to entertain effortlessly. While it may not be overly original or clever, Springtime with Roo somehow manages to engage and becomes hard to dislike. The retail price may put off those Pooh fans who didn't pick this up on release. But when they get around to it, they won't be disappointed by this up-to-par direct-to-video film. The DVD offers unsurprisingly first-rate picture and sound, and while most of the bonus features aim squarely for tots, the inclusion of two episodes from the TV series is welcome.