Willy Wonka & the Chocolate Factory is just about the perfect movie. It's got humor, it's got heart, it's got indelible characters. There isn't a song that weakens the experience. It's fun for kids and a little bit scary. Adults are as likely and maybe even more likely to enjoy it. There is sumptuous fantasy, tasteful moral lessons, and one of the most delicious personalities ever put on film.

It numbers among a very few movies in which I cannot find a single significant flaw. I can't imagine anyone in the proper mindset to watch a film finding it less than delightful. Among live-action musicals, I consider it rivaled only by The Wizard of Oz. That Golden Age MGM wonder's praises have been sung long and loud enough for me to cast my vote for Willy Wonka if pressed to choose between the two.

Based on the 1964 children's book Charlie and the Chocolate Factory by the great Roald Dahl, Willy Wonka tells the story of an enigmatic and eccentric candymaker who decides to open his mysterious workshop to a select few. The successful marketing genius that he is, Wonka (Gene Wilder) holds a contest to determine his lucky guests, hiding a golden ticket inside the wrappers of five random candy bars. That inspires a worldwide blitz of hopeful purchases, one confirmed forgery, and some extreme measures to gain admission into the fabled factory.

The tickets end up in the possession of five English-speaking kids, each of whom is allowed to bring one parent or guardian. Insatiable German boy Augustus Gloop (Michael Bollner) finds the first ticket. In England, spoiled Veruca Salt (Julie Dawn Cole) ends up with a ticket from her father's factory's dedicated unwrapping efforts. From America, there is the shoot-'em-up-loving Mike Teevee (Paris Themmen) and gum-chewing used car dealer's daughter Violet Beauregarde (Denise Nickerson). Finally, from nearby the factory, an unspecified location resembling (with good reason) Bavaria, our poor, solemn young protagonist Charlie Bucket (Peter Ostrum) claims the final spot in the once-in-a-lifetime tour.
The children don't know what to expect from Wonka, his name having been attached to endless rumors and speculation. He welcomes them in a purple velvet jacket, with a cane at his side and a top hat over his frizzy red hair. He has more than enough character to pull off that bold look. Wonka speaks in riddles, deflects questions, and never lays any of his cards on the table. His information is peppered with literary allusions and foreign tongues. If it's all an act, it's one he never turns off. Otherwise, he must be treading that proverbial thin line between genius and madness.
Wonka's factory is filled with exquisite sights and sounds: a river of chocolate, an entirely edible garden, lickable wallpaper, gum that simulates a three-course dinner, flight-enabling fizzy lifting drink, geese that lay golden eggs. His only employees are the diminutive orange-faced, green-haired Oompa Loompas, who sing the lessons to be taken from the disappearances of unruly young guests. The ranks thin as the tour progresses, with each kid meeting some potentially disastrous demise as the result of imprudence. That design kind of resembles a slasher movie and I love that neither Wonka nor his movie display concern for the disappearing children, save for one casual reassurance near the end. We assume that greed, gluttony, and obsessions with TV and gum-chewing do not warrant painful deaths or permanent discomfort. But that is left to our imagination, rendering the points being made more salient.
The dark elements and Wonka's coy, sour demeanor are absolutely needed in a setting where practically everything is sugary sweet. The factory is a tremendously inviting workplace ideal for wide-eyed exploration, but that alone lends itself more to a dream sequence or anecdote. A feature-length story requires conflict, experience, and adventure, three things plentiful in Dahl's book and the adapted screenplay for which he alone receives onscreen credit. (David Seltzer, who later wrote The Omen, is attributed with the final revision that apparently disappointed Dahl.)
Wonka is virtually everything that a good movie can be: humorous, exciting, poignant, and, most of all, fun. The movie is full of flavor, color, and cheer. Even though 45 minutes pass before we're admitted through the gates and into the mysterious factory, the movie's first half breezes by on wit and clever, revealing character introductions. In fact, all 100 minutes breeze by, not in a frivolous or forgettable way, but like fast-moving theme park ride whose joy you will always remember.
I've always been surprised that the film didn't get much recognition upon release. In 1971, the musical film was on its way out, but the form had been as celebrated as ever in the 1960s, with Best Picture Oscars

going to West Side Story, My Fair Lady, The Sound of Music, and Oliver!. Whereas all those hailed from the stages of Broadway and the West End, Willy Wonka was an original production and thus didn't have prestige and distinction going in. As enjoyable as those films are, I find Willy Wonka considerably more entertaining and much more conducive to revisitation.

Sure, the songs by Anthony Newley and Leslie Bricusse don't have the musical weight and lyrical ingenuity of those other plays/films. But to me, they're more fun and inventive. They were entirely deserving of an original song score nomination, the movie's only Oscar nod, which it lost to Fiddler on the Roof. Even if you can't expect songs founded upon variations/repetitions of the phrase "Oompa loompa doompa de-[rhyming syllable]" to earn a statue, the film's main theme "Pure Imagination" is as charming and timeless as any Academy Award winner, yet didn't even get a nomination in the year that Isaac Hayes' "Theme from Shaft" won.

I suspect that many may have written off Willy Wonka as children's fare, an Academy bias as pronounced and enduring as any. Though The Wizard of Oz and Mary Poppins received plenty of accolades and were able to compete for the industry's top prize, they both wound up losing to inferior movies that could be deemed more mature (Gone with the Wind and My Fair Lady). The same rationale can be applied to Best Picture losses experienced by Star Wars (to Annie Hall), E.T. (to Gandhi), and other esteemed kid-friendly films, but it still strikes me as criminal that Wonka wasn't even in contention for anything more substantial than Gene Wilder's Best Actor in a Comedy/Musical Golden Globe nomination (which he lost to Fiddler's Topol).

But why linger on 40-year-old snubs when we can notice how the movie's reputation has risen along with the ages of its earliest fans. Today, Willy Wonka is one of the best-known and most loved films of its era. At the moment, the movie has 435,000 fans on Facebook, healthily outdistancing Tim Burton's blockbuster 2005 adaptation of Dahl's book that in whose shadow I feared Wonka would be relegated. I didn't care for Burton's movie, but then I didn't really ever expect it could reach, let alone surpass, the immense heights of this masterpiece, the only movie of real renown directed by Mel Stuart.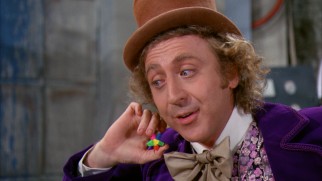 Willy Wonka has been one of my favorite films for a long while. I remember liking it in youth and then for whatever reason really reconnecting with in early 1996, not from its limited 25th anniversary theatrical rerelease but from a taping off I believe the USA Network that I returned to with some frequency. It was one of the earliest DVDs I bought, all the way back in 2000 and I was enough of a fan to know the best time to sell the disc after it went out of print. (Unloading the disc for $100 is the highlight of my limited eBay salesmanship.) When the movie's 30th anniversary arose and Warner announced an enhanced return to DVD, I was among those outraged by the studio's plan for a full screen-only release of the film. In what might have been both the first and last time an online petition ever brought about anything, Warner actually bowed to fan complaints and scheduled a special widescreen edition release three months later. Getting that edition in my hands that Thanksgiving 2001 (along with the then newly-released Shrek) is one of those memories for me that really sticks without good reason.
I was content enough with that 30th edition DVD (cardboard snapper case and all) and impervious enough to hi-def formats not to feel any need to replace it. But when Warner announced this three-disc 40th Anniversary Blu-ray + DVD Ultimate Collector's Edition, I knew I had to have it. This is the kind of treatment you dream of an all-time favorite film receiving. Even deluxe sets of all-time favorite films (like my Wizard of Oz Three-Disc Collector's Edition DVD, for instance) don't usually inspire such passion or interest in me. But the combination of this movie -- which I feel as close to as anything -- and this time -- my first Blu-ray-equipped fall and following at least a few years of meaning to revisit the movie (but always putting it off aware that I basically know it by heart) -- made this my first must-have release in a very long time.
I'm excited to be able to share my enthusiasm for the film along with the kind of comprehensive review this set deserves but elsewhere wouldn't have received. Even in the midst of my busiest season in my almost eleven years of covering movies and television on home video ("We have so much time and so little to do! Strike that, reverse it."), I dropped everything to write about this release as quickly but thoroughly as possible. I hope you feel I do it justice. (If so, you can let me know by clicking the Like, Tweet, and/or Share buttons at the top or bottom of the review.)
Alongside this set, Wonka is also reissued as a "40 Years of Everlasting Fun" DVD. I hesitate to call it new, because no doubt the DVD is the same as the first one here, which was first released ten years ago. In addition, though e-tailer artwork suggests it will also include the bonus DVD found here, the list price and rear cover art indicate that it in fact does not. If that is the case, it's simply a repackaging.
Watch a "Wonka-Vision" clip from Willy Wonka & the Chocolate Factory:

Blu-ray & DVD Details

1.78:1 Widescreen (DVD Anamorphic)
Blu-ray only: Dolby TrueHD 5.1 (English), Dolby Mono 1.0 (German, Italian); DVD only: Dolby Digital 5.1 (English);
Both: Dolby Mono 1.0 (French, Spanish, Portuguese)
Subtitles: English, French, Spanish, Portuguese; BD-only: German, Italian, Dutch, Portuguese, Danish, Finnish, Norwegian, Swedish
Release Date: October 18, 2011 (Blu-ray first released October 6, 2009, Movie DVD first released November 13, 2001)
Three single-sided discs (BD-25, DVD-9, & DVD-5)
Suggested Retail Price: $64.98
Digipak in Large, Wide Embossed, Holographic Cardboard Box with Softcover Book, Tin, Envelope of Document Reproductions, Golden Ticket, Scratch-N-Sniff Pencils, and Scented Eraser
VIDEO and AUDIO
The more substantial two of the three discs assembled here are identical to the movie's prior DVD and Blu-ray releases, only with new label artwork. Both present the film in 1.78:1 widescreen, approximating the 1.85:1 aspect of theatrical exhibition. The Blu-ray looks terrific. A few scattered shots are a bit grainy, understandably since most of these are optical effects shots. Otherwise, the picture is remarkably clean, vibrant, and detailed. I've seen the movie enough times to really be impressed by this 2009 remastering. It's not the sharpest transfer around, but I would bet it is one of the most picturesque afforded a film from this era.
The BD's Dolby TrueHD 5.1 mix is almost as delightful. It skillfully expands the film's original mono recordings to supply some atmosphere and depth. The difference in sound quality between the default English track and the monaural foreign dubs is dramatic and impressive. Typically, multi-channel remasters just broaden the limited elements, but this one provides clear separation and striking vitality.
On its own merits, the ten-year-old DVD transfer holds up as a solid presentation of the film and it even looks better than some of the latest Warner movies' DVDs. The element has some minor inconsistencies and the occasional speck, but the Blu-ray offers glaring improvement. I imagine it wouldn't have been all that hard for Warner to strike a new DVD from the bettered master, but perhaps they're right in thinking that anyone really concerned about the best possible presentation isn't still watching standard definition video. The DVD's Dolby Digital 5.1 audio sounded pretty comparable to the Blu-ray's offering, with slightly less power and clarity.
It's worth noting that the two formats attach different versions of the Warner Bros. studio logos to the start of the film. The DVD's presentation opens with the WB Family Entertainment logo featuring Bugs Bunny and the familiar Looney Tunes theme. The Blu-ray replaces that with the standard grown-up Warner Bros. Pictures logo (before windowboxing the opening credits, unnecessarily). Neither is the original preface, because Paramount Pictures first distributed the film, but opted not to renew its license after its 7-year deal expired, allowing Warner to buy the rights from the producing company, Quaker Oats.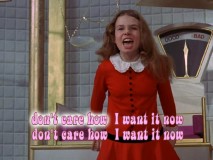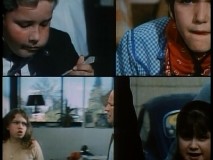 BONUS FEATURES, MENUS and DESIGN

Willy Wonka is joined by two standout bonus features on DVD and Blu-ray,

both created for the film's 30th anniversary.

The first is an audio commentary reuniting the five actors who played the kids in the movie: Peter Ostrum (Charlie), Julie Dawn Cole (Veruca), Denise Nickerson (Violet), Paris Themmen (Mike Teevee), and Michael Bollner (Augustus Gloop). Theirs is a fun track, filled with laughter and vivid memories of production. They discuss their castmates and what they are up to, recognize their shortcomings, recall their crushes, and share things that fans have said to them over the years. This was one of the first commentaries to really excite me and it remains one of the most memorable ones I've ever heard.

The second is the documentary "Pure Imagination: The Story of Willy Wonka and the Chocolate Factory" (30:25, SD). This interviews director Mel Stuart, Gene Wilder, producer David L. Wolper, uncredited writer David Seltzer, foremost Oompa Loompa Rusty Goffe, and all five Wonka kids. All share some fun anecdotes, recalling the project's origins, the realities of the wondrous set, the songs, and the quest to find a satisfying closing line. Some footage from production complements the reflections. The child actors discuss their present-day careers; it's interesting to see how some of them grew up like you'd imagine (Veruca/Cole, Augustus/Bollner) and others didn't (Violet/Nickerson and thickly/darkly-mustachioed veterinarian Charlie/Ostrum). It's a really great companion to the film.

The okay 4-minute "Vintage 1971 Featurette" (SD) promotes the film by discussing Harper Goff's art direction.

"Sing-Along Wonka Songs" (9:21, SD) presents four songs from the movie "I've Got a Golden Ticket", "Pure Imagination", "I Want It Now", and the Veruca version of what the menu calls "Oompa-Loompa-Doompa-De-Do." The first three of them appear in 1.33:1 and have animated lyrics placed over them (less than grammatically). The fourth is a simple film excerpt, in widescreen HD on Blu-ray and full screen on DVD, with no more lyrics than the rare word already supplied.

The original theatrical trailer (3:11, SD) is dark and beat-up, plus the Blu-ray alternately crops and squeezes it to unsightly 1.33:1, as opposed to the DVD's more accurate letterboxed appearance. Not that it's anything too special; it's overly long and revealing as movie marketing from this time was.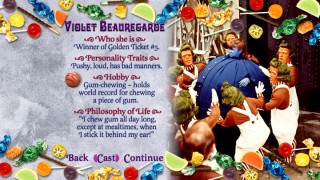 A couple of minor items remain exclusive to the movie DVD: A Cast & Crew section departs from the norm, listing the principal creators but providing facts only on seven characters: Willy Wonka, Grandpa Joe, and the five ticketed kids. A slowly self-advancing photo gallery consists of eighteen small, unremarkable black & white publicity stills.
The new bonus DVD holds two new special features.
"Mel Stuart's Wonka-Vision" (13:34) is a new 16:9 interview with the director, who explains the steps he took to ensure the movie's lovability: aiming at adults, maintaining realism, and striving for timelessness. The piece also includes some webcam contributions from Peter Ostrum, Julie Dawn Cole, and Stuart's two kids Madeleine and Peter (who recall their brief parts). They all share retrospection and a brief look at their mementos from production. It's a fun piece that's quite inspired visually.
"A World of Pure Imagination" (12:32), meanwhile, is a making-of featurette from 1971. It considers the creations of Roald Dahl, music and lyrics team Anthony Newley and Leslie Bricusse, and the ambitious design crew. Though devolving into just clips from the film, (which are as faded, fuzzy, and letterboxed as the behind-the-scenes footage), it's both a good look at the film's creation and at what an early '70s making-of featurette looked like.
These inclusions are both welcome, though giving them their own DVD seems like a silly product of Warner being too lazy to reauthor one or both of the other discs. The disc also could have gained some impact had the studio went and retrieved some extras from the movie's original 1997 DVD that weren't carried over to the 2001 disc: text screens of production notes and a trailer from the 1996 reissue.
The main DVD's winning animated menus take you to different parts of Wonka's factory, transitioning with the jerky Wonkavator and playing instrumentals from the songs. The new DVD's menus are static, as most Warner menus are these days, and silent.
The Blu-ray immediately starts playing the movie; its simple but functional menu is nothing but a complete list of bonus features laid over a still image. For languages and subtitles, you've just got to use your remote buttons; that's what they're there for, after all. The pop-up menu works only on the film itself. The Blu-ray disc can resume playback of the film even after powering down your player, but not after watching a bonus feature. The disc does not support bookmarks.
PACKAGING

This Collector's Edition is packaged in a sturdy box slightly taller than a DVD case, a little wider than two standard DVD/Blu-ray cases, and with the depth of four Blu-ray cases. Elements on all six sides of the box, like Willy Wonka's bow tie and hat band, are given stylish holographic touches. Others have texture or embossing. Each copy is given a number out of the limited edition printing of 100,000 (which isn't that limited for a premium catalog release in 2011). The blue banner at the top is part of a sturdy cardboard wrap-around detailing the contents for store shelves but intended to be discarded at home.

Doing that reveals the same front cover tagline "40 Years of Everlasting Fun" as the new DVD. The bottom of the box slides out to become its own box which holds everything here.

First encountered is the shrinkwrapped softcover book Pure Imagination: The Making of Willy Wonka & the Chocolate Factory by director Mel Stuart with Josh Young. Published in 2005 and since taken out of print, this 140-page book is a real delight and something you wouldn't expect to sell for any less than $15 on its own. It is an engrossing read, as Stuart details the movie's origins, development, and production, complemented by colorful stills and plenty of behind-the-scenes images.

The book covers some of the same ground as the documentary and new Stuart interview but in greater detail. He discusses how Quaker Oats funded the film to launch a candy bar that never materialized, how Dahl's screenplay required work, the casting process, a scene shot but deleted (with script excerpt), designing Wonka's factory, why "Cheer Up, Charlie" is often cut from TV broadcasts, his dislike of the animated Oompa Loompa song lyric graphics, title and race concerns, production challenges, the child actors' fun bed and breakfast experience, the tepid theatrical reception, and the eventual public embracing, which he seeks to rationalize. Appropriately, the book concludes with a "Where Are They Now?" section. It's worth noting that it has a different cover here than before and the back claims that some text has been edited from the original publication.

Next in the box, you find your very own golden ticket. Don't book your trip just yet; this simply entitles you to compete in a sweepstakes, which will give 5 grand prize winners a trip for 2 to Los Angeles and a Warner Bros. VIP Studio Tour (a $3,000 value) and 40 runners up a reproduction of the original Willy Wonka movie poster (a $60 value). I'd be thrilled with the latter; I've been wanting the poster for ages.

Watch our video, unboxing the Willy Wonka Ultimate Collector's Edition:


After that, we encounter a nicely illustrated envelope labeled Correspondence. It earns that title with its contents: reproductions of ten letters and documents from the making of the film. There's Wonka's bulletin announcing his golden ticket contest. A list provides names of fourteen actors considered for the title role. There are letters from producer Stan Margulies to cast members and crew. There are exchanges between director Stuart and producer David L. Wolper. Best of all is a 3-page handwritten note from Gene Wilder, sharing his thoughts and suggestions on costume sketches.

Beneath them is a retro metal tin, modeled after a Wonka Bar. It holds four scratch-n-sniff pencils (Banana, Blueberry Pie, Hair Cream, and Snozzberry) and a chocolate-scented eraser. They all really do have distinctive, noticeable, and pleasant fragrances. As with any of these pricy collector's sets, the dilemma stands: do you use these items as intended or preserve them to maximize their enjoyment? At least you can split up the pencils.

The last element is a six-sided, DVD-sized Digipak holding the three discs. It too is niftily modeled after a Wonka Bar, with artwork of wrapping pulled back to display chocolate rectangles. If you so desire, this simple but stylish case can do just fine being removed from the rest and being placed with your standardly packaged discs.

The bottom of the big box offers more holography with the Oompa Loompas against a spiral design. The box is neatly arranged with plastic compartments to ensure that the different components don't get jostled around or damaged. My copy arrived with no damage whatsoever, a pleasant relief for those buying this online, which will probably be your best bet since I don't see too many stores stocking this.
CLOSING THOUGHTS

Willy Wonka & the Chocolate Factory has long occupied a place in my short list of all-time favorite films. Top to bottom, start to finish, this is pure movie magic, with comedy, music, set design, and a star performance that rank up there among cinema's very best.

While I was pleased with the DVD's presentation, the Blu-ray's stunning transfer has it beat by several notches. For bonus features, the cast audio commentary and half-hour documentary are terrific company and all you could ask for.

And yet, this Ultimate Collector's Edition goes further, bundling the two formats along with two fine new featurettes, an excellent book and all those little goodies in handsome big box. A set like this isn't for everyone and many will choose not to spend so much on a movie they probably already own, but if you love the movie like I do, the asking price is pretty reasonable for a loving collection you're sure to treasure.

One downside to this release is that it seems to supplant the movie's simpler, more affordable previous Blu-ray editions in standard and Blu-ray Book packaging, so that if you want to buy the film in HD, you'll have to get all the bells and whistles for the time being. There is also unmistakable irony in the fact that though the new bonus disc is presented on DVD, the newly-released featurettes it holds apparently can only be acquired by buying the Blu-ray too.

Such details shouldn't trouble you too much; this deluxe release of this spectacular film is highly recommended.

Support great cinema and this site when you buy Willy Wonka now from Amazon.com:
Blu-ray + DVD Ultimate Collector's Edition / New 40th Anniversary DVD / Instant Video