Playing The Hulk and his alter ego Bruce Banner in the third highest-grossing movie ever may have made Mark Ruffalo a household name for the indefinite future. But Ruffalo was acting for over twenty years before The Avengers, so there are plenty of uncharacteristic, potentially embarrassing credits buried in obscurity, waiting to be discovered.

For example, there were the direct-to-video horror sequels Mirror, Mirror II: Raven Dance (1994) and Mirror, Mirror III: The Voyeur (1995) which each cast him in different supporting roles. There was also some television work, including his debut in an unsold pilot that wound up airing on the 1980s anthology "CBS Summer Playhouse", a 1994 guest appearance on the Canadian show "Due South", and a part in TNT's original movie Houdini (1998) playing the magician's younger brother.

Amidst those and three years before his breakout role as the ne'er-do-well brother of Laura Linney in the Oscar-nominated You Can Count on Me, Ruffalo earned second billing in the 1997 Lifetime movie On the 2nd Day of Christmas. It makes its home video debut alongside The Avengers and some of the year's earliest holiday season releases on September 25th, arriving on DVD from Echo Bridge Home Entertainment bundled with an audio CD of Christmas music at the low list price of $6.99.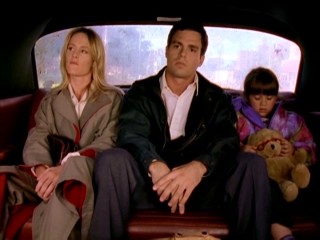 In 2nd Day, Ruffalo plays Albert "Bert" Sanders, a security guard at Limber's, a New York City department store (what is it about holiday movies and department stores?!). Bert has songwriting ambitions; he plays piano and has penned a couple of commercial jingles. The security guard job is the next best thing to adding to his family's tradition of police officers, a tradition that includes his father and two siblings. Bert got rejected from the Police Academy, his astigmatism failing him on the marksmanship portion.
Being a Lifetime production, 2nd Day belongs less to Bert and more to a woman. With her once hot movie career cooling off, Mary Stuart Masterson (Fried Green Tomatoes, Benny & Joon) accepted pre-title billing in a TV movie for the second time in as many years. She plays Patricia "Trish" Tracy, the should-know-better half of a pickpocket team with her orphaned six-year-old niece Patsy (Lauren Suzanne Pratt). The two have an effective system in place and something resembling a lax moral code: they only steal from the wealthy, only take cash, and drop the stolen wallet in a mailbox shortly thereafter. They appear to do quite well for themselves, especially targeting Limber's at this busy time of year.
On Christmas Eve, though, after one close call, Aunt Trish and Patsy get caught by Bert, stealing from, of all people, the store owner himself. Mr. Limber (Lawrence Dane) fully intends to prosecute and to have social services separate the young girl from her legal guardian. He decides, however, to delay punishment until the day after Christmas (hence the title). Trish and Patsy are to spend Christmas Eve and Christmas Day in the custody of Bert, an arrangement he's not crazy about and the ladies try to elude.
Of course, that far-fetched premise is a recipe for some holiday romance, as wounded single Bert and wayward yet good-hearted Trish are forced to spend time together and discover all they have in common, such as an appreciation for rhubarb pie sans whipped cream.

The material sounds very dumb and should be an affront to our intelligence, but Masterson and Ruffalo, with their opposite career slopes crossing, each have charisma and together some decent chemistry. While the plot is stupid and its progression inevitable, the lead actors and director James Frawley (inexplicably resigned to television in the decades since nimbly helming The Muppet Movie) make the most of it and manage to squeeze out some unlikely holiday cheer.

The movie suffers from one glaring creative misstep. It uses what you might consider chapter cards in which an upcoming line is placed (minus quotation marks and punctuation) over an old Christmas card illustration. Occurring about every five minutes, this terrible design simply has you waiting for the line to be uttered, even if it often proves neither to carry weight nor to display wit. It's as if the movie wants you to think of it as a series of vignettes, even though otherwise it's clearly not presented that way.

VIDEO and AUDIO

The picture quality isn't too bad on this DVD. It looks about as good as a standard definition broadcast, but without all the bugs, animated in-movie ads, and frequent commercial breaks. There are some small scratches, but the element is mostly clean, boasting adequate colors and sharpness. There's room for improvement, but this is plenty satisfactory for now. The 2.0 Dolby Digital mono soundtrack probably ought to be in stereo, but it still sounds fine, with dialogue having sufficient clarity. Par for Echo Bridge, neither subtitles nor closed captions are provided.
BONUS FEATURES, MENUS, PACKAGING and DESIGN

Though unsurprisingly given a barebones DVD,

2nd Day is accompanied by an unrelated music CD titled Family Holiday Favorites. This 10-track album (32:19) features The Platinum Strings Orchestra conducted by Eric Rogers and others.

From stadium organ and church organ instrumentals to synthesized and symphonic sounds with pieces of other famous compositions mixed in to the music of young children's videos and a track that apes Elvis, the disc gives a varied sound to the following: "Jingle Bells", "If Every Day Were Christmas", "Joy to the World", "We Wish You a Merry Christmas", "Deck the Halls", "The Twelve Days of Christmas", "The First Noel", "Star Light, Star Bright", "Rock and Roll Wishes", and "Finale: The Twelve Days of Christmas."

The CD supplies the illusion of more value while only raising the list price by a dollar; a DVD-only release of 2nd Day of Christmas arrives two weeks later with a $5.99 SRP.

Something must be said about the DVD's bizarre cover art, which bears no relation whatsoever to the movie. You've got Santa Claus shushing you next to a dog in a Santa hat and a boy in front of a Christmas tree, with a border of Christmas lights and a bottom section of a reindeer-pulled sleigh over a generic city skyline. All of that is well removed from anything in 2nd Day. The closest it gets to Santa is "head elf" David (Howard Hesseman), who provides a bit of generous help and magically disappears.

It does seem strange that the studio places more belief in people buying a generic-looking holiday movie with bonus CD than in actually wanting this specific movie with two pretty well-known stars (a low-quality shot of Masterson and Ruffalo is relegated to the rear cover). Of course, Echo Bridge's methods have always differed from larger studios, with them valuing low prices and overloaded discs much more than others. It must be working for them if they're still releasing previously unavailable titles while the bigger studios have largely backed off catalog gambles.

The DVD's two silent static menus employ minor portions of the incongruous stock art, with the ten chapters not aligning with the far more numerous on-screen cards in name or timing. The two discs share a standard black keepcase with the bonus CD on a swinging tray.
CLOSING THOUGHTS
On the 2nd Day of Christmas doesn't break the mold of a 1990s romantic TV movie, but it manages to be a somewhat enjoyable time in spite of its genre's limitations and an unfortunate reliance on Christmas card chapter screens. Mark Ruffalo fans ought to check this out to see one of his earliest and least-known performances. If you're a sucker for Lifetime's holiday programming ("Falalala Lifetime"), this is basically must-see entertainment. Echo Bridge's DVD + CD isn't much, but it's enough to satisfy at this set's low price.
Buy On the 2nd Day of Christmas from Amazon.com: DVD + CD / Just the DVD