DVDizzy.com | DVD and Blu-ray Reviews | New and Upcoming DVD & Blu-ray Schedule | Upcoming Cover Art | Search This Site
Harry Potter and the Deathly Hallows Part 1: Blu-ray + DVD + Digital Copy Review
Harry Potter and the Deathly Hallows Part 1

Theatrical Release: November 19, 2010 / Running Time: 146 Minutes / Rating: PG-13

Director: David Yates / Writers: J.K. Rowling (novel), Steve Kloves (screenplay)

Cast: Daniel Radcliffe (Harry Potter), Rupert Grint (Ron Weasley), Emma Watson (Hermione Granger), Helena Bonham Carter (Bellatrix Lestrange), Robbie Coltrane (Rubeus Hagrid), Ralph Fiennes (Lord Voldemort), Michael Gambon (Professor Albus Dumbledore), Brendan Gleeson (Alastor "Mad-Eye" Moody), Richard Griffiths (Vernon Dursley), John Hurt (Ollivander), Rhys Ifans (Xenophilius Lovegood), Jason Isaacs (Lucius Malfoy), Bill Nighy (Rufus Scrimgeour), Alan Rickman (Professor Severus Snape), Fiona Shaw (Petunia Dursley), Timothy Spall (Wormtail), Imelda Staunton (Dolores Umbridge), David Thewlis (Remus Lupin), Warwick Davis (Griphook), Tom Felton (Draco Malfoy), Toby Jones (voice of Dobby), David Legeno (Fenrir Greyback), Simon McBurney (voice of Kreacher), Helen McCrory (Narcissa Malfoy), Nick Moran (Scabior), Peter Mullan (Yaxley), David O'Hara (Albert Runcorn), Clιmence Poιsy (Fleur Delacour), Natalia Tena (Nymphadora Tonks), Julie Walters (Molly Weasley), Mark Williams (Arthur Weasley), Bonnie Wright (Ginny Weasley), Steffan Rhodri (Reg Cattermole), Sophie Thompson (Mafalda Hopkirk), Evanna Lynch (Luna Lovegood), Andy Linden (Mundungus Fletcher), David Ryall (Elphias Doge), Matyelok Gibbs (Auntie Muriel), James Phelps (Fred Weasley), Oliver Phelps (George Weasley), Domnhall Gleeson (Bill Weasley), Guy Henry (Pius Thicknesse), George Harris (Kingsley Shacklebolt), Hazel Douglas (Bathilda Bagshot), Kate Fleetwood (Mary Cattermole), Rade Serbedzija (Gregorovitch), Jamie Campbell Bower (Young Grindelwald), Michael Byrne (Gellert Grindelwald), Frances de la Tour (Madame Maxime), Matthew Lewis (Neville Longbottom)
Buy Harry Potter and the Deathly Hallows Part 1 from Amazon.com:
Blu-ray + DVD + Digital Copy • DVD • Blu-ray • DVD with Dobby Bookend • Years 1-7 Part 1 DVD Set • Years 1-7 Part 1 Blu-ray Set



The highest-grossing franchise in film history winds down with Harry Potter and the Deathly Hallows Part 1. The seventh and penultimate entry to the series that began in 2001, this one boasts the longest title and the one which most differs from the J.K. Rowling novel on which it is based. Both distinctions stem from the "Part 1", which reflects the significant decision to split the final book in Rowling's tremendously popular fantasy line into two films.

Financially, that decision makes perfect sense. Warner Bros. Pictures' ambitious adaptations have performed both outstandingly and consistently at the box office, with fanbase erosion offset by ticket inflation.

Why take $300 million domestically and nearly $1 billion worldwide when you could have $600 million domestically and nearly $2 billion worldwide? Shooting the films partly side by side and partly back to back ought to have kept costs down. And it's not like the faithful following would balk at such a move this close to the end.

Officially, this wasn't just about money, either. Running between 600 and 800 pages (depending on the nationality of the printing), the 2007 finale was one of Rowling's longest, and more than twice as long as earlier installments. Since all cinematic condensation has ruffled some readers, the thinking must have been that missing beats in this highly-anticipated conclusion might be especially resented. It is easier to buy into that when it means choosing two surefire tentpole releases over one, particularly now that Warner's flagship entity is ending.
Deathly Hallows Part 1 steps away from the honored traditions of the series, which has framed each episode within the context of one school year at Hogwarts. There is no Hogwarts here. The film opens with titular teenaged protagonist Harry Potter (Daniel Radcliffe) reuniting with his two best friends, laid-back Ron Weasley (Rupert Grint) and intelligent Hermione Granger (Emma Watson), in the Muggle world. They are joined by some of their closest wizard and witch allies, their fellow members of the Order of the Phoenix, including Ron's family and Hogwarts professors Hagrid (Robbie Coltrane), Lupin (David Thewlis), and "Mad-Eye" Moody (Brendan Gleeson). The party is determined to get Harry to safety at a time when the enemies, those "Death Eaters" loyal to the Lord Voldemort (Ralph Fiennes), are in voracious pursuit.
Using Polyjuice Potion for six of them to assume Harry's appearance temporarily, most of the group survives the Death Eater attack and arrives safely at the Weasleys' country home. There, Minister of Magic Rufus Scrimgeour (Bill Nighy, joining the series) shows up and presents Harry, Ron, and Hermione with the items bequeathed to them in the will of beloved Hogwarts headmaster Albus Dumbledore (Michael Gambon, still seen and heard briefly).
Those inherited objects prove useful in the tall mission that becomes clear to the friends, who narrowly avoid Death Eaters and go off on their own. Beginning in London and moving towards the forest, Harry, Ron, and Hermione look to find and destroy the Horcruxes holding Voldemort's soul and granting him immortality. That is no simple task, since all the spells they can think of have no effect on the first Horcrux they find. While trying to avoid the Dark Lord's Twilighty hired Snatchers, the three friends also follow clues to track down the remaining Horcruxes in an effort to overcome the increasingly potent evil forces once and for all.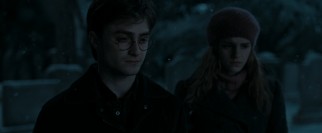 Dividing Rowling's final Potter book into two movies makes less sense creatively. There is a striking lack of action and story in Part 1, when it is compared to its six predecessors. The obvious concern surrounding the announcement of 2-part finale was that we would get two halves of one film, neither complete and satisfying in the way that these fine adaptations have long been. That proves to be a very real issue on Part 1, running the nearly 150 minutes that it does. The runtime is in line with the preceding films but it does not suit the material very well.

There seems to be a sharp 90-minute adventure in here that takes an extra hour to get where it's going (which isn't really anywhere). It's unusually uneventful by the franchise's standards. And the conclusion? Well, there is no conclusion. It's not left a cliffhanger to the degree that Pirates of the Caribbean: Dead Man's Chest was, but the closing conflict and aftermath feel much like a middle meant to give way to more story, not eleven minutes of end credits.

Though I may sound gravely disappointed by this installment, I am not. I do not hesitate to rank this in the franchise's weaker half, knowing for sure it does not grip and move me the way that the third, fourth, and six films did (and probably the first, though I'm due to revisit it). Still, even a weaker Harry Potter movie tops the vast majority of modern cinema and there is much to enjoy here.

Shaking up the usual year-at-Hogwarts formula is a good thing, even if the prior variations on it have found their own voice and style. At the series' end, there is sound reasoning to let everything around the three lead characters fade into the distance, allowing us to examine how they've grown and where they stand. With that said, much of the regular Harry Potter movie magic is missed in such a design. The colorful characters, identifiable experiences, familiar ambience, and occasional levity all fall to the wayside. You may not notice their absence just in viewing, since it does a commendable job of holding your attention, but you do in reflecting on the film. Reflection points out how lifeless and dispensable much of this installment is. Having not read the book, I can only assume that is true to how it is written. It would logically counter what promises to be a revelatory and eventful second half. But it makes Part 1 a slower and duller film than all that have come before it.
To make another comparison to Pirates of the Caribbean, Deathly Hallows Part 1 is the antithesis to At World's End, the off-key third film that tried to pay attention to every character previously established and also new ones introduced, pulling the viewer in countless different directions while giving them little reason to care about any of them. Like other Potter films, Part 1 has no problem letting even important supporting characters' involvement be limited to just a few shots and lines. Snape (Alan Rickman), Voldemort himself, and the Malfoys get just crumbs of screentime,

saying and conveying little. That would be just fine if there was enough going on in our one lead perspective. But that is only true part of the time.

That part of the time is most enjoyable, such as when the three friends assume middle-aged bodies to infiltrate the Ministry of Magic or when Harry returns to his birthplace on a snowy Christmas Eve and takes a moment at his parents' grave. Otherwise, though, it feels like Harry, Hermione, and (sometimes) Ron are just passing the time out in the woods, taking a full movie to solve riddles that require little more than one act.

In the context of the series, I can't find much reason to single out Deathly Hallows Part 1 with praise. But it still can easily be called quality entertainment, winning over a wide audience and boasting themes, dramatics, and production values beyond most of the competition.

Exactly three months before Harry Potter's saga concludes with the theatrical release of Deathly Hallows Part 2, Part 1 came to DVD, Blu-ray, and Blu-ray + DVD + Digital Copy last Friday. We look at the 3-disc combo pack right here.
Blu-ray & DVD Details

2.40:1 Widescreen (DVD Anamorphic)
Blu-ray: DTS-HD 5.1 MA (English), Dolby Digital 5.1 (French, Spanish, Portuguese)
BD Movie Disc Subtitles: English for Hearing Impaired, French, Spanish, Portuguese
BD Bonus Disc Subtitles: English SDH, French, Spanish, Dutch
DVD: Dolby Digital 5.1 (English); Subtitles: English SDH, French, Spanish
Not Closed Captioned; Extras Subtitled
Release Date: April 15, 2011
Three single-sided, dual-layered discs (2 BD-50s & 1 DVD-9)
Suggested Retail Price: $35.99
Blue Keepcase in Embossed Cardboard Foil Slipcover
Also available in DVD ($28.98 SRP), Blu-ray ($29.98 SRP), DVD with Dobby Bookend ($49.98 SRP), Years 1-7 Part 1 Set (7-Disc DVD: $78.92 SRP; 9-Disc Blu-ray: $134.99 SRP), on Amazon Instant Video
and, exclusively from Wal-Mart, Two-Disc Special Edition DVD ($29.99 SRP)
VIDEO and AUDIO
Deathly Hallows Part 1 looks pretty terrific on Blu-ray. The disc preserves the stylized appearance of the film's 2.40:1 theatrical exhibition: dark and heavy on the muted colors. You may not be crazy about that, but the hi-def transfer can't be faulted in any significant way. Similarly, the 5.1 DTS-HD master audio mix is often quiet, with Alexandre Desplat's score predominantly understated. When things pick up, you really notice. Action sequences make a grand impact aurally, surrounding nicely (though leading some to the remote control to tinker with volume levels).
The DVD may use less disc space than advisable, but it is quite passable by the standards of that format. Its picture is similarly dark but clean and its Dolby Digital 5.1 soundtrack packs a comparable punch in the scattered action sequences.
BONUS FEATURES, MENUS and PACKAGING

The main extra here is a Maximum Movie Mode presentation, which stood as my introduction to this occasional Warner Blu-ray feature. Far more interesting than a typical audio commentary, this seamless mode turns a repeat viewing of the film into an entertaining and edifying experience. As the movie plays, cast and crew members take turns appearing to add to your comprehension and enjoyment.

Jason Isaacs (Lucius Malfoy) is essentially our host, leading us through series reflection (reminding less devoted fans like myself of character histories with clips of past film appearances), trivia, and an overanalysis of his little screentime (Nick Moran does the lattermost as well with Scabior the Snatcher).

Others offer their own input: Tom Felton (Isaacs' onscreen son Draco Malfoy) reads corresponding excerpts from J.K. Rowling's book, actor Frank Dillane (young Voldemort in Half-Blood Prince, an unlikely choice) reminds us of objects' significance, while production designer Stuart Craig, makeup designer Nick Dudman, and producers Tom Heyman and David Barron talk effects, design, creative decisions, and production experiences. Since this is highly screen-specific, there are several lulls where you're simply watching the film, but not too many. This feature extends the movie to 2 hours, 47 minutes, and 56 seconds, as the movie gets occasionally paused to look back or go deeper. While some behind-the-scenes videos (such as VFX progressions) play on their own, six others merely preview available detours.
Gladly, those six detours, called "Focus Points", can also be viewed on their own, as the movie disc's other bonus feature. "The Last Days of Privet Drive" (2:35) covers saying goodbye to Harry's home away from Hogwarts with comments on how the young cast has grown. "Hagrid's Motorbike" (4:00) discusses the different implementations of that flying vehicle, like green screen stunt work. "Magical Tents!" (2:20) touches on designing the wedding reception tent and shooting in it. "Death Eaters Attack Cafe!" (2:50) give us a behind-the-scenes look at the staging of that action sequence. "Creating Dobby and Kreacher" (3:50) addresses the digital characters with insight from stand-ins and voice actors as well as the live-action cast who performs across from their placeholders. Finally, in "The Return of Griphook" (3:45), Warwick Davis gets made up for his latest Harry Potter role (this one, he assumes from Verne "Mini-Me" Troyer), which he and others talk about. The plugs for the excerpted earlier movies and copyright notices that follow each short are a bit much, but otherwise, this making-of content is quite good.
On the BD-Live front, the Blu-ray disc promises previews for Deathly Hallows Part 1 bonus content (hmmm) and Lord of the Rings Extended Edition Blu-rays, but after a long time trying, BD-Live just wouldn't load for me (even after erasing my local data to make sure I had enough space to support it). I'm not worried I'm missing anything of importance.
The second disc of the combo pack is where my review copy differs slightly from final product. Concerned that the opening sequence from Deathly Hallows Part 2 wouldn't remain exclusive to this set very long, Warner sent journalists a version of the bonus Blu-ray omitting the sneak peek found on final product. So, even though I got my copy only about 36 hours before it was available to buy, I can't tell you anything about Part 2 and the first look has been kept offline.

Behind the Story holds five short featurettes. "The Seven Harrys" (5:29) breaks down the memorable early sequence,

considering the acting challenges facing Daniel Radcliffe playing assorted characters assuming his likeness as well as the technical challenges of putting the scene together.

Unlike anything else here, "On the Green with Rupert, Tom, Oliver and James" (13:38) documents a Wales golfing weekend of Rupert Grint, Tom Felton, and Oliver & James Phelps, the actors who play Ron Weasley, Draco Malfoy, and the Weasley twins. Between swings, these friends chat about their lives, natures, futures, and famous film franchise. Reflecting on the fun time they had, Grint hosts the piece, a refreshing break from typical making-of featurettes which doesn't limit itself to the golf course.

"Dan, Rupert and Emma's Running Competition" (2:40) collects thoughts on the joys of running through the forest, with the three young stars separately debating who is the fastest of them. "Godric's Hollow/The Harry and Nagini Battle" (6:00) discusses the design of the former location's set and the latter snake sequence set there. "The Frozen Lake" (4:09) takes us behind the scenes of that sequence in water tank and on soundstage.
Eight short bits comprise Additional Scenes (10:54), Warner's name for deletions. The longest extends the Dursleys' goodbye with Dudley (Harry Melling) in focus. Other snippets include Hermione and Ron romantically skipping rocks, a nighttime tent conversation, an extended elevator ride of Ron and Harry in the Ministry of Magic employee bodies, Harry and Ron's forest wand play, a moment with Mrs. Dursley (Fiona Shaw) and a scene of Ron with his father (Mark Williams).

Finally, Trailers and Spots gives us none of either. The featurette "Behind the Soundtrack" (3:51) offers orchestra recording footage and comments on what composer Alexandre Desplat brings to the series.

Then there is a fun piece (6:25) in which the film's cast members visit Universal Orlando Resort's The Wizarding World of Harry Potter for the theme park area's June 2010 grand opening.

We get looks at design work and construction plus enthusiastic remarks from those involved in either the movies or the park (even author J.K. Rowling). This is how you promote a theme park without feeling like a commercial.

As part of Warner's efforts to strip down DVD and make people go Blu, the deleted scenes are the only bonus features made available on Deathly Hallows Part 1's DVD. Wal-Mart does have an exclusive Two-Disc Special Edition
offering most of the Blu-ray bonus features on DVD (but not the Part 2 sneak peek or Maximum Movie Mode).
In a slight departure from Warner's standard combo pack design, the DVD provided here drops the digital copies, making them available as an Internet download instead. This is advantageous, because it spares the DVD from having to use compression beyond industry standards. However, the disc still barely makes use of the second layer, checking in nearly 3 GB below DVD-9 capacity (well below what most would devote to a 2½-hour movie). That means there was ample room to include the deleted scenes and French dub from the DVD sold on its own (curious exclusions whose victims are the people still watching DVDs but buying combo packs). I've confirmed on other Warner combo packs that the combo DVD is more highly compressed than the movie's general retail DVD. There is no reason for that to happen in this case, without disc space going to digital copies. For that matter, there was no reason for Warner to author a separate DVD for the combo pack; the sold-separately disc ought to have done just fine here. (Even the contents of the lightweight second Blu-ray, at least in this review copy, could have easily been dropped on the feature disc without requiring additional compression.)
Nevertheless, the combo's DVD cuts back on frills, dropping extras and pre-feature trailers. Its three static menus (main, languages, scenes) supply the bare essentials, with score accompanying the one-sheet-reformatting main screen.
Harry Potter or not, the Blu-ray discs' menus are still pretty standard. Although we get a scored montage of clips rather than Warner's usual static poster art, the menus themselves are ordinary, with the studio's usual golf putt and fizzing air sounds punctuating your every move. Runtimes and preview images are kindly provided for bonus features. The first disc is equipped with resume capabilities, though you'll still have to skip past logos and ads to return to the menu first. The Blu-ray opens with ads for the third and fourth Harry Potter Ultimate Editions and the Harry Potter: Years 1-4 Lego video game.
The combo pack fits the three discs in a standard slim Blu-ray case, where they're joined by the digital copy code and directions, a BD-Live requirements list, and an 8-page booklet promoting The Noble Collection's pricey newest tie-in products (wands, jewelry, and beyond!). The case is topped by a sleek cardboard slipcover, which renders the keepcase artwork in reflective foil and embosses the title on three sides.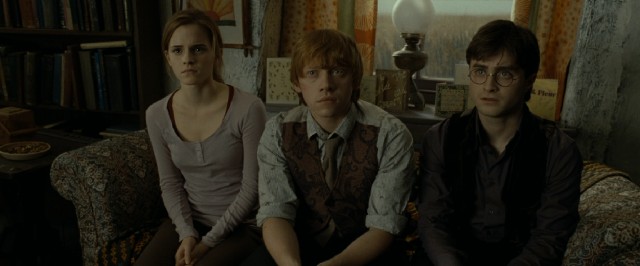 CLOSING THOUGHTS
Although it ranks among the lesser Harry Potter movies for me and it suffers for not standing on its own, Deathly Hallows Part 1 still qualifies as a good time and more fun than most of its contemporaries. A slightly sluggish set-up to what is sure to be a dynamic final film, Part 1 has enough inspired sequences and ideas to appreciate.
At this point, if your collection is without any of these movies, it's tempting to wait and see what Warner will offer in the way of a definitive series collection. But if you want to own this chapter right away and in time to rewatch it before Part 2 arrives, the Blu-ray combo pack is a winning release. The feature presentation is stellar and the extras, especially Maximum Movie Mode, add to one's enjoyment.
Buy Harry Potter and the Deathly Hallows, Part 1 from Amazon.com:
Blu-ray + DVD + Digital Copy / DVD / Blu-ray / DVD with Dobby Bookend
Years 1-7 Part 1 7-Disc DVD Set / Years 1-7 Part 1 9-Disc Blu-ray Set


Related Reviews:
Harry Potter and the Deathly Hallows Part 2 • Harry Potter and the Prisoner of Azkaban(UE) • Harry Potter and the Goblet of Fire (UE)
New: The Chronicles of Narnia: The Voyage of the Dawn Treader • The King's Speech • Tron & Tron: Legacy
2010 Blockbusters: The Twilight Saga: Eclipse • Alice in Wonderland • Toy Story 3 • Tangled

Featuring the Cast of Harry Potter and the Deathly Hallows, Part 1:
Driving Lessons • 127 Hours • Pirates of the Caribbean: Dead Man's Chest • The Miracle Maker
Sweeney Todd: The Demon Barber of Fleet Street • Galaxy Quest • The Hitchhiker's Guide to the Galaxy
DVDizzy.com | DVD and Blu-ray Reviews | New and Upcoming DVD & Blu-ray Schedule | Upcoming Cover Art | Search This Site
Search This Site:
DVDizzy.com Top Stories:
Reviewed April 20, 2011.


Text copyright 2011 DVDizzy.com. Images copyright 2010 Warner Bros. Pictures, Heyday Films, and 2011 Warner Home Video. Unauthorized reproduction prohibited.