Fairy tales and the Walt Disney Company go way back. In the early 1920s, before founder and namesake Walt made it big in Hollywood with the introduction of the animated film, he ran Kansas City's Laugh-O-Gram Studio, whose silent cartoon shorts were all fairy tales. Later, Walt's biggest and most beloved animated features, including the pioneer Snow White and the Seven Dwarfs and the studio-reviving Cinderella, belonged to the same tradition.

It is one that has outlived him, from the '90s renaissance and on to recent films like Tangled. It was little wonder that when Disneyland opened in 1955, the area drawn from the company's films was named Fantasyland, which to this day stands as the theme park's most iconic and populated region.

This relationship has had a number of benefits. Disney has built itself into one of the world's biggest media giants. Meanwhile, their films have helped to keep the centuries-old tales from the likes of Charles Perrault and the Brothers Grimm of great interest all over the globe.

Now, the company bearing Walt's name has added to its fairy tale tradition in one of the biggest ways it can, with the major dramatic network television series "Once Upon a Time". Adding to a wave of fairy tale revisionism that has also included two live-action Snow White movies and NBC's thematically kindred police drama "Grimm", this ABC fantasy is set in the small town of Storybrooke, Maine. All of the world's storybook characters have been cursed to live there, not aware of their past and unable to escape. That design renders the show at its heart a somewhat typical contemporary drama.
In the present day, Boston bail bondswoman Emma Swan (Jennifer Morrison, "House, M.D.") is led to Storybrooke by Henry Mills (Jared S. Gilmore), the 10-year-old son she gave up for adoption as a teenager. Henry carries around with him a book of fairy tales. He insists they are real and that his adoptive mother, town mayor Regina Mills (Lana Parrilla), is in fact The Evil Queen who cursed residents to this frozen-in-time existence. Apparently, Emma alone can break the curse that binds the people of Storybrooke.
Each episode gives us dual chronologies, as flashbacks show us the fairy tale world from which the seemingly ordinary citizens originally sprung. For instance, Henry's pixyish schoolteacher Mary Margaret Blanchard (Ginnifer Goodwin) is Emma's supposed mother, Snow White. Her adventures with Prince Charming (Josh Dallas) and the Queen shape our understanding of both then and now.
The show puts its own spin on the familiar fables. The Queen's Magic Mirror (Giancarlo Esposito, recurring) used to be the Genie of Agrabah. The reptilian dark lord Rumplestiltskin (Robert Carlyle), the conniving pawn shop owner Mr. Gold in Storybrooke, is also the Beast in the story of Beauty and the Beast. The characters in all these stories interact, evidently occurring in the same unspecified distant, magical past. Disney's animated adaptations of the fairy tales are paid homage again and again, both in the sources tapped and in their treatment. Snow White's dwarfs and Pinocchio's insect conscience take their names from the classic Disney versions of those stories. Belle wears at least two costumes resembling those of her 1991 animated counterpart.
The series wields an open-ended design. There seems to be no limit as to the personalities that can be written in for a single episode or more. Despite its title, "Once Upon a Time" doesn't even limit itself to fairy tales, just fiction and not only the ancient stuff. In theory, comic book superheroes and John Grisham lawyers could surface some time, although it's a safe bet the show will stick to characters in the public domain.
That is just one of the series' many sources of vagueness. "Once" raises far more questions than it answers. It shows us multiple times that bad things (i.e. car troubles) befall those who try to leave town. But this isn't an entirely insulated world and the pilot itself takes Henry to Boston, an exception it at least attempts to explain. The more thought you give to Storybrooke, the less it makes sense.
Still, the basic concept of ordinary modern-day versions of fairy tale characters has ample appeal. But the series chips away at that appeal as characters come and go to suit the show's whims. For that matter, even the series regulars are repeatedly reconfigured to fit an episode's motif or derivative backstory. There is never any sense that creators Edward Kitsis and Adam Horowitz (writers/producers on "Lost" and the top-credited scribes of Tron: Legacy) have mapped everything out and thought of an answer to every important question a viewer might have. Instead, we feel that the writing staff is making it up as they go, armed with a nice-sized collection of fairy tales and animated Disney DVDs. The show is very clearly designed to run as long as ABC will have it, which as the network's third most-watched program in the all-important 18-49 demographic last season, could be a while.
While there are a number of issues for which we can take the show to task, "Once Upon a Time" at least manages to be entertaining and easy to watch. At the same time, neither of its two forms excel as you'd like.

I didn't calculate it, but the show seems to be composed of two-thirds modern drama and one-third fairy tale past. The more remarkable latter manages to do okay in spite of the usual low budget that reduces its sorcery to modest CGI and green screen effects. At times, the fantasy content feels like merely a hook or gimmick to strengthen a mediocre storyline with a romantic parallel. The show's primary format, that of the typical ABC drama, resembling a "Desperate Housewives" or "Grey's Anatomy", doesn't do all that much for me. It's competently presented and reasonably involving, but neither your brain nor your heart is ever strongly engaged.

All these concerns explain why even with the ideal viewing conditions afforded by The Complete First Season Blu-ray Disc, I struggled to get through the show, needing over two weeks to watch the first twenty-two episodes. I recognize that I have below-average patience for hour-long television and that the time investment required turns me off from reviewing more of them. But the fact that I was never itching to see what happens next or excited to discover what other fairy tales would be brought to life indicates to me that the series is less successful than it should be. Admittedly, I don't have much of a frame of reference for contemporary network dramas, but this had a much weaker hold on me than the handful of AMC shows I have gotten into.

The show's biggest shortcoming is its failure to meet its vast potential. It seems to me that with a little more thought going into the premise and to each episode, this could be supremely captivating. Instead, the show has the feel of "Eh, it's only television." With network broadcasts striking me as the worst way to experience a show these days, "only television" doesn't cut it for me. Maybe at the gym or waiting in an emergency room. But the bar needs to be higher for a production leaning upon the entirety of fairy tales.

This review must give you the false impression that I strongly disliked "Once Upon a Time." I did not. I just didn't love it. If you don't love a television show, you probably stop watching it. If I don't, I've still got to finish the review. When all the time that goes into that results in mere semi-satisfaction, criticisms flow a lot more easily than contentment. I'm at a loss to point out things I liked about the show because they're all very ordinary things that should be a given.
For instance, Jennifer Morrison, who despite second billing is clearly the show's lead, makes for a satisfactory protagonist. Robert Carlyle delights in chewing the scenery. Everyone else in the cast does a decent job without convincing you that they were the only ones who could play the parts or that they are ready for bigger and better things. Most of the roles are pretty flavorless, as the show doesn't have the time to give the characters believable real world problems or interests, instead occupying them with bigger issues that could form an arc: amnesia, a love triangle, murder charges, an election, etc.
Considering the historical frugality of the medium, the series does boast some nice production values. An ambitious production like this demands varied locations, countless extras, opulent sets and costumes, and plenty of visual effects. That's a lot more than the typical TV show, so even though you won't mistake this for a big budget feature film and certain cost-cutting rings false, it gets by. The resulting work possesses broad appeal for both genders and anyone old enough to watch primetime, something of a rarity nowadays. That aspect makes it, according to Nielsen data cited by Disney, the "#1 co-viewed drama" for kids and families.
While it deserves credit for not explicitly writing down to young, forgiving audience members, "Once Upon a Time" never displays all that much regard for viewers' intelligence and retention. No demographic is neglected by the soapy, inclusive methods, but neither are they challenged or stimulated. Thus, watching this season struck me more as obligation than recreation.
Disc 1

1. Pilot (43:35) (Originally aired October 23, 2011)
Henry finds Emma and brings her to Storybrooke, where she plans to stay.

Meanwhile, some of the more familiar parts of Snow White's story are shared.

2. The Thing You Love Most (42:35) (Originally aired October 30, 2011)
A threatened Regina tries to push Emma away. The origins of The Wicked Queen's curse are revealed.

3. Snow Falls (43:05) (Originally aired November 6, 2011)
Mary Margaret reads to the comatose John Doe, paralleling the first meetings of Snow White and Prince Charming.

4. The Price of Gold (42:49) (Originally aired November 13, 2011)
Emma aids a young pregnant woman (Jessy Schram) who has promised her child to Mr. Gold. That resembles Cinderella's regrettable deal with Rumplestiltskin.

5. That Still Small Voice (43:06) (Originally aired November 27, 2011)
Henry and his shrink (Raphael Sbarge) explore a newly-formed giant sinkhole. The therapist's other life as the human who will become Jiminy Cricket is also explored.
Disc 2
6. The Shepherd (43:05) (Originally aired November 27, 2011)
David is torn between the woman who claims to be his wife (Anastasia Griffith) and Mary Margaret, the woman for whom he has developed feelings. Prince Charming and a related shepherd's backstories are fleshed out.
7. The Heart is a Lonely Hunter (43:07) (Originally aired December 11, 2011)
The Wicked Queen appoints a huntsman to cut out Snow White's heart, a story that aligns with Sheriff Graham (Jamie Dornan) and his visions of a wolf.
8. Desperate Souls (43:19) (Originally aired January 8, 2012)
In a heated race, Emma runs for sheriff against the mayor-backed reporter Sidney Glass (Giancarlo Esposito). We also learn how Rumplestiltskin acquired his power.
9. True North (43:06) (Originally aired January 15, 2012)
Emma helps two homeless children (Karley Scott Collins and Quinn Lord) find their father to avoid the foster care system. Those same two children are none other than Hansel and Gretel.
10. 7:15 A.M. (43:06) (Originally aired January 22, 2012)
Mary Margaret and David's feelings for each other persist. A stranger's arrival in Storybrooke raises questions. Prince Charming is engaged to marry King Midas' daughter.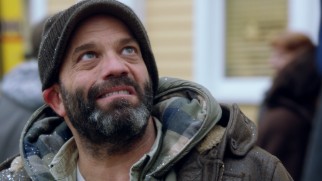 Disc 3
11. Fruit of the Poisonous Tree (43:00) (Originally aired January 29, 2012)
Emma and Sidney try to dig up dirt on Regina. Sidney's past lives as the Genie of Agrabah and the Queen's Magic Mirror are detailed.
12. Skin Deep (43:03) (Originally aired February 12, 2012)
Valentine's Day prompts a girls' night out. The story of Beauty and the Beast is told with Belle (Emilie de Ravin) resigned to living in Rumplestiltskin's castle.
13. What Happened to Frederick (43:05) (Originally aired February 19 2012)
David breaks up with his wife, sparking a Storybrooke scandal. In the fairy tale world, Prince Charming agrees to the dangerous mission that can restore Princess Abigail's true love.
14. Dreamy (43:01) (Originally aired March 4, 2012)
Leroy (Pirates of the Caribbean's Lee Arenberg) is fleshed out, as he sells candles at the annual Miners' Day Festival to help the nuns avoid eviction. Leroy's alter ego, principal dwarf Grumpy, is born and charmed by one of the nuns' alter egos, a fairy named Nova (Amy Acker).
Continue to Page 2 >>
Discs 4-5, Video & Audio, Bonus Features, Menus & Packaging, and Closing Thoughts
Buy Once Upon a Time: Season 1 from Amazon.com:
Blu-ray / DVD / Instant Video / Instant Video HD