Few criminals have ever generated as much public interest as Bonnie Parker and Clyde Barrow. The unwed romantic couple caught the nation's attention with their deadly spree of bank robberies back in the 1930s.

Eighty years later, we're still talking and thinking about them.

The need for a film version of their story seemed to be eliminated with Arthur Penn's iconic, violent Bonnie and Clyde (1967) starring Warren Beatty and Faye Dunaway and featuring Gene Hackman, Gene Wilder, Michael J. Pollard, and an Oscar-winning Estelle Parsons.

No subsequent production has ever truly tried to outdo that classic. There was 1968's kneejerk The Other Side of Bonnie and Clyde from B-movie veteran Larry Buchanan, which vowed "You've seen the glamour version. Now see it as it was!" An IMDb listing for a three-hour 1995 movie called The Barrow Gang, which bills itself "The only historically accurate account about the story of Bonnie and Clyde", seems suspect, as it still awaits five user votes. There was talk a few years back of a remake to star Hilary Duff and Kevin Zegers, even prompting a verbal feud between Duff and Dunaway, but that project never materialized. Other retellings have had the sense to eschew comparisons to Penn's film by being made for television.
The latest of these is Bonnie & Clyde, a two-part miniseries that premiered last December simultaneously on Lifetime, A&E, and History. This four-hour broadcast casts Emile Hirsch (Into the Wild, Speed Racer, Milk) as Clyde and British actress Holliday Grainger (Jane Eyre, Anna Karenina, "The Borgias") as Bonnie.
As a sick child, Clyde sees visions of Bonnie. He first lays eyes on her in real life at her wedding, which he crashes with his brother Buck (Lane Garrison). By 19, Bonnie's husband has left her and her headshots submitted to Columbia Pictures for stardom consideration have been rejected. Clyde makes a call to her house and invites her on a date. They go to a speakeasy, which lands Clyde in jail and in the newspapers for a safe robbery previously charged only to Buck.
While Clyde is in and out of prison, getting beaten, raped, and maimed along the way, Bonnie remains committed to him. This television version gives each of its leads a defining personality trait. Bonnie is obsessed with fame, carrying around a case of her press clippings. Clyde is something of a psychic, plagued by premonitions that have haunted him since childhood. "Products of The Dirty Thirties", the two find their robberies take a life of their own. Bonnie pays a visit to reporter P.J. Lane (Elisabeth Reaser) to make sure she credits her as more than the pawn of her man. Bigger stories and more headlines follow, as a misattributed accident puts them on a path of killing.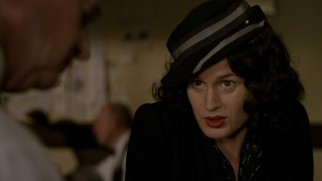 Legendary lawman Frank Hamer (William Hurt) comes out of retirement to hunt the couple, whose gang comes to include Buck, newly sprung from prison, and his wife Blanche (an oddly-cast Sarah Hyland of "Modern Family").

Worrying their respective mothers (played by Holly Hunter and Dale Dickey), Bonnie and Clyde run from the law while adding to their kill counts and their legend.

This Bonnie & Clyde is possibly more historically accurate than the classic film (though Clyde's tattoos are dubious), but it's nowhere near as interesting or engaging. Viewed on Blu-ray, where it is released today without commercial fadeouts or even an intermission, this 2013 production will easily inspire, and suffer from, comparisons to the Beatty and Dunaway film.

The biggest problem about the miniseries is that it's overlong. Four hours of airtime yielded twice the commercial sales it deserved, but there's nothing eventful enough to justify that length. There is little to show for all this time we spend with these fugitives. We don't become intimate with either Bonnie or Clyde beyond their one assigned, belabored characteristic. We don't see many of their actual crimes. Their murders aren't preconceived, but circumstantial, born out of situations like a hasty Christmas getaway and Easter Sunday suspicion. The epic runtime also doesn't allow us to understand what makes Hamer tick or to adequately convey the pain of those mothers.

Australian director Bruce Beresford, prior to Argo's Ben Affleck the last helmer of a Best Picture Oscar winner not nominated for Best Director (Driving Miss Daisy), never allows the show to spin off-course or wander into camp territory. But that might have been preferable to allowing it to proceed with such mediocrity, always close to grabbing our attention but unable to ever pull it off. Hirsch and Grainger are both older than the real Barrow and Parker were, but they bear the youth of their times, making them feel like kids playing grown-up, regardless of their past dramatic accomplishments. Each young actor seems to take a step back with this, a major event that's only passable for basic cable and only because it's being judged against other Lifetime, A&E and History original productions rather than things like "Breaking Bad" or "Mad Men."

The digital video employed does the material no favors. Nor does the corny use of historical photos and old movie clips, save for closing footage from the real death scene and funerals.

Seven weeks after its initial airing, Bonnie & Clyde hits home video today in two-disc DVD and Blu-ray editions from Sony Pictures Home Entertainment.
VIDEO and AUDIO
Not surprisingly for something that first aired less than two months ago, Bonnie & Clyde looks excellent on Blu-ray. Surely besting even HD broadcasts, the 1.78:1 presentation nonetheless is still identifiable as television, not film. The digital video exhibits light grain but lacks a certainly cinematicness in moments when it's rendered in slow motion.
The potent 5.1 DTS-HD master audio soundtrack is more akin to a big screen production. The active mix commands notice with the loud rat-tat-tat-tat of Tommy guns. There's also tasteful atmosphere and John Debney's occasionally jazzy and often forceful score. Though no dubs are supplied, French and Spanish translations are among the four subtitle streams, which sadly are not extended to Disc 2's bonus features.
BONUS FEATURES, MENUS, PACKAGING and DESIGN

Underestimating Blu-ray capacity, this release relegates all bonus features to the second disc, while leaving enough unused space to accommodate them on Disc 1.

First among the four HD videos is "Iconography: The Story of Bonnie & Clyde" (15:30),

a making-of featurette that's big on behind-the-scenes footage. It also collects comments from director Bruce Beresford and the cast on the miniseries' subjects and technical facets from costumes to props.

"Becoming Bonnie" (10:34) lets Holliday Grainger discuss getting the period voice right by listening to archival Texas accents and watching old Sissy Spacek movies. Grainger also addresses what she gleamed from Bonnie's diary and how she chose to serve the production, more than do justice to the real person.

In "Becoming Clyde" (5:37), Emile Hirsch recalls his heart nearly skipping a beat about the "interesting development" that landed him the part. He also delights in sharing some of the research and dialect coaching that shaped his performance.
Finally, the BD-exclusive "A Legendary Story Revisited" (16:05) lets writers/co-executive producers John Rice and Joe Batteer explain the opportunities afforded by this new retelling in miniseries format.

They discuss the truths and obscure details uncovered, while also justifying their embellishments and inventions.

Sounds of gun shots and cocking accompany navigation of the discs' identical scored, static menu screens. Both discs extend the ability to resume playback, while the first lets you place bookmarks on the feature presentation.

Topped by an embossed slipcover using the same artwork, the standard side-snapped blue keepcase includes reverse side artwork and an insert with directions and a redemption code for Sony's standard Digital HD UltraViolet feature. Each of the titular leads gets a disc label and shares each spine with their bloody cover shots.
CLOSING THOUGHTS
It's unusual to encounter something that disappoints simply by a failure to engage, but that's an accurate description of 2013's Bonnie & Clyde. I'll assume the facts are accurate. The period production design and dialects seem admirable. But this miniseries fails to give back much in return for the three hours of your time it demands. That should be ample opportunity to dig deeper into this familiar true story and dish up some complex characterization or to give the events feeling. Instead, we're strung along by a defiantly average presentation you only hope will grow more interesting.
Sony's Blu-ray delivers an impressive feature presentation (digital video's dramatic limitations notwithstanding) and a decent assembly of bonus features. It's a satisfying release for those intending to own it, though a rather pricey one you'd probably do better to rent than buy.
Buy Bonnie & Clyde from Amazon.com: Blu-ray + Digital HD UltraViolet / DVD