Genealogists aren't the only folks interested to discover where they come from. One's heritage contributes to his or her identity and as creations tend to reflect the people behind them, it doesn't take a wild guess to figure out why Ali Selim chose to make Sweet Land his feature writing and directorial debut. This independent drama tells of two early 20th century European immigrants whose distantly-arranged marriage is dealt a number of obstacles in a small rural town in Minnesota, Selim's home state. Those with similar lineage -- whose ancestors journeyed from north and central Europe to settle on middle-America farmland -- are to be the most eager viewers and most likely supporters of this little film.

Sweet Land received a slow, scattered theatrical rollout over the past 20 months that catered to the Midwest (Minnesota, specifically)

in addition to normal indie film hot spots New York and Los Angeles. This strategic distribution method ensured that a sizable portion of the movie's limited target demographic has already encountered it. So, it now arrives on DVD with major studio backing (from 20th Century Fox), some positive word of mouth, and a new subtitle on the cover.

That subtitle, A Love Story, is roughly accurate (it appears in the provocative opening quotation) but serves to underscore the film's weak romantic core. A young mail-order bride named Inga (Elizabeth Reaser, "Grey's Anatomy") arrives at a Minnesotan train depot in 1920 not knowing who to look for or how to say much of anything in English. Her intended husband, the Norwegian farmer Olaf (Tim Guinee), is quiet, reserved, and taken aback at the fact that Inga is German. The expected presider, Minister Sorrensen (John Heard), won't allow a wedding ceremony in his Lutheran church without seeing official documentation for Inga.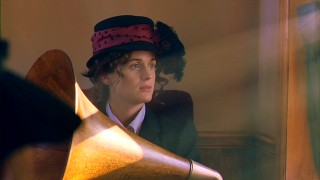 This leaves Inga to take shelter with Frandsen (Alan Cumming), Olaf's quirky, charismatic, American best friend, his outgoing wife "Brownie" (Alex Kingston, "ER"), and their finance-straining brood of nine children. Inga's grasp of English, which can't even be labeled "primitive", proves challenging not just to her and those around her, but also to viewers, who are subjected to a number of undeciphered rants in German and Norwegian.
Try though the film does to make the love story work, Inga and Olaf are very different types and not in the "so different they're perfect" style of cookie-cutter romantic comedies but in the "this isn't worth it" and "you're not interesting enough to have us root for you" way. Those latter thoughts clearly belong to viewers, because the characters don't seem to have enough going on or any alternatives to their pre-ordained union.
The movie chugs on at the pace of a critically-injured snail, never managing to define the personas of Inga and Olaf beyond wistful and stubborn, respectively. Any characteristics that emerge do so in a non-organic manner. There's little sense of what's motivating anyone and while that'd be fine for peripheral characters in a spectacle action flick, it's a severe shortcoming here.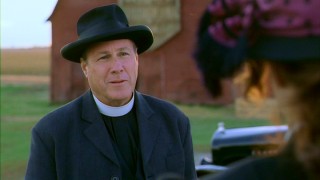 More compelling material is given to Frandsen, who dabbles in magic lantern shows while his family's farm struggles to the point of possessions auction, a plight which evokes the true colors of two-faced businessman Harmo (Ned Beatty), a flicker of vitality in Olaf, and the flimsiest explanation for the film's title. Relating to that title are a couple of secondary timelines, which initially seem like mere establishment but are re-summoned to illustrate the film's main draw of familial connections over generations. Though the consequential occurrences do effectively supply some depth,

they also contribute to a confusing air, at least for most of the movie, which already exists thanks to the blurred language and vague personalities.

Sweet Land doesn't add up to the type of heartfelt, personal, "spread the word" journey that it expects and that its reputation seems to have granted it. Even the film's biggest forte, its period atmosphere, feels insufficiently realized, as potentially potent plot points and anticipated emotional weight aren't even properly hinted at unless they're missed during the mind wandering inevitably born out of the tedious pacing.

That said, I can't outright dismiss the film, primarily because the supporting performances are quite spirited. The leads aren't completely unwatchable -- Reaser does some decent work almost purely with her eyes and the bonus features reveal that both have truly mastered their accents -- but the more remarkable characters and performances come from the fray. As the not perfectly blended comic relief, Cumming (who also produced the movie) has fun providing some spark. As his wife, Kingston also shows grit. Together, they make for an interesting slice of somewhat modern-feeling 1920s Americana. Probably the best of all turns comes from John Heard, who as the nigh-maniacally moody minister alternates from sympathetic to hostile, like clockwork, in the most amusing way.
DVD Details

1.78:1 Anamorphic Widescreen
Dolby Digital 5.1 (English)
Subtitles: English, Spanish, French
Closed Captioned
Release Date: July 10, 2007
Single-sided, dual-layered disc (DVD-9)
Suggested Retail Price: $19.98 (Reduced from $27.98)
VIDEO and AUDIO
Presented close to its 1.85:1 theatrical aspect ratio, Sweet Land offers some pleasant photography that's more lush and lucid than you might expect for such a low-budget film. While I'm sure it will look great in the final DVD version, all I can judge it from is this watermarked screener, which compressed to a single layer breaks up from time to time with pixelation and artifacts. In certain stretches, it looked as terrific as I'm sure the retail version will.
The Dolby Digital 5.1 soundtrack is unsurprisingly pretty subdued. The field opens up a bit for the noticeable score by Thomas Lieberman and Mark Orton. For the most part, the mix is technically sound. However, as mentioned earlier, there is quite a bit of foreign dialogue which is neither subtitled nor easy to deduce from body language. A working knowledge of German and Norwegian would be to the viewer's benefit, though I imagine the lack of translation is a deliberate stylistic choice. It's one which might frustrate some, but it obviously doesn't make viewing impossible for English-only speakers.
BONUS FEATURES and MENUS

First and most substantial of three provided bonus features is an audio commentary by actors Tim Guinee and Elizabeth Reaser, editor James Stanger, producer Gil Bellows, and writer/director Ali Selim. As the driving force behind the movie claiming a gestation period of 15 years, Selim expectedly does the bulk of speaking. He has some interesting stories on different audience reactions, filming in Montevideo, MN with supportive local folk and a very low budget, and the benefits of a "carbon neutral" production. Scene-specific observations are less inspired and the actors are not very articulate.

While the track sheds some light on the film's making for those who are very interested, anyone doubting the time investment required would be fine to skip it.

Much more compact and dense, "Sweet Land: A Labor of Love Story" (11:15) is a very good featurette of movie clips, on-set footage, and cast/crew interview comments. That last component is the best, as we get to hear some insightful thoughts from most of the leading actors, Selim, and author Wil Weaver, whose short story "A Gravestone Made of Wheat" was the basis for the film.

Rounding out the platter is the theatrical trailer (2:43) for Sweet Land. The disc opens with trailers for The Ultimate Gift and The Illusionist, but these are not menu-accessible.

The basic menus offer no animation or sound, but they do provide rich, sky-backed imagery from the film and are creative enough to present wheat ear cursors in places.
CLOSING THOUGHTS
Sweet Land is supposed to be an affecting tale about the love of two European immigrants conquering small-town prejudices in post-World-War Minnesota. Sluggish pacing, weak chemistry in the dull leads, and a progression that alternates between unclear and unbelievable deflate the romance at the heart of this independent drama. The film is somewhat salvaged by nice supporting performances and an impressive setting that's nicely shot. But these elements are secondary and even they are inhibited by some shortcomings. All things considered, Sweet Land delivers enough of interest to sustain a viewing, but it doesn't succeed in the way it hopes to and may seem especially lifeless to those without a German or Scandinavian heritage or rural, small-town roots.
Fox's DVD delivers an appropriate menu of bonus features, with a mildly engaging commentary, a strong featurette, and the welcome trailer providing a reasonable amount of value and insight beyond the film. Neither video nor audio impressed on this screener disc, but the former especially should appease viewers in its imminent retail release.
More on the DVD / Buy from Amazon.com / The Book: Sweet Land: New and Selected Stories