Being a sitcom dad is a tough act to follow. The gig could fulfill all of one's ambitions for fame and fortune, particularly the latter if the show runs long enough to sell once or twice into syndication. But an actor serious about the craft knows that TV parenthood isn't the highest rung on the creative ladder. And no matter how successful the sitcom and no matter how popular the performer, bigger and better things don't usually come. Tim Allen has managed to lead a lucrative movie career post-"Home Improvement."

"Roseanne" dad John Goodman has racked up respectable film credits mainly from voice acting and his continuing allegiance to the Coen brothers. Beyond them, though, there is a long list of actors who never come close to eclipsing their prowess as one of the small screen's funny fathers: Robert Reed, Tom Bosley, Michael Gross, Bill Cosby, Alan Thicke, etc.

Bryan Cranston, well-known for portraying Hal on "Malcolm in the Middle", seems to have found a way to avoid joining that class. Less than two years after the single-camera Fox sitcom ended its 7-season run, Cranston found himself back on television, in the leading role of "Breaking Bad". "Breaking Bad" is cable network AMC's first original drama series following its beloved, award-winning period ad agency hit "Mad Men." In just two years, the accolades have come pouring in for Cranston, including back-to-back Outstanding Lead Actor in a Drama Emmy awards (though thrice-nominated for Supporting Comedy Actor for "Malcolm", he had never won prior). I must admit that those Emmys helped pique my interest, as a light TV viewer whose weekly routine has long typically included catching at most two primetime network comedies (neither of which was ever "Malcolm", entertaining though it may be when discovered in reruns).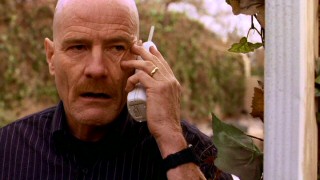 "Breaking Bad" centers on Walter White (Cranston), an Albuquerque, New Mexico high school chemistry teacher recently diagnosed with inoperable lung cancer. Given 18 months to live, Walter decides to make use of the chemical smarts that haven't exactly gotten him ahead in life. He teams up with Jesse Pinkman (Aaron Paul), a former student turned drug dealer, to form a business in which they'll cook and sell a potent form of crystal meth. It's a racket that doesn't exactly spring to mind when writing a last-minute bucket list, but Walt has his family's interests in mind. The plan is to accrue enough money to provide a suitable inheritance for his wife Skyler (Anna Gunn) and son Walter Jr. (RJ Mitte).
The White family is kept in the dark regarding Walt's uncharacteristic new second life. In the short first season, which spelled out this scenario, Walt apparently kept his terminal illness a secret. In Season 2, it's out in the open, with Walt bald from chemo treatment. Not disclosed is what the uninsured middle-aged man is doing to deal with the big medical bills piling up.
A lack of forthrightness is far from the only problem facing Walt and his family. Skyler is unexpectedly pregnant and growing more perturbed by her husband's increasingly unexplained disappearances. High school student Walt Jr. suffers from cerebral palsy in addition to the usual father/son disparity that marks many a teenage year.
There is also the fact that Skyler's sister is married to a senior DEA (Drug Enforcement Administration) agent. This, the show's biggest coincidence, adds a layer of intrigue without being dwelt upon. We spend a fair amount of time with the agent in question, allowing pudgy, bald Hank Schrader (Dean Norris) -- in what I imagine to be Michael Chiklis mode -- to reveal himself as one of the series' most compelling personalities. The target of Hank's top workplace priority -- finding the "Heisenberg" responsible for the area's so-called "Blue Sky" meth -- is a clear part of his personal life, but that irony goes unrealized. By comparison, the issues of Hank's wife Marie (Betsy Brandt), which include self-centeredness and kleptomania, never seem big enough to mind her being kept on the fringe.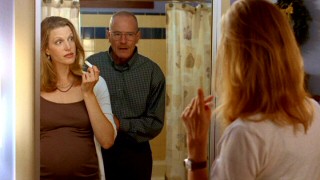 The premise of a middle-class suburban parent who resorts to dealing drugs out of necessity soon calls to mind another one of cable's critically-acclaimed series. In some ways, this does play as a more serious, much more dramatic version of "Weeds."

I find the presentation here, however, infinitely more appealing than the first season of that Showtime comedy, which was all that I've cared to see of it.

"Breaking Bad" is intense and utterly gripping. Created by Vince Gilligan, producer of "The X-Files" and one of the creators of its short-lived spin-off "The Lone Gunmen", this series doesn't try to sell us on dense, outlandish story, instead taking us into life's quiet moments for this one sick man and a few other people in his life. There is no score or music, save for the rare song selection. There are a few convenient complications, but the show gets its best suspense out of dramatic irony, when viewer and character knowledge differs. Most of the situations depicted shouldn't be familiar to anyone watching, yet we're so put into the shoes of the characters emotionally that we come away with understanding and appreciation.

The compelling presentation benefits considerably from the talented cast. Cranston has twice been awarded and deservedly. His depiction of a not particularly likable guy secretly bearing his crosses and further pushing himself into a lifestyle he's not cut out for is complex and delightfully nuanced. As exquisite is Dean Norris as his brother-in-law. Serving their two very different worlds, the characters feel like part of two different shows and I guess that's the point. Sadly, fourth-billed Norris doesn't appear in every episode, but that's better than bending the scripts to fit him in. The other actors are great and perfectly cast too: Aaron Paul, Anna Gunn, and RJ Mitte all succeed at making their parts feel like flesh and blood, not mere pawns of writers' whims. I can't count the number of moments that were genuine enough to remind me of personal emotions and experiences, no matter how distant drugs and the Southwestern desert may be from my own life. The synchronization between cast and direction make this so.

Some viewers may be turned off by the subject matter. My first impression was that I was watching unpleasant people in unpleasant situations. But the show is skillful at having its characters earn our sympathy. That's no small feat when your lead characters are drug dealers and you don't feel cheated into caring for them. Admittedly, we don't see much in the way of their crime's victims and effects. (When the show does explore drug use near the end of this season, it suffers for it.) Still, you never get the feeling, as you do with "Weeds", that the show is endorsing or exploiting illegal drug use. For the antihero especially, it's simply a dangerous means to an end. And the series avoids playing the terminal cancer card as much as it can.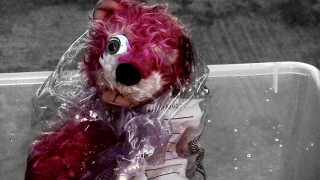 I wondered if it would be challenging to get into "Breaking Bad" having not seen the short first season. Although it's obvious you're not starting from square one, it isn't at all hard to jump right in. I get the sense that experiences are constantly shaping these individuals and our perceptions of them. At the same time, though, the second season at least felt self-contained.
Walt and Jesse remain at the forefront of the series, with the former's domestic, medical, and familial issues claiming much of the show's attention. Season 2 introduces a couple of fairly pivotal recurring characters in supporting roles. Spicing things up is comedian Bob Odenkirk's turn as Saul Goodman, a fast-talking, wise-cracking, as-seen-on-TV lawyer of questionable ethics. Also in the mix is Krysten Ritter, playing recovering addict and aspiring tattoo artist Jane Margolis, who is more believable as a landlord and neighbor to Jesse than a tolerant love interest.
The closest thing to a gimmick one finds on the show is that a number of the episodes begin with a visually interesting abstract sequence, most pertaining to a crime scene involving a pink teddy bear and the White's swimming pool. One gets the sense that they're foreshadowing something, but by the time it's revealed what, the season is done, making it more of a prolonged hook for next season.
That next season is imminent. The Complete Second Season arrives on DVD and Blu-ray just days before Season 3's launch on March 21st. The 4-disc DVD set (Blu-ray uses only 3 discs) holds thirteen episodes, nearly double the amount that comprised strike-shortened Season 1. As a heavily serialized program with some open-ended episodes, you probably want to avoid spoilers as much as possible. I've done that in my synopses below, while retaining enough detail to give you an idea of how this show plays out.
Note: "Breaking Bad" earns a TV-MA rating on the air, but that doesn't carry the same weight on basic cable as it does on premium channels. From the little cable TV drama I've seen, I would say that "Breaking" is about as edgy as the ones seen on TNT and USA, if slightly less than the programs of FX (the network this was originally intended for). Obviously, the premise of a high school teacher cooking meth on the side makes this inappropriate for young viewers. There is some scattered semi-graphic violence. I noticed just one F-bomb, which seemed oddly muted, while uncensored tamer profanity remained generally pretty scarce.
Disc 1

1. Seven Thirty-Seven (47:12) (Originally aired March 8, 2009)
After their first deal with Tuco makes them witness a deadly act, Walter and Jesse worry about what they need to do next.

2. Grilled (47:55) (Originally aired March 15, 2009)
While his sudden disappearance is investigated back home,

Walter spends a tense day with Jesse in a desert home of Tuco.

3. Bit By a Dead Bee (46:57) (Originally aired March 22, 2009)
Walter and Jesse return to civilization, with the former given psychiatric evaluation at the hospital and the latter arrested.

4. Down (47:22) (Originally aired March 29, 2009)
Walt is bothered by Skyler's passive-aggressive leaving without explanation. Jesse's parents have him evicted from his house.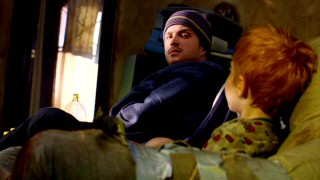 Disc 2
5. Breakage (47:19) (Originally aired April 5, 2009)
Walt and Jesse go back into business together, with Jesse moving into a new home. Hank gets a promotion and, with it, increased anxiety.
6. Peekaboo (47:19) (Originally aired April 12, 2009)
Seeking justice for product theft, Jesse spends the day in the rundown home of an addict family. Focus is turned to one of Walt's big lies when his supposed benefactor is thanked.
7. Negro y Azul (47:19) (Originally aired April 19, 2009)
Walt and Jesse take advantage of rumors heightening their respect. Hank is challenged by working in El Paso. Skyler gets a job at her old workplace.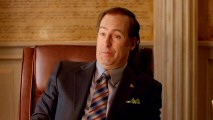 Disc 3
8. Better Call Saul (47:19) (Originally aired April 26, 2009)
When one of their dealers gets busted, Walt and Jesse attempt to do business with his sleazy lawyer Saul Goodman (Bob Odenkirk).
9. 4 Days Out (47:19) (Originally aired May 3, 2009)
Walt and Jesse hit the desert to do some cooking. After a productive start, they're stranded with dead batteries and no water.
10. Over (47:20) (Originally aired May 10, 2009)
Walt spends his time home alone getting caught up in home repairs. Jesse's relationship with his landlord hits a stumbling block.
Disc 4
11. Mandala (47:19) (Originally aired May 17, 2009)
After one of Jesse's dealers is murdered and another quits, Walt tries to find a new distributor. Skyler discovers something amiss at work.
12. Phoenix (47:21) (Originally aired May 24, 2009)
As Walt and Skyler adjust to having a baby at home, Jesse and his girlfriend plead for his share of the money.
13. ABQ (47:32) (Originally aired May 31, 2009)
Jesse is racked with guilt and Walt has his surgery.
VIDEO and AUDIO

Like most modern television series, "Breaking Bad" is presented in 1.78:1 anamorphic widescreen and Dolby Digital 5.1 sound on DVD. Nicely shot, the series varies from nerve-racking handheld camera work to careful, steady long-held compositions, depending on the setting. The mix gives the show a bit of a documentary feel to it, which the deliberate amount of grain sometimes adds to. The sharp picture here is quite satisfactory and I would imagine similar to broadcast quality.

The "Breaking Bad" soundtrack is quiet for much longer stretches than your typical TV show. Even so, the DVD's audio presentation impresses with the subtle atmosphere it delivers. There are also many instances where the sound rages to life, as in the brief opening theme and closing end credits music. Neither of these peaks require volume-toggling, although other vigorous bursts (scenes of gunfire and a climactic moment of the season finale) may do so intentionally.

In big and small moments alike, the 5.1 mix makes tactful use of the surround channels. As is too often the case for TV DVDs, a lack of English subtitles inevitably gets noticed and lamented. At least closed captions have been provided in their absence, if you want to try getting those to show up.

BONUS FEATURES, MENUS and PACKAGING

Four of the set's thirteen episodes receive audio commentaries by series creator/executive producer Vince Gilligan, most of his leading actors, and the occasional crew member.

On the season premiere "Seven Thirty-Seven", Gilligan is joined by stars Bryan Cranston (who also directed the episode), Anna Gunn, Aaron Paul, R.J. Mitte, and Betsy Brandt. Happily refraining from spoiling things occurring later in the season, they mostly discuss practical matters like props and New Mexico filming locations.

On "Better Call Saul", Gilligan, Cranston, and Paul are back along with writer Peter Gould and director of photography Michael Slovis. The latter two talk about some of the technical things, like the tricks to shorten the long uninterrupted take that opens the episode. Among the other interesting things here are Cranston's Dean Norris impression and the production's challenge to find usable church parking lots.

The memorable "4 Days Out" hears from Gilligan, Cranston, Paul, Slovis, and director Michelle MacLaren. Again, the focus is largely on episode production, addressing the not-so-remote desert filming location, gaining airport access following 9/11, and Paul's dehydration experiment for performance authenticity.

Season finale "ABQ" gives us Gilligan, Cranston, Paul, Gunn, Mitte, Brandt, and guest star John de Lancie. They ponder the show's unpaid product placement, color palettes, unique shooting locations, the episode's visual effects, and the significance of character moments.

These four commentaries are easy to listen to and enjoy. The group gatherings' unmistakable camaraderie renders the tracks fun and amusing, but the speakers make a point to give us more than just famous friends' chatter. I'm not always crazy about spending time on audio commentary, but it's a solid investment here on a show that lends itself to such insight and analysis.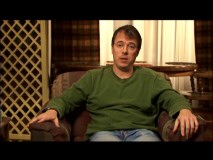 Deleted Scenes are presented on the discs that hold the episodes they would have appeared in. Altogether, we get 13 scenes running 12 minutes and 22 seconds. Most of these are short and insignificant, filling in blanks we otherwise fill on our own. They're all worth watching, though, and I especially enjoyed Walt's classroom demonstration of emulsions.
"Inside 'Breaking Bad'" is a series of short featurettes that delve into each episode. Gilligan, the actors, and producers comment upon the situations, relationships and emotions in between clips of said episode. It's a really nice feature that sheds some light without requiring the time commitment of full commentaries. Each episode's companion runs about 3 minutes, adding up to a grand total of 43 minutes and 16 seconds across the four discs.
Additional "Inside 'Breaking Bad'" featurettes appear throughout the set under the heading Behind the Scenes. "The Cast on Season 2" (2:45) sells us on the second season's merits with snippet teases and cast/creator enthusiasm. "Season 2 - What's in a Name?" (3:00) has Gilligan previewing a number of the episodes and turns that appear on this set. In "Making of 'Negro y Azul' music video" (1:55), consulting producer John Shiban explains more the inspiration and intentions for the narcocorrido number. "The Tortoise Scene" (2:45) covers the challenges of staging both an explosion and a creepy image.
Disc Four piles on more topical "Behind the Scenes" pieces. "The Special Effects" (3:10) gives us a tour of the tools used to stage mechanical effects and a recap of some of the season's applications. "The Props" (4:25) supplies an overview of some of the season's drugs, guns, and other props, revealing some of the tricks behind them (like retractable needles and a rubber sledgehammer). "The Sets" (3:55) discusses furnishing the houses and other featured locations as a reflection of the characters who inhabit them. Aaron Paul recalling being "Locked in the Trunk" (1:25) probably didn't need to stand on its own. "Inside the RV with Aaron Paul" (3:00) has the actor giving us a tour of the fake stage version of the "Methebago" whose versatility allows flexible filming. "The Crew" (3:25) surveys different facets of production somewhat repetitively. "A Look Ahead" (2:00) has Gilligan and cast members sharing some of their hopes and expectations for the show's future.
Also on Disc 1 is a 90-second Season 1 Recap, which feels more like a promo, but one that catches you up as intended.
Disc 2 supplies the music video for the aforementioned narcocorrido song, "Negro y Azul (The Ballad of Heisenberg)" (3:25) by Los Cuates de Sinaloa. It is just the beginning of the eponymous seventh episode, only the English subtitles translating the Spanish lyrics aren't the player-generated kind. In a similar vein, Disc 3 shows us the full 45-second "Better Call Saul" lawyer commercial at full-size.
"Cop Talk with Dean Norris" (10:20) consists of four short videos in which the DEA agent-portraying actor interviews and interacts with 2-3 supposedly real police officers. Addressing and embracing police stereotypes like misogyny and donuts, the pieces are mostly funny as they tackle "cop stuff", "chick cops", the merits of donuts vs. yogurt, and stakeouts.

Next come six of what the menu identifies as "Original Webisodes" and which themselves are labeled minisodes.

Whatever you call them, you'll recognize the improvised, inconsequential, meandering feel of a format that's become prevalent as TV channels try to draw Internet traffic.

"The Break-In" (4:50) depicts Walt and dimwit dealer Badger (Matt L. Jones) trying to break into a house. "Good Cop/Bad Cop" (2:55) shows us a videotaping of the Schraders' attempt at bedroom role-playing, in which Marie plays a sexy cop whose tactics Hank questions. "Wedding Day" (4:50) finds Walt comforting a guilt-ridden Hank minutes before the latter is to get married. "TwaόghtHammλr" (4:12) gives us a mini-documentary of Jesse and Badger's confrontational amateur garage rock band. "Fallacies" (3:00) supplies a full version of the fictional band's stupid music video sampled in the previous piece. "Marie's Confession" (2:48) is a heavily-edited cut of a rambling personal video diary entry recorded at therapist recommendation.

Some amusement is to be had in these bits, but perhaps not quite enough to sustain the semi-polished look, which finds them presented in full 16:9 (unlike most of the letterboxed extras). They're easy enough to enjoy here without having to scrolling and being distracted added to the click and view process.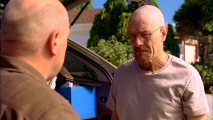 "Walt's Warning" (2:40) gives us a short making-of on Season 2's viral video stunt. I was a little peeved that we just got a glimpse of Cranston's in-character camera addresses here and were referred to a website. Now having gone to that website, I understand and appreciate why. (It may suck up a lot of RAM, but I recommend that you check out WaltsWarning.com for a little fun, but only after finishing this review, of course.)
The obligatory Gag Reel (3:50) amuses with cast Emmy jokes, contagious laughter, repeatedly blown takes and a couple of random gags that could use an explanation.
A cool "Season 3 Sneak Peek" shows us a 2-minute, 15-second clip from presumably the first episode of Season 3.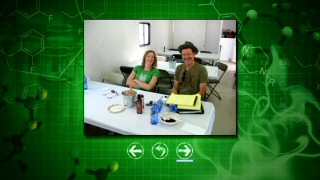 Finally, "Vince Gilligan's Photo Gallery" serves up 35 candid production images from locations, read-throughs, and rehearsals. Most fall into that first class and come from this season's desert-set second episode "Grilled."
The DVD's main menus let character moments pop out of the stylishly-animated periodic table of elements adapted from the opening credits. Submenus are static but accompanied by score and sound effects (like Disc 1's potently eerie bell-ringing). The crystal rock cursors are a nice touch.
Oddly, a Blu-ray promo emphasizing BD-Live technology plays upon the insertion of Disc 3. On that same disc, one finds a Previews menu holding that plus ads for "Breaking Bad": Season 3, Michael Jackson's This Is It, By the People: The Election of Barack Obama, "Rescue Me": Season 5, "The Shield": The Complete Series, "Damages": The Complete Second Season, 2012, and The Boondock Saints II: All Saints Day.
Sony packages "Breaking Bad" Season 2 with shelf space conservation in mind. A thin cardboard box holds the two clear slim cases which supply episode synopses and credits, extras information, and plenty of series imagery. Two loose inserts sit between the cases, one previewing Season 3 and the other a window cling of the show's striking title logo (not sure where'd you want to put that).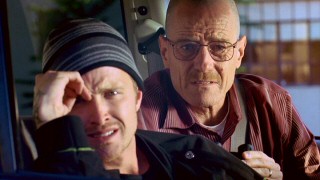 CLOSING THOUGHTS

While I reiterate that I am neither a fan nor regular viewer of TV drama (being intimidated by the commitment that one-hour shows entail), I found "Breaking Bad" to be an interesting and highly compelling program.

Quiet, haunting, difficult, remarkably realistic, and sometimes heartbreaking, this exceptionally-acted series truly speaks to the human condition. And though it has a slight sense of humor to it, it's about as far from "Malcolm in the Middle" as Bryan Cranston could get while remaining in single-camera television. You may not approve of these characters and the decisions they make, but you're sure to want to know what happens next and not because of cheap writer manipulation.

In anticipation of the third season coming to AMC, The Complete Second Season has been treated to an excellent DVD release. Besides an utterly satisfying presentation of the show, the set is absolutely loaded with bonus features, most of which are valuable and not to be missed. Fans couldn't ask for more and even the blissfully unacquainted may be surprised to discover this series is as worthwhile as its accolades suggest.

More on the DVD / Buy from Amazon.com • Buy on Blu-ray / Buy Season 1: DVD • Blu-ray