Writer Diablo Cody and director Jason Reitman first teamed up on Juno (2007), one of the all-time triumphs in independent film. The $7.5 million comedy grossed $140 M domestically and well over $200 M worldwide. It was nominated for four Academy Awards including Best Picture (pre-expansion), and won the former stripper and blogger the original screenplay Oscar while cementing the son of Ghostbusters director Ivan as a talent to watch.

Reitman followed that up with 2009's widely acclaimed drama Up in the Air, which he co-adapted. Cody, meanwhile, has yet to find a fulfilling sophomore act. Her horror comedy Jennifer's Body was panned by critics and ignored by moviegoers and though her dissociative identity disorder Showtime comedy "The United States of Tara" was highly regarded, it was cancelled after three seasons and earned a pretty mild following as far as premium cable shows go.

Now in their early thirties, the two have reunited on Young Adult, a dark, acerbic comedy which both seem especially well suited for.

The film is driven by an antiheroine, one of the most interesting female characters cinema has explored since Ms. MacGuff herself. In her small-town Minnesota high school, Mavis Gary (Charlize Theron) was a pretty ordinary prom queen: popular, pretty, and not overwhelmingly nice. Physically, Mavis has moved on: she has relocated to Minneapolis and is the ghost writer of a bestselling series of young adult novels. But she is anything but the portrait of success.
Now 37, Mavis is a lonely, hard-drinking divorcιe. The book series is past its prime and winding down; in fact, she's working on the final installment (an hilariously named Word document). Her days consist of the junkiest of reality television (Kendra and the Kardashians), wake-up chugs of Diet Coke, and rare displays of insufficient affection for her fluffy purse dog, a Pomeranian named Dolce. She is the female equivalent of a man-child and what makes for an appealing lead in bromance comedies has far more tragic, but no less entertaining, underpinnings here.
The ever-bitter author is motivated by one thing: a chance to reconnect with her high school sweetheart, Buddy Slade (Patrick Wilson). This is more than just infatuation, and an unhealthy one at that, since Buddy is married and with an infant daughter. It is a woman longing to return to her glory days of her high-status '90s adolescence. Mavis gets an unlikely invitation to a party thrown for Buddy's newborn and, in spite of those circumstances, she sees it as the perfect opportunity to rekindle their relationship of several years.
So, she pops in an old mixtape and makes the drive back to her hick hometown Mercury, where few of her classmates have left. Mavis somehow still has her looks, which maintaining is nothing short of a full-time job as she undergoes near-daily manicures and pedicures, extensive preening, and devoting much thought to the short, low-cut dresses she will wear as a break from her work clothes of sweatpants and Hello Kitty t-shirts.
In addition to meeting up with Buddy, whose friendliness she willfully misinterprets, Mavis also encounters Matt Freehauf (Patton Oswalt), one of numerous schoolmates who have made a smaller impression on her than the other way around. After several shots worth of conversation, she spots his crutch and recalls him as the victim of a hate crime which wound up being mistakenly classified as such. What for her is an amusing anecdote remains a traumatizing experience for him, and yet the two classmates from distant social circles and opposite ends of the gene pool keep running into each other and bonding over their bitterness. With his garage distillery and workshop of carefully refashioned action figures, Matt is every bit as interesting a character as Mavis and their conflicting trips down memory lane are a treat.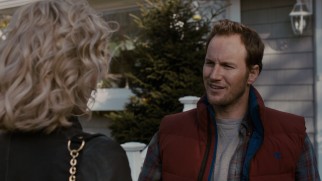 For that matter, most of Young Adult is a treat, albeit one viewers demanding that protagonists be likable will not much appreciate. Negativity rarely occupies the foreground of films, but when it's done this compellingly and funnily, it is tough to resist.

The film has many intriguing themes in play, from nostalgia to ostracism to arrested development, all of which are given serious consideration. And while that might sound dreary, the laughs flow out of the misanthropy, specifically from Theron's tour-de-force performance.

It is easy to think of Theron as the beautiful actress who won an Oscar for ugging it up as a real-life serial killer, but she proves here, as she has before, that she has serious acting chops. It is rare enough for a woman to be given a real shot at being funny at length. To do it in a movie that isn't some shallow fluff about finding love is a gift, and one Theron relishes and maximizes.

In all the backlash that Juno has been subjected to in the years since its glowing initial reception, people tend to remember the quirky invented lingo and cheeseburger telephone but forget that Cody crafted some indelible characters and moments. That same blend of wry wit and palpable realism resurfaces here, without as much calculated eccentricity and hipster irony. Cody has an unusual talent for writing amusing scenes that are honest, heartfelt, and resonant. Doing that once could have been chalked up as beginner's luck, a lightning in a bottle experience that owed some of its recognition, no doubt, to its young scribe's unlikely background. But Young Adult refutes detractors' claims, confirming Cody as smart, sophisticated, and with sharp insight into the modern human soul.

That last characteristic makes her a perfect fit for Reitman, whose films have packed an unmistakable wallop of humanity. It is almost absurdly clear how Reitman's name has nothing to do with his opportunities and his success. If his father's blockbuster comedies have influenced him in any way, it does not show. If Jason continues his pattern and gives us an intelligent, personal film every two years, the world will be much the better for it.

Despite strong reviews and a December debut, Young Adult was unable to extend Reitman's unusual record of commercial success and accolades. The film stalled at the box office, its resentful tone likely explaining why it remained in under 1,000 theaters and excluded from this year's crop of predominantly feel-good PG-13 Oscar nominees. No matter, it is still one of 2011's most striking and stirring films, something you can find out when it is swiftly released to DVD and Blu-ray on Tuesday.
Blu-ray Disc Details

1.78:1 Widescreen
5.1 DTS-HD MA (English), Dolby Digital 5.1 (French, Spanish, Descriptive Video Service)
Subtitles: English, French, Spanish, Portuguese; Film-only: English for Hearing Impaired
Not Closed Captioned; Video Extras Subtitled
Release Date: March 13, 2012
Single-sided, dual-layered disc (BD-50)
Suggested Retail Price: $39.99
Blue Eco-Friendly Keepcase
Also available on DVD ($29.99 SRP) and Amazon Instant Video
VIDEO and AUDIO
On Blu-ray, Young Adult is presented in 1.78:1 widescreen and looks pretty perfect. The film employs a fairly natural color palette and deliberately ordinary and familiar sights. The transfer is virtually flawless as far as detail, sharpness, and clarity go. Likewise, the 5.1 DTS-HD master audio is exemplary of lossless HD sound without grabbing your attention or surprising. The track is big on '90s music, which is prominently and finely showcased.
BONUS FEATURES, MENUS, PACKAGING, and DESIGN

The solid slate of HD extras begins with a filmmakers' audio commentary by director Jason Reitman, director of photography Eric Steelberg, and first assistant director/associate producer Jason Blumenfeld. The absence of Diablo Cody is surprising and unfortunate,

because she has such a distinctive voice and because she brought a lot to her and Reitman's joint Juno commentary. Reitman leads the discussion among longtime friends and, as his films would lead you to believe, he has interesting thoughts to share, although they're a bit spread out and often buried among the usual location, technique, and actor talk.

"Misery Loves Company: The Making of Young Adult" (17:27) is a standard but good featurette. It collects thoughtful insights from a large number of cast and crew members, in addition to granting us quality behind-the-scenes looks at production.

"The Awful Truth: Deconstructing a Scene" (6:23) lives up to its title with some general remarks by Cody giving way to a look at the changing script and numerous varied takes of one brief exchange in Woody's Village Saloon.

A Q & A session (46:05) recorded at the Jacob Burns Center in Pleasantville, New York features New York Times critic Janet Maslin with director Jason Reitman. Touching on everything from Burger King's chicken fries and Teenage Fanclub to his prescribed research for Theron ("The Hills" and other MTV DVDs) and the film's two posters and test screenings, theirs is a funny, insightful interview with good questions, amusing interplay, and only some overlap with the commentary. The final fifteen minutes open up the floor to audience questions, which are also quite good.
Six deleted scenes (7:00) are presented in finished film quality. They are enjoyable and reveal new facets to Mavis' character.
The final extra is fairly downplayed in the packaging, drawing mention only on the back of the eco-friendly keepcase (which kindly preserves the creative YA novel-style cover illustration design of the theatrical one-sheet). It is UltraViolet. An insert provides directions and your unique code for streaming the film to your devices. Those who appreciate digital copies have voiced their dissatisfaction over this format, but it's a pretty generous and easily transferred inclusion at no additional price for those daring enough to redeem it.
The DVD (which employs the more conventional poster design) drops "Misery Loves Company" and the long Q & A session.
The menu montage employs the audiocassette mechanical visuals from the film's fun opening titles. The Blu-ray supports bookmarks on the movie, which almost makes up for the disc's complete inability to resume playback after powering down. Typical for Paramount, the disc goes without hard-coded trailers (most egregiously lacking Young Adult's winning David Bowie-fueled preview), but randomly streams a couple of current ones (Titanic 3D, Hugo) at disc insertion to stay relevant longer.
CLOSING THOUGHTS
Many viewers will be turned off by the venom that runs through Young Adult's veins, but this biting comedy is funny, sharp, complex, challenging, provocative, and well-played, a rare combination that makes it easy to appreciate. Jason Reitman and Diablo Cody clearly make a good team and I hope they can come up with other projects worthy of collaboration.
The Blu-ray arrives quickly and without too much fanfare, but the strong presentation and good extras are more than enough to meet expectations. Like Reitman's previous films, this is likely one you'll itch to see more than once.
Support this site and great cinema when you buy Young Adult now from Amazon.com:
Blu-ray / DVD / Instant Video