Disney has all but given up on DVD, reducing the still widely preferred home video format to an insignificant bonus feature of Blu-ray, a formality for new theatrical films, and occasionally another retail shelf to place the old-fashionedly packaged versions of deceptively identical combo packs.

The one exception to the company's diminished view is in television content, which continues to be released almost exclusively on DVD. Not any television, mind you. Hopefully, you're not holding your breath for your "Gummi Bears" and "Gargoyles" collections to be completed. The only TV DVDs Disney releases these days are of new and recent programming from ABC and Disney Channel.

Even the latter class has dried up, with little from the always profitable cable channel coming to disc aside from endless compilations of the tot-oriented Disney Junior brand. Whereas for several years, every new Disney Channel Original Movie was guaranteed to hit DVD within a year of its debut, Disney hasn't even bothered to put a number of recent productions in stores. Titles like Den Brother, Avalon High, and The Suite Life Movie are available for download on iTunes, but don't bother looking for them at your local Best Buy or even Amazon.

The big ones still come to disc, though, and Geek Charming apparently qualifies as that. In its Veteran's Day 2011 debut, this comedy drew 4.9 million viewers, a little more than a quarter of the initial audience for High School Musical 2 and a little more than half of Camp Rock's number, but bigger than all but three football games and an episode of "The Walking Dead" among that mid-November week's cable broadcasts.
Geek Charming is adapted from a 2009 young adult novel by Robin Palmer. Though the title makes it sound like a return to the oft-visited Cinderella well, this story is neither a retelling nor a fairy tale.
As in most high schools, the social lines are clearly drawn at Woodlands Academy. Dylan Schoenfield ("Modern Family"'s Sarah Hyland) is one of the most popular girls around. Josh Rosen (High School Musical 3's Matt Prokop) is a geek, a film geek, to be precise. President of the film club, Josh has been picked to represent Woodlands in the upcoming Puget Sound Student Film Festival. But he doesn't even have an idea, much less a vision for his documentary entry. Two embarrassing encounters later, Josh decides to make Dylan be the subject of his film, which he hopes to be a hard-hitting exposé on high school popularity. Dylan agrees, thinking that a movie all about her will help put her on the right track to winning Blossom Queen at the annual spring festival.
Josh soon accumulates plenty of footage confirming his expectations of Dylan as a shallow, rich, stuck-up diva, whose idea of charity is assisting her fashion-challenged classmates. This being a romantic comedy, Josh gradually begins discovering some substance, depth, and loneliness hiding beneath Dylan's attractive surface. The two bond in their outings, over their common single parentage, and an Everything But the Kitchen Sink Sundae. Josh even reluctantly agrees to let Dylan give him a personal makeover, which has him suddenly being noticed at school and finding the confidence to ask out his longtime crush and Dylan's ex-best friend, pink-streaked blonde Amy (Sasha Pieterse).
Of course, that potential relationship and Dylan's flimsy romance with airhead jock Asher (Jordan Nichols) are minor obstacles to the only logical destination for Josh and Dylan's friendship and this movie.
I know that my standards aren't getting lower, so DCOMs must be getting better. I was pleasantly surprised by last year's appealing band flick Lemonade Mouth and Geek Charming is just as good. Without reading Palmer's book, I can only strongly suspect that it lays a sturdier foundation than the typical original TV movie teleplay.

These characters are three-dimensional teenagers and not just there to deliver jokes and get wet and dirty (the messy comedy with which the movie opens soon subsides).

One of the movie's better choices is to give Josh's passion believability. So rather than the typical Disney Channel approach of inventing pop culture so as not to advocate or advertise non-Disney entities, Josh and his friends talk about real movies. And though their cinematic discussions may be white noise to the target demographic and their knowledge of classic directors may seem a little unlikely, it adds value for those able to follow along.

I don't know who deserves the credit; author Palmer, first-time screenwriters Hilary Galanoy and Elizabeth Hackett, or Jeffrey Hornaday, directing for just the second time in twenty years. But one or more of them know their movies. Hornaday, a former film choreographer whose resume dates back to Flashdance and ABC Afterschool Specials, knows enough to pay tribute to Ferris Bueller's Day Off with a nearly shot-for-shot scene recreation and to Disney's Flight of the Navigator, a wonderfully random screening subject (sadly not excerpted) upon which Dylan and Josh begin building their friendship. Better that than perishable pop culture references and a story dictated by soundtrack considerations.

Geek Charming seems to have as much in common with '80s teen movies as with present-day tween TV. That made it a lot more enjoyable for me, but I'm not sure that's the recipe for winning over Disney Channel's prime demographic. Whether or not young people like it, they should prefer it to the vapid outings that have for too long embodied the DCOM spirit. Geek Charming is not art and you can still accuse it of following a predictable mold, but at least it gives thought to its characters, themes, and oft-dramatized social structures. Some of this achieved by the now-standard device of first-person mockumentary confessionals, like the ones employed on "The Office" and Hyland's "Modern Family." It even features some real acting, something I don't know that the channel has seen in ages.

Just in time for Valentine's Day, Geek Charming came to DVD this week. Would you believe that it did so in a 2-disc set with nearly four hours of bonus features? Read on for the explanation of that most improbable occurrence.

VIDEO and AUDIO

Presenting the movie in 1.78:1 anamorphic widescreen, Geek Charming's DVD looks just as good as a 2011 TV movie in standard definition should. The element is clean and colorful and the digital video cameras used are adequate. The Dolby Digital 5.1 soundtrack also satisfies, with its clear dialogue and slight but sufficient surround channel usage.
BONUS FEATURES, MENUS, PACKAGING and DESIGN

In one of the oddest things I've seen in all my years of writing about home video, Geek Charming is accompanied by a whopping ten episodes of "Shake It Up", Disney Channel's popular comedy series.

When Disney was regularly releasing their tween sitcoms to DVD, they typically did so with a disc of 4-5 episodes. Here, we get twice that many as a bonus feature. It seems like a bizarre way to bolster what are bound to be relatively modest sales numbers for Geek, but remarkably all this extra, not entirely related content is provided with no bump to the studio's standard DCOM DVD list price.

This DVD represents my first exposure to "Shake It Up" and though I don't expect much from Disney Channel's sitcoms, this met and ever so slightly surpassed my expectations. The show centers on the cast of "Shake It Up, Chicago!", a TV dance show. The focus is chiefly on two tweenaged best friends, dim-witted but driven redhead CeCe (Bella Thorne) and more sensible brunette Rocky (Zendaya). B-storylines are often given to their sarcastic apparent friend Deuce (Adam Irigoyen), who works with his friend, Rocky's older brother Ty (Roshon Fegan) at Crusty's, a pizzeria owned by Deuce's jocular Uncle Frank (Jim Pirri). For comic relief, there are the seemingly German, thickly-accented, indefinite exchange student siblings Gunther (Kenton Duty) and Tinka (Caroline Sunshine). The whole lot attends John Hughes High School, a nice touch (especially given the setting) that nonetheless makes me sad. There's also CeCe's goofy younger brother Flynn (Davis Cleveland) providing shenanigans.

Though the material is far from groundbreaking, it's nice to spend time with characters who haven't worn out their welcomes and don't feel like just a renaming of past standard issue Disney Channel personalities. The show also looks a lot better than the garish low-grade digital video of past productions, such as "That's So Raven" and "Hannah Montana", shows it chooses to be less broad and obnoxious than. Even the obligatory laugh track isn't as over the top as its forebears.

In an odd decision, the DVDs primarily pull episodes from the second season and presents them in random order. My fellow "Boy Meets World" fans will be bummed to learn that Ben Savage's episode, "Review It Up" did not make the cut, despite premiering the same week as Geek. The episodes are presented in 1.78:1 anamorphic widescreen, Dolby Surround 2.0 sound, and, on Disc 1, with optional English SDH, French, and Spanish subtitles. Long shots create some compression issues and the audio is a bit thin, but the show looks and sounds just as good as it would on a DVD release of its own.
Found on Disc 1...
1. Shake It Up, Up and Away (Part 1) (22:33) (Originally aired October 2, 2011)
En route to a charity event, CeCe and Rocky sneak off to audition for reality show "Really, You Call That Dancing?" in Los Angeles. But they get stranded in the small town of Pepe, Texas. Back home, Deuce and Ty try out for the same job.
2. Shake It Up, Up and Away (Part 2) (22:33) (Originally aired October 2, 2011)
Rocky and CeCe make the most of their time in Texas, dancing atop a plane in an air show. In charge of Crusty's, Deuce and Ty make a doughy mess.
3. Double Pegasus It Up (22:33) (Originally aired November 13, 2011)
CeCe and Rocky get aging, washed-up choreographer Theodore Vainglorious (Leslie Jordan) to help out with their show. Uncle Frank entrusts Deuce with the cash register key, which he promptly loses.
4. Three's a Crowd It Up (22:33) (Originally aired September 25, 2011)
CeCe, Rocky, and Tinka get asked out to the same place at the same time by the same transfer student. Deuce and girlfriend Dina (Ainsley Bailey) are business rivals. Flynn's genius friend Henry (Buddy Handleson) is his substitute teacher.
The following six episodes are presented on Disc 2. Oddly, Disc 2's episodes only offer English SDH subtitles and not the two foreign translations of Disc 1.

5. Beam It Up (22:33) (Originally aired October 9, 2011)
Rocky and CeCe get dates out of a Halloween costume party, neither which is as expected. While trick-or-treating, Flynn and Henry encounter an unusual boy ("The Middle"'s Atticus Shaffer) who seems to be from another planet.

6. Doctor It Up (22:48) (Originally aired October 23, 2011)
CeCe and Ty's father (Phil Morris) discourages his children's musical ambitions in favor of following him into medicine.

Flynn fills in for a broken mechanical fortune teller.

7. Throw It Up (22:33) (Originally aired August 21, 2011)
Rocky and CeCe get picked to do the spotlight dance on a week when host Gary (R. Brandon Johnson) is sick. Flynn and Ty attend a Cubs game.

8. Twist It Up (22:33) (Originally aired July 10, 2011)
Dina's mother (Maggie Wheeler, Janice from "Friends", of course) plans a birthday party without her interests in mind. Flynn and Henry's found toy robot is evil.

9. Match It Up (23:33) (Originally aired January 23, 2011)
CeCe sets Deuce up with Dina. Flynn lets Henry play camp with him.

10. Age It Up (22:33) (Originally aired December 9, 2010)
Teen sensation Justin Starr (Chris Trousdale) visits and CeCe accidentally spills his Jason Earles-ish secret. Ty teaches Gunther how to be cool.

No extras pertaining to Geek Charming are included on either disc, but it stands to reason that Disney Channel fans will prefer what they get here to the usual brief fluff.
The FastPlay-enhanced first disc opens with promos for Walt Disney Studio Access, Cinderella: Diamond Edition Blu-ray, Brave, and The Aristocats: Special Edition Blu-ray. Selecting the menu's "Sneak Peeks" listing repeats those four, before coming to ads for Disney Movie Rewards, "A.N.T. Farm", The Secret World of Arrietty, and Lady and the Tramp II: Scamp's Adventure Blu-ray.
The feature DVD's standard main menu slowly moves clips right to left while music plays. Disc 2's simple menus play an instrumental version of the "Shake It Up" theme song, letting you as on the first disc, select episodes or play all.
The two gray discs are housed in a clear keepcase, which passes up the opportunity for reverse/inside artwork. They are accompanied by a Disney Movie Rewards code booklet, an ad for "Jane by Design", and, most importantly, a plastic-sealed, cardboard-backed pair of silver charms that come together to form a heart that reads "Best Friends." The case is topped by a redundant slipcover.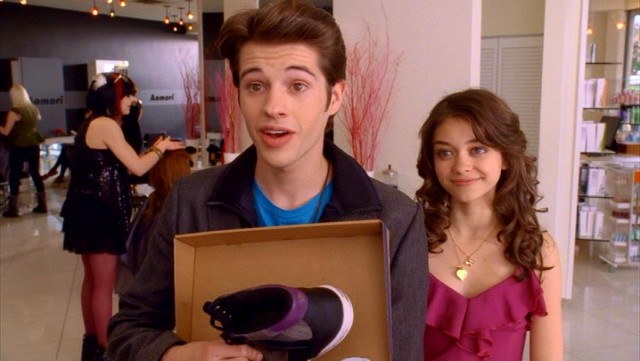 CLOSING THOUGHTS
If you're a fan of either Geek Charming or "Shake It Up", this DVD deserves a place in your collection. I found the movie entertaining and reasonably intelligent, and the TV show less intelligent but still reasonably diverting. Why the two come together here is anybody's guess, but the union makes this one of the highest value Disney Channel DVDs to date. Though you have reason to doubt my endorsement, know that it comes from someone who can count on one hand the number of Disney Channel movies from this century that he's recommended.
Buy Geek Charming on DVD from Amazon.com / Buy the Book by Robin Palmer: Paperback / Kindle