Fifteen years before Lincoln dramatized the legislation that ended slavery in the United States,

Steven Spielberg told the true story of a ship of slaves put on trial in America in Amistad.

Set in 1839, the film opens with one determined slave, Cinque (Djimon Hounsou), freeing himself with great effort and leading a revolt on their captors. Viewers are thrown into this rainy, bloody, nighttime sea action in a 5-minute sequence that gains meaning over the remainder of this drama.

Reaching American soil six weeks later, the slaves from West Africa find their status in doubt. The two surviving crew members claim they belong to Spain, from where the ship La Amistad hails. Imprisoned while the courts determine their status, the Africans number just 44, but their case is of interest to Americans both for and against slavery a quarter-century before the Thirteenth Amendment is passed.
A couple of abolitionists (Morgan Freeman and Stellan Skarsgεrd) believing the slaves are entitled to their freedom team up with Roger S. Baldwin (Matthew McConaughey), an unrefined young attorney approaching the case from a legal rather than moral standpoint. They are pitted against less charismatic, less focal prosecutors (David Paymer and Pete Postlethwaite), who argue that the black men, women and children come from a Cuban plantation and should be returned to their rightful owners, just as cargo or livestock would be.
Hindering Baldwin's defense is the language barrier. His clients speak only Mende, something his interpreter can only pretend to translate. Lucky for him, he finds someone (Chiwetel Ejiofor in his film debut unbelievably at just 19 years old) to bridge the gap and unearth some understanding and common ground between the lawyer and de facto slave spokesman Cinque.
Just as it looks like the slaves will be freed (for the second time, after the prosecution strategizes to get the judge to recuse himself in favor of a young Catholic they expect to sympathize with Spain), advisors with vested interest get Martin Van Buren (Nigel Hawthorne), the incumbent President soon up for re-election, to approve an appeal to the Supreme Court, requiring one final trial. This one is too big for former president and Massachusetts representative John Quincy Adams (Anthony Hopkins) to ignore.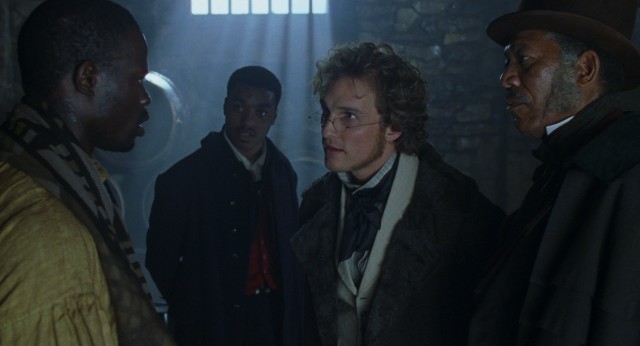 Amistad plays like a 19th century John Grisham thriller. The men sport ridiculous curls and mutton chops and use the parlance of the time

when the American flag bore just 26 stars. But their timeless convictions and beliefs are plain to see and appreciate.

Coming off a four-year directing hiatus, Spielberg treated 1997 a lot like 1993. That year had seen him honor his blockbuster pedigree with the triumphant smash hit Jurassic Park but also cement his credibility as a serious filmmaker with the much-decorated Schindler's List. Four years later, he again demonstrated his versatility by helming The Lost World: Jurassic Park for summer escapism and then bringing Amistad to theaters in time for year-end accolades, as only the second release of his newly minted DreamWorks Pictures. Neither '97 release matched the impact of its model, with Lost World grossing a lot but disappointing many and Amistad not getting anywhere near the same recognition as Schindler's List, the director's first Oscar winner.

In timing and content, Amistad is a little Oscar baity, but a bigger reason than that and Spielberg's recent victories for its minor contender status may simply be that 1997 was an unusually strong year for film. I've still not seen The Full Monty, but it's tough to dispute any of its four fellow Best Picture nominees (Titanic, L.A. Confidential, Good Will Hunting, and As Good As It Gets) or claim that Amistad was worthier than them. It's not as if Amistad was completely shut out, either, picking up nominations in Supporting Actor (Hopkins), Original Dramatic Score (one of the few years where musicals and comedies were given a separate category), Cinematography, and Costume Design.

Spielberg films are never less than sound technically, but thankfully Amistad is better than its industry achievements might suggest. This is a substantial and riveting drama. Though it's clear from the start with whom our sympathies lie, it is a complex story told maturely and accessibly. The screenplay, an unlikely third by David Franzoni (whose first two were the Whoopi Goldberg comedy Jumpin' Jack Flash and a TV movie, and only two since are Gladiator and King Arthur), does a very nice job of fleshing out the characters at play while remaining true to facts most of the time. Spain's 11-year-old Queen Isabella II (Anna Paquin) jumps on a bed with her doll. John Quincy Adams, an eccentric old chap known to fall asleep during Congress sessions, takes great pride in his greenhouse. These are not mere vessels for now-indisputable ideals painted in bold strokes. They are human beings involved in something bigger than them.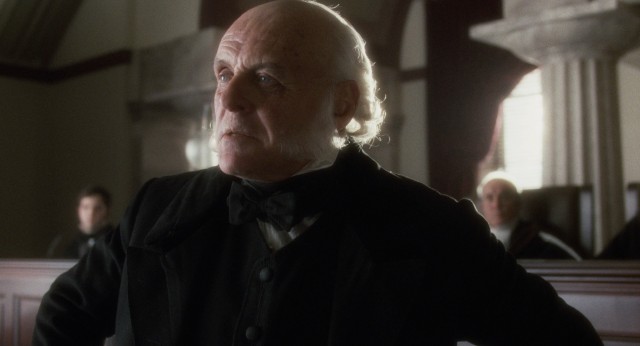 The talented cast assembled subverts expectations in some ways. For instance, the always great Freeman gets very little to do here. McConaughey, fresh off A Time to Kill and Contact, had yet to accrue the baggage of vapid romcoms he only recently shed. He is groomed to be leading man, until he more or less disappears. That enables two actors to shine brighter than the rest: relative newcomer Hounsou and veteran Hopkins. The latter can thank a big show-stopping courtroom monologue for securing his Oscar nomination, but he also does an impressive job physically and vocally of becoming this gimpy ex-president who even in old age remains overshadowed by his father.
While Amistad resonates more dramatically than any other way, the film's magnificent mise-en-scθne certainly doesn't hurt. In his third outing for the director, Spielberg's now inseparable cinematographer Janusz Kaminski works wonders with light and darkness, from the blue-lit opening sequence to several instances where profiles are outlined with beams of seemingly real sunlight. It's like a precursor to Lincoln with color and vibrancy left intact. The fine compositions remind us of the viability of the now-neglected 1.85:1 aspect ratio. The film, of course, is lathered with John Williams score, but it's unlike his usual stately period fanfare, taking on a distinctly African flavor and '90s sound at times.
Amistad isn't revisited nearly as often as Spielberg's best-known films, but it has finally followed them onto Blu-ray. It makes its debut on the format next week in what has become a rarity, a catalog Blu-ray distributed by Paramount themselves, alongside similarly non top-tier title The Terminal.
Blu-ray Disc Details

1.85:1 Widescreen
5.1 DTS-HD MA (English), Dolby Digital 5.1 (French), Dolby Surround 2.0 (Spanish, Portuguese)
Subtitles: English, French, Spanish, Portuguese; Film only: English for Hearing Impaired
Not Closed Captioned; Featurette Subtitled
Release Date: May 6, 2014
Suggested Retail Price: $22.98
Single-sided, dual-layered disc (BD-50) / Blue Eco-Friendly Keepcase
Still available on DVD ($9.98 SRP; May 4, 1999) and Amazon Instant Video Previously released as DTS DVD (July 6, 1999)
VIDEO and AUDIO
It's tough to believe that Amistad isn't far from its 20th anniversary, especially seeing how excellent it looks on Blu-ray. I've already praised the film's visuals, which are appealingly clean here. The element isn't quite as sharp or detailed as current films, but this may just be a feature of Kaminski's striking photography, which retains a light amount of film grain.
The 5.1 DTS-HD master audio has the clarity and power of a modern film, with Williams' music opening up a mix largely driven by dialogue. Without issue, the disc uses default player-generated subtitles to selectively translate the Mende and Spanish dialogue.
BONUS FEATURES, MENUS, PACKAGING and DESIGN

On Blu-ray, Amistad is joined by two bonus features from its DVD. First and more substantial is "The Making of Amistad" (26:33),

a featurette presented in low quality 1.33:1 standard definition. Doling out behind-the-scenes footage and carefully-composed cast and crew interviews, it has that late '90s making-of feel and would feel at home on cable television, as it talks about getting the Mende tribe portrayal, period recreation, and important story right.

The other extra is the film's original theatrical trailer (2:38), presented in HD and Dolby Digital 5.1.

Found on the film's 1999 DVD but unsurprisingly absent here are a couple of minor text-based extras: production notes and long since dated on-screen biographies of the cast and filmmakers.

The menu plays overlapping clips from the film under an excerpt of the uplifting closing music. Unfortunately, Paramount continues to author Blu-rays without the ability to resume playback or remember where you left off. On the plus side, you can set bookmarks and if you do so savvily, without any trailers at the start of the disc, it doesn't take too long to get back to where you were.

No inserts or slipcovers accompany the plain disc and eco-friendly keepcase.
CLOSING THOUGHTS

With its non-English title,

heavy subject matter, and long runtime, you might fear that Amistad would be a gloomy, overblown bore or chore, but this consistently engaging film is more human and enjoyable than Steven Spielberg's more recent period dramas (whose Best Picture nominations it would have also gotten in fields of nine).

Paramount's overdue Blu-ray doesn't surprise, but its terrific feature presentation and good making-of featurette are enough to qualify this as a satisfying release of a substantial film.

Buy Amistad from Amazon.com: Blu-ray / DVD / Instant Video